IPL 2022: Delhi Capitals And Bira 91 Sign A Multi-Year Partnership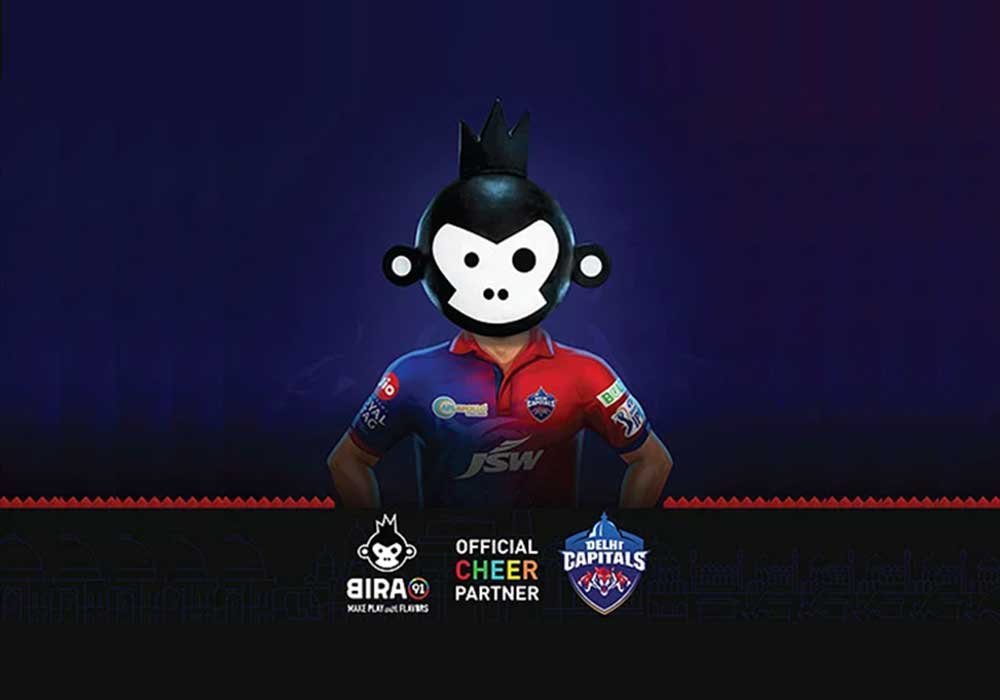 Bira 91 is the Official Cheer Partner of the Delhi-based franchise
JSW-GMR co-owned Delhi Capitals has partnered with Bira 91, a first-of-its-kind association with one of the world's fastest-growing beer brands. As Delhi Capitals' Official Cheer Partner, Bira 91 will bring in a fresh and innovative approach to engage with fans through this partnership. A five-year-long partnership will involve a host of unique activations and curated offerings enabling consumers to celebrate their love for cricket and beer.
"Be it on the field or off, Delhi Capitals is always determined to push the envelope and explore new avenues," said Vinod Bisht, Interim CEO of Delhi Capitals.
"We are delighted to announce this groundbreaking association with Bira 91. Together, we are looking forward to creating exciting and innovative experiences for our fans and building a successful partnership that pushes both our fast-growing brands to greater heights." – Vinod Bisht, Interim CEO of Delhi Capitals.
Sharing his excitement on the partnership, Ankur Jain, Founder and CEO, Bira 91 said, "Coming on board as the Official Cheer Partner of Delhi Capitals is a milestone moment for Bira 91's longstanding affinity with Cricket. As a brand that is born and based in the heart of Delhi, Connaught Place, Bira 91 holds a strong emotional connect with the city, team and fans alike".
"Both cricket and beer are integral aspects of Delhi's culture and enjoy the unwavering love and support of the people. Personally too, being born and brought up in Delhi, this partnership is close to my heart as I have always cheered for Delhi Capitals" – Ankur Jain, Founder and CEO, Bira 91
Established in 2015, Bira 91 is an Indian craft beer brand headquartered in Delhi. In a short span, the company has become one of the top beer brands with more than seven pints of its award-winning & flavorful beers being enjoyed every second of every day.
About Bira 91
A refreshingly modern beer brand, Imagined in India, Bira 91 aspires to bring flavorful beers to the new world. As one of the fastest-growing brands in the world, Bira 91 has built a diverse portfolio of award-winning beers, one for every occasion, and aims to drive the global shift in beer towards more color and flavor. Bira is now enjoyed in over 500 towns and cities spread across 15 countries and brews its beers across five breweries in India. The brand has its flagship taproom in Bangalore, where it releases one new experimental beer every week, paired with its curry-shop menu. Bira 91 also offers branded merchandise across categories such as glassware, apparel, and gifts, to make every day a lot more playful. Established in 2015, Bira 91 is driven by a dynamic team of over 550 passionate beer lovers and is backed by Sequoia Capital India, Sofina of Belgium, and Kirin Holding of Japan.
About Delhi Capitals
Delhi Capitals is one of the ten founding teams that plays in the Tata Indian Premier League (IPL). Co-owned by the GMR Group and the JSW Group, Delhi Capitals was established in 2008 as Delhi Daredevils before embracing a new avatar in December 2018. The team is coached by Australian legend Ricky Ponting and captained by Rishabh Pant.