Bira 91 Takes Over As The Official Partner For Five IPL Teams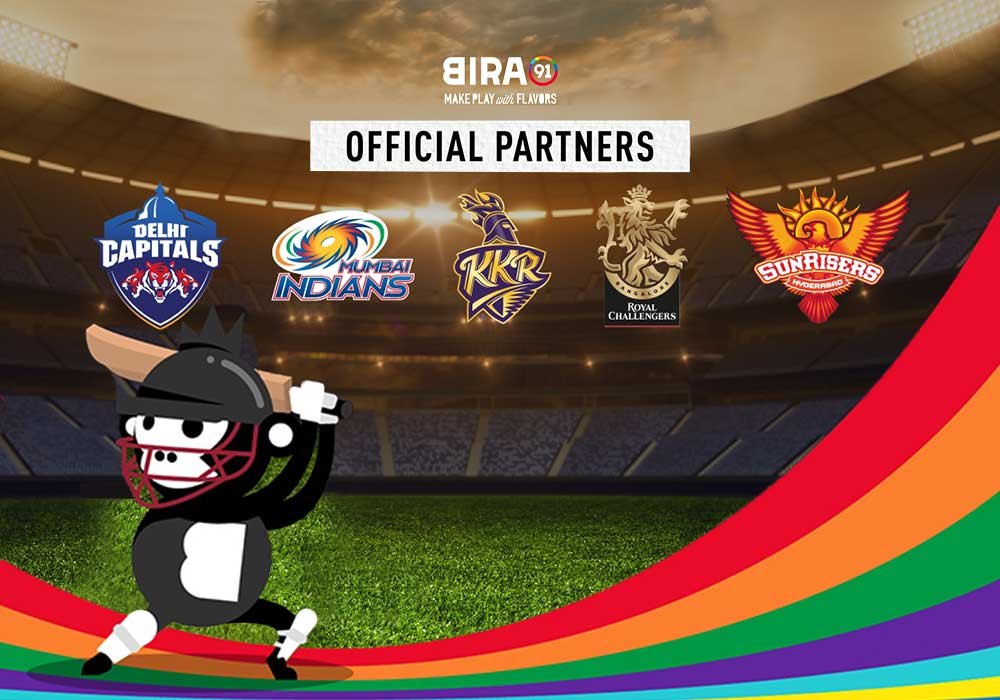 As part of a multi-year partnerships, Bira 91 will be cheering for Mumbai Indians, Delhi Capitals, Royal Challengers Bangalore, Sunrisers Hyderabad, and Kolkata Knight Riders.
March 28, 2023, India: Bira 91, India's fastest growing beer brand, today announced that they have partnered with five teams ahead of the new season in 2023. Serving as the Official Partner for Mumbai Indians, Delhi Capitals, Royal Challengers Bangalore, Kolkata Knight Riders and Sunrisers Hyderabad, this season, Bira 91 is set to bring a fresh and innovative approach to fan engagement for one of India's biggest sporting events. These partnerships are a true celebration of the fusion of cricket and beer, creating bespoke experiences for India's new-age consumers. 
Cricket and beer have long been considered a perfect combination, with many fans of the sport enjoying a chilled beer while watching their favorite teams in action. The experience of watching cricket with friends, family or fellow fans is enhanced by the addition of beer, with the shared enjoyment of a few cold ones adding to the camaraderie and sense of occasion. Bira 91 has been a long-standing supporter of cricket, both through its association with the International Cricket Council (ICC) and the partnership with Delhi Capitals last year. The association with cricket has helped elevate the sports viewing experience of fans and helped increase the brand's visibility amongst fans, with Bira 91 becoming a go-to beer for those watching cricket matches across India and beyond.
Ankur Jain, Founder, and CEO of Bira 91 expressed his excitement about the partnerships, saying, "As a brand deeply rooted in cricket culture, Bira 91 is thrilled to be the Official Partner for each of these amazingly talented teams. As the worlds of cricket and beer both undergo a generational shift, fans and consumers crave new and flavorful experiences. Addressing this change of guard through our multi-year partnerships, our intent is to elevate the cricket-viewing experience amongst Indian consumers. "
Speaking on the occasion, Rajesh Menon, Head & Vice President of Royal Challengers Bangalore, said, "Bira 91 has made great strides with some very interesting collaborations, and we are confident that the RCB association will offer them a massive play in culture using our fan base and brand assets as a delivery platform."
Bira 91 is one of the fastest-growing beer brands in the world, offering a distinct range of flavorful beers. By partnering with 5 outstanding teams, the brand aims to expand its reach across regions and brew the timeless love Indians have for cricket and beer.  
About B9 Beverages:
 A refreshingly modern beer brand, imagined in India, Bira 91 aspires to bring flavorful beers to the new world. As one of the fastest growing brands in the world, Bira 91 has built a diverse portfolio of award-winning beers, one for every occasion, and aims to drive a global shift in beer towards more color and flavor. Bira 91 is now enjoyed in over 1000 towns and cities spread across 18 countries and brews its beers across four breweries in India. Bira 91 has its flagship taproom in Bengaluru, where it releases one new experimental beer every week, paired with its curry-shop menu. Bira 91 also offers branded merchandise across categories such as glassware, apparel, and gifts, to make every day a lot more playful. Established in 2015, Bira 91 is driven by a dynamic team of over 600 passionate beer lovers and is backed by Sequoia Capital India, Sofina of Belgium, and Kirin Holding of Japan.  Bira 91 has also recently acquired The Beer Café, India's leading Alco-Beverage chain to strengthen its play in pubs and taprooms and build India's first large-scale direct-to-consumer platform focused on beer and innovation.
Learn more at www.bira91.com and follow us on Twitter, Instagram, LinkedIn , and Facebook.