SpectraA Technology Solutions: Leading High-Quality And Cost-Effective Equipment Supplier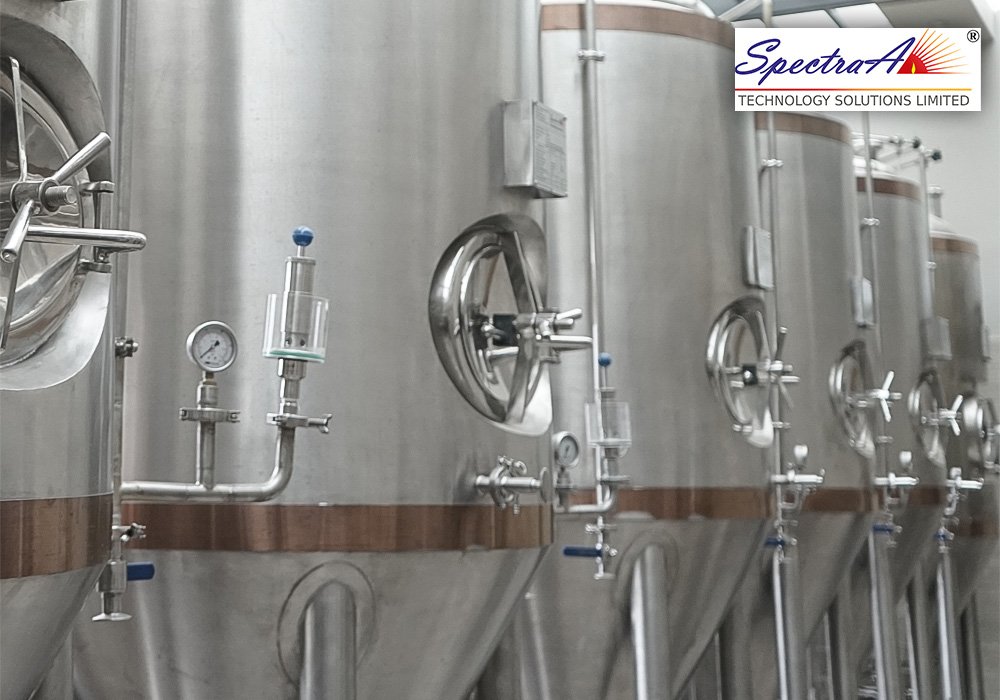 SpectraA Technology Solutions is an India-based project management company that offers end-to-end engineering, technological, design and site installation support. SpectraA offers comprehensive customer-specific solutions to its clients for Greenfield/ Brownfield Brewery Projects, Microbreweries, and Craft Breweries. SpectraA collaborates with global companies such as Krones, Meura, and Paques to provide clients with end-to-end solutions.
With an impressive portfolio of clients from the beer and brewing industries, SpectraA has developed a distinct brand philosophy to cater to the industry's key players. We learn about the brand ethos, future plans, and more in this conversation below with Binodh Raman, Senior Business Development Manager from SpectraA Technology Solutions, and Kavita Sinha, Deputy Manager -Business Development.
Binodh Meethal Raman. Sr manager, Business Development at SpectraA, has 13 years of experience in sales and marketing. Binodh's role at SpectraA involves managing Brewery Distillery and Malt spirit projects. Whereas Kavita Sinha. Deputy Manager -Business Development at SpectraA has 7 years of experience in sales and marketing. She deals with Microbrewery & Craft Brewery projects. 
SpectraA Technology Solutions Limited is the leading high-quality and cost-effective equipment supplier for breweries in India and Global markets. Can you tell us about your product range?
Binodh (Senior Manager, Business Development Commercial Breweries): SpectraA Technology Solutions is an India-based project management company that offers end-to-end engineering, technological, design and site installation support. We primarily cater to the brewery, distillery and food industries. SpectraA Technology Solutions segregate its divisions into alcoholic and non-alcoholic. Under the alcoholic division, we have microbreweries, craft breweries, and industrial breweries.
SpectraA provides clients with comprehensive customer-specific solutions for Greenfield/ Brownfield Brewery Projects, Microbreweries, and Craft breweries. We partner with Global companies like Krones, Meura, Paques etc. to provide end-to-end solutions for clients.
Kavita ( Deputy Manager, Business Development, Craft/Microbreweries):  We have some good collaborations with vendor partners who have stood by SpectraA for over 14 years of our existence. Each partner longs to provide the best of their services, along with SpectraA is working on the common goal to serve the end client at a reasonable cost, which makes us more successful than our competitors.
SpectraA has a diverse portfolio of clients from the beer and brewing industry. How does SpectraA ensure it satisfies the needs of its clients?
Binodh: SpectraA guarantees its clients efficient and consistent quality in their projects, thanks to our extensive experience in offering specialised solutions for different business operations. We offer solutions effectively from small to big. Each of our solutions focuses on generating VALUE FOR MONEY for our end customers. 
SpectraA has a very vast product range for breweries. We have manufactured Breweries starting from 2 HL up to 250 HL Brew lengths. We have installed Lauter tuns ranging from 1-metre upto 6 metres and fermenters from 2 HL up to 4800 HL in India.
Kavita: All our Microbrewery projects are unique, and customer requirements are different. If you look at it from the outside, it might look similar, but if you look at the piping or tank capacities and other aspects of it, you will see the difference.
We can cater to a wide range of clients based on their requirements. All the equipment is custom-made as per the requirement to have optimum utilisation of equipment, which helps in reducing unwanted investment by clients. 
What makes SpectraA stand out in the market? In what ways does it differ from the other major players in the sector in terms of effectiveness, cost, automation, etc.?
Binodh: SpectraA caters to different industries. Our overheads are reasonably placed compared to the other major players in this industry. We can offer better quality equipment at a better price point than our competitors. That makes a big difference to most of the customers.
We have put in extra effort to reduce our dependency on 3rd party vendors, which has helped deliver better quality while at the same time reducing the overall project cost.
We are the only OEM in the field of Brewery in India that probably manufactures MCC/PLC Panel in-house along with in-house programmers for better control of plant automation.
Kavita: The engineers in our company create innovative and highly reliable engineering process systems that serve as the foundation for high-quality products. As explained above, the focus is on getting the right Value for Money with the right partnership with suppliers is key in working together for a cost-effective solution. We try to understand the requirements of each client and custom-build projects for them without haggling over the standards! We see our projects through the eyes of our clients.
Tell us about your installation projects. Were there any challenging projects? If yes, which project was the most challenging and why?
Binodh: SpectraA has successfully installed many projects for breweries and craft/microbreweries in South Asian countries such as Sri Lanka, Cambodia, Myanmar, Bhutan, and Nepal, as well as several locations in India and the Global market, including Jordan, the Republic of Benin, Burkina Faso, Kenya, Tanzania, Malawi, Canada and Belgium. 
Every New project throws up new challenges. However, last year we commissioned a new Brew house of 250 HL with a 5.9 Metre- lauter tun in a record 4-months time from order to first brew. 
A project of this size usually takes 7-9 months conventionally. However, since the client wanted to have their product in the market for the 2022 festival season. We had to work on war footings with our site team and client supporting us to work day and night to make sure the plant is ready in 4 months' time. 
We also had some challenging projects like LIBS, Burkina Faso (west Africa) with 21 Nos Unitanks/BBT of 2000 HL, which are site fabricated.
Kavita: Presently, we are installing 8 projects simultaneously and completing them on time. We recently replaced a 5 HL brew house with a larger 10 HL brewhouse inside a running plant in record time ( within a week), and our projects are well monitored and time without any stress to the clients. 
We have an in-house recognised Master Brewer who advises us in every project of ours at every corner of India. Today we are probably the only company doing projects at all corners of India and also servicing them timely! We recognise the service despite the fact our machines do not need much of it. Thanks to our identification of the correct partners.
How do you think platforms like BW Conclave provide brands like SpectraA an opportunity to build a solid relationships with new clients?
Binodh: We are delighted to say that the first Brewer World expo was conducted in a very professional manner, and it did not feel like the Brewer world team was organising it the first time. We were part of the first edition and found the occasion highly successful with our reach to new clients.
BW conclave is a great platform to showcase our strength in the market. It also provides us with an opportunity to meet and build relationships with new clients and connect with our existing clients.
It also provides us with an opportunity to meet industry peers, socialise, and update ourselves about the latest developments in the market. 
Kavita: Exhibitions like these also help us understand the market scenarios, which will help our goals of becoming a major force to reckon with in the Indian Brewing industry. We work closely with our sister company Lumiere wherein we help offer Kegs, dispensers, small bottling and canning lines, lab equipment and services! We offer end-to-end solutions to our clients at a faster response time.
Lastly, What goals and objectives SpectraA aims to achieve this year?
Binodh: Like our motto Future is here, we at SpectraA strive to be the most successful Brewery technology company with the best of services to India and the world. We intend to do more and more quality work for the Industry in India and abroad. We envisage bringing in more partnerships in pursuit of excellence.
Our partnership with global companies like KRONES, MEURA, PAQUES, and PENTAIR helps in improving the industry in a meaningful way. Customers see us as an emerging alternative to expensive suppliers and trust our quality. Customer Satisfaction and Internationally acceptable quality are our dream focus. 
Kavita: We truly believe in the concept of making India a global leader in manufacturing and would like to be a part of this vision. Our vision for microbreweries shall be to sell globally fantastic micro/craft brewery equipment that is tough and durable, unlike the ones supplied by other countries at an unreliable and low cost. SpectraA equipment should and will stand the test of time and serve beer for years to come in the global market. We intend to export to a minimum of 4-5 countries this year including developed nations!
For enquiries and more details, visit their website or reach out to SpectraA at binodh@spectraa.com or kavita@spectraa.com