Bira 91 Launches Limited-Edition Beers And Merchandize Inspired By Mumbai Indians And Delhi Capitals
-Inspired by local flavors and the essence of the cities, these brews will be available in 500ML Cans and 330ML bottles across Mumbai and New Delhi-
-The limited-edition merchandise is now available to cricket fans across the country-
19th April 2023:  Bira 91, today, announced the launch of two Limited-Edition beers – 022 Session Ale and 011 Gully Pilsner and customized merchandize that pay homage to the Mumbai Indians and Delhi Capitals teams.  As the official partner of both teams, Bira 91 has carefully crafted bespoke brews and merchandize that are inspired from the essence of Mumbai and New Delhi. The limited-edition beers boast the cities' unique and heritage landmarks as its key packaging design elements. 
Bira 91's 022 Session Ale and 011 Gully Pilsner take their names from the dial codes of the cities. The '022 Session Ale' is a fitting tribute to Mumbai Indians and its hometown, delivering a crisp and smooth texture complemented by sweet hoppy notes. Meanwhile, the '011 Gully Pilsner' is infused with pilsner malts and noble hops, culminating in a refreshingly floral hop finish that aptly mirrors the bold yet chilled-out vibe of Delhi Capitals. Fans can now enjoy these unique and unforgettable flavors while rooting for their home team. 
The brand has also introduced a customized barware collection for both Mumbai Indians and Delhi Capitals, available on the Bira 91 Merch Store. These collections pay homage to the unwavering spirit of cricket and have been developed to elevate the game day viewing experiences of fans. 
Mumbai Indians Partnership 
022 Session Ale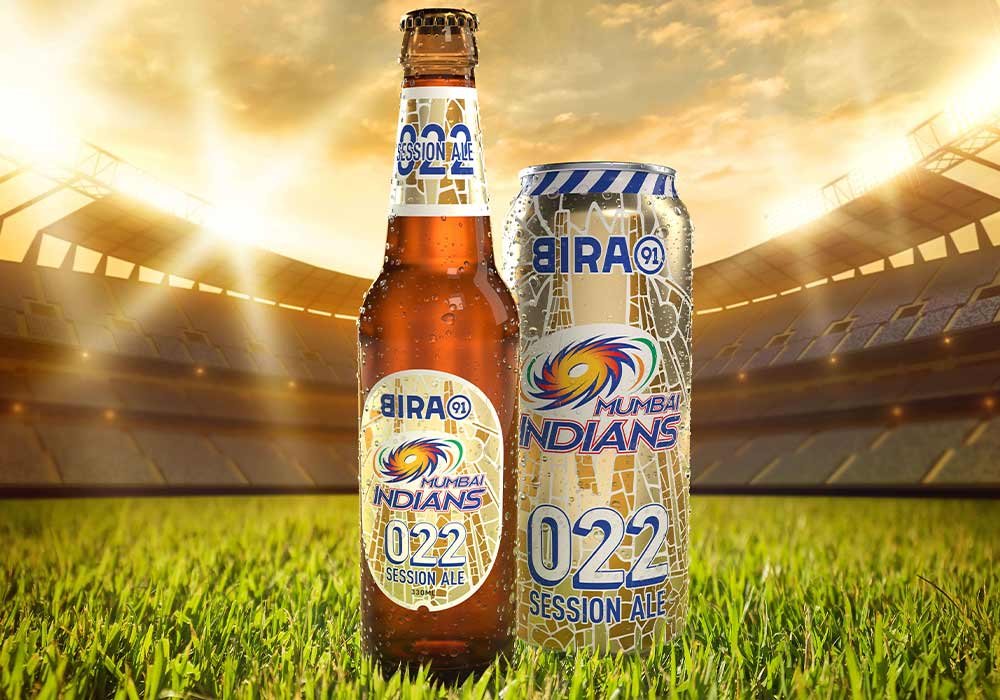 An ode to Mumbai and its beloved cricket team, this beer is a tribute to the city of dreams. The 022 Session Ale takes its name from the city's dial code and boasts a smooth and well-balanced texture that is sure to impress. The beer has been expertly blended with German noble hops, pilsner malt, and Munich malt, resulting in a delicate hop flavor with a touch of sweetness. Perfect for match-day, this beer style is a great choice for those who prefer a lighter beer with an ABV of 4.5% and a bitterness scale of 20. Available in 500 ml cans and 330 ml bottles, this Session Ale is sure to knock it out of the park!
Merchandize Collection 
Elevate your game-day experience with Mumbai Indians' exclusive barware collection! Immerse yourself in the excitement of the match with our stylish beer bucket, metal bottle opener, 3D coasters, and unique team glassware. Personalize your experience with our customizable beer koozie, featuring your name front and centre.
Delhi Capitals Partnership 
011 Gully Pilsner
A special beer crafted for Delhi Capitals' home city; it perfectly captures the essence of 'Dilli's' cricket-loving spirit. Blended with the freshest noble hops and two-row barley, this pilsner-style brew is a bold and refreshing balance of smooth malt flavors and a floral hop finish. Its name is inspired by the city's dial code and is perfect for match day while rooting for your favorite team. The beer is available in 500ml cans and 330ml bottles and boasts an ABV of 4.5%.
Merchandize Collection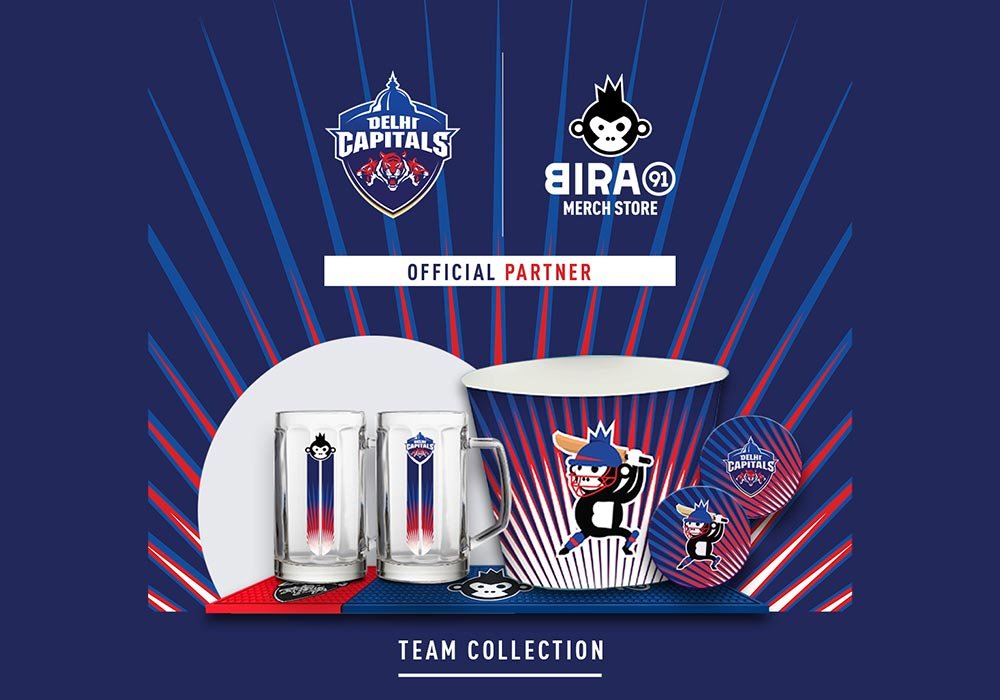 Raise a toast to the Delhi Capitals with our trendy barware collection! Enjoy the game in style with our team-inspired beer glassware, non-slip bar mat, spacious beer bucket, convenient bottle opener, and eye-catching coasters. Make it your own with our customizable beer koozie, the perfect accessory for any fan.
022 Session Ale and 011 Gully Pilsner will be available in 330ml bottles and 500ml cans across Mumbai and New Delhi. 
The merchandise will be available exclusively on Bira 91's merch store.
About B9 Beverages:
 A refreshingly modern beer brand, imagined in India, Bira 91 aspires to bring flavorful beers to the new world. As one of the fastest growing brands in the world, Bira 91 has built a diverse portfolio of award-winning beers, one for every occasion, and aims to drive a global shift in beer towards more color and flavor. Bira 91 is now enjoyed in over 1000 towns and cities spread across 18 countries and brews its beers across four breweries in India. Bira 91 has its flagship taproom in Bengaluru, where it releases one new experimental beer every week, paired with its curry-shop menu. Bira 91 also offers branded merchandise across categories such as glassware, apparel, and gifts, to make every day a lot more playful. Established in 2015, Bira 91 is driven by a dynamic team of over 600 passionate beer lovers and is backed by Sequoia Capital India, Sofina of Belgium, and Kirin Holding of Japan.  Bira 91 has also recently acquired The Beer Café, India's leading Alco-Beverage chain to strengthen its play in pubs and taprooms and build India's first large-scale direct-to-consumer platform focused on beer and innovation.
Learn more at www.bira91.com and follow us on Twitter, Instagram, LinkedIn , and Facebook.