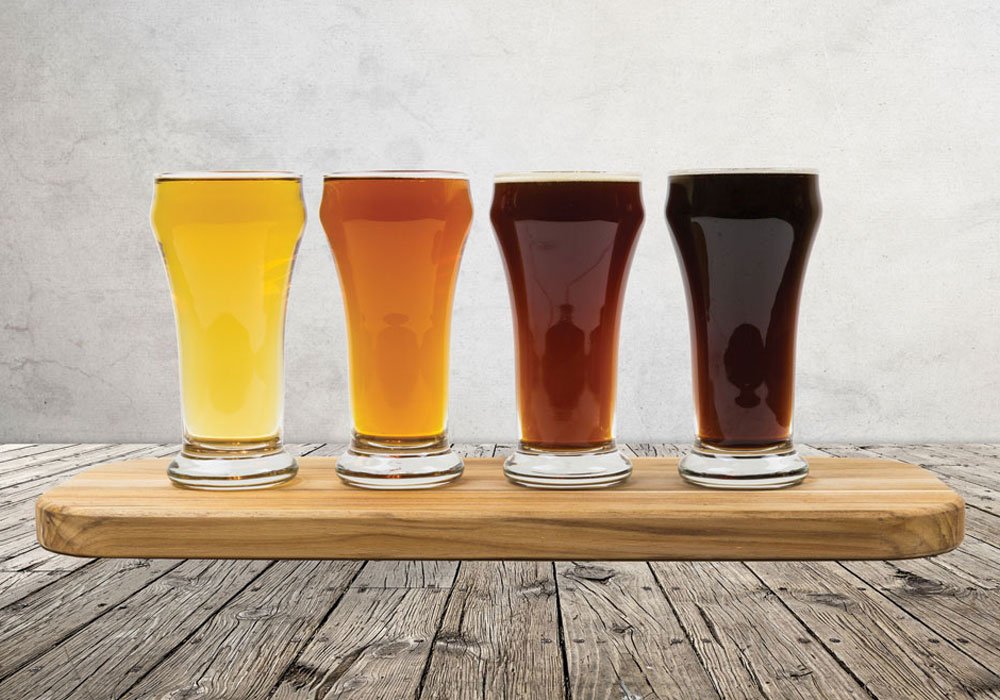 GEORGE JACOB
Brew Master & Director, The Beer Chronicles
The Beer Chronicles India
"Brewlab is an amalgamation of experience and knowledge with the art of brewing and the science of Brewing. It brings together people from all around the world with various tastes and preferences along with different brewing styles but with one thing in common, the love for brewing and beer. During my course, I won the prestigious award for innovative brewing with my Grapefruit IPA which is now being brewed by Castle Eden brewery and served at all the Head of Steam pubs in England."
The world of Beer is so much more than just a sensory experience. Of course, it all comes down to that pint in your hand: packed with subtle flavours, some packing more hoppiness than others, different aromas, mouthfeel, and distinguishing notes. But as is with all the finer things in life, behind-the-scenes of beer production is where all the magic actually happens. A lot of study and practise goes into earning the title of a Brew Master – they are the ones that personally brew and ferment the beer, clean the tanks and even manage finances. In larger commercial brewing (or big beer) establishments, brew masters often oversee a team of workers who handle the day-to-day tasks of brewing beer while they maintain quality standards, managing inventory and tasting the result.
With over a decade of brewing expertise and a decade more of being an avid beer enthusiast, The Beer Chronicles is a culmination of interests for George Jacob. A blogger's paradise, The Beer Chronicles is Mr Jacob's thoughts and research on the origins of various beer styles, recipes, visits to breweries and equipment reviews. The Beer Chronicles also provides an end to end consultancy for breweries looking to setup operations and helps with all the stages of the process from brew-house selection, recipe formulation, staff training and operations to overall craft beer offerings. Sneha Nair, BW correspondent, in conversation with George Jacob, BrewMaster & Director of The Beer Chronicles, on a first-of-its kind entrepreneurial venture.
How did it all begin, your love affair with beer?
My sojourn with beer started two decades ago in the late 90's. Every time I got the opportunity to walk in to a place where beer is born, it is a special experience. I'm like a kid in a candy shop. I walk in with fresh eyes, no expectations, and just as excited every time. There are always some standouts, and once in a while a place will strike me as a special. Special not necessarily because of its success or its status, but rather because of a feeling I get when I spend time there. This is how it started and this is how it is even today!
When and where did you complete your Brewing certification from? Your biggest take-aways?
I was into Project Management for the Geospatial field for many years and used to moonlight at a brewery, first in New Zealand and then in India. After learning the ropes there, I decided to quit IT and go into brewing full time. After a lot of research and understanding about various courses available, I decided to complete my Diploma in British Brewing Technology from Brewlab in the UK. Brewlab is an amalgamation of experience and knowledge with the art of brewing and the science of Brewing. It brings together people from all around the world with various tastes and preferences along with different brewing styles but with one thing in common, the love for brewing and beer. During my course, I also won the prestigious award for innovative brewing with my Grapefruit IPA which is now being brewed by Castle Eden brewery and served at all the Head of Steam pubs in England.
Recently converting The Beer Chronicles into a full-fledged consultancy, talk to us about your current team and what it is you bring to the table?
At the moment we are a team of 4 Brew Masters, each with different styles of brewing and work experience having worked both in India and abroad and a team of very committed brewers who are highly experienced and qualified. The Beer Chronicles is more of a family and we work together as one well-oiled machine to ensure that all our projects are equally important, ensuring diversity of styles and of course consistency in the quality of the finished beverage.
Our team is helmed by me as the head honcho with support from Hrishi Sasane and Vikram Chawla as part of the management team. Hrishi is from Pune where he worked with Doolally, Kiwa and Effingut before joining us. He specialises in Ciders and Meads and has won a National Gold Medal for his Hefeweizen, and Silver for his English Bitter and two Bronze medals for his Apple Cider and Indian Brown Ale. Vikram is a jack of all trades, with a background initially in Hotel Management and then in beer. He has worked with ITC running operations for Dublin, he is a Chef, a Gelato Chef, Wine Sommelier, and now a Brew Master. Vikram specialises in recipe formulation where his forte is the balance of unique ingredients and flavours.
Currently brewing in Bangalore, what are some of the projects you and your team are working on?
We work with a number of breweries in Bangalore including Aurum Brew Works, The Rig, Red Rhino and Float. We also work with Zero40 in Hyderabad and Happy Brew in Vijayawada. There are a number of other projects that are coming up including one in the North of the country and one in the East.
How do you decide on what beer styles to brew and ingredients to buy?
Brewing the right beer at a property is very crucial. While it is important to maximise sales for the said property, it is also important to brew to specification and true to style, which keeps in mind the developing palate of the customer. India today is a growing market and we believe that the correct awareness of true to style beers is important for our customers and goes a long way in helping them understand what a particular style of beer should actually taste like. We also use certain tools to understand the demographic of the location we are brewing in. Armed with this information, post this there are many discussions and debates within the team and the owners of properties, after which we sit and pen down the recipes.
What is the brew philosophy at the Beer chronicles?
We have never really thought of a motto, but we strongly believe that the seasons are a compass offering direction through different ingredients and influencing tastes which reflect our diverse culture. We love experimenting, so I guess our philosophy is best described as – Mad scientists bringing method to the madness, while our working policy can be summed up as – Be a little crazy and a little thirsty.
What are some of the challenges you face as consultants?
Each project is custom built from the ground up and comes with its own set of unique challenges. Overcoming these reinforces our skills and we look at it as our responsibility to meet and address any complications that may arise.
What would you rate as challenges that affect the production of good beers in India?
A lack of knowledge and a tendency to take the easier route or short cuts. The word craft should be synonymous with high quality ingredients and no shortcuts – beer as it was meant to be.
How do you attempt to ameliorate the problem of increasing production while maintaining a real flavourful, individualistic beer?
Proper scheduling, maintaining up to date brew logs, thorough quality control, taste panels for each batch, HACCP, proper sanitation of the brew house, tanks, lines, taps, giving the beer appropriate time to mature so as to allow for flavour development, and brewing to exact specifications.
What are your thoughts on the rising beer markets in India? And its future?
This is an incredibly exciting time for us. We are where the west was 20 years ago and if we keep ourselves committed to the craft I believe there is a massive boom coming up. With breweries opening almost every other week, a lot of folks believe we are reaching saturation, but keeping in mind our per capita beer consumption, I feel that we still have a long way to go – bottling, canning, kegging, beer festivals, collaborations. The sky is the limit!
What are the Beer Chronicles plans for the future? Expansion?
Hush, that's a secret!
Rapid Fire
Favourite Beer Bar in India and Abroad
Effingut and IBC, Koregaon Park, AND Roosters, New Zealand
All-time favoured ingredient to brew with & why?
That's a toughie. We use so many different varieties of ingredients, but if I absolutely had to choose, I'd say leaf hops instead of the pellets we normally get in India.
Top-3 beers on your beer-bucket list to try?
– Theakston's Barrista Stout (England),
– Mac's Hoprocker (NZ),
– Darwin's Flag Porter (England)
Top 2 Beer destinations you've been waiting to visit?
Munich Beer Fest and a week at the Loch Fyne brewery on the banks of Loch Fyne.
Any pointers you'd like to share with upcoming brewers?
Do not compromise!