Thirsty Fox Launches India's First And Only Hopped Cider: Kipp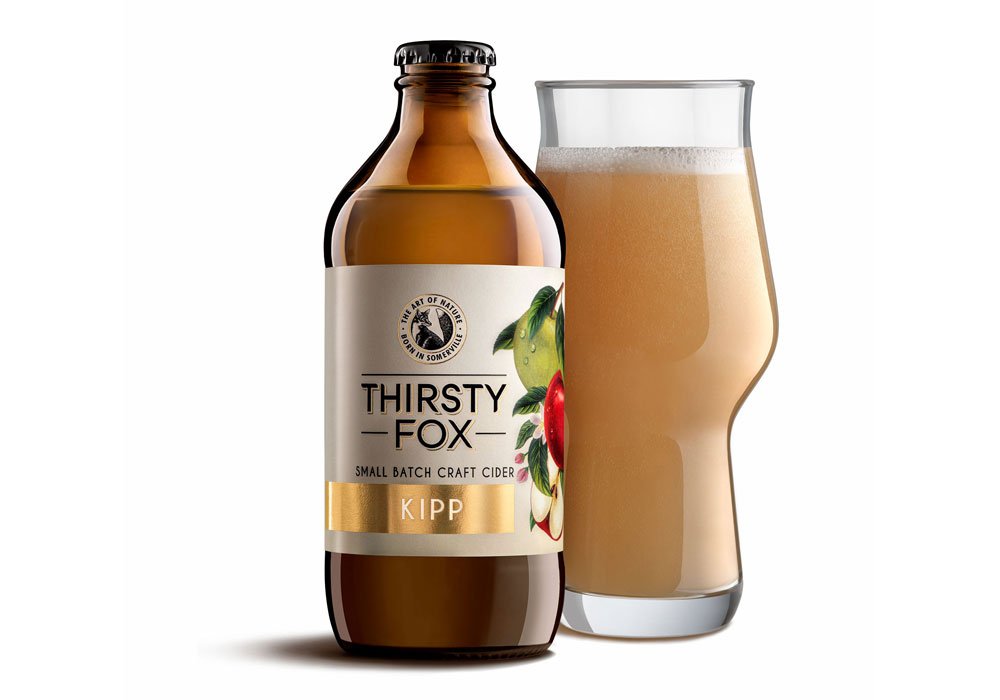 Just in time to welcome the Indian monsoon, Trillium Beverages' Thirsty Fox has announced the launch of Kipp, India's first hopped cider.
Thirsty Fox Kipp is a juicy, unfiltered cider with a bitter-sweet complexity. The freshest batch of hand-picked apples is slowly fermented with a proprietary blend of hops and blended with cold-pressed apple juice. The result is a cloudy, fruit-forward cider with heady tropical aromas and a lingering finish. Kipp has an alcohol content of 5.5% ABV and is gluten-free and vegan.
Even before its market launch, Kipp has made waves internationally, winning a Silver medal and the India Cider of the year award at The New York International Cider Competition 2021.
"With the launch of Kipp, we want to create an experience that we believe is a first of its kind for consumers in India. A hopped cider will appeal to a broad audience while being true to the Thirsty Fox vision of craft ciders that consumers have come to know and love. While our initial plan was to launch Kipp alongside Izzy and Reed in November 2019, we had to embark on a two year-long journey to overcome the plethora of technical challenges that a cider such as Kipp poses. We are excited to be introducing a small batch of only 900 bottles of Kipp and cannot wait to hear what our most loyal fans think about this cider." –  Siddharth Sheth, Founder & CEO, Trillium Beverages Pvt. Ltd.
Limited stocks of Kipp will be available at select retail outlets starting 12th July 2021.
Price- Rs. 350 for 330 ml glass stubby bottles
Other Ciders From Thirsty Fox:
Thirsty Fox is a brand owned by Trillium Beverages – a team of passionate cider lovers who believe that anything worth doing is worth doing well. Thirsty Fox aspires to create a culture for craft ciders in India. The brand was launched in Mumbai in November 2019, introducing a new category to the nation's alcoholic beverage segment. They make their ciders in small batches, and the team goes to great lengths to make sure every drop of Thirsty Fox tastes the way it does – by letting nature do what she does best.
Thirsty Fox has a portfolio of award-winning ciders and retail three variants – Izzy, Reed and Kipp in India.
Thirsty Fox Izzy: a golden summery cider, bright, and crisp, delicately balanced with orange blossom honey. Gluten-free. 6% ABV. Rs. 300 for 330 ml glass stubby bottles
Thirsty Fox Reed: a beautiful ruby red cider, semi-dry, mildly fizzy, conditioned with tart cherries and peppercorns. Gluten-free, vegan. 5.4% ABV. Rs. 300 for 330 ml glass stubby bottles
Thirsty Fox Kipp:  a cloudy fruit-forward, hopped cider with cold-pressed apple juice. Gluten-free, vegan. 5.5% ABV, Rs. 350 for 330 ml glass stubby bottles.
Thirsty Fox ciders are currently available at select outlets across Mumbai, such as Foodhall, Santacruz; Haiko Supermarket, Powai; Living Liquidz, Hops Cork, Bandra and others. They are also available at select stores in Pune including, at Dorabjee's.