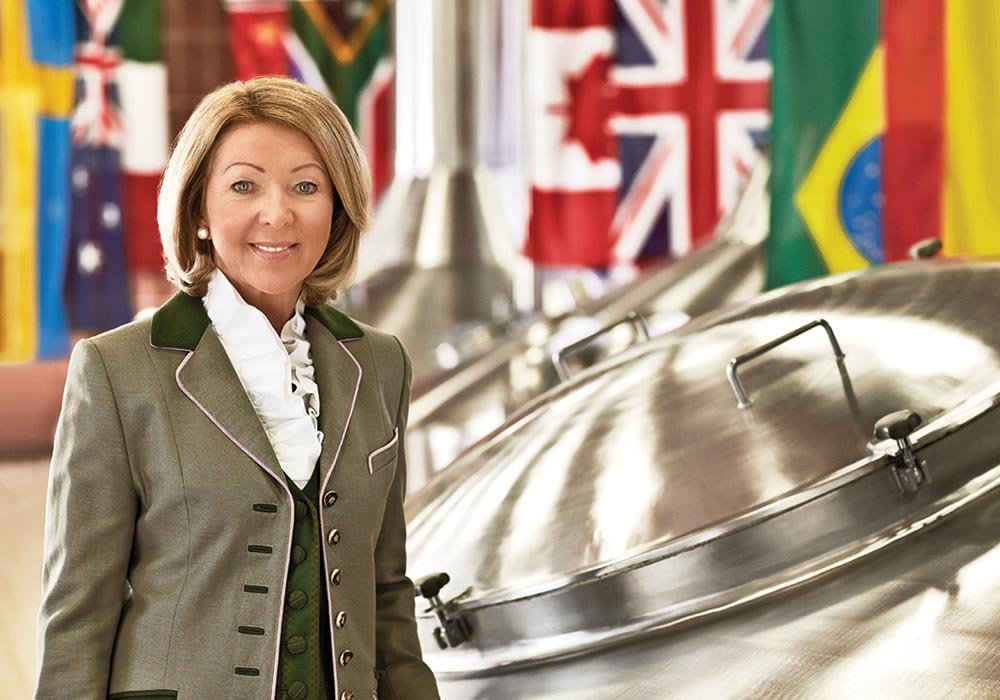 Waltraud Kaiser
Export director, ERDINGER Weissbräu
Home
Their roots are in Bavaria. Brewing exclusively in Erding since 1886 – every single bottle, and never brewed anything other than their Bavarian specialty "weissbier".
Quality & Flavour
As a traditional brewery, Erdinger make no compromises when it comes to the German Purity Law, their top-class ingredients and their passion for Bavaria's cultural heritage in the form of "weissbier".
Lifestyle & Enjoyment
Available in over 90 countries! Erdinger plays the ambassadors of Bavarian hospitality. Their wheat beer specialties personify Bavarian lifestyle and enjoyment.
Reliability
ERDINGER is respectful and responsible in its dealings with employees, customers, the environment and society. As an owner-managed private brewery, continuity and reliability are the basis for our business.
What kind of opportunity did ERDINGER worldwide see as a potential in the Indian market?
Our ERDINGER wheat beer has been sold in India for twelve years now and is developing very well. The Indian beer market with its local beer lovers and the many expats offers great potential for us. As an exotic specialty with a unique taste profile, ERDINGER wheat beer differs clearly from the national beers on the market. "Made in Germany" is a guarantee of quality for many consumers. Especially younger, urban buyers appreciate our specialties.
ERDINGER positions itself as a premium category beverage, what is the brands USP?
ERDINGER stands for the highest quality and Bavarian brewing art – since over 130 years. Each of our wheat beers is brewed exclusively in Erding/Germany with the purely natural ingredients water, wheat and barley malt, hops and yeast – strictly according to the Bavarian purity law. Another special feature is the traditional bottle fermentation, of which we at ERDINGER are particularly proud. The wheat beer matures in the bottle and can unfold its splendid liveliness and the harmonious interplay of aromas. It is also very important for us to experience the Bavarian joie de vivre and hospitality.
How far have you succeeded in attracting the urban social population to Erdinger Brands?
In the urban centers of India, we meet the perfect target group with our wheat beer – people who are cosmopolitan, curious and tolerant. Here people like to try and enjoy something new and different.
As a classic trendy drink, our wheat beer fits very well into the Indian metropolitan regions of Mumbai, Pune, or New Delhi, Bangalore and Chennai.
Our ERDINGER Hütt'n is an attraction especially in Mumbai and New Delhi. This rustic, cozy wooden hut offers its guests a very special experience with its loving furnishings. The company of a young German, "Bavarian Soul", provides enjoyable moments with typical Bavarian dishes to which our wheat beers taste fantastic.
What do you see as the biggest challenge to growth of beer industry in India?
Unfortunately, there are trends of offering beer far too cheap. There is a big threat that consumers may lose confidence and that the value as well as the benefits of drinking beer may lead to a decline of consumption for the whole industry.
What's the plan for Erdinger in the near future?
We would like to continue our chosen course and further expand ERDINGER as a specialty in India. The long-standing and very good relations to our importers and partners are decisive, naturally beside the quality of our products.
We would also like to continue to promote the Hütt'n concept nationwide.
Erdinger's Beer Portfolio

The Ultimate Premium Wheat Beer – Erdinger Weissebier

The strength of this classic wheat beer lies in the harmonious balance it achieves between the various aromas. Gently spicy wheat and yeast aromas blend with mildly bitter hops. The invigorating carbon dioxide ensures its typical liveliness. A premium beer whose full-bodied yet elegant character leaves a lasting impression of ultimate Bavarian enjoyment. A truly unique wheat beer!
ERDINGER Weißbräu allows its top-fermenting specialty to mature in the bottle in the traditional manner, just like champagne.
The Refreshing Isotonic Recovery Drink – Erdinger Alkoholfrei
The non-alcoholic drink from Erding is not only a real energizer but is also healthy – thanks to the vitamins B12  and folic acid, as well as the polyphenols it contains. Isotonic Drinks has the same osmotic pressure as human blood.
As a result the concentration of such drinks, can be absorber immediately.
A varied and balanced diet as well as a healthy lifestyle are important. ERDINGER Alkoholfrei supports this while also tasting fantastically full-bodied and refreshing!