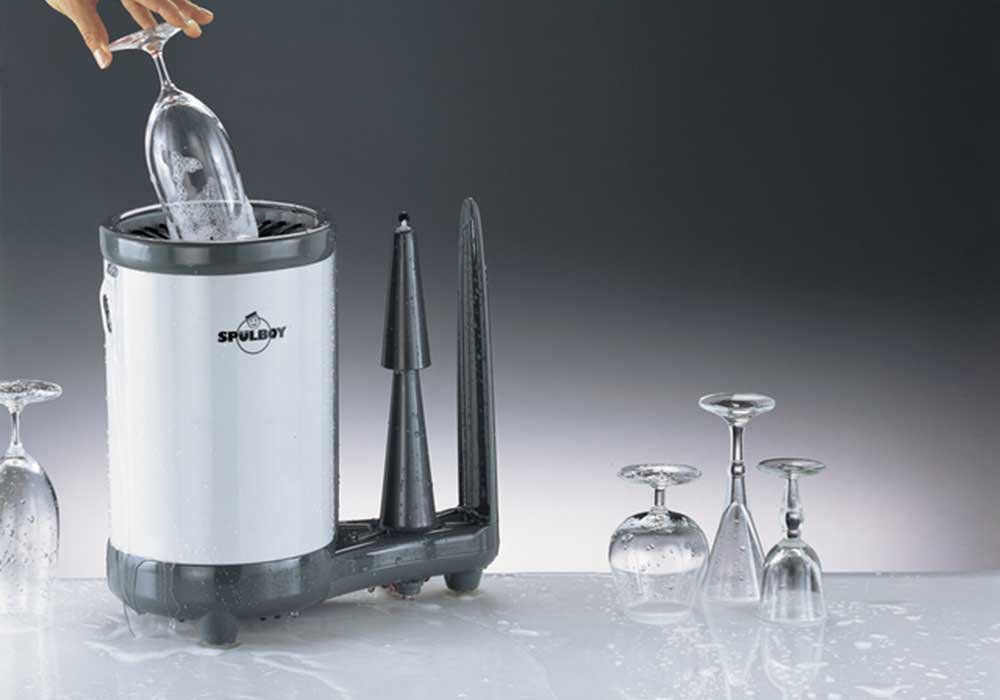 Glass washers from Spulboy® that ensure beer clean glasses worldwide
According to the Draught Beer Quality Manual issued by The Brewers, a beer clean glass is one that, "forms a proper foam head, allows lacing during consumption and never shows patches of bubbles stuck to the side of the glass in the liquid beer."(www.craftbeer.com). Lack of hygiene in glassware can drastically reduce the beer experience. So any beer aficionado will know that beer needs to be poured into the glass at a 45 degrees angle, and forming a one inch collar of foam. But while pouring and brewing techniques may be special skills, everything can be derailed if the glass is not only clean, it's Beer Clean!
Technically, a beer clean glass is completely devoid of any impurities in the inside surface, allowing carbon dioxide bubbles to cling to it. And every beer drinker knows that bubbles clinging to the inside of a beer glass talks about the quality of beer being served!
Carbonation suffers in a glass that is not beer clean. If there are minute particles of any impurities in the glass, it traps the carbon dioxide. If the glass is beer clean, the carbon dioxide should shoot upwards rapidly, giving the glass its effervescent look and releasing the desired flavour as well as aesthetics. But when carbon dioxide is not shooting upwards, the beer is flat and lacks flavour.
While there are many physical ways to maintain glassware beer clean, there are also certain methods and chemicals that ensure that. Keeping beer glassware separate from other glasses, not using beer glasses for milk or water, pre rinsing and avoiding frosting–are some everyday ways to keep beer glassware clean.
Another way to maintain almost perfect hygiene is by using Spullboy® manual washing solutions for glasses.
Spülboy® aims to maintain the perfect pleasure "from the keg to the glass" for beer lovers globally. It is an indispensable part of this quality chain and has achieved worldwide appreciation by breweries, bars and restaurateurs for setting standards for all bar areas because only hygienic, crystal clear glasses guarantee the unique taste.
"As the market leader for manual glass washers, we aim to make a sustained improvement to the quality of life of our customers with our innovations and high-quality products. Our driving force: people have been able to enjoy their drinks from hygienically clean glasses everywhere in the world for more than 40 years thanks to Spülboy," says Marius Wilhelm, Sales Manager of Schäfer Produkte Gmbh.
Original Spülboy® models have been manufactured in Wuppertal since decades, and are as innovative now as they were back then. How does that work? "We continue to develop and optimize our company as well as our products as a matter of course. In addition, continuous controls in our modern, ISO-certified operation ensures consistent product quality, a long service life and high functionality. It is not without reason that the catering trades all over the world place their trust in Spülboy® today–from cool to exclusive, everyone loves hygienically clean glasses," he adds.
Original Spülboy® models require no electricity and surprisingly little water–just plug'n play. The concept of mechanical cleaning by internal and external brushes grants perfectly hygienic result and ensure complete removal of fat or lipstick residues. The big plus: these models clean and rinse with cold water and thus enable the usage of the glass immediately, are portable and stand out due to their ease of use and unique hygienic design.
They offer perfect hygiene and cleanliness and this includes ecological compatibility. Spülboy® glass washing tablets remove up to 99.9% E. coli and Pseudomonas bacteria, such as herpes viruses type 1 (HSV), when used properly in an original glass washer. This cleaning performance has been tested, certified and verified by independent institutes and test laboratories.
Sustainability: Think new, Clean, green!
The brand Spülboy® has been setting successful high standards in professional glass cleaning for over 40 years and also in terms of sustainability. How do they think ecologically and protect people, the environment and conserve resources at the same time? "This is specifically where we view our responsibility. Cleanliness must not be achieved at the expense of the environment in our opinion! Spülboy® therefore works without electricity and with highly efficient water consumption. In fact only 10cl water is needed for each washing process.
Even the Spülboy® glass washing tablets are biodegradable and thereby protect the environment, since we use only high-quality, tested grade A plastics.
The long service life is supported by the modular system; every part can be replaced as a spare part and is completely recyclable," says Marius.
And with regards to the products, each one is fully recyclable and does not have to be disposed of as special waste. This also applies to packaging.
With the Indian market starting to look up, Spülboy® has appointed Mr. Sanjeev Nagpal, Director of Om Distributors based in Gurgaon, Haryana, as their Indian arm. The Indian market can now look forward to world class hygiene technologies and innovations.