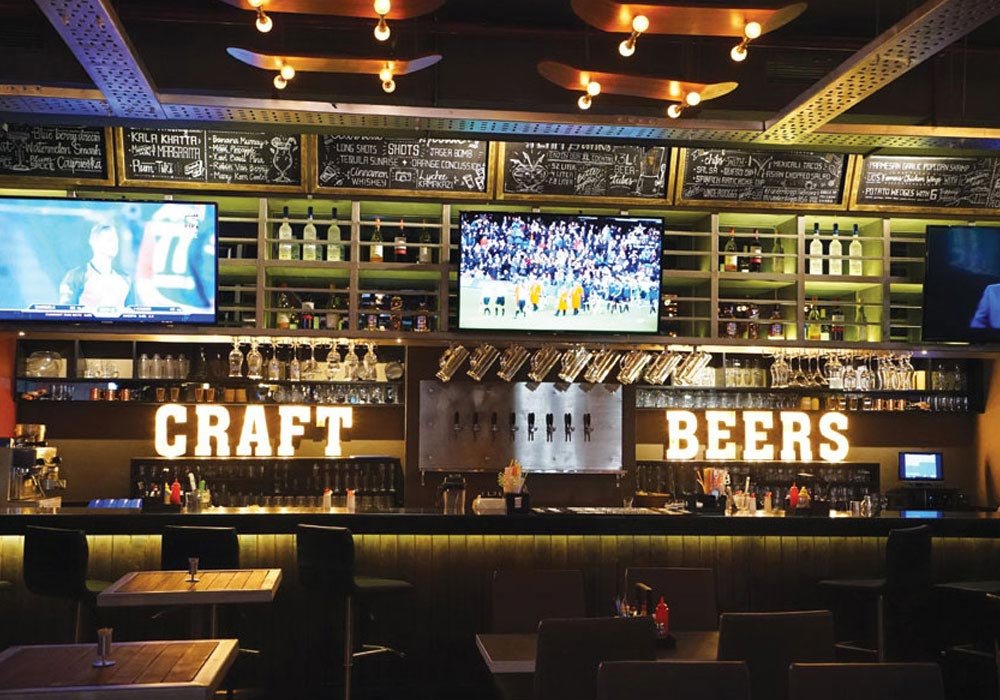 Definitely not the Underdog
Rish Saini
Director & Owner, Underdoggs
With their recent launches in Ludhiana, Lucknow, Jalandhar & Amritsar, Underdoggs has spreads like wildfire throughout the north of India, comprising of a total of 5 outlets now. Underdoggs is a one of a kind concept that combines the exotic world cuisine and unique entertainment sources. Born in the United States of America, and brought up in India, Rish Saini, talks to Brewer World about his passion, challenges and future plans for Underdoggs.
What made you decide on opening a microbrewery?
A brewery has always been a dream for me to add at Underdoggs. Great craft beer has always been a passion and up until recently, I feel outside of Bangalore there has been a lack of quality craft beer in the country. As any craft beer connoisseur loves to do, I love to sample new styles of beers from different breweries in different countries. Beer has a depth to it no spirit possesses I feel. So simply said we love our craft at Underdoggs and want to share that love with people.
We're spreading our passion for great beer to the people! The availability of a quality beer in the market is just not present in Punjab & the diversity of flavour and variety of styles is non-existent. Underdoggs is here to change all that with our commitment to unique and flavourful craft beers.
Could you tell us a bit about yourself?
At the age of sixteen, I moved to the United States where I finished my studies and worked at the ground level as a server in restaurants, bars, catering to companies and hotels. My dad, Manpreet Saini had started a hotel with a pool hall in India before moving to the US. Upon returning he started a bakery company and we decided to sell the hotel. This is when we planned to open Underdoggs. We felt there was no place for entertainment to visit and no quality sports bar anywhere. It's been our sole line of work since and it's been quite the journey.
I handle the brand building, marketing, F&B development, SOP formulation and staff training at Underdoggs. This year I've had the opportunity to do the complete architecture & interior design of our new locations in Ludhiana, Jalandhar & Amritsar. We've transformed our space in terms of the design, F&B menu, presentation, branding, staff uniform, & the whole nine yards including the addition of our brewery. I take great joy in thinking outside the box and innovating, it's the most enjoyable part of this kind of work.

Why craft beer? Who would be the master behind the brews?
Craft beer simply tastes better. We put our passion into our beers with amazing ingredients; both imported and locally sourced with a stern eye on quality. We produce stronger, full flavoured beers". At Underdoggs we believe craft beer is culture, a way of life, a social lubricant that brings people together to share, love, laugh & celebrate" adds Saini. Under the helm of Brew master Ishan Grover, and his company RJ Brewing Solutions, Underdoggs has an upgrade every three month by changing at least 2 beers on tap and offer its guests a new craft beer style with a new flavour profile. Ishan Grover is an expert in brewing and distilling from Heriot Watt University, Scotland and one of the leaders in the brewing industry", states Saini. Four out of five of our beers qualify as strong beers with a higher alcohol by volume level than a typical store bought bottled beer. "His Ekta Saison-An Indian Masala based Saison is excellent and really what gives meaning to truly innovative craft beer and perfectly suited to the Indian consumer". We've also brewed an IPA (Indian Pale Ale), Chocolate Porter, Belgian & German Hefeweizen & Brown Ale. We're presently brewing a lager, not done at many breweries since it takes twice as much time to produce. It's something neither of us have really had the opportunity to brew as yet so we're excited to see what we produce and how our patrons take to a light, crisp, refreshing lager.
Talk to us about the concept of Underdoggs? How did you settle on the name?
Everyone at some point in their life has felt like an underdog, whether at home, school, work or in sports. The most memorable moments in sports history are of teams and individuals that overcame all odds to achieve their glory. Our brand mascot – the turtle, signifies the most recognized underdog story – the race between the turtle and the hare. Underdoggs has evolved form it's original sports bar theme. We've kept our DNA intact, housing 20+ HD TVs & projections screens to ensure every seat is the best seat in the house to watch sporting events. We've also retained our entertainment package, providing pool tables, foosball, carrom, darts, board games and beer pong. Although the craft beer has gained a fair share of the market in the US & UK it's still in its infancy in India. So craft beer in a sense is the Underdog in the beer industry, winning over hearts across world. It's exciting to be part of the movement.
We're spreading our passion for great beer to the people! The availability of a quality beer in the market is just not present in Punjab & the diversity of flavour and variety of styles is non-existent. Underdoggs is here to change all that with our commitment to unique and flavourful craft beers.

You advertise Underdoggs as "The industry leaders of the sports bar concept, could you tell us about that? Why this approach? Has it helped in retaining a larger customer base?
Sports bars have a great shelf life and some of the oldest bars in the worlds are sports bars. It's a place every sports fan loves to go watch the big game over some grub and cold beers. A love for sports is a big reason for starting our concept and sporting events take place year-round, the calendar is set, and people want a place to watch it in a great atmosphere, live commentary and like minded fans. So, it's highly marketable and a great market niche to take hold of. You can gain a lot of loyal customers, draw repeat footfall in more frequency if done right. Every market has to be studied to identify what will work best, we adjust our approach & market ourselves accordingly.
Any plans for expansion to the southern regions?
Yes, we are in the process of strengthening our corporate team and standard operating procedures to expand rapidly. We are looking for local partners in new cities and or pure franchisees looking to grow with our company. We presently have three franchised outlets in Guwahati, Lucknow & Amritsar. The rest being company owned.
What does your brewery offer that others do not?
We're true to our craft. There are as good breweries in India, but they are a small percentage. Many places have breweries because they see it as a market advantage and an increased revenue stream. They cut corners with their raw materials, master brewer, staff & production cycle. This all means compromise, and an identifiable lack of quality for their end product. Craft brewing is about passion, producing the best quality product you can, a willingness to experiment, a connection with your consumer and a continuously learning. We cut no cornersatUnderdoggs to produce the best quality craft beer. We also have very unique tasters, names of the beers & glassware appropriate to the style of beer you are drinking. We are now in the process of taking our mission a step further by offering 6-8 craft beers on tap by producing small batches, kegging them and using a direct draw cold room process to make them all available on tap.
Words of advice to future entrepreneur's wishing to follow the microbrewery stream?
If you don't have a background as a brewer its important you do your homework, consult professionals, existing breweries and hire a reputable brew master who brings solid experience and know-how to the table.