The Evolution of Modern IPAs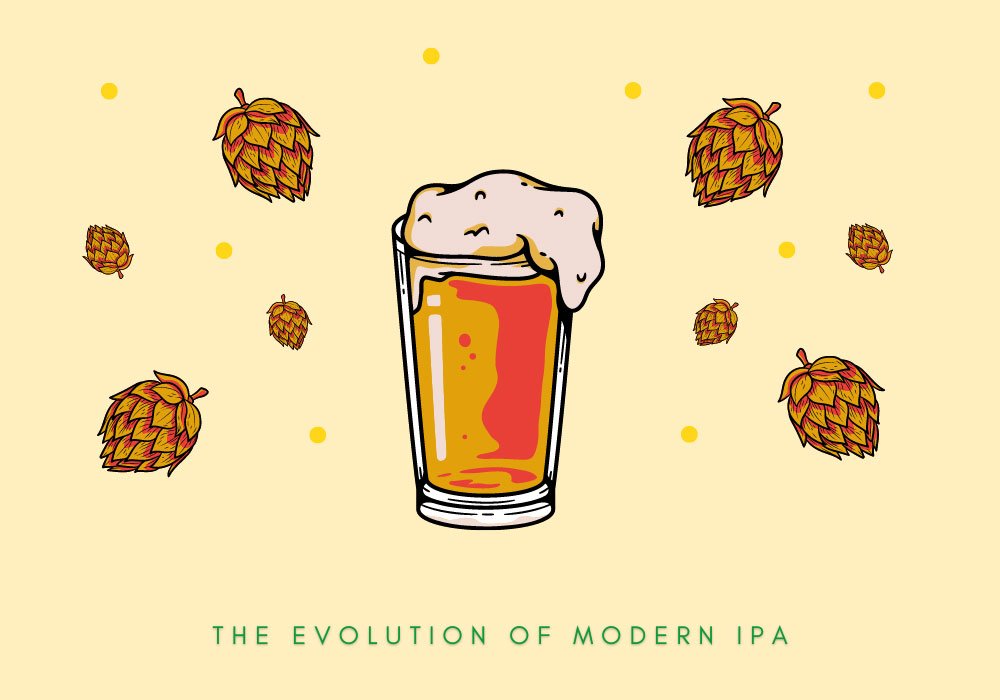 The term "IPA" has become synonymous with craft beer in the minds of many beer drinkers. Today, there is no other beer style that has been as continuously decorated, redefined and renovated as much as an IPA. Especially in a country like the United States, IPA continues to evolve at a breakneck pace. It also comes off as a surprise that the majority of the people who often toss around the term IPA do not necessarily know what it stands for. For those who don't, IPA is shorthand for "India Pale Ale".
India Pale Ale is originally a British style IPA which was born out of necessity to export homegrown ales for the British troops who were stationed in India centuries ago. It all happened when the brewers understood the significance of hops in combination with higher strength ales which led to a longer shelf life of beers. Now without heading towards the classic and often trotted out 'IPA origin story', let's talk about the beer style by definition and how it has evolved into an array of sub-styles.
The original India Pale Ale, as discussed earlier, is historically a British export pale ale of moderate strength with a hop-forward character and a medium malty base. A highly attenuated beer that is clear and bright with notes of citrus fruit, floral and spice courtesy of classic English hops. Although a classic, in the modern world, English IPAs are often deemed as boring, when compared to American IPAs as they are more bright, fruity and bursting with flavors. Despite this, there are still many brewers around the world who are still sticking to the basics. We asked Geroge Jacob who's the Brewmaster at The Beer Chronicles to explain his perspective on the significance of English IPAs. "I understand where the boring expectation comes from. But in all honesty, IPAs in the UK have also been pushing towards the whole fruit forward beers that the yanks do. Traditionally (without going into the whole story of hop additions and beer transport to India), English IPAs showcase the very, very high quality malts that come out of the country." he explains. George has been brewing English style IPAs since eons and had picked up his approach from the UK. He adds, "I've always felt that a good beer showcases all its ingredients to some extent – and a truly malty, yet bitter, IPA gives us the opportunity to experience some of those gorgeous toasted, caramelized malts we find in England."
The (R)evolution
Time traveling through the centuries from here had only led us to the American craft beer revolution. A lot has happened to the IPA since Anchor Brewing Co. started using Cascade Hops in the 1970s. The style, from here on, had evolved significantly. With a typical American zeal, US craft brewers amped it up to a whole new dimension by adding a boatload of hops which resembled a kind of "space race" with one another nation. Eventually, this created a stark contrast between typical American IPAs and British IPAs. Since then, the style has seemingly split into a plethora of sub categories such as Black IPA, Double IPA, Triple IPA, Hazy IPA, West Coast IPA, Red IPA, Brut IPA, IPL and Cold IPA, not necessarily in this order.
With Hazy IPAs, there has been an immense shift away from the old school hop bitterness of an IPA. Styles like Hazy IPA, East Coast IPA and Brut IPA emphasized more on the aroma and flavor characteristics of hops rather than dosing them with a bitter charge. In just a few years, the focus had seismically shifted from upping the hop bitterness to upping the hop character. This triggered more research for increasing the thiol production to facilitate biotransformation, which refers to the development of new aromas and flavors as result of yeast interaction with hop compounds. Brewers use mid-fermentation dry hopping to promote biotransformation and the development of highly sought after aromas. It's a perfect harmony of hops and yeast to produce Juicy IPAs.
Hops have also transformed from time to time. It all began from whole cone hops to pellets to extracts and soluble compounds. It has changed the brewers approach in brewing some of the complex styles like Hazy or a Juicy IPA. Dry hopping is a double edged sword, while it adds a ton of character to a beer, it also reduces the final yield marginally and to address it, many leading hop suppliers have come up with hop soluble compounds and extracts. These products give the IPAs clean bitterness along with aroma and flavor since they pack concentrated hop oils. As they are compact in volume, brewers use it carefully yet minimally thus increasing the final yield. Products like these come in a liquid form and they have no oxygen to hide anywhere. This helps to manage the oxygen ingress during the brewing process in order to keep the beer super fresh.
"When we look back on the history of making beers, there was no role for hops. They weren't added into the wort. People added herbs & spices to the beer which we know as gruit. Despite that, they were still not satisfied with the result. For the first time ever, hops were introduced to beer by a group of Monks who brewed beer in Germany outside of Munich." says Shaan Koley, Head Brewer at Windmills Craftworks.
"The experiment followed with a different variety of hops from different regions in various countries. Today, we see the brewers have been using hops in every beer style in various stages. while brewing for better flavor characteristics, taste, sustainability and for the long shelf life of beer. The evolution of hops from time to time became a revolution with different forms available in the market. In my early days of brewing, I used to throw pelletized hops in beer and then got introduced to Cryo hops (which is Lupulin extract from the hops). I've also used whole hops while brewing at home." says Shaan.
He along with his team has been experimenting with a liquid dry hopping product called Spectrum which improves the final volume of dry hopped beers along with the addition of vibrant hop character to it. Shaan commented saying "Now that I have got introduced to the Spectrum (Liquid Dry Hopping product), it has changed the entire brewing experience. I would say every brewer should use it in their brewhouse and it saves time. Hop flavors are long lasting in every sip of beer and most importantly beer wastage, while avoiding vegetal notes that we typically notice when using pellets."
The Next IPA
IPAs are a celebration of drinkability and balance. That's what it meant when modern English IPAs were churned out. It only evolved from there to glorify the aroma and flavor with the rise of Hazies. We are currently riding the wave of crispy IPLs (India Pale Lager) and Cold IPAs which are essentially a new spin on IPAs that are clean, crisp and refreshing like a lager with, you guessed it, IPA like characteristics. On the other hand, Pinthouse Pizza and Brewing, a brewery in Austin, TX brews a hazy IPA with Kölsch yeast strain to make it more juicy and interesting. "Electric Jellyfish is a hazy, Austin-style IPA, focusing on the juicy hop flavor and aroma from our favorite farmers while keeping the bitterness balanced and refreshing," says Joe Mohrfeld, brewmaster at Pinthouse Pizza and Brewing as quoted on Craft Beer & Brewing Magazine.
What's the next big thing in this crazy world of IPAs? Where is it headed? This is exactly what we asked Mr. Ajay Nagarajan, CEO of Windmills Craftworks. This is what he had to say, "Fruited IPAs and Fruited Hazy IPAs have been around for some time. This IPA style is seeing steady growth in the USA and plays an important role in bringing non beer or non IPA drinkers into the fold. When brewed with care, the fruit addition often complements the hops used delivering a low IBU and extremely fruity IPA. Fruit+Hops+Hazy Yeast combined all that is happening in the biotransformation world and the ever changing hopping techniques makes this style a constantly evolving one and fun to imbibe. With aseptic fruit purees available from all over the world, this style has a long way to go before it gets boring."
The last decade has been a wild ride for the IPAs. It played a crucial role in pushing the boundaries of a traditional style. Only time will tell where we're headed in this roller coaster journey of IPAs. So, hop on the saddle and buckle up, we can tell you one thing, this ride is far from over!
Thank you for joining us on this ride. We'd like to wish all of our readers and hopheads a Happy National IPA Day!