Regulations and Consumer Demand May Determine The Future Of E-commerce Sale Of Beer In India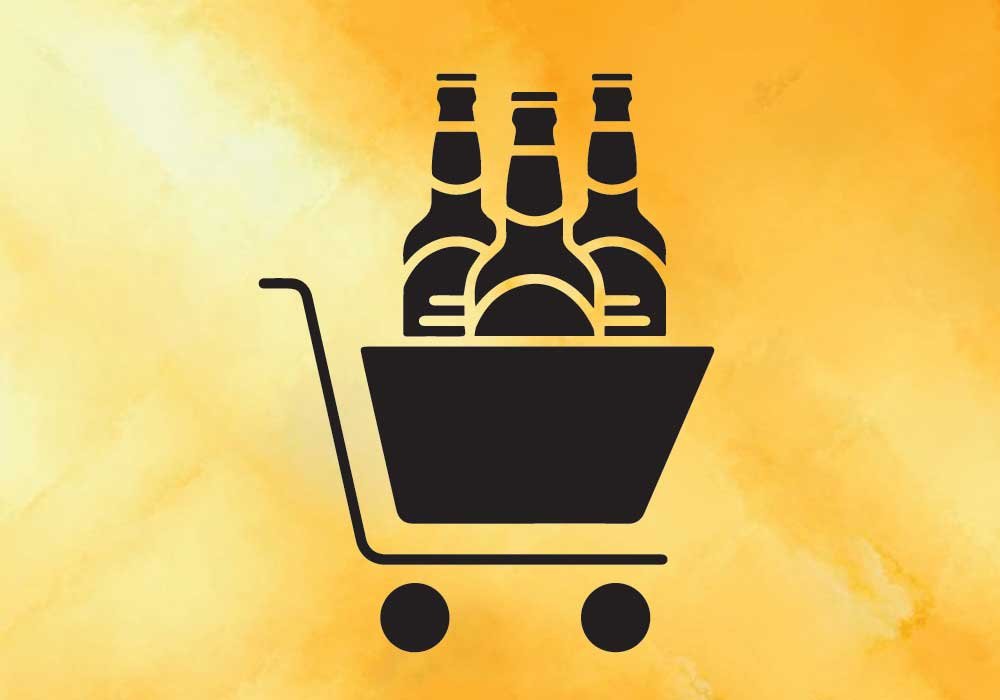 It's been a year of hardships for the beer industry in the wake of the COVID-19 pandemic. And yet, according to Beverage Industry Magazine, e-commerce is driving triple-digit growth in alcohol sales.
In the U.S. alone, as the pandemic began wreaking havoc, the total e-commerce penetration experienced 10 years of growth in just three months' time (March-May), according to Forbes.
Based on new research, IWSR forecasts that the value of alcohol e-commerce will increase by 42% this year, across 10 core markets (Australia, Brazil, China, France, Germany, Italy, Japan, Spain, UK, and the US) to reach US$24 billion. In comparison, alcohol e-commerce value in those markets grew by 11% in 2019.
Beer, especially has seen soaring demand in the US as sales rose by 42 percent. Meanwhile, in China, Anheuser-Busch InBev Group, which owns brands such as Corona and Stella Artois, saw double-digit growth in e-commerce sales this year, as declared by CEO Jan Craps. According to analysts, the brand partially owes its success online to its dominance of China's premium beer market which is expected to persist for years to come.
While e-commerce is already ingrained in Indian consumer culture, beer seems to have had a notably late arrival to the online shopping world. Differing state and city regulations for alcohol sales and distribution remain the alcobev's biggest obstacle in the country.
In April last year, India's leading beer manufacturers knocked the doors of the state governments, seeking permission for an e-commerce portal to sell beer as the industry crumbled under the impact of the lockdown.
For a country that's viewed as the third-largest market for alcohol, globally, beer is already at a low consumption rate. In wake of the pandemic disrupting the on-premise sale of beer (whose availability is already at a low in major parts of the country except in the metropolitan cities) and slashing down the number of SKUs being sold in distribution – beer brands like Bira, Carlsberg, United Breweries and Molson & Coors collectively wrote letters urging governments in markets such as Bengaluru, Delhi and Mumbai with a higher population of discerning consumers, to allow online sale of liquor as a long-term retailing model like in the case of apparel and electronics. Along with the support of All India Brewers' Association (AIBA), the brands approached chief ministers of states like Maharashtra, Goa, Kerala, West Bengal and Haryana. Besides proposing the use of last-mile delivery e-commerce platforms like Swiggy, Zomato, Amazon, Grofers and Flipkart, they also implored for the partial resumption of brewing facilities.
Even United Breweries, which controls over half of India's beer market, said in August last year that it was pinning hopes on higher home consumption by pushing online sales as consumers could shy away from restaurants for some time in the wake of the pandemic. The brand was reportedly then in talks with several state governments to allow online delivery of the beverage, which for consumers, is bulkier to carry compared to spirits.
However, in the craft beer industry, brewers are not looking as optimistic.
Ishan Grover, from Kadak Beers, Mumbai says: "E-commerce won't last for long. India is very used to traditional retail models which generates a lot of money for state in taxation and results in high employment. E-commerce, on the other hand, would not be able to match the numbers. It will also lead to the rise of monopolistic business by large companies who have money to influence digitally," he adds.
Hari Singh from Briggs Brewery, Bangalore says: "E-commerce is relevant for liquor business in general but is subject to a lot of factors in India. This has been reviewed by the Karnataka Excise Department under the larger construct of the government policy. While online platforms taking in orders for delivery of beer/alcohol would definitely enhance the ease of purchase and add volumes. logistical costs, breakages, fake liquor, fake platforms, ensuring responsible buying, etc., are aspects that need to be addressed prior to taking a plunge into e-commerce."
Addressing India's orthodox perception of alcohol, which – although is changing rapidly, still exists in pockets, thereby becoming one of the barriers to allowing the online sale of beer – Geist's founder, Narayan Manepally, Bengaluru, says: "The reticence to selling alcohol online seems to be that it will encourage people to drink more. This perception is unwarranted and there is no real evidence that supports this claim anywhere in the world. Not only is e-commerce relevant, it is essential. With the virus restricting peoples' movements, alcohol delivery through e-commerce will be a huge convenience for the customer."
The good news is, things are slowly starting to breakthrough. At present, only Jharkhand, Odisha and West Bengal allow online retailing of liquor by aggregators such as Flipkart, Amazon, Swiggy and Zomato while home delivery by retail outlets and wine shops has been permitted in Maharashtra, Punjab, Chhattisgarh and Tamil Nadu after the Covid-19 outbreak.
Applauding the efforts of the state governments like West Bengal, Abhinav Jindal, Founder and CEO of Kimaya Himalayan Beverages LLP. comments: "As we all are aware that alcohol is one of the biggest substantial revenue streams controlled by the state government. Implementation of huge and relevant reforms in policies, quality checks and retailers will definitely boost the future of the beer industry as a whole in various states. It has also provided a significant rise in the expansion of the economy for all other industries as well and the ease of doing business in the beer sector through e-tailing can also be looked at as an opportunity to increase state revenue."
"Any new channel of distribution is highly supported and is encouraged as it helps for better reach of the product to the end consumer," Abhinav further elaborates. "E-commerce also provides substantial information provision, something which physical retail cannot encapsulate at all times, thus, helping customers make informed decisions. Another plus point of this route to market is the beneficial retail model where a larger variety of products can be made available.
Keeping all these factors in mind, we are willing and happy to support and reach out to the concerned government official to get an allowance for this particular mode of distribution."
While agreeing that with excise being a state subject, using e-commerce for beer on a national level would probably take a while, Mumbai-based Effingut's founder Manu Gulati acknowledges the efforts of the Craft Brewers Association of India (CBAI Maharashtra chapter). "To assist breweries to deliver growlers during COVID times, the Maharashtra government has allowed for orders to be placed online, making it far safer for all involved and increasing the ease of doing business exponentially," he says, reflecting hope that India may indeed be opening up to the possibility of e-commerce sale of beer, albeit a little slowly.
While politics clearly play a huge role in paving the future for e-commerce in India, another factor will have an equally powerful impact: consumer demand. Particular breweries and their beers – both commercial and craft, clearly have loyal flag bearers. The per capita beer consumption in India may still be very low as compared to other countries in the Asia Pacific region but despite the pandemic, beer brands continue to hold a favourable outlook for the beer market in India on the back of changing cultural attitudes and a young, increasingly affluent population which has set the demand for premium and craft beers soaring.
What remains to be seen is just how deep and widespread this demand is – and if it is strong enough to shift the patterns of buying local that have predominated in recent years. If yes, the case for allowing country-wide e-commerce sale of beer will certainly get stronger and will be poised for growth in the coming years.
Out of every disaster arises opportunity. Will the pandemic damage the industry by crushing SKUs at distribution or retail, or will it lend a helping hand by unleashing demand for going online, pressuring the government to adapt older laws to today's modern, digital age? Can beer move further into the world of e-commerce?
If you, like many others, are looking for answers to questions like these or are on the lookout for new strategies to transform your business and prepare for the "New Normal" – register for the Brewer World Conclave 2021, and join leading beer experts and professionals as they come together to shed light on the reimagined chapter of growth in the beer industry landscape, fuelled by innovative strategies and fresh perspectives while taking advantage of India's best growth-driving factors with respect to this alcobev. With no geographical boundaries and the ease of meeting and discussing business virtually, this two-day initiative by Brewer World aspires to be the perfect platform for the revival of this beer industry.
Registration details to be out soon!
Sources: