Raise A Stein & Kick Up Your Heels, Aurum's Oktoberfest Is Here!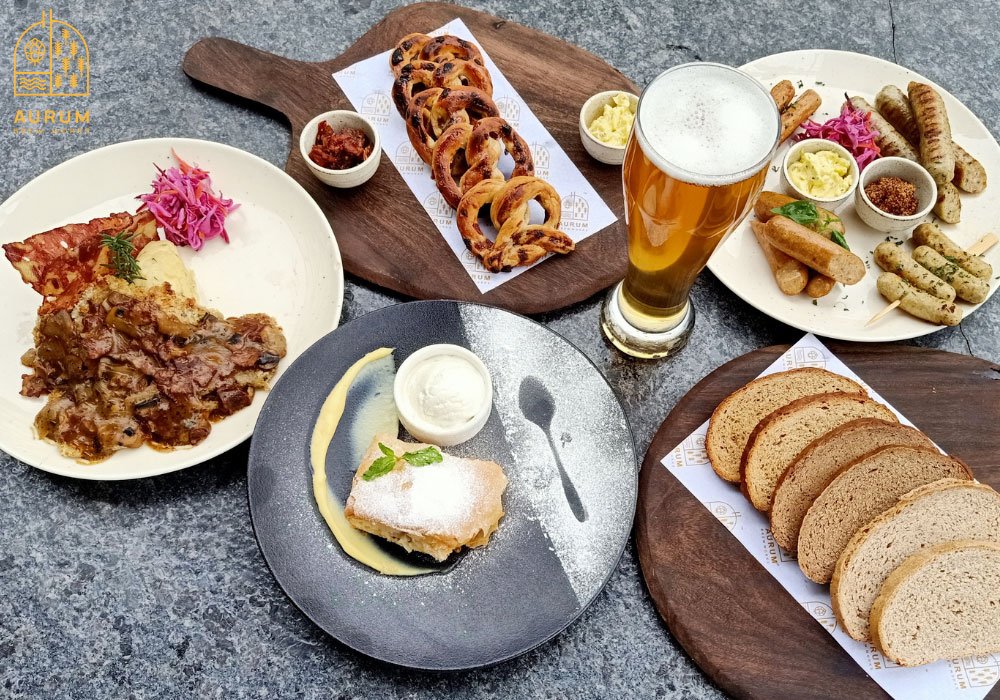 Aurum's much awaited Oktoberfest is finally here to celebrate the old traditions and of course beer! It surely is going to bring back all the smiles with gallons of beer and tons of food. Aurum Brew Works, Sarjapur, Bengaluru, is bringing in the flavour of Bavaria with three new beers in their line-up brewed exclusively for Oktoberfest.
Not just this, an Aurum's Oktoberfest entertainment carnival is also being organised at the brewery throughout the festival. The entire place will be buzzing with live performances, contests, relays and a lot more. With an exclusive beer and food menu, Aurum's Oktoberfest is the biggest beer festival in town. Read on to find out more.
Oktoberfest Biers
Among their entire line-up of beers, Aurum has crafted 3 beers which are exclusively brewed for Oktoberfest. A Märzen, to honour the tradition, Weizenbock and Hefeweizen to bring in the authentic Bavarian style wheat flavours. More details on them below.
Märzen
ABV: 5% | IBU: 18
Traditionally brewed for the Oktoberfest's, Märzen is an amber coloured, malty German lager. It is clean with rich, caramel, toasty and bready flavours. Low on bitterness with a dry finish. Overall malt impression is soft, and elegant with a rich after taste.
Weizenbock
ABV: 7% | IBU: 15
A strong, malty-rich German wheat beer with bready, caramel and full of dark fruits like raisins, plums and fig. Weizenbock has a creamy mouthfeel with a soothing alcohol sensation with high carbonation.
Hefeweizen
ABV: 5% | IBU: 12
A traditional German wheat beer with a distinctive aroma of banana and hints of bubble gum. A strong banana flavour on the palate with a subtle clove and finishes with a note of bubble gum.
Oktoberfest Fare
Aurum Brew Works has Oktoberfest party foods to whisk you away to the beer tents in Munich, where food is a great deal. No Oktoberfest is perfect without some good food and the chefs at Aurum know that too. This is why they have curated 14 scrumptious dishes. So let's just say, you're gonna need a bigger boat pair of pants and bigger jaws while you're at it!
With a delicious line-up of dishes such as Malt Flammkuchen, Pretzel Dogs, Sausage Platter, Roast Chicken, Apfelstrudel, Aurum is set for a big game for food pairing. Aurum's Malt Flammkuchen is the German version of flatbread that has a malt flour base and it is topped with sour cream, basil pesto, wilted spinach, celery, Maillard's onions, capers, mozzarella, and garlic bits. You can even end your session by pairing a malty beer such as Weizenbock with desserts like Apfelstrudel which has an array of fruit flavours to complement the beer.
The Carnival
An Oktoberfest celebration is unique in which attendees are part of the entertainment, participating in live bands and a variety of interactive games to create a dynamic community festival vibe. It's only natural to pair your beer and sausage with some entertaining tomfoolery. Guzzling contests, beer pong, beer relay, wings eating contests, drinking through a straw are some of the games to help ignite your Oktoberfest event with friendly competition, laughter and fun. Winners will be rewarded with 10 Litres of Aurum's craft beer. So what are you waiting for? Guzzle big and win big!
Aurum Brew Works' Oktoberfest begins this Thursday with a live performance. Oktoberfest is on at Aurum from September 23th all the way to October 17th. Come on over and clink your steins at Aurum. Prost!
For more coverage on Oktoberfest 2021 in Bangalore, checkout our other articles The Bier Library, Red Rhino & Ironhill India