Riding High On A Successful Relaunch: Prost Is Hyderabad's Newest Brewpub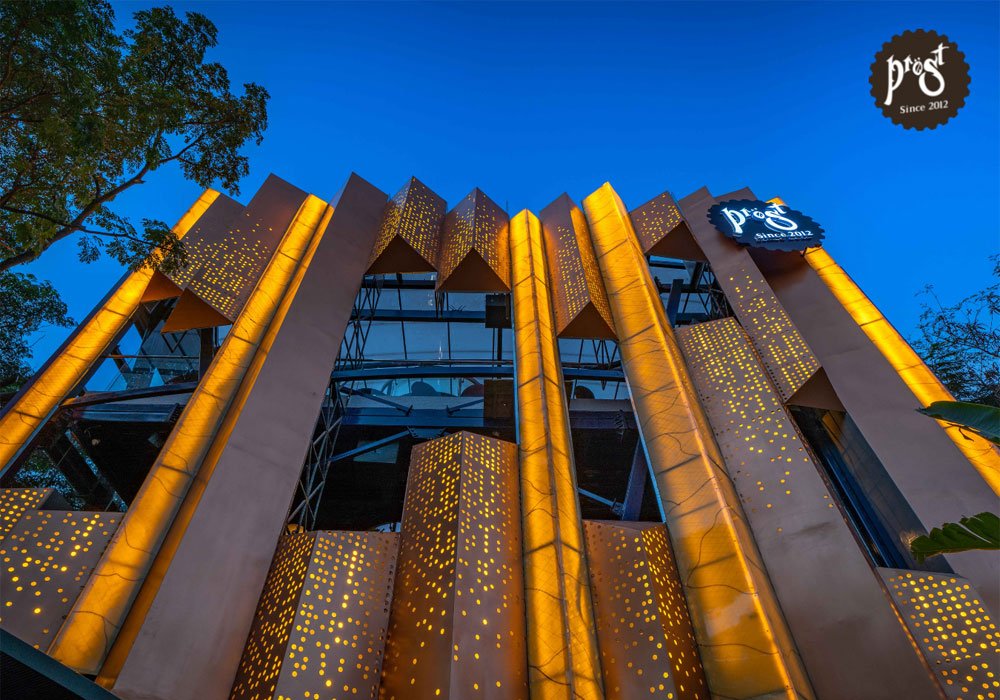 The brand new Prost brewpub in Hyderabad is riding high on its success. Setup as a massive property spanning across a whopping 10,800 square feet, this microbrewery is stacked up as a three-story building and is strikingly different from their previous outlet. With lamp posts, trees and a sliding roof, the 400-seater brewpub will teleport you to a different world.
With a huge bar spanning across three floors and a jumbotron protruding above it, this aesthetically designed microbrewery can accommodate about 400 guests at any time with the safety protocols in place. Don't forget that Prost has got Hyderabad's largest TV screen, now casting sporting events around the world!
The decor promises to give the crowd a modern microbrewery look and feel while enjoying selections from an eclectic food menu comprising dishes from across the globe and adaptations of Hyderabadi dishes. It goes without saying that Prost brewpub has an array of hand-crafted brews which are brewed to satiate the beer cravings of the city's people and give them an extraordinary brewery experience.
Beers of Prost Hyderabad
Brewers Florian Kosina & Soundera Rajan have been churning out hand-crafted artisanal beers to replenish the taps at Prost, with their signature brews, inspired from global styles to add an element of local twist to it! With over 8 years of brewing experience, Florian's style typically revolves around traditional German mashing methods to produce flavourful beers with a clean fermentation profile. He hails from Bavaria in Germany and has travelled around the world to uncover some of the most supreme flavours for the folks of Hyderabad to savour every beer from their line-up.
Hyderabad Hurricane
A classic Bavarian style wheat beer with vibrant notes of banana and clove. With a creamy mouthfeel and low ABV, a refreshing Hefeweizen is all you need on a hot afternoon.
Vital stats: ABV: 4.5 – 5% | IBU: 18
Ein Hofer
This is one of the most approachable and refreshing beers of Prost. It is backed by a right balance between malt and hop characteristics on palate along with a lighter body. With a lower ABV, this Blonde ale can be had in sessions.
Vital stats: ABV: 4.5 – 5% | IBU: 24
Kraftig
Who doesn't love coffee? Kraftig is Prost's version of Nitro stout infused with ground coffee. You can expect bold and dry roasted malt characters along with a coffee-like flavour resulting from the roasted barley. As always, Nitro lends a smooth and creamy mouthfeel with a gorgeous looking head.
Vital stats: ABV: 6% | IBU: 25
Schmaltz-Special
Schmaltz-Special at Prost always features a specialty brew on tap. Currently Prost is serving a SMaSH lager which is brewing only with a single malt and a single hop. Brewed with copious amounts of Vienna malt & Ariana hops, this SMaSH lager showcases a glorious golden color with hints of honey and fruitiness. It is clean, crisp and highly drinkable.
Vital stats: ABV: 6% | IBU: 24
In addition to these beers, they also have a cider that is infused with strawberries. Also, watch out for their Alestorm & Excklusiv line-ups, which host innovative beers every now and then.
So, go on and savour their line-up of craft beers, scrumptious food and potent cocktails at the all new Prost at Jubilee Hills, recreated to suit your taste! With a stunning ambience, and the who's who of the party circuit in attendance, the vibes at Prost are sure to get you grooving this holiday season!