Behind the Barrels with Jeffin John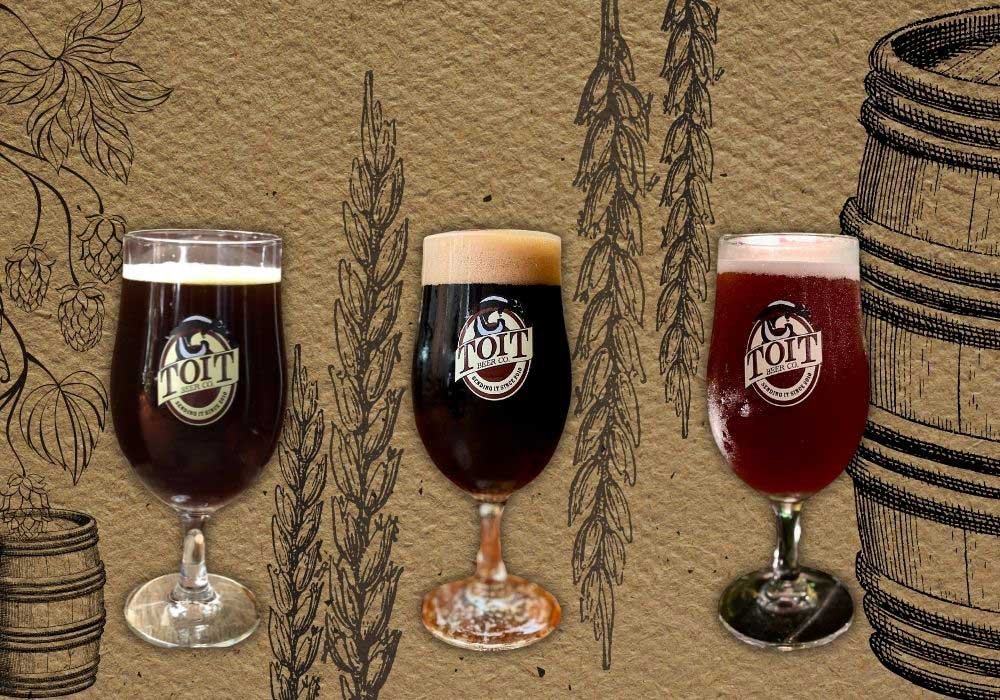 In ancient times, beers were stored in quite a few ways. From wineskins to barrels, beer evolved and followed the footsteps of wine in barrel-ageing. Brewers had discovered that storing beer in barrels made it easy to move around by just rolling it. As time progressed, somewhere along the way, it was discovered that the type of wood used for a barrel yielded different flavours such as tannins, lactones and in some cases, also caused fermentation from the Brettanomyces.
Barrel-ageing has come a long way. It has become essential to understand how ageing affects beer and what flavours or complexity it can impart. As we all know, Toit Brewpub in Bangalore has been releasing their barrel-aged beers off-late. To deep dive into ageing beers, we interviewed Jeffin John, head brewer at Toit, to understand his perspective. Read on.
Where did you source these barrels from? Are these whisky barrels?
We sourced these barrels from a leading Indian single malt whisky brand. All these barrels are single used bourbon barrels and they are charred. Charring gives them additional complexity. These barrels are used for ageing the single malt whisky for multiple times. I think, at least three years per batch.
How many barrels do you have and what are the capacities of each of these?
We have three barrels at the moment and they can hold approximately 200 Litres.
Before obtaining barrels from these distilleries, do you go and check the condition of these barrels and what kind of wood is it made out of?
We get all the details from Indian Whisky brands. They give out the information pertaining to the barrels, wood type etc. You can't pick and choose the barrels but we check for all the leakages and go for the right one.
The distillery right away ships these barrels to us when they have emptied all the whisky. Without any delay, we fill it with beer over here as you shouldn't keep the barrels idle. You gotta store something in them, at all times.
Typically, here in India, the chance of leakage is less as you know it's always hot here and heat expands the barrel. We also spray the barrels with hot water from the outside to hold the leaks.
How important is sanitation in barrels? Walk us through the entire process of sanitisation.
Before transferring the beer into the barrel, we need to sanitise it thoroughly. So far, we have aged three different beer styles. Irish Red Ale, Porter and Belgian Dubbel. Every style went through a different process of sanitisation.
For the first batch, since we've secured the barrel right away, we didn't sanitise it much as the barrel already had whiskey sitting in it before it was shipped to us. For Porter, we rinsed the barrel with hot water and then we rinsed it with the whisky as well. By doing this, your barrel is sanitised as the alcohol kills microbes or any bacteria that's left behind.
How do you fill the barrels at the brewery? Which part of it is most challenging?
Filling the barrels isn't the hardest part. Transferring the beer from the barrel to BBT (Bright Beer Tank) is quite challenging. Ideally, for this task, 'Bulldog' is used to transfer the beers back from the barrel to the serving tanks but here we don't have it. For that purpose, we custom-built one at Toit.
So you've aged three beers so far. Which among these is your favourite and why?
Definitely Porter! The ABV of the Porter just matched the barrel intensity perfectly.
How many batches can you use these barrels for? When is the right time to discard them?
It all depends upon the beer style. If you want clean flavours from the barrel then I'd say do not go beyond 2 batches. But if you're into ageing sour beers, you can even go all the way upto 4 or 5 batches. Now that I've used these barrels for three batches, I'm going to discard them. Our Belgian Dubbel had already imparted white wine like characteristics and that's an indication that we have to move on now.
Do you have books that you can recommend to brewers which talk about barrel-ageing in specific?
Wood & Beer by Dick Cantwell and Peter Bouckaert.
Among all the other barrel aged beers that you've tried, which one has completely blown you away?
Cyclo Stout by Pasteur Street Brewing Co. It was just fantastic.
How has the consumer response been for the barrel-aged beers at Toit?
There's a huge demand for these barrel aged beers at Toit. The response was just overwhelming. Many consumers had already asked me "when are you going to come up with the next batch of barrel-aged beer?"
I always say barrel ageing is not easy and it's not like I can brew them frequently and have them ready one after the other. We always have space constraints here when it comes to storing the barrels. All I can say is, we will be experimenting with wine barrels soon, so stay tuned for that!