30 Must-Try Commercial Lagers Available In India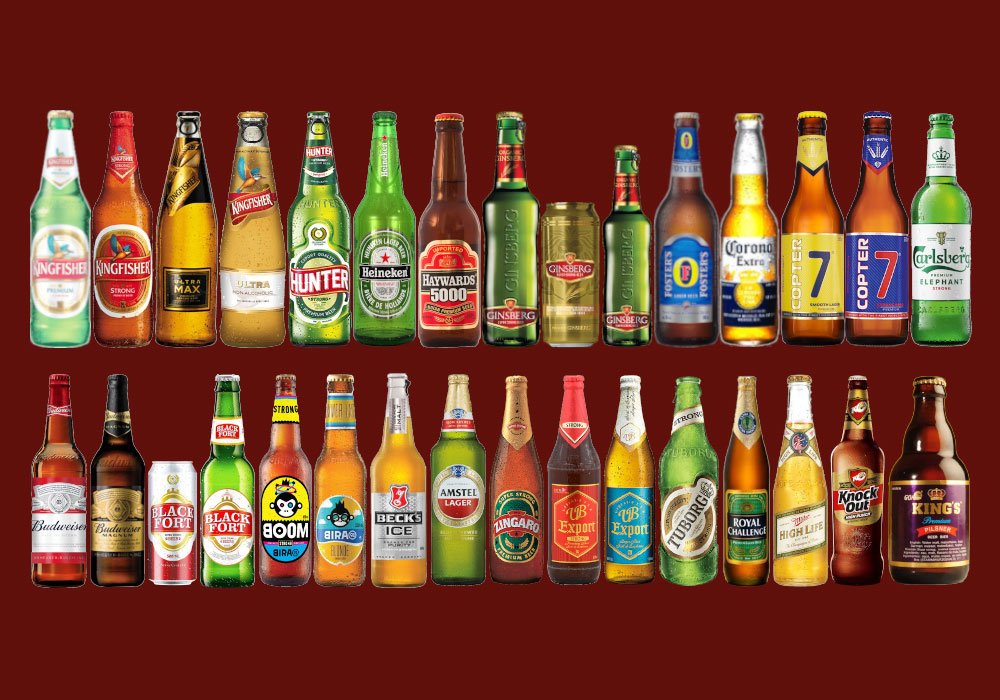 The name lager is taken from the German word 'lagern', meaning "to store." Most of the mass-produced beers of the world are lagers, but a wider range of styles exist than what those commercial brands may lead you to believe.
Lager is a beer that is brewed at cool temperatures by slow fermentation with slow-acting yeast. The yeast used to ferment lager is often referred to as "bottom-fermenting" since it does not rise to the top of the brewing vessel during fermentation. Lagers can be pale, amber, or dark.
Read more about Lagers here.
1. Budweiser Premium/Magnum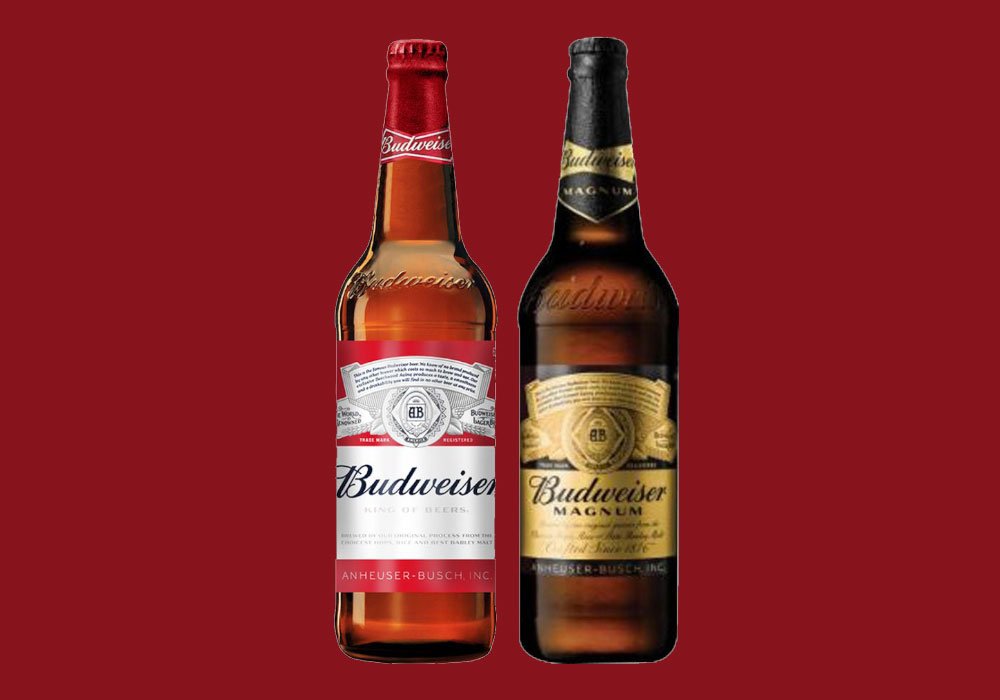 Budweiser is a brand that claims to be the king of beers and is probably one of the most famous drinks on the planet. It comes in 2 variants, Budweiser Premium & a stronger Budweiser Magnum. Bud has a rice flavour and a touch of bitter hops. With a taste so light, this drink is meant to be gulped down while watching your choice of sport.
2. Kingfisher Premium/ Strong/Ultra/Ultra Max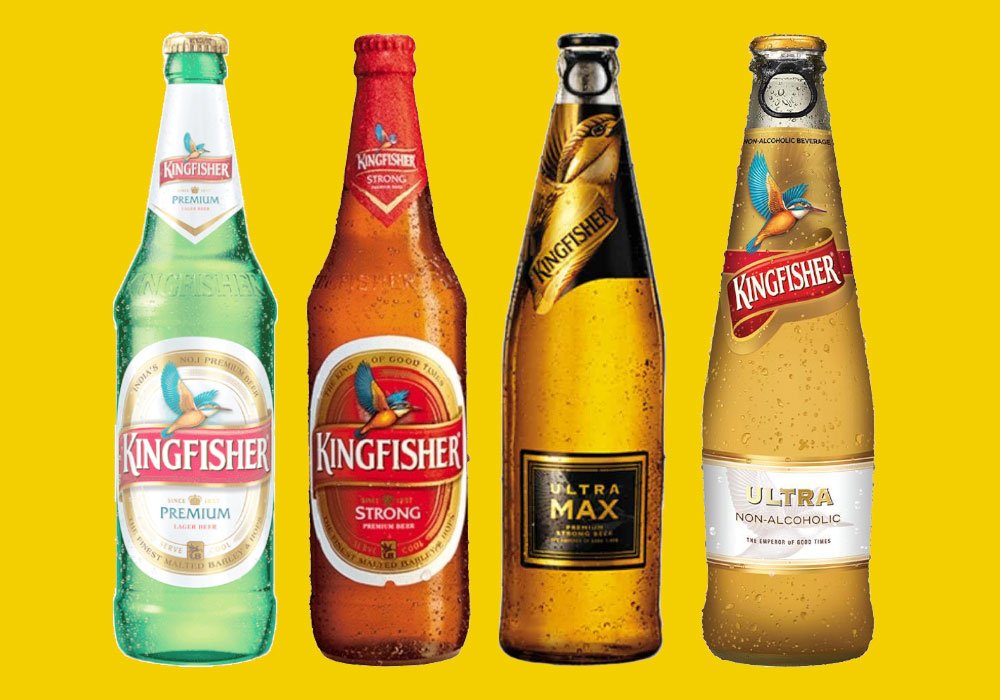 Kingfisher is probably the most famous beer in India. It is manufactured by United Breweries Group – which was at one point led by the infamous Vijay Mallya. The taste initially is bitter for the taste buds which lingers pleasantly on the palate. An underlying malty sweetness then complements this. The refreshing taste is probably why Kingfisher is most loved amongst the beer enthusiasts and leading the pack despite several proficient competitors. It has various variants under its wing of which there is Kingfisher Premium, Kingfisher Strong, Kingfisher Ultra & Kingfisher Ultra Max
3. Heineken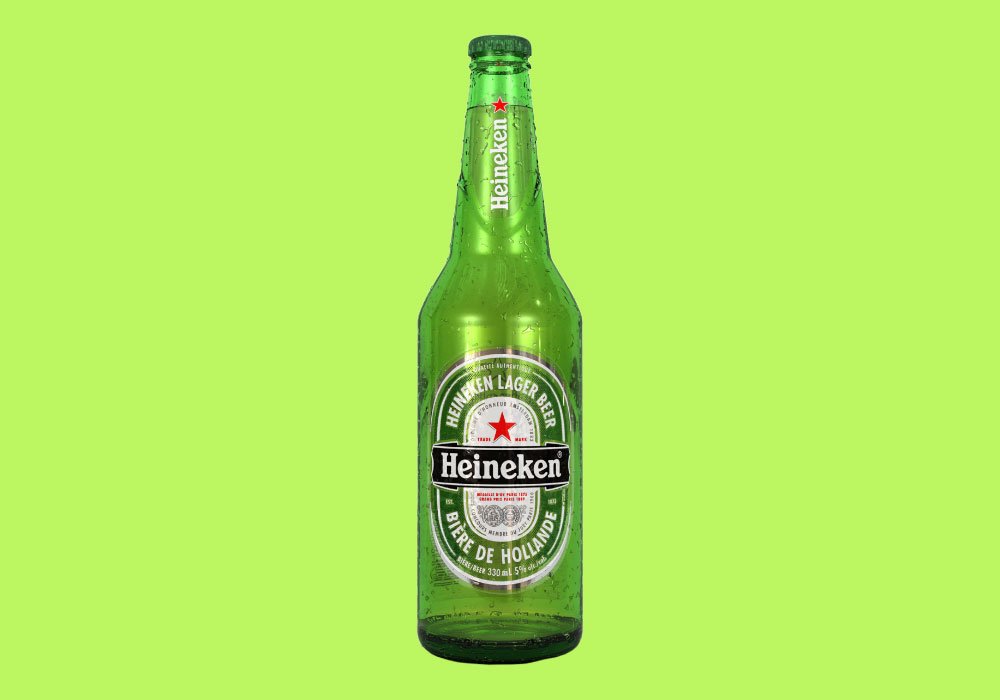 The unique thing about Heineken is that it is brewed in horizontal tanks and they claim it gives this brew its distinct flavour and consistency. For a company based in Holland, Heineken has its hands deep in India's beer market. While other beers are brewed for a fortnight, Heineken claims to brew its beer for a month.
4. Beck's Ice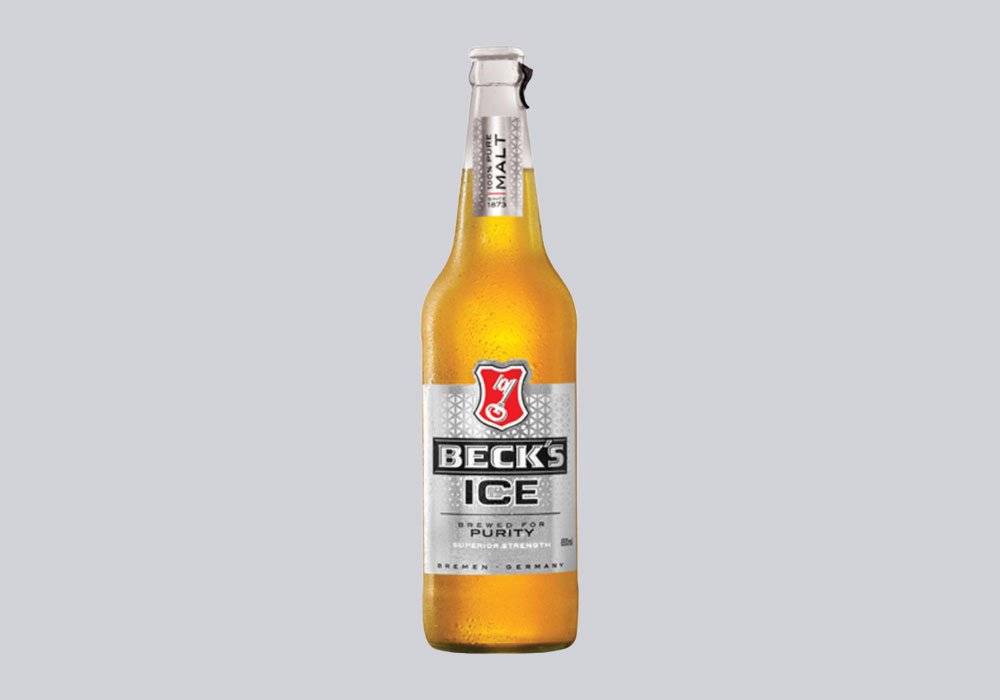 Beck's Ice is a German Lager with a heritage as old as 1873. It was recently launched in India in 2019. It is currently held by AbInBev in India.
5. Tuborg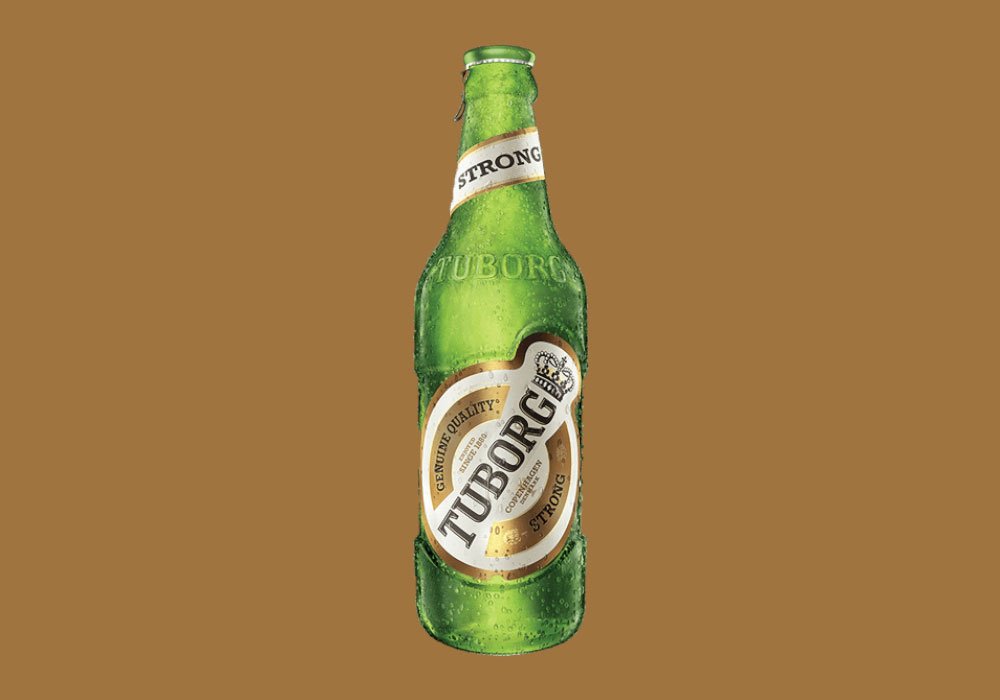 Tuborg is a Danish brewing company founded in 1873 on a harbour in Hellerup, an area North of Copenhagen, Denmark. Since 1970 it has been part of the Carlsberg Group. The brewery's flagship, the Tuborg pilsner, was brewed for the first time in 1880. The name Tuborg comes from Thuesborg ("Thue's castle"), a Copenhagen inn from the 1690s situated in the area of the brewery.
6. Carlsberg
Carlsberg is yet another light-tasting beer. A rejuvenating and uniquely characterful Pilsner with a malty backbone and balanced bitterness. Carlsberg is a Danish multinational brewer. Founded in 1847 by J. C. Jacobsen, the company's headquarters is in Copenhagen, Denmark. Since Jacobsen's death in 1887, the majority owner of the company has been the Carlsberg Foundation. It is available in 2 variants, Carlsberg Premium & the strong Carlsberg Elephant.
7. Fosters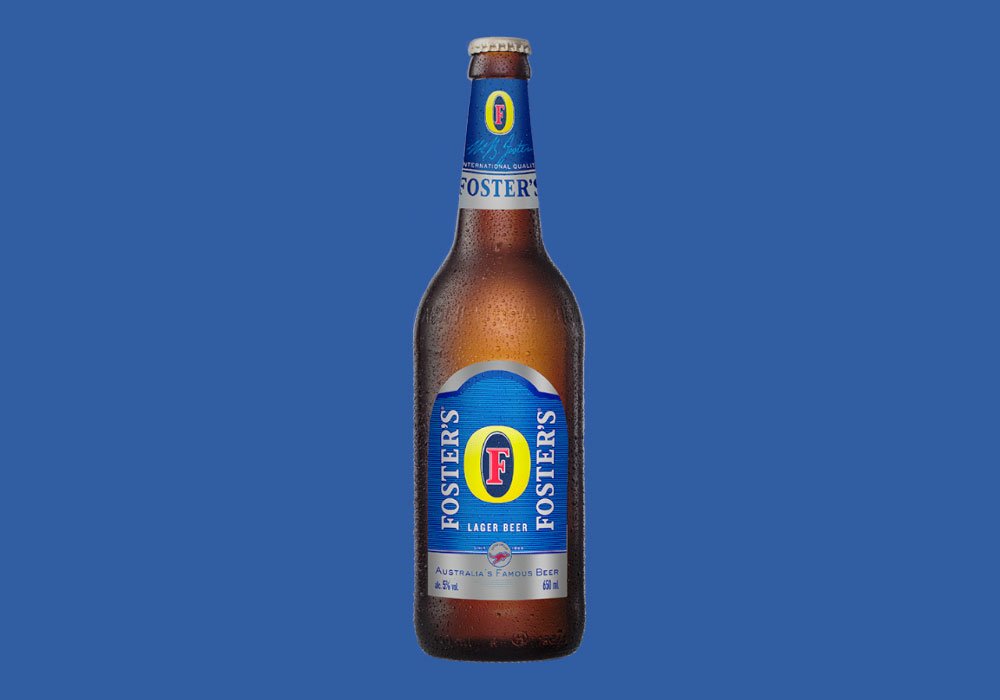 A beer loved by everyone in Australia is what this is marketed as. It is a beer where the hops are added in the later stages of the brewing process so that the beer retains vibrant hop flavours.
8. Corona
 

Corona has been brewed in Mexico since 1925. With a refreshing, smooth taste, Corona is a golden 'cerveza' with fruity-honey aromas and a touch of malt. Corona Extra is a pale lager produced by Mexican brewery Cervecería Modelo and owned by Belgian company AB InBev. It is often served with a wedge of lime or lemon in the neck of the bottle to add tartness and flavour.
9. UB Export/Premium

The UB on the beer stands for United Breweries and it is owned by Bangalore based United Breweries Group. It is available in two variants UB Export & UB Premium.
10. Haywards 5000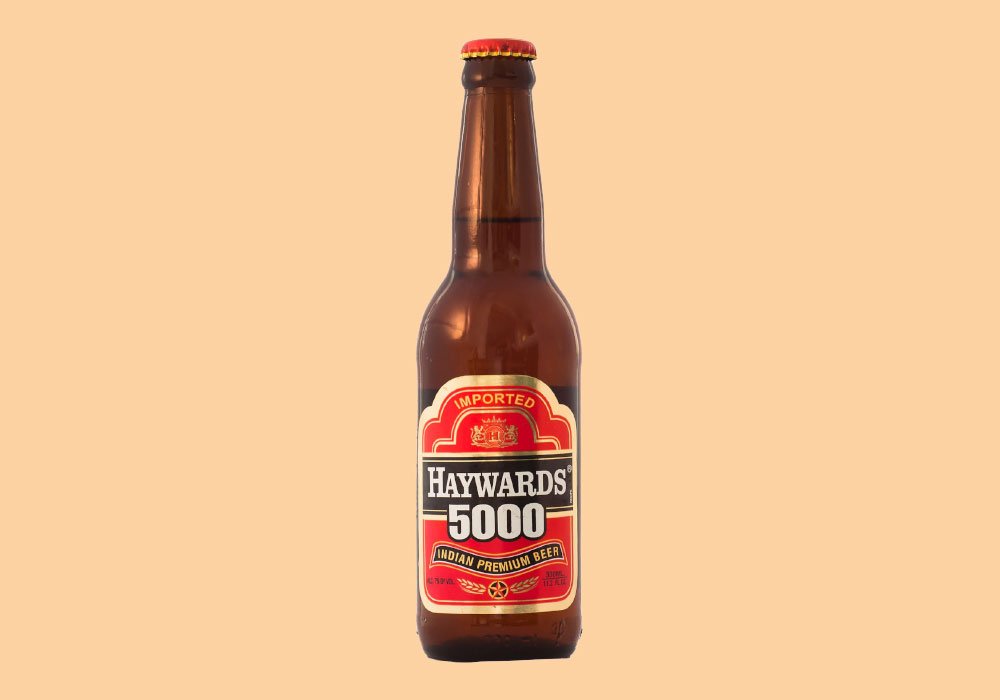 Haywards 5000 is a high selling beer brand in India with over 10 million units sold annually. The company started its sale in 1983. It is available in 2 variants, Haywards 2000 and Haywards 5000.
11. Miller Highlife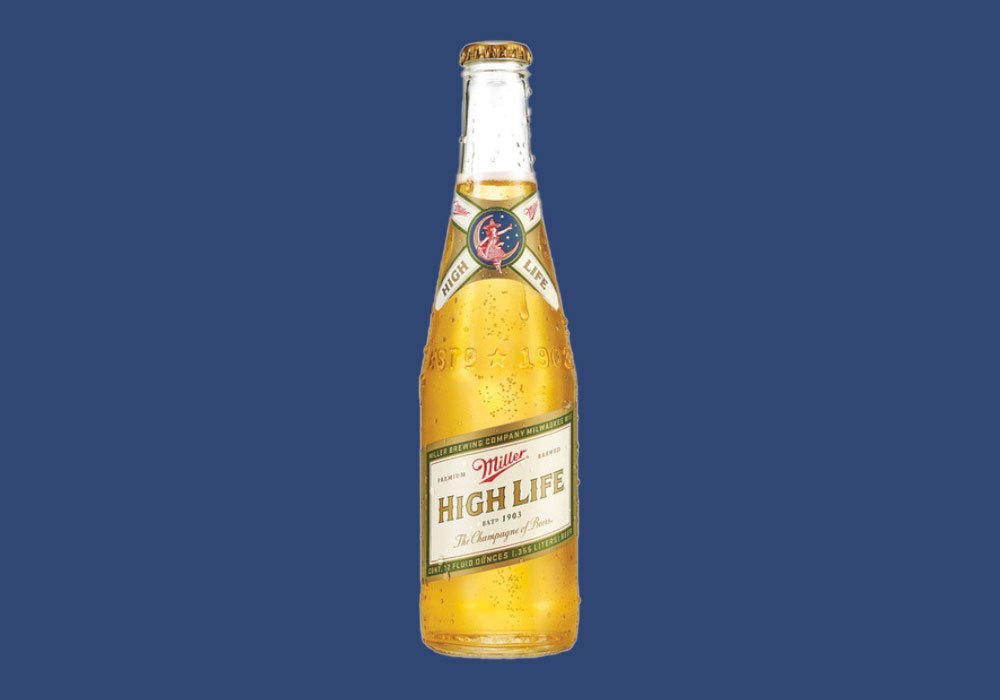 Miller High Life was launched by MillerCoors in 1903. It is also called champagne beer and is a typical American classic beer. A unique blend of carefully selected Saaz and Pacific Northwest hops with a touch of caramel malt is used during the production process. It has more flavour and aroma than other pale beers.
12. Bira Blonde/Boom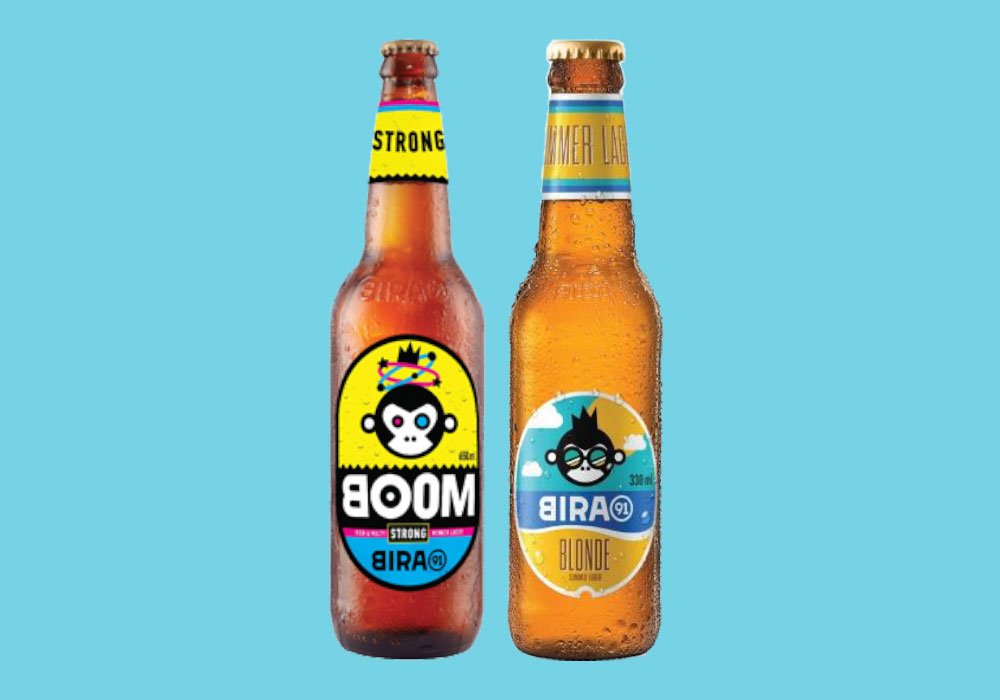 Bira 91 is a craft beer brand manufactured by B9 Beverages Pvt. Ltd. It was launched in 2015. The company's first brewery unit was located in the Flanders region of Belgium where a craft distillery was used to contract to manufacture the beer with ingredients from France, Belgium, Himalayas and Bavarian Farms and the beer was imported to India. After initial success, the company thereafter began manufacturing the beer in India with the same ingredients. Bira sells two variants of Lager, the light Bira Blonde & the strong Bira Boom.
13. Amstel Bier

In 1870, the Amstel brewery was founded by two friends in Amsterdam. They brewed a new, Bavarian-style lager beer that became an instant favourite. In the past 150 years, Amstel has moved from a brewery in Holland to Bar shelves not only in India but all over the world.
14. Knockout

Since its launch in 1984, Knock Out has continued to grow and become one of the country's best-selling beer brands. Today, in Karnataka, Maharashtra and some parts of northern India, millions of consumers have embraced the brand's iconic status. The brand's popularity can be measured by the fact that although it is only available on a limited market, consumers consume approximately 300,000 bottles of Knock Out Beers every day. Now, as part of SABMiller's product portfolio in India, Knock Out is brewed in modern, state-of-the-art breweries to ensure that the highest international standards are always adhered to.
15. Hunter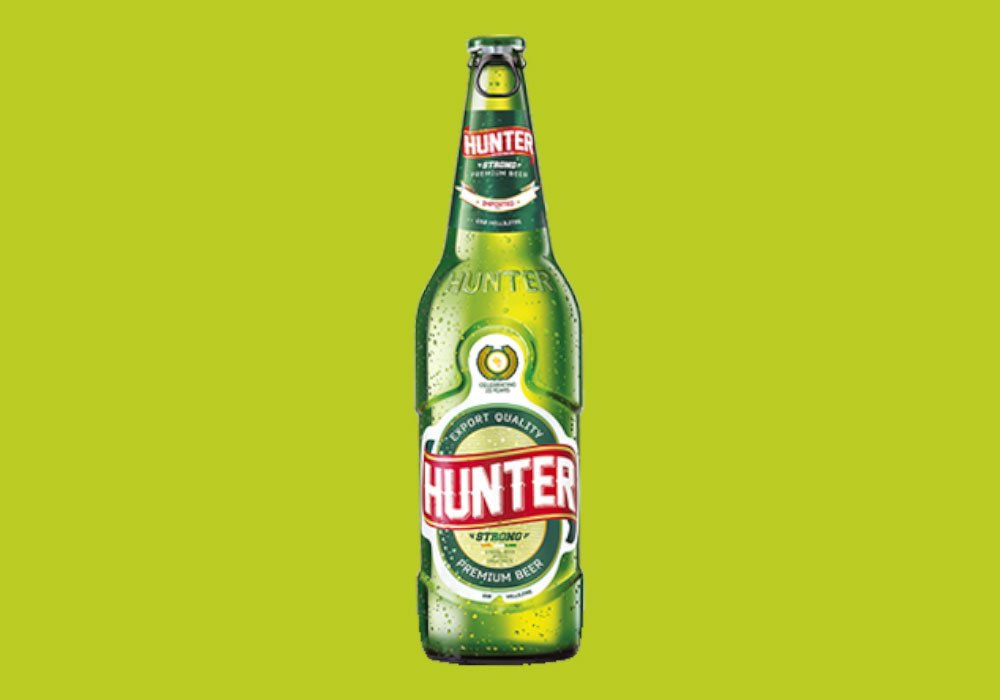 Made with Argentine and Chilean malt and German hops, Hunter's rich, smooth flavour makes it a brand for a new generation of beer lovers. Its rich quality and flavour make it a blessing. With excellent palatability, true to its promise, it is strong but very smooth.
16. Kings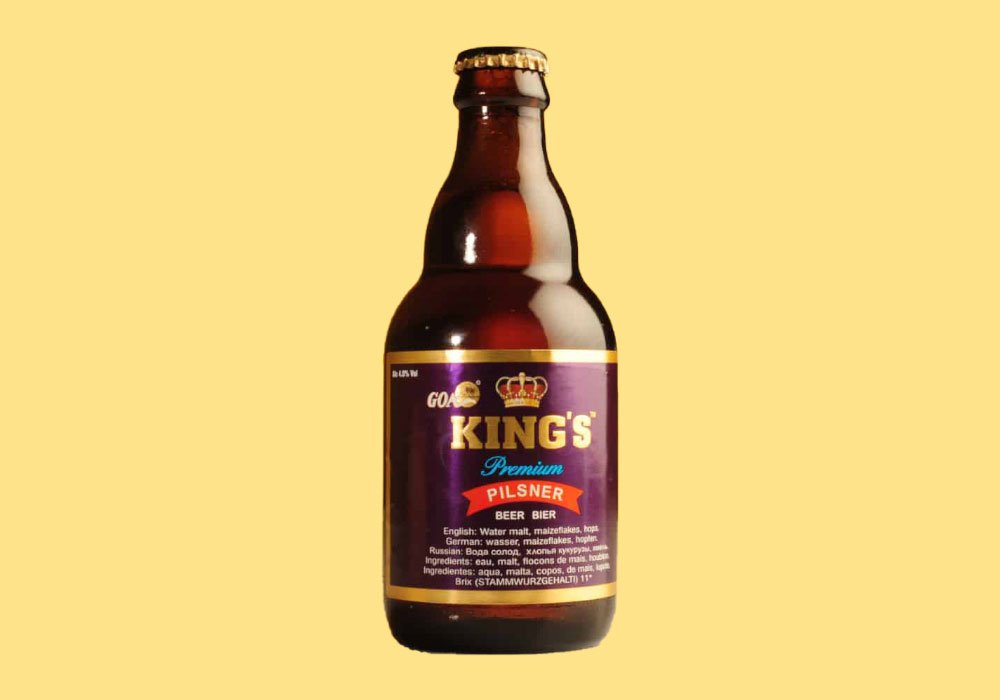 Without a king, Goa is incomplete. King's Premium Pilsner is made with the malted barley and other adjuncts such as maize/rice/millet and corn syrups. It is best suited for enjoying a boardwalk on a sunny day. Every sip ensures a perfect combination of flavour. King's beer is bottom-fermented at low temperatures for a crisp taste.
17. Ginsberg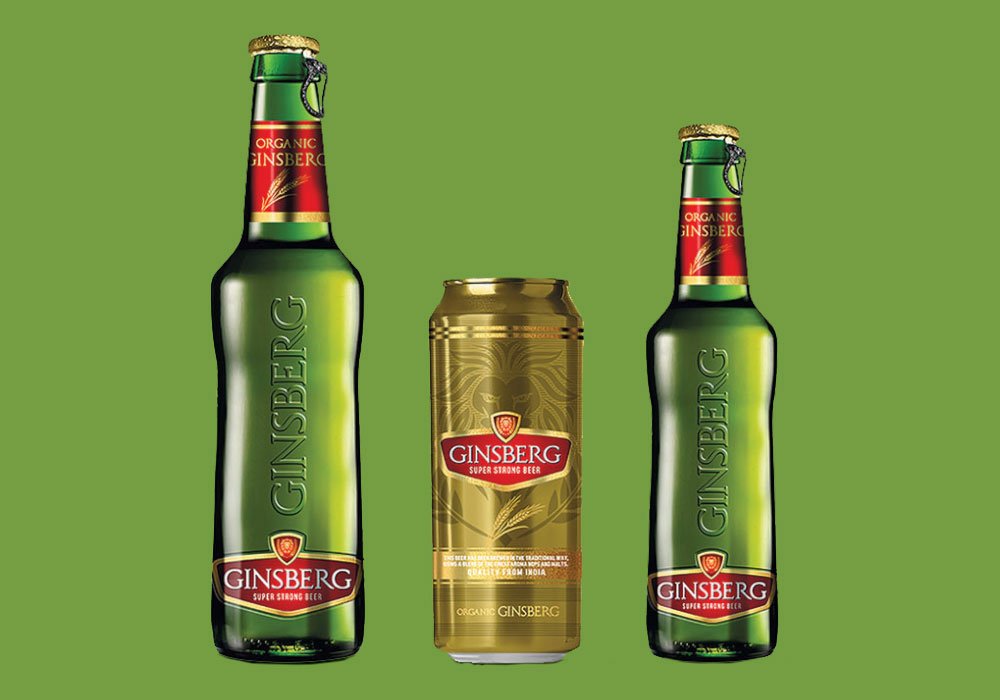 The name Ginsberg is inspired by the German word "environment" or "surrounding environment". It is a beer that is not only strong and powerful but is also smooth on the palate. It comes in two packages: pressed emerald green vase (330 ml and 650 ml) and warm gold can (500 ml). On the front is a majestic lion looking at you from behind the brand's crimson logo.
18. Royal Challenge Premium
 

Royal Challenge's motto "Brewed Stronger Brewed Better" clearly shows that their beer takes longer to brew than other beers, giving it extra flavour. This mild beer tastes crisp and full of energy. Royal Challenge is made from the best six-row malt, suitable for those who prefer the taste.
19. Zingaro

A strong beer from Millennium Beer Industries (United Breweries), Zingaro is one of those very pocket-friendly brands that we have to mention. Zingaro beer has a slightly bitter taste and has an attractive aroma of malt and corn.
20. Khajuraho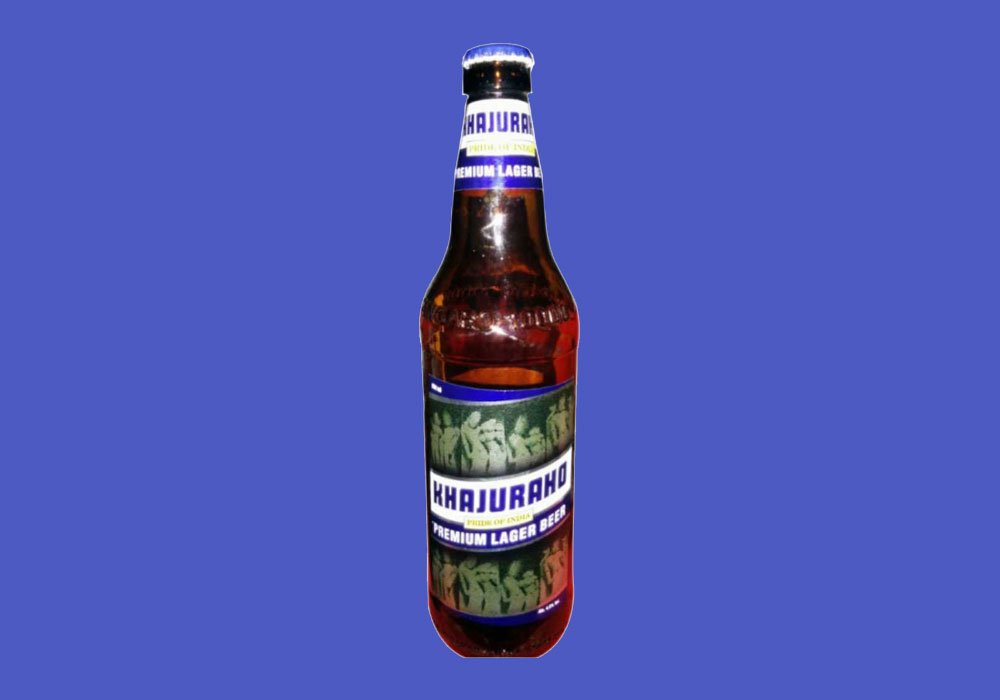 This underrated beer brand with images of mystical Khajuraho landmarks on its label is sure to catch your eye. Available in two varieties, Super Strong and Lite, this pale golden beer has a sweet taste. Launched in 1969 by Lilasons Breweries Ltd, Khajuraho Beer claims to be India's first super strong beer.
21. Blackfort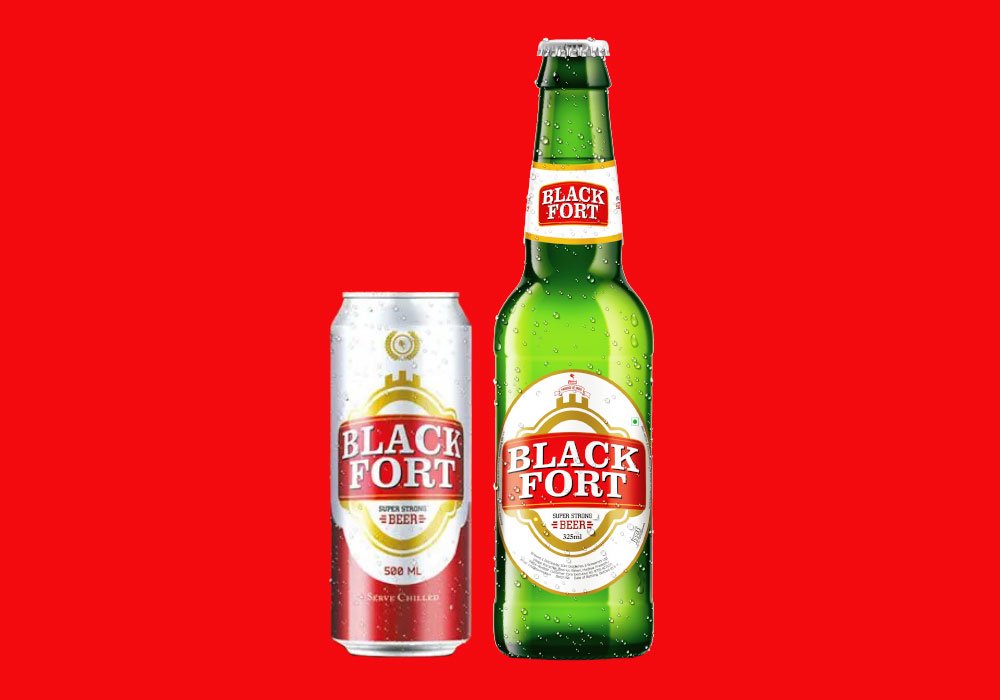 Black Fort has always been a favourite of Indian consumers, who have a soft spot for the texture and simplicity of hops. Developed specifically for the Indian palate, it has emerged in the domestic market and has been successful in other parts of India and abroad due to its excellent quality and attractive price. Described as a premium lager, it is brewed with the highest quality malt, North American hops, and speciality water. The beer was released in September 2008.
22. Copter 7

MS Dhoni's iconic helicopter shot and number 7 jersey inspired this latest brewery 7Ink Brews, and also their latest product. Inspired by the iconic helicopter shot of its brand ambassador, Dhoni, the eye-catching packaging and labelling is another noteworthy feature, inspired by the different jerseys and colours of the cricketer. 7Ink Brews is a start-up which produces alcoholic and non-alcoholic beverages. Copter 7 has two variants: Copter 7 Smooth Lager and Copter 7 Strong Lager.
23. Godfather Lager

Devans Modern Breweries Ltd. is an Indian company in the brewing business in India since 1967. The company was established in 1961 at Jammu in Jammu & Kashmir, the northernmost state of India. Godfather took birth in the 1980's and has become the biggest success story of the organisation. Godfather Beer is one of the fastest growing beer brands in the country and is also the market leader in various North and Eastern States of India.
Do write in the comments what your favourite bottled/canned lager is.