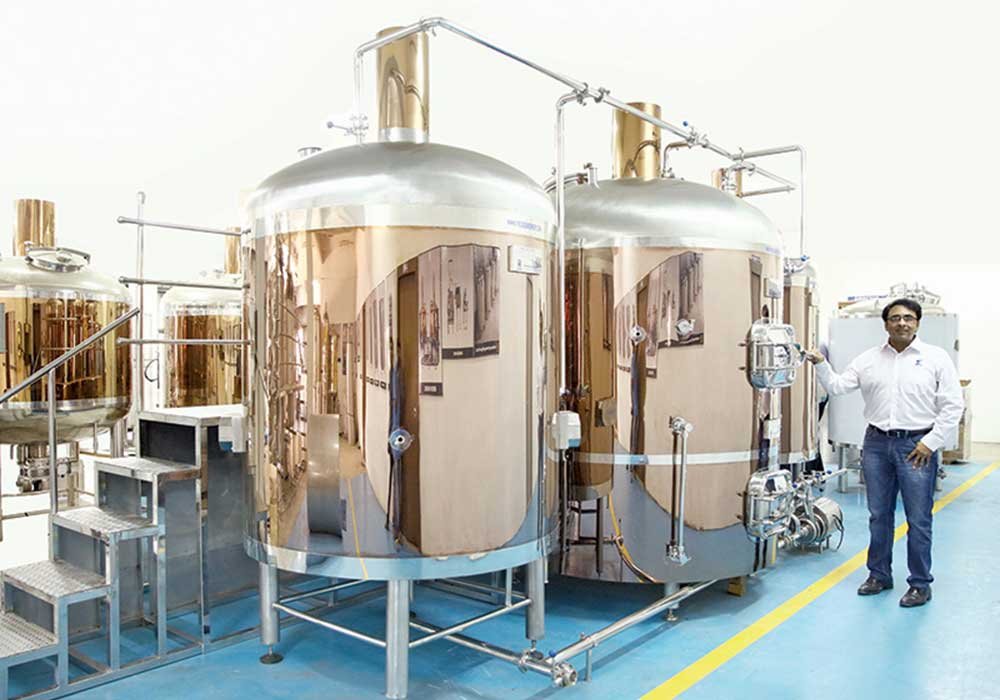 Prodeb's success with Microbreweries in India
SUSHIL EASHWARAN AND MARTIN BERNARD
Prodeb Brewery is one of the largest and most advanced microbrewery equipment manufacturers in India, it uses the latest Belgian technology. It is a part of the Canadian Crystalline group which has established more than 200 large-scale breweries and distilleries over the last 40 years for leading brands. Some of the brands are: M/s. UB Limited (Kingfisher, Kalyani), M/s. SABMiller Ltd (Fosters, Royal Challenge, Castle, Haywards 5000, Miller,PeroniNastroAzzurro) M/s. Mysore Breweries Ltd (Knockout), M/s. Mohan Breweries and Distilleries Ltd (Golden Eagle) with its JV technology partner M/s. RITA Bottling.
Prodeb Brewery has executed more than 30 microbreweries world-wide in Australia, Europe, Africa, USA, Canada and South America. In India Prodeb brewery has more than 20 completed microbreweries and more are getting installed, 60 microbreweries within the current year. We manufacture in-house the total line of microbrewery equipment which includes malt mill, brew house fermenters and bright beer tanks. Apart from that: Ice Water Tank, Glycol Tank, and Hot liquor Tank, CIP System and refrigeration chillers are also manufactured at our 50,000 square metres facility in Chennai, India.
Earlier in India, the local experience was average with equipment mostly from South East Asia. We were keen to bring in affordable European technology and process controls and thus was born Prodeb Brewery that delivers authentic classic styles of beer with tailor made Indian equipment. For us, it was not enough to just bring in the technology from Europe but adapting it to suit Indian conditions was critical.
Probed's Five Point Advantage
International Brewers
Prodeb believes that to offer the best beer experience, the brewer is as important as the equipment and raw material. A great tasting beer can only be delivered by any evolved brew master. We have a bunch of the best brewers from Europe, Australia, Canada and USA, who come at a nominal fee. This is the reason Prodeb clients sell the highest quantity of beer compared to any other outlets. The best decision ever made was to bring in European brew masters to brew for our clients. Martin Bernard, Stephen, Jerry Pink, and Francis to name a few.
With these professional brewer's, we could deliver the sheer authenticity and this enabled us to be pioneers in bringing the original European great tasting beer experience.
Quality of Equipment
Design is indeed crucial. The malt mill along with the brew house technology is critical to achieve a 96% extraction, which is the highest possible extraction in brewing. Prodeb has a specially designed lautering vessel that supports in achieving this extraction. Their lauter tanks are advanced in design and include provisions of steam jacket in the vessel. It is very important to get the right temperature and PH to activate the right enzyme to convert starch to sugar (carbohydrates) which makes for a great tasting beer, the multi-step mash process is vital to achieve this.
Our equipment is designed with a free board of above 40% which guarantees right volume of wort production in the brew house. The advanced multi-step mash system is truly one of its kinds
and is a main reason for producing great tasting beer.
Price Meets Perfection
The quality, aesthetics and technology of Prodeb meets European standards yet the price is very much Indian. We use Siemens Electricals/Becoff/ Schnider/PLC/VFD/Bonfigolli gear box motors, Danfoss refrigeration compressors and Omron RTD. The use of these high-quality products increases reliability as every breakdown of equipment due to malfunctioning of a single valuable component could create great losses for the client.
We offer titanium finishes in copper, gold, oxidized black and even wood finishes. We can provide upto 500 unparallel finishes that will suit the interiors of the microbrewery and last a lifetime. When we talk of aesthetics it includes the many kinds of finishes we give to the equipment.
Rotation of Brewers
As responsible equipment's manufacturers, we extend our support with experienced international Brew Masters, to maximize the efficiency and cost-effective solutions. We rotate our brewers in a minimum of 3 projects thereby ensuring that even a small brewery can avail the expertise of a great brewer.

Water
Prodeb's flagship company Canadian Crystalline Water Limited specializes in water treatment. This expertise enables Prodeb to mock the classic styles of beer available abroad, simply by recreating the source water there, which makes for authentic beer.
Prodeb believes that to offer the best beer experience, the brewer is as important as the equipment and raw material.

A great tasting beer can only be delivered by any evolved brew master.
Prodeb's Success with Microbreweries in India
Playboy has signed 22 projects on exclusive basis with Prodeb. The first in Pune.
Playboy Beer Garden, has opened.
Prost – Bangalore and Hyderabad, with a capacity of 25000 litres/Month.
Big Brewesky Bangalore – Sarjapur Road and Hennur, with a capacity of 28,000 litres / month
We are proud to mention that Big Brewsky, Sarjapur won the Easy Diner award for best microbrewery in 2017. With over 25 established breweries and 60 breweries in the pipeline, Prodeb is the largest equipment and technology provider in India.We are proud manufacturers supporting the MAKE IN INDIA initiative.
Also in the offing is the launch of the largest brewery in the world, 70000 sq feet, with our client Vatten Hogg ltd at Banjara hills.
Indeed, its exciting times for beers in India!