Rei-Sys Cleaning System: Revolutionising Beer Dispensing in the Brewing Industry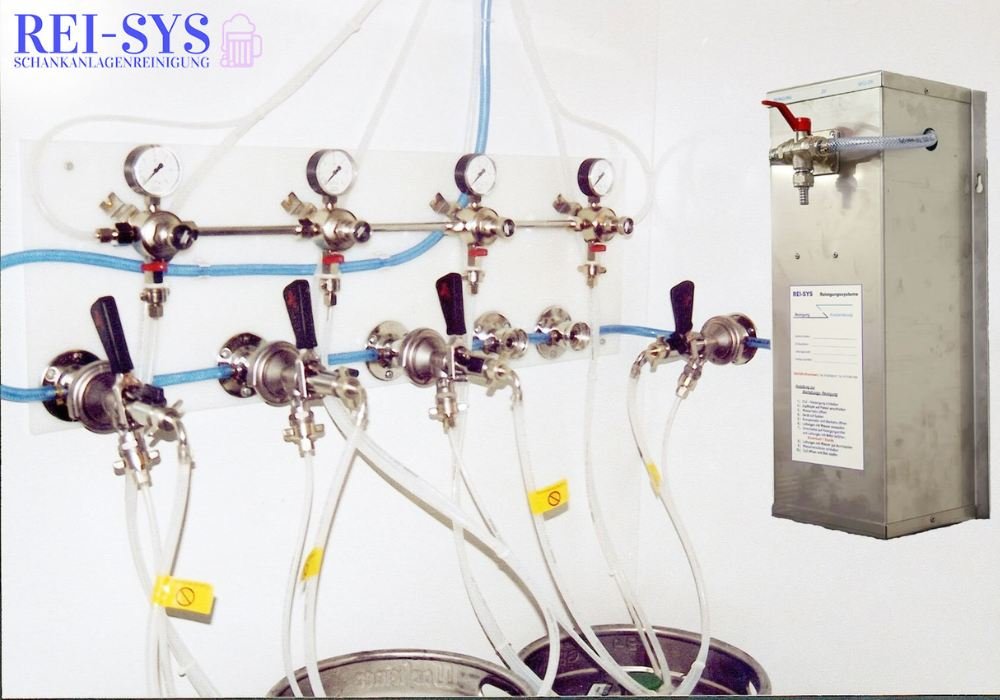 The German brewing industry has long been known for its commitment to quality and authenticity in beer production. However, maintaining the same level of excellence in beer taste and quality at bars and related outlets has often been a challenge due to the complexities of cleaning the beer dispensing system's pipelines. Rei-Sys, a German company established by Karlheinz Scheel in 1997, has revolutionised the way pipelines are cleaned with their patented cleaning system, guaranteeing customers an authentic taste of beer.
The article below highlights some unique features and benefits of this German product that has taken the brewing industry by storm.
The Rei Sys Cleaning System is a portable or as-installed unit designed primarily for cleaning the pipelines used in beer and other alcohol and non-alcohol dispensing systems. Also, one of its application is cleaning of all Milk vending machines because of the cleaning solution developed in the milk industry exclusively by ReiSys. It features a venturi valve system and comes with a 5-litre solution, which is the key component of the cleaning process. The system's design allows for easy manoeuvrability and ensures efficient cleaning of the pipelines.
Authentic Beer Taste: The Rei Sys Cleaning System guarantees an authentic taste by effectively removing any residue, contaminants, or stale that may have accumulated in the pipelines. This ensures that each pour is as fresh and flavorful as intended by the brewer. The cleaning can be done by the customer, as often as he wants to, to ensure to keep the quality high. The standards (DIN 6650) of cleaning say as follow and can be observed easily with us. 
Cost-Effective Solution: Unlike traditional cleaning methods that may require expensive equipment or outsourcing to professional cleaning services, the Rei Sys Cleaning System offers a one-time investment. The portable or installed unit can be easily operated by bar staff, eliminating the need for additional expenses. 
Time Efficiency: The cleaning process with the Rei Sys system is quick and efficient. With its venturi valve system, the solution is propelled through the pipelines, effectively removing any buildup in a matter of minutes. This saves valuable time for bar staff, allowing them to focus on serving customers promptly. 
Environmental Friendliness: The Rei Sys Cleaning System promotes environmental sustainability by reducing the need for harsh chemicals and excessive water usage. The 5-litre solution is designed to be refilled periodically, minimising waste generation and contributing to a greener approach in the brewing industry. 
Long-Term Durability: The Rei Sys Cleaning System is built to withstand the demands of the brewing industry. It's sturdy construction and reliable performance ensure that the investment lasts for years, providing a cost-effective solution for establishments of all sizes. 
In an exciting development, Rei Sys Cleaning System is set to make its debut in the Indian brewing industry at the Brewer World Conclave 2024 organised by Brewer World. "This highly anticipated event brings together key players, experts, and enthusiasts from the Indian brewing community, making it the perfect platform for introducing this revolutionary German product to the Indian market," says Mr.Suraaj Nair, Cofounder and Director of Brewer World, India's 1st web platform for beer and brewing industry. By participating in the Brewer Conclave 2024, Rei Sys aims to showcase the unique features and benefits of its cleaning system to brewers, bar owners, and industry professionals in India. The event provides an excellent opportunity to network, exchange knowledge, and establish partnerships with local businesses interested in enhancing the quality and authenticity of their beer. 
Rei Sys Cleaning System's participation in the Brewer Conclave 2024 India marks an exciting milestone in their journey to introduce their revolutionary product to the Indian brewing industry. With this strategic decision, Rei Sys aims to leverage the platform provided by the event to showcase its innovative cleaning solution to brewers, bar owners, and industry professionals in India. 
Attending the Brewer Conclave 2024 not only allows Rei Sys to network with key players in the Indian brewing community but also provides them with an opportunity to gather valuable feedback and insights. This direct engagement with potential clients and industry experts will enable Rei Sys to fine-tune its offering and tailor it to the specific needs and preferences of the Indian market. With their proven track record in the German brewer industry and their longstanding expertise in pipeline cleaning, Rei Sys is well-positioned to make a lasting impact on the Indian market. Their participation in the Brewer Conclave 2024 India serves as a testament to their dedication to delivering excellence and innovation in beer dispensing system maintenance. 
"Brewer World Conclave 2024 dates will be announced soon, so stay tuned!"