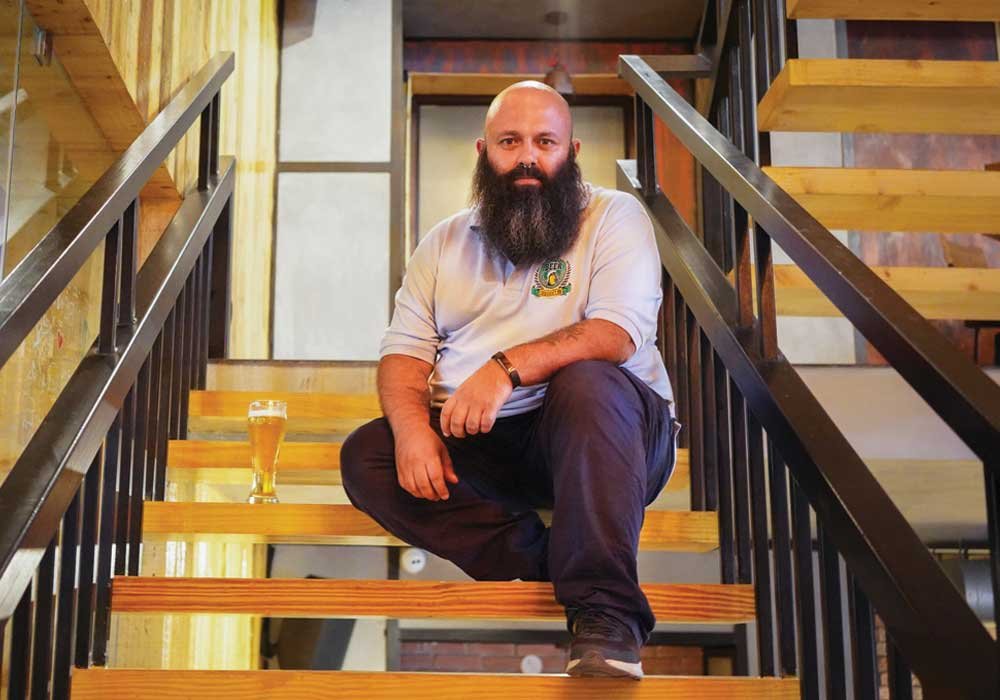 Naveen Kumar & Ramesh S. Naveen
Co-Owners, Float Bangalore
With India on the cusp of the craft beer revolution, the amount of people diving in the brewery business is tremendous. Recently opening their doors to beer lovers in Bangalore, Float Brewery entices its visitors in divine craft beer experience. As most great stories go, this one was initiated by two friends Naveen & Ramesh. Spearheaded by Naveen's love for beer, the duo didn't hesitate to start work on their entrepreneurial journey – Float Bangalore. Ramesh S. Naveen spent a number of years in the hospitality industry, even better known as one of the senior office bearers of the Gymkhana Club, that led the development of the property and made it what it is today. Brewer World in conversation with owners of recently opened Float Bangalore.

What is the concept behind Float? How did you settle on the name?
At Float we take our jobs seriously. We are here to create a revolution with great beer, great food and outstanding service. We believe that the experience we will give our customers will Float them to the next level.
A running pun among the friends and partners is that anything they did together should give the user a "Floating above the limits experience". Thus the Float name was born..
Could you talk to us about the beers available at Float. Talk to us about your brew master and their team?
We have brought in The Beer Chronicles team headed by George Jacob to help us create unique beers for this area. George and his team have a reputation in the industry as the top brewers.
We plan to have 3 house beers on tap and 1 rotating beer that will change every month or so. We plan to launch with a Hoppy Pilsner, a Red Ale, a Hefeweizen, and a special Pale Ale brewed using a variety of hops known as Barbe Rouge. This variety originated in France and is one of the hard to find varieties. We are the first brewery in the country to use this particular hop. I'll leave the description open for your interpretation when you taste the beer.
With so many craft breweries in Bangalore and around you, how will you propose float will stand out?
Bangalore is home to some of the top breweries of the country, with a couple of them in our immediate neighbourhood too! As Float, we are here to help build and encourage the craft brewing community in India and at the same time showcase our world class beers, food and impeccable service. We believe that our great twist on food and beers will surely excite taste buds at a pocket friendly price.
Could you talk to us about the interiors and what the theme is supposed to reflect and how the same has been accomplished?
Three storeys high, wooden interiors, an "old fashioned" look with louvered windows overlooking the main road. We've got large windows facing the road showing off our brew house that has a lovely copper cladding. The property is divided into 3 floors and a terrace. Our ground floor is cafe based serving fresh baked goodies, the next floor is just a simple pub layout, the 2nd floor is a candy bar that's a very interesting component of the project, the 3rd floor is a lounge concept, and the terrace is predominantly for private parties.
Talk to us about the challenges that affected float while setting up?
As you all may know, opening any kind of F&B outlet is never an easy business with the amount of planning, conceptualising, negotiations and so on. The amount of effort that went into designing Float was colossal. Raw material for both the brewery and the kitchen were a challenge but we've managed to source some real quality suppliers to ensure our products are never compromised.
India is currently witnessing the expansion of beer markets, what are your thoughts on the same?
India is a very interesting market at the moment with the current craft beer boom we're seeing. The year's ahead look like a very exciting time for all of us. We hope to see a lot more breweries opening and expanding the craft culture in the country. Lots of new beers means a lot more fun after all! We're very excited about the various bottled offerings popping up nowadays and hope to one day have our own to offer as well.
Any advice you'd like to share with someone looking to setup their own microbrewery?
Starting a microbrewery can be rewarding if you are passionate about beers. You should have a fair idea of your market and competitors around, channelize funds as well as prepare yourself for the future competition. It's very important to strategies' on a thorough business plan. The increasing popularity of craft beer demands equally good pairing of food, so there is a continuous challenge for anyone interested in the culinary arts as well. As breweries continue to develop more complex beer, the food prepared to accompany it must be equally esoteric. A successful micro brewery constantly needs to brew high quality of beer in different styles to meet the expectations of the consumer. And most importantly the concept of the microbrewery plays an integral role towards its success.
We concluded our conversation with the owners, asking them how and why an IT Professional & Hospitality Specialist would venture into opening their own FnB outlet with out any prior experience. "Everything is an experience and Float is the first time this team has come together on a F&B venture, and our hope is to open a number of other properties around the South", smiles and adds Naveen.