Seven Rivers & Fermentis Team Up To Spread Holiday Cheer With Xmas Barleywine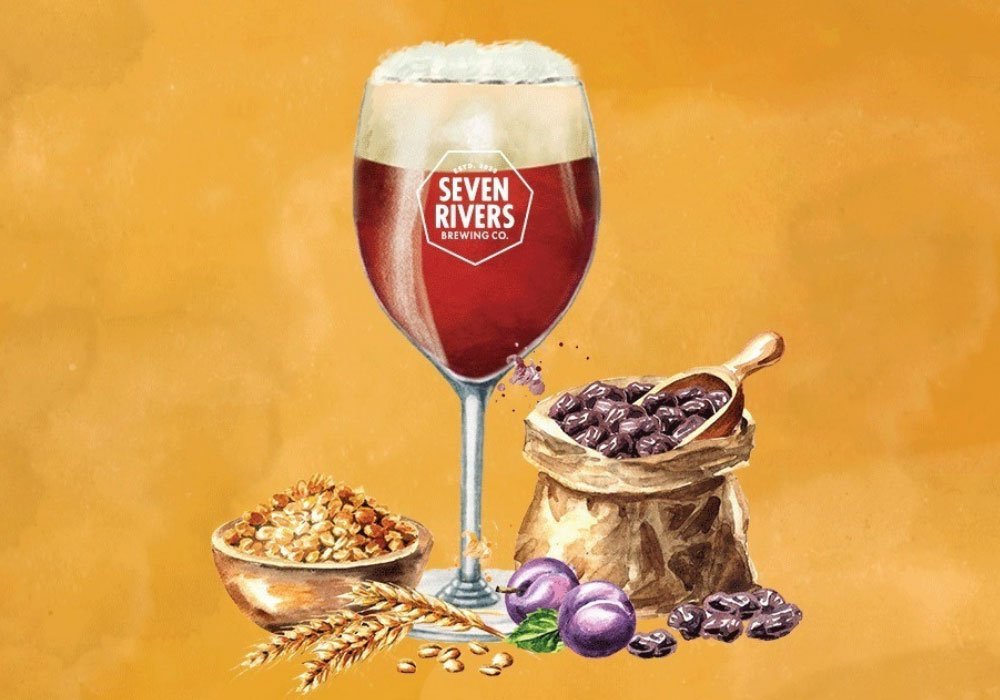 Barleywines are strong malty ales that have originated from England centuries ago. It is characterised by its full body and high strength, usually between 8 – 12% ABV. Despite being made with barley grain, they are named because Barleywines approach similar alcohol levels of wine. It showcases malty richness with a complex interplay of flavours, thus making it a perfect wintertime sipper. This December, in collaboration with Fermentis, Seven Rivers Brewing Co. brings you Christmas (Barleywine) in a glass to savour rich holiday flavours of raisins, plums. and oak chips.
Seven Rivers x Fermentis
The English Barleywine at Seven Rivers Brewing Co. was fermented with SafBrewTM HA‑18 yeast, a strain that was carefully selected for this high gravity ale by Fermentis. HA-18 is a powerhouse yeast that produces many fruity flavours in the final beer, thanks to its high ester release. It also produces phenols, potentially imparting clove or spicy flavour to the Barleywine. Every flavour derived from its fermentation perfectly synchronizes with rum-soaked oak chips and the maple syrup character of the speciality beer.
This active dry yeast has all the essential enzymes for producing high alcoholic beers – such as an English Barleywine in this case. The enzymes are essential to break down longer chain starches typically present in high gravity wort. Building on this, HA-18 is also a thermotolerant yeast that accommodates a better fermentation temperature window ranging from 25°C – 35°C.
"With our target ABV being on the higher side of 7.9%, finding a yeast strain to ensure we get the right attenuation and flavours was the key, and HA-18 was the perfect fit," says Lynette Pires, lead brewer at Seven Rivers Brewing Co.
X'mas Barleywine
X'mas Barleywine is Seven Rivers' take on a traditional English-style Barleywine, and it makes up for an ideal beer to ring in the winter and festive season. It's a strong, malty-rich complex ale with enticing aromas of dried fruits such as raisins, prunes and figs backed by a mellow woody and earthy note hovering in the background. In a glass, it pours in a gorgeous deep red colour with ruby garnet and a slightly tanned, creamy head.
Seven Rivers Brewing Co. has gone all out with this one to mature and condition it with rum-soaked oak chips along with a generous amount of their Christmas fruit & nut mix. To make it even more intriguing, Fenugreek seeds have been added to lend the beer a maple syrup-like character, further complimenting the full-bodied ale. An impactful and  boozy seasonal delight indeed! We asked what sparked their interest to brew a rare English Barleywine; this is what she had to say.
"We love experimenting with new styles and flavours, so it seemed only fitting to bring in the festive season with a unique style like the Barley Wine. Barley wines are big malty, rich brews with a complex flavour profile and notable warm alcohol notes. We chose a variety of special malts and earthy hops to get our desired profile. We even gave it a little bit of a personal touch by infusing it with a blend of rum-soaked dried fruits and oak chips which makes our Xmas Barleywine a truly special brew!" – Lynette Pires, lead brewer at Seven Rivers
It goes without saying that Seven Rivers is no stranger to seasonal and collab-brews. To understand their timeline, we asked Lynette to highlight some of their speciality brews this year. "A few highlight speciality brews for this year were the Pink Boots Collab which was India's first All-Women brew on International's Women's Day, and our seasonal collab with our neighbours Arbor Brewing Co."
In addition to this, Seven Rivers' other seasonal or speciality beers include a Guava NEIPA, Scotch Ale, Pret-zale, Salted Lime Gose and Jamun Sour. Each style boasted a unique profile. "At Seven Rivers, we believe in expanding through diverse Indian flavours and styles, and we look to incorporate a variety of local and seasonal ingredients into our brews.
We look forward to collaborating with other breweries, local artisanal brands, and vendors to create fun, innovative brews together. We believe in growing through partnerships as they allow us to interact and grow together as a community." Lynette signs off.