7 Rivers Brewing Community Launches India's First Pink Boots Collaboration Brew This Women's Day!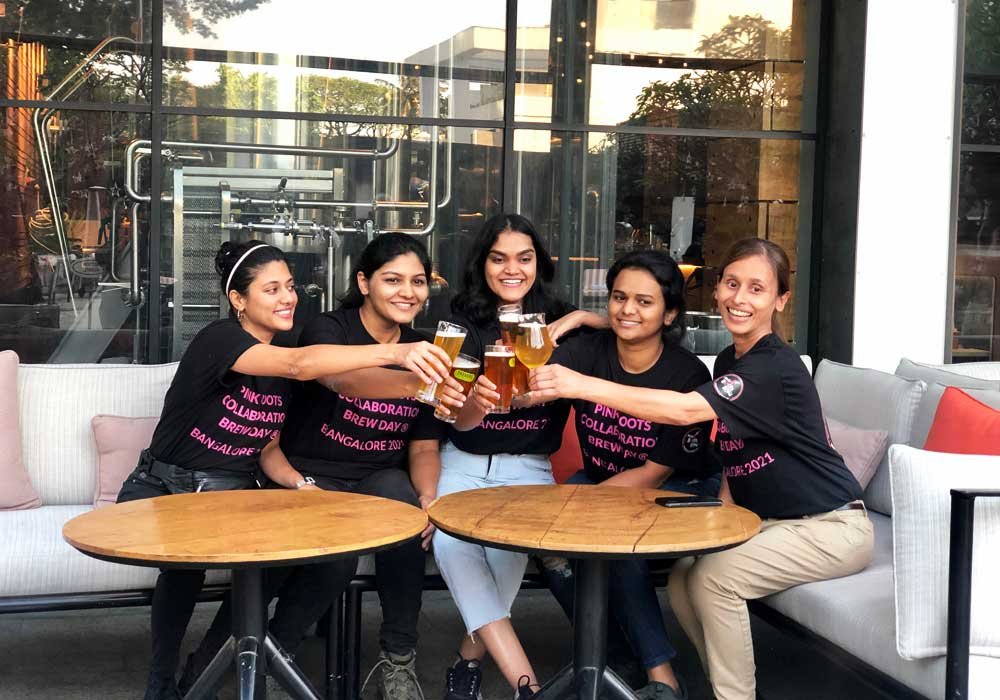 This March, Bengaluru-based 7 Rivers Brewing Community took their Women's Day celebrations up by several notches by making an exciting announcement: a collaboration with Pink Boots Society, an international non-profit organisation supporting women in beer as part of their annual global Collaboration Brew Day.
It was a day of many firsts because not only is this India's first Pink Boots collab, it also happens to be the first time the country gets to witness 5 women brewers making a beer together! Lynette Pires, lead brewer at 7 Rivers Brewing Community joined hands with Vidya Kuber from Geist, Varsha Bhatt from Mannheim Brews, Aishwarya – former brewer at Brahma Brews and Amruta from Byg Brewski to release a very special beer using the official annual Pink Boots Society hop blend for 2021 – thus wearing their support for women in brewing on their sleeves!
"It started off with me reaching out to Yakima Chief Hops (YCH) for the Pink Boots Blend," says an excited Lynette Pires, lead brewer at 7 Rivers Brewing Community. "Brewnation was very supportive in helping us coordinate this collab with YCH. But I wanted to take this collab a little further so I reached out to Pink Boots Society to see if we could register to be a part of their annual collaboration brew day – since this is so new to India. They were eager to help out too. It's very exciting to be a part of this initiative – this year there are about 17 different countries participating in the PBS brew collab, with more than 400 collaborating breweries expected to be on board."
Elaborating more on how the Pink Boots Society works, Lynette explains: "The Pink Boots society has many chapters across the world and each chapter basically helps to build an even smaller, more tight-knit community within that of once again, women who aren't just necessarily brewers but even those who represent the beer industry and community."
For those who don't know, YCH and Pink Boots Society (PBS) have partnered together since 2017 to create an annual hop blend that empowers women in the brewing profession. The Pink Boots Blend is available to commercial and home brewers and a portion of the proceeds benefit the Pink Boots Society scholarship funds. This year's blend was chosen via a global virtual hop selection and consists of Cashmere, Ahtanum®, Citra®, Loral® & Sabro® brand hops, creating a blend with tropical, herbal, citrus and woody aromatic qualities.
Shedding more light on the annual hop blend, Lynette says: "If you look at the blend of hops that has been used this time – it's a very citrusy, fruity and tropical forward hops, with a few earthy hops in there as well. So the whole blend sort of tilts more towards something very tropical, very fruity, hoppy and juicy. We really wanted our beer to be a style that brings out these lovely notes of this specific blend and also something that's very yummy as well – so we built our recipe keeping these aspects in mind."
So why a collab when you can just brew on your own?
"One of the great things about collabs is that everyone in the craft beer community comes together," says Lynette proudly. "Even today – it's just a group of five women brewing, but you can see the entire craft community has just stopped by to drop in and offer their support and see what's happening – and I think that's one of the most beautiful things about collabs. There's also the fact that when there are so many people and minds collaborating, different sets of ideas come together and there's a lot more innovation and a lot more sharing of recipe ideas and creativity."
Is Lynette looking forward to pushing for an India chapter with the Pink Boots Society? "Absolutely, that would be fantastic!" she exclaims. "I would love to see how to take this forward every year, but for me right now, it's all about bringing more women brewers together and see them collaborate and grow more. We are such a small niche group in India at the moment and are really hoping to see more female talent coming into brewing in the near future, despite the many stereotypes that are associated with the beer industry.
It was super nice of both Yakima Chief Hops (YCH) and Pink Boots Society to reach out back to me and help me kick off this initiative in India to work towards a larger purpose: which is to break gender barriers, inspire more women to take up roles in the brewing industry and make this a more inclusive, diverse space that makes everyone feel equally welcome."
The exclusive collab brew will be ready to be pushed out on taps at 7 Rivers very soon, but for now, the team of five brewers is keeping beer lovers guessing as to what the final style is! So the next time you head over to 7 Rivers Brewing Community, don't forget to check in with your beertender so you don't miss out!
Brewer World Exclusive