Nova Lager: The New World Lager Beer, A Collaboration Between Seven Rivers Brewing Co. & Lallemand Brewing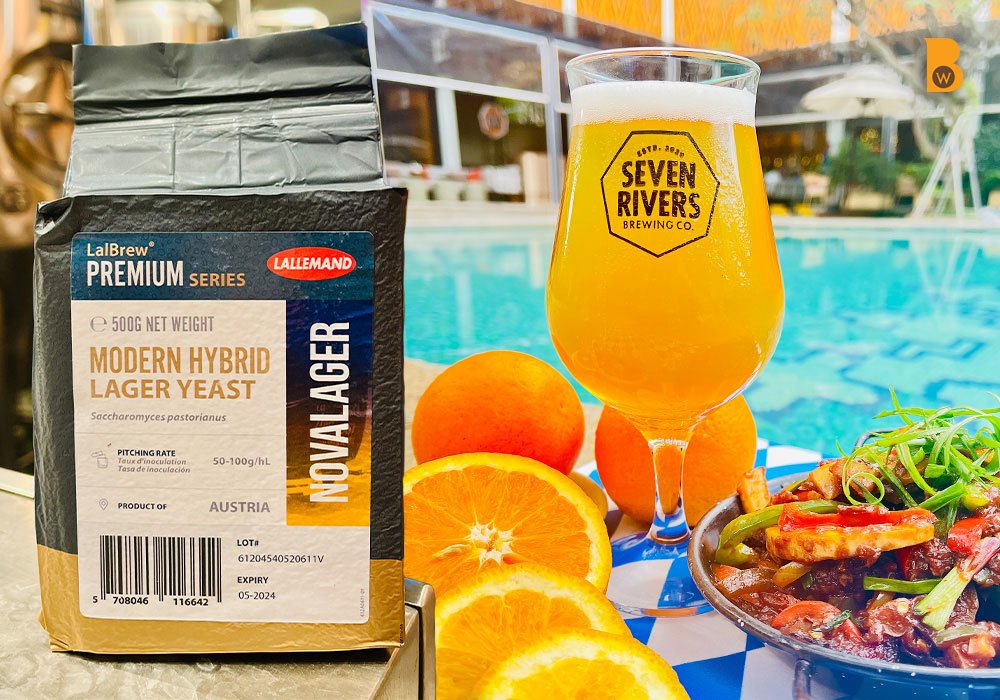 Seven Rivers in collaboration with Zytex Brewing and Lallemand Brewing launched the New World Nova Lager Beer earlier this month at the Seven Rivers, Taj Bangalore.
The New World lager beer, Nova Lager is sessionable, malt driven, clean, crisp, has a moderate ABV, and has an overall well-balanced flavor profile. It is brewed and served at Seven Rivers Brewing Company, one of the greatest microbreweries in Bangalore, positioned at Taj Hotel MG Road.
Speaking about the launch, the Head Brewer of Seven Rivers, Ketan Malhotra said, "The purpose of creating this beer was to find a strain that can significantly speed up the production of lagers and other styles that require longer maturation times."
While the strain is designed such that it reduces the turnaround time for lagers with very less off-flavor production during fermentation, yet hints of diacetyl can still be observed towards the end. The best way to deal with them would be to ensure a good VDK rest for 3-5 days."
He further added, "Ales strongly dominate the Indian craft brewing industry as compared to lagers and one of the reasons being the longer turnaround time to get the beer on tap. As Lallemand came up with a strain which not only deals with that problem but also generates very low off flavors during the fermentation, we decided to brew our Nova Lager with this strain. Thus, to examine this yeast's prowess we kept the Style very simple and straightforward leading us to a sessionable, balanced and crispy Lager."
When we asked Ketan, "Are you happy with the end product? Did the lager meet your expectations?" He said, We've observed a significant decrease in turnaround time while the product observes a very clean palate and a minimal hint of diacetyl on the nose. There's no observable h2s production which makes the Yeast Style very appealing. We're quite satisfied with the end product as it checks out almost all the boxes and will look forward to experimenting more with this Yeast strain ahead."

About LalBrew NovaLager
LalBrew NovaLager is the result of Renaissance Yeast's research and development efforts in collaboration with Lallemand Brewing (Vancouver, BC, Canada). It was chosen utilising conventional and non-GMO breeding techniques to produce a unique Saccharomyces cerevisiae x Saccharomyces eubayanus hybrid strain that distinguishes itself from other standard Saccharomyces pastorianus strains by defining a novel Group III (Renaissance) lager lineage.
According to the company, this strain has a low VDK/diacetyl production rate and makes use of patented technology developed at the University of California, Davis (USA), to ensure that no hydrogen sulphide (H2S) is formed, hence shortening the maturation period needed to produce lager beer.
The LalBrew Nova Lager hybrid is a true bottom-fermenting Saccharomyces pastorianus strain from a new lineage that has been chosen to produce clean lager beers with distinctive flavor profiles and excellent fermentation performance. Fast fermentations, rapid attenuation, and high flocculation are just a few of the great brewing characteristics of this strong lager yeast strain. The distinctive flavor profile has very few esters and is consistent throughout a wide temperature range.