Heineken Silver Caters To The New Generation Of Indian Consumers With A Premium, Smooth Tasting Beer: Rajeev Sathyesh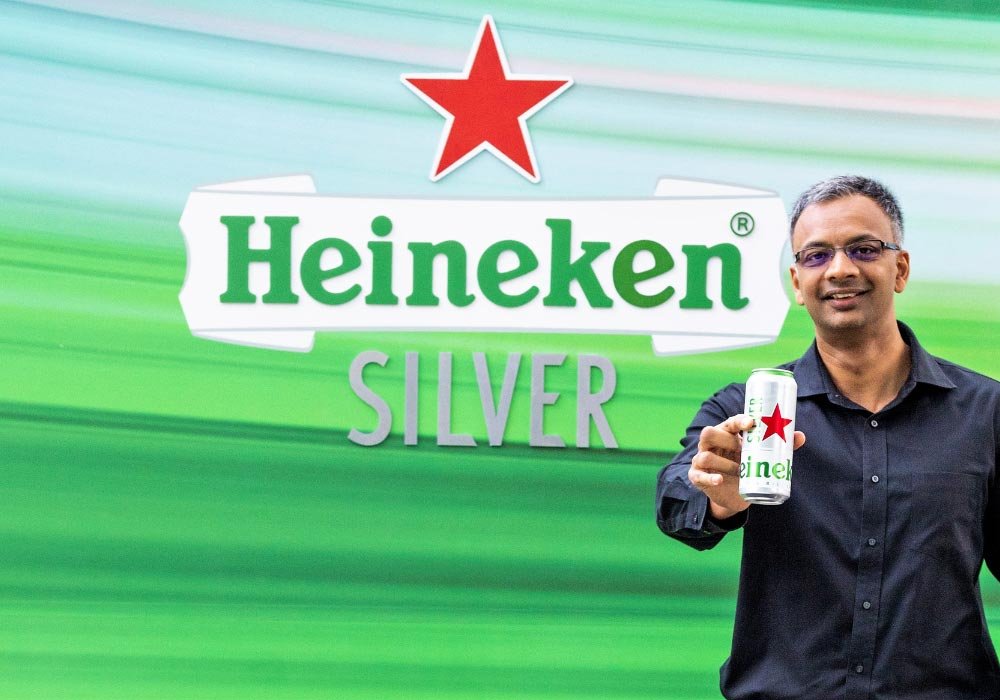 United Breweries, the country's largest beer manufacturer and part of the Amsterdam-based Heineken group, had recently launched Heineken® Silver – a smooth and refreshing beer that provides Indian consumers with a premium beverage that is truly designed for everyday social occasions. Heineken® Silver is brewed by master brewers using natural ingredients, including Heineken®'s famous A-yeast and quality malt. Heineken®'s latest beer innovation provides the new generation of consumers with a premium, smooth-tasting beer that breaks from the socializing traditions of the past to refresh the drinking moments of today.
What makes Heineken® Silver different is the ice-cold lagering process. By brewing Heineken® Silver at -1°C, more cold haze is allowed to form and be filtered out. This removes proteins and rough-tasting tannins, leaving behind a delightfully refreshing taste that's accessible and easy to drink. To know more about Heineken's all new product and its target consumers, we interviewed Rajeev Sathyesh who's the Asia-Pacific Director for Heineken® Brand. Rajeev is responsible for the growth and development of the Heineken® brand and business in the Asia-Pacific region (ASEAN, North East Asia, Greater China, India, Australia and New Zealand). Rajeev's vision is to champion the growth of Heineken®, the most international and visible brand, as they enter an incredible era of innovation and expansion in the beer industry and brew the joy of true togetherness to inspire a better world. Here's what he had to say.
How does Heineken Silver see itself fitting into India's dynamic and constantly evolving commercial beer segment?
The beauty about a country like India is the population, especially the younger generation. We see a huge evolution in terms of taste preferences in every alco-bev category including beer. Heineken Silver has been designed particularly to cater to young consumers in India. It is a premium proposition that meets their taste needs. It's extremely smooth, easy to drink and goes along with their ever evolving dynamic lifestyle.
As a brand, Heineken is iconic. It stands for open mindedness and bringing people together from different backgrounds. It resonates with the DNA of young Indian consumers and when you couple that with a liquid that meets their taste needs, it's a natural fit. So we see this as a premium beer for Indian Gen-Z and millenials.
Heineken Silver is a low ABV, session lager. How do you see this variant competing with India's Strong Lager market, considering this category remains the hot favorite among beer lovers?
It is true factually that the bulk of the category today exists in Strong beer. But like I mentioned earlier, the beauty about India is its population and the diverse taste that exists. There is a segment for every single consumer. More recently, the 5% and under 5% beer segment has been growing and exploding in a big way. At the same time, there are consumers who want 7-8% beer. We see Heineken Silver basically catering to the 5% or under 5% ABV segment but more importantly a taste profile and experience with a brand that meets their needs.
How critical is the Indian Beer Market for Heineken in the Asia-Pacific region?
It is very critical. India has a growing population. The economy is stable and GDP per capita is growing. Beer as a category is very small for the total percentage among the alcobev industry in India and the per capita consumption of beer in India is 2L per person per year. When I compare and contrast it to some of the other countries in Asia-Pacific, which are 20 to 30 times higher. As long as we do the right thing, which is to offer consumers the right propositions, the category will continue to grow. Therefore it is an extremely critical market for us. With iconic brands like Kingfisher and Heineken, there's a lot of potential.
How does Heineken's latest product complement the evolving lifestyles of new age consumers?
Like I mentioned earlier, people make a choice on the brand that they wanna be a part of and be associated with. Heineken is a brand which stands for everything that's relevant to the Indian Gen-Z consumers. Therefore, there's a natural affinity towards the brand, they get to know what the brand stands for. The number one task for us is to re-introduce the Heineken Brand of what we stand for. Then you couple that with our association that we have with global sports, in the territory of music, digital and metaverse, anything and everything that they are passionate about. After all, it seems like a natural fit for the young Indian consumers.
With Heineken Silver, does the company encourage consumers to drink responsibly as well? Are there any campaigns surrounding the product?
What we do is in every country around the world, there's a substantial portion of our total investment that we pour into a campaign called 'Enjoy Heineken® Responsibly'. If you were to look at what we've done this year already, we've partnered with Formula1 on a global scale and encourage people to say "when you drive don't drink, when you drink don't drive". We use Formula1 races and teams to be able to communicate this message. We take that very seriously as a company. Moderation is an important part of our strategy and we believe people should enjoy the propositions but enjoy them in a very responsible way. We do the same in India as well.
Considering the Asia-Pacific market region, are there any other products in the pipeline for Heineken this year?
Nothing that I can share at this point and time. We keep looking for opportunities in India and other parts of the world.
Under United Breweries, Kingfisher already has a diverse portfolio of variants. Do you plan to achieve that with Heineken as well?
Yes, absolutely. If you look at our portfolios across the globe, we believe in creating larger portfolios and it stems from a simple logic that anyone who wants to enjoy beer, looks for a different proposition. One brand cannot do it all. Kingfisher is an iconic brand. It's synonymous with a category in India and we've got a portfolio with UB. We will continue to look at opportunities within India because of the evolving taste preferences of consumers and where there are unmet needs and at the right points of time, we will bring the relevant propositions.
Was there a prior R&D done to remove some of the harsh flavor compounds such as tannins before brewing Heineken Silver?
Yes. We are a company that is obsessed with the quality of the liquids. We will not put anything out there that doesn't meet our quality standards. There's a lot of work that went into designing this proposition and making sure that the taste of this product is the same everywhere in the world. Irrespective of where it is brewed, Heineken Silver tastes the same, likewise, Heineken Original tastes the same.
Is Heineken Silver a limited release variant or is it part of the core line-up?
It is part of the core line-up and it is here to stay. This is a proposition that we believe that meets the needs and delights the young consumers in India, which we know is the case, because we've tested it in the Indian market.
How many countries is the Silver available right now and is it pouring on draft?
We have already launched in 26 countries so far and India is the 27th country. It's a relatively young proposition which started in 2019 with Vietnam being the first country and China in 2020. Now we've taken it to Europe, Americas and other countries in Asia. Heineken Silver exists in draft in other countries but not yet in India.
Heineken® Silver is available in both on and off-trade retail channels in Bengaluru. Silver's 330-ml pint is priced at Rs. 120, the 500-ml can at Rs. 160 and the 650-ml bottle at Rs. 200 across off-trade retail outlets in Bengaluru. The beer comes in a sleek silver can and the iconic green bottle. Heineken® Silver will also be launched in other markets in the next few months.