Falcon Launches India's Biggest Oktoberfest With Their Partner Breweries Across India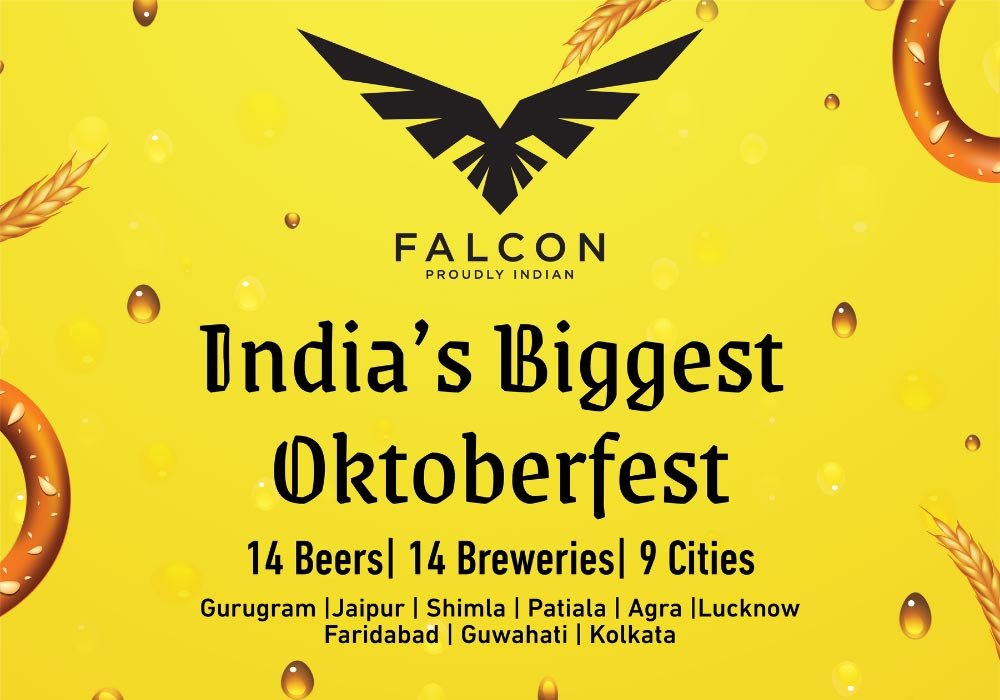 Falcon, an Indian Microbrewery Equipment manufacturer, launches India's Biggest Oktoberfest festival with their partner breweries across India. Oktoberfest, primarily celebrated in Munich, Germany is the world's oldest Beer festival. It sees crowds coming from people around the world and get together in large tents and enjoy the festivity with Specially Brewed beers for this fest, along with Music and Special Menu.
For those who can't go to Germany, Team Falcon decided to brew 14 different beers in 14 different breweries across 9 cities in India, making it the largest Oktoberfest in India. Each brewery has unique beer on tap with a specially curated menu and Décor Along with Music and Fun Games. The festivities start ateach brewery on the 17th of September, when all the beers go on Tap.
Oktoberfest Munich festival will be celebrated again after a gap of 2 years which was cancelled due to Covid. We feel our customers should also get to enjoy the festivities at their favorite brewpub even though not in Germany. "Today, Team Falcon has the ability to make it happen" says Amit Mishra, Co-founder of Falcon Brewing Co.
He further adds "Oktoberfest is the time when most breweries are busy making some version of lagers most of them come under the umbrella of Festbier or Marzens. But we wanted to showcase all the amazingGerman beer styles that are continued to be brewed to this date. Some of the beers coming on tap are Marzen, Oktoberfest lager, Helles, Dunkel lager, Dark Lager, Rauchbier, Kolsch (hybrid), Traditional Bock, Vienna Lager, Pilsner and Doppelbock."
Team Falcon spent months planning, from selecting beer for each brewpub along to creating recipes and then finally brewing; it took months to prepare. In Gurugram and Faridabad, we partnered with Soi7, Striker Prive, Adda, Philtre, TAMA and Radisson Hotel led by Rohit Raj, Partner and head of Brewing operations. In Uttar Pradesh, we partnered with Kiskey Whiskey in Agra and Black Brewhouse in Lucknow. Euphoria Brewing Co in Patiala and Shimla Brewing Co in Shimla, led By Amit Sahoo, Head brewer. In Jaipur, Macaco Brewpub and Skyfall. Scrapyard Brewing Co in Kolkata and Terra Mayaa in Guwahati led by Rahul Sharma, Head brewer.
Falcon's vision is to promote Indian Craft Brewing Industry at global scale, we have the ability to produce best styles and at the time make efficient and affordable equipment's – Sanjay Yadav: Co-Founder, Falcon.
List of Beers on Tap (NCR)
Adda – Rauchbier
A beechwood-smoked, malty, amber German lager with noticeable to intense smoke character.
Soi 7 – Dark Lager
A darker, richer, and somewhat sweeter version of international pale lager with a little more body and flavor, but equally restrained in bitterness.
Striker Prive – Oktoberfest Lager
A smooth, clean, pale German lager with a moderately strong malty flavor and a light hop character.
Tama – Traditional Bock
A strong, dark, malty German lager beer that emphasizes the malty-rich and somewhat toasty qualitiesof continental malts without being sweet in the finish.
Radisson Hotel – Dunkel Lager
A traditional malty brown lager from Bavaria. Deeply toasted, bready malt flavors with restrained bitterness.
Philtre – Kolsch
A subtle, brilliantly clear, pale beer with a delicate balance of malt, fruit, and hop character, moderate bitterness,and a well-attenuated but soft finish.
List of Beers on Tap (Jaipur)
Skyfall – Hefeweizen
A pale, lightly hopped German wheat beer with a fluffy mouthfeel, and a distinctive fruity character which comes from the special strain of yeast.
Macaco – Weizenbock
A strong, malty German wheat beer combining the best wheat and yeast flavors of a Weissbier with the rich maltiness, strength, and body of a Bock.
List of Beers on Tap (Patiala & Shimla)
Shimla Brewing Company – Märzen
An amber, malty German lager with a clean, rich, toasty, bready malt flavor, restrained bitterness, and a well-attenuated finish.
Euphoria Brewing Co – Hefeweizen
A pale, lightly hopped German wheat beer with high a fluffy mouthfeel, and a distinctive fruity character which comes from the special strain of yeast.
List of Beers on Tap in (Guwahati & Kolkata)
Scrapyard Brewing Co – Doppelbock
A strong, rich, and very malty German lager with deeper malt flavor.
Terra Mayaa – Helles
A gold-colored German lager with a smooth, malty flavor and a soft, dry finish.
List of Beers on Tap (Uttar Pradesh)
Black Brewhouse – Vienna Lager
A moderate-strength continental amber lager with a soft, smooth maltiness and a balanced, moderate bitterness.
Kiskey Whiskey – Pilsner
A pale, dry, bitter German lager featuring a prominent hop aroma. Crisp, clean, and refreshing.
---
About Falcon:
Falcon is Made in India Microbrewery Equipment brand By Craft Beer Brewing Solutions. It is designed and manufactured in Ahmedabad and Co-Founded by Amit Mishra one of the iconic brewers in India, Sanjay Yadav who has expertise in Equipment Manufacturing and Rohit Raj who handles the brewing operations Pan India. Team Falcon provides Equipment and Brewing consultancy.
Contact:
Rohit Raj – 7042253263 rohit@microbreweryindia.in
Amit Mishra – 9663311215 amit@microbreweryindia.in