We Take You Inside Himachal's Scenic Microbrewery, Shimla Brewing Company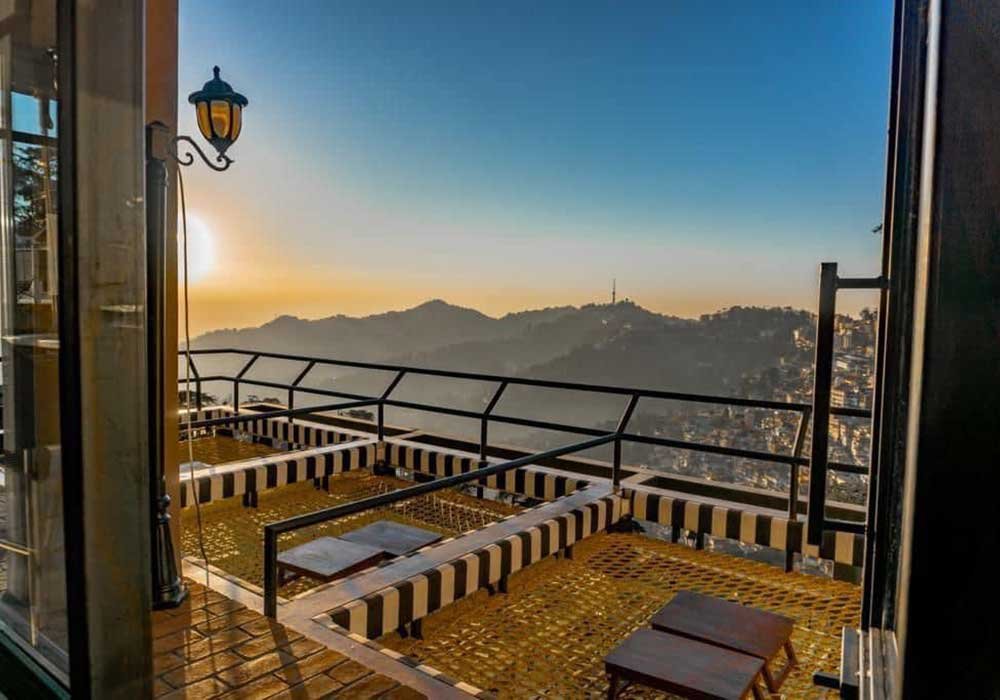 Not that you needed an excuse to visit the gorgeous state of Himachal Pradesh, but either way, we have one for you right here. Shimla Brewing Company is one of a kind brewpub with the longest bar, 180 degree breathtaking hill views and in a first of its kind – hanging in the air seating.
From its quirky interiors to a 34 ft. long picture perfect bar, Shimla Brewing Company has it all. The open air hammocks and wooden swings steal the show. The experience of enjoying the sunset while sipping on your beer, seated on a hammock, suspended 2270 ft. in the air, is a rare find!
Speaking about their interior design, Megha Kochhar, Founder of Shimla Brewing Company said, "Playing on the right balance of familiarity and uniqueness, we wanted the locals to get a feel of their own culture when they enter the premises. The iconic Himachali monkey of Shimla welcomes you into this one of a kind Brewpub with the most magical panoramic views of the hills. The brewpub also features 'hanging in the air' seating for the very first time in India."
Willow Banks estate, within which Shimla Brewing Co. is located, dates back to 1871. It belonged to the architect and builder of Shimla James Cradock who had a vision of converting this into a hospitality project. This vision was taken ahead by the owner Mr. HS Kochhar who revamped this estate into a luxurious hotel 15 years back. Since then, they have been successfully running three award winning eateries within their premises.
"The success of these restaurants brought out the vision of creating something that was never seen before. It was time to give the town of Shimla – a unique nightlife destination. Eventually that's what led to Shimla Brewing Company." says Megha Kochhar.
The Brewery
Shimla Brewing Company has a state-of-the-art brewery with a brewhouse capacity of 2HL or 200 Litres. Alongside, they also have 4 BBTs or Bright Beer Tanks and 5 fermenters.
The craft beers are a breath of fresh air from the regular ones that liquor stores in Shimla had to offer. Currently SBC offers three beers and a Cider on tap. A Belgian Wit, Blonde, Dark Ale and Apple Cider. More recently, Shimla Brewing Company has launched two new beers, a Belgian Strong Ale and Old Monk Ale that is infused with Oak chips soaked in Old Monk Rum.
We asked if Shimla Brewing Co. uses locally sourced ingredients such as Shimla apples for beer or perhaps an Apple Cider?
"Our Apple Cider is made using crisp apples that are freshly picked from the orchards of Himachal. It has received a lot of love from the locals as well as tourists. Additionally, we also have a Botanical Cocktail bar where we experiment with ingredients such as Himalayan spices etc. sourced from the Northern belt." says Megha Kochhar.
Shimla Brewing Co. adds another landmark to the beer industry in the city of Shimla. The mesmerising hammocks are sure to transport you into another world and the breathtaking views are just exceptional. So, soak in the fresh Himalayan breeze and experience the true charm of Shimla as you view a 180 degree view of the serene valley along with a cold one.