COVID-19 May Cost The Indian Microbrewery Business Over 200 Crores, Brings Brewery Owners To Their Knees
The Indian craft beer industry is going through an existential crisis right now. There's ale going stale in brewery tanks, production lines and supply chains that have been totally disrupted, hundreds of staff that could lose jobs and lakhs of rupees that are lying frozen in pointlessly paid excise duty.
"Our total investment, considering all of Maharashtra, comes to about 100 crores," says Manu Gulati, owner of Effingut and the executive director, Maharashtra Chapter Craft Brewers Association of India (mCBAI). "All of this will turn to zero, barring about 20-30 percent. If we don't pay the rent, which is what it is looking like, we will be evicted.  So, we are looking at a capital investment loss will be in the range of 70 to 80 crores and nothing less.
Not only that, we also stand to lose a crore in prepaid duties just by the beer sitting in the tanks as it is because it is going bad. There is currently a lakh and half litres of finished product lying in craft breweries across Maharashtra and more than 50 percent of the beer is at a risk of being drained." continues Manu.
Nakul from Great State Aleworks, who currently has 8000 litres of finished product says: "Even if the lockdown lifts in May, what guarantee do we have that people will be willing to go out to drink our beer? And if people aren't coming, why will restaurants order craft beer?"
We asked Pratekk Chaturvedi from Ministry of Beer about the 50 percent occupancy rule, laid out by the Ministry of Home Department. "This means that in the coming days, we will have to seat people with one person gap. That means 50 percent less revenue. So clearly everything – including rent and staffing has to be slashed by half accordingly. I'm currently sitting on about 12,000 litres of beer which comes up to close to a crore and a half in terms of revenue. If the beer gets spoiled in the next 4 to 6 weeks, I will literally be putting a crore and a half down the drain."
Koushika, head brewer at The Grid in Kolkata, also points out the huge opportunity cost. "Because it's summer, we have already lost out on a huge chunk of our business so we don't know if our staff can continue holding their jobs, let alone expect a hike," he says. "Not only that, we have also expanded our brewery and we were also supposed to go online by end of April. We had ordered everything, the equipment is all set up. So that's another space of about 7000 square feet which is just lying there generating nothing. It's a lot of cost we are incurring."
Things are looking just as hazy and unclear in India's own Craft Beer Capital, the city of Bangalore. Ajay Nagarajan from Windmills Craftworks says "We have had no revenue for 40 days now and we are easily looking at another month. We have about 7000 litres of beer lying in our fermenters, out of which we have already drained about 2000 litres. If the lockdown continues, we stand to lose close to 750 rupees per litre which adds up to about 50 lakhs in just a month and a half." Prashant Kunal from The Bier Library says "For a place like ours, the amount we end up paying for microbrewery license fee and excise duty is close to 45 lakhs. The payment was also done in lump sum earlier, but if that can become a monthly or a quarterly cycle it would really help. Apart from that, deferring statutory payments like all the GST and TDS would also be of huge relief at the moment."
Meanwhile, in Goa, Susegado's founder, Aditya Challa who sells to 40 bars is struggling to save his employees' jobs. "I'm not looking at any profit from the business until the end of this year. But if someone came to me and said he will cover our rents, salaries of all the employees and keep them fed until the end of this year, I would take that deal without a question. We have been closed for business since early March now, but my main reason in keeping the brewery open is to keep operations open to the level where I can continue to pay the 15 staff members their basic salary, because they have dependents too. That's my only goal for this year," he says.
In Maharashtra, Delhi and Bangalore, craft brewery owners have moved petitions requesting permission to sell beer in growlers directly to the end consumer.
"We are seeing the economy move more towards at-home or off-site consumption. That's why, similar to what is happening in Maharashtra, we have moved two parallel applications with the Government of Delhi," says Pratekk. "The first one requests the lowering of excise license because we are expecting a reduction in footfall; currently it takes about 25 lakhs to run a microbrewery. The second one requests them to allow giving the beers away in 2 litre or 5 litre growlers, both in Haryana and in Delhi."
Sibi Venkataraju, co-owner of Toit, Bangalore says "Growlers can offer customers who aren't understandably comfortable to visit restaurants and pubs the option of coming and filling up some beer to take it home. So our customers would get fresh craft beer and at the same time microbreweries can keep up some reasonable volume. We still think it will be much much lower as compared to what we were making just a few months ago, but anything we can add to the volumes will help us."
"If we can get permission to retail our beer and sell them to our end users, it will be quick to execute because the setup is already ready and we can make enough to survive while earning revenue for the Government, who is also very much in need of the money,'" explains Manu. "The retailers want our product. It's also already proven that people like craft beer, and that's why it has grown 25 percent year on year and I do believe that from here on if things are normal we will grow by 100 percent year on year. The market is there. The consumer is there. The maker is there. All we need is a bridge between the two. Once that happens, we know there is future and then we can do whatever it takes to figure the rest out."
Witness for the first time ever – the not-so-pleasant side of the Indian microbrewery business as your beloved craft beer brand owners and makers continue to struggle to keep their dreams of beer and business alive amidst the COVID-19 lockdown. Join our round of expert panelists, brewery owners and brewers as they come together on this very platform to talk about the challenges they are facing and what the way forward should be.
Series 1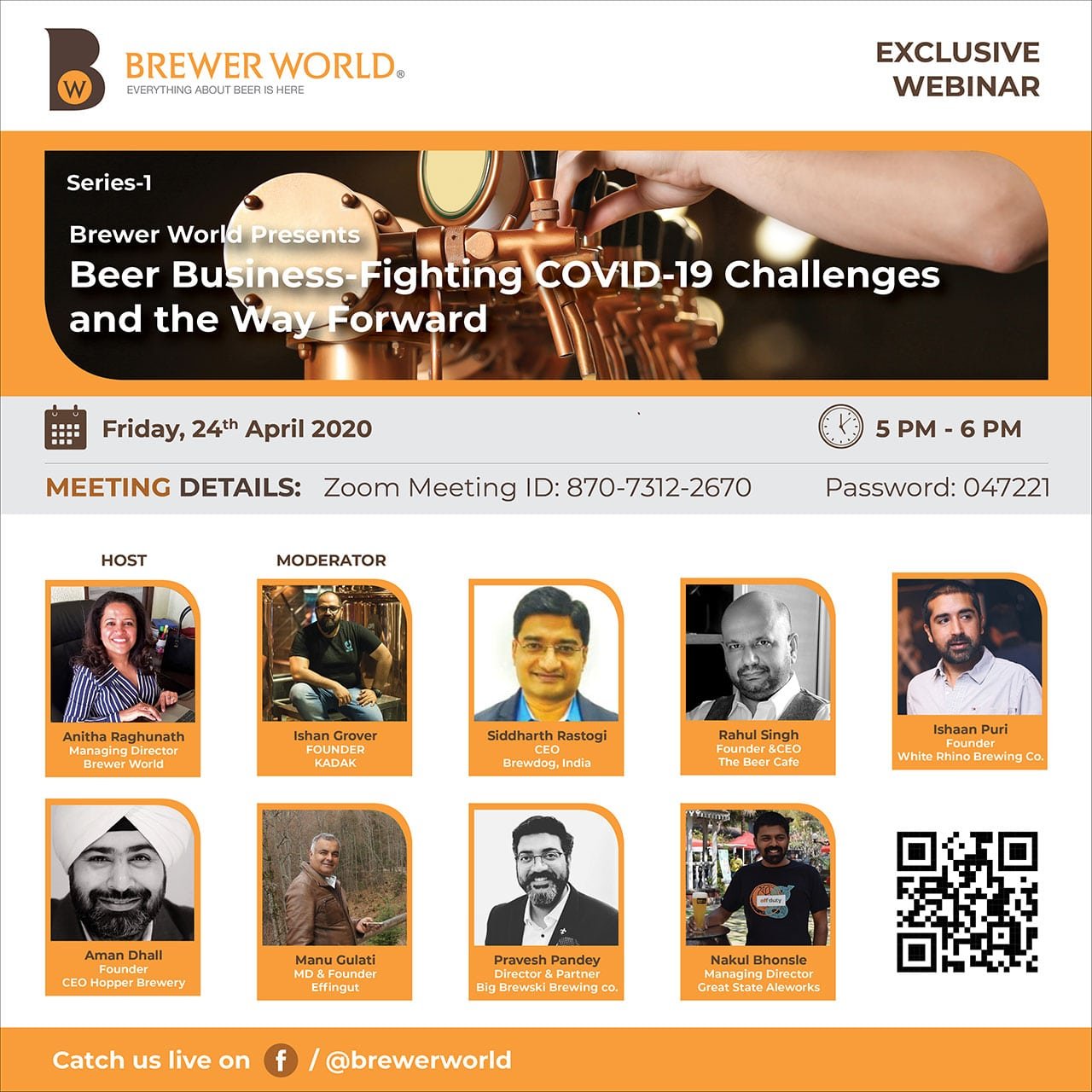 Series 2