Collab Brew at Pump House – JP Nagar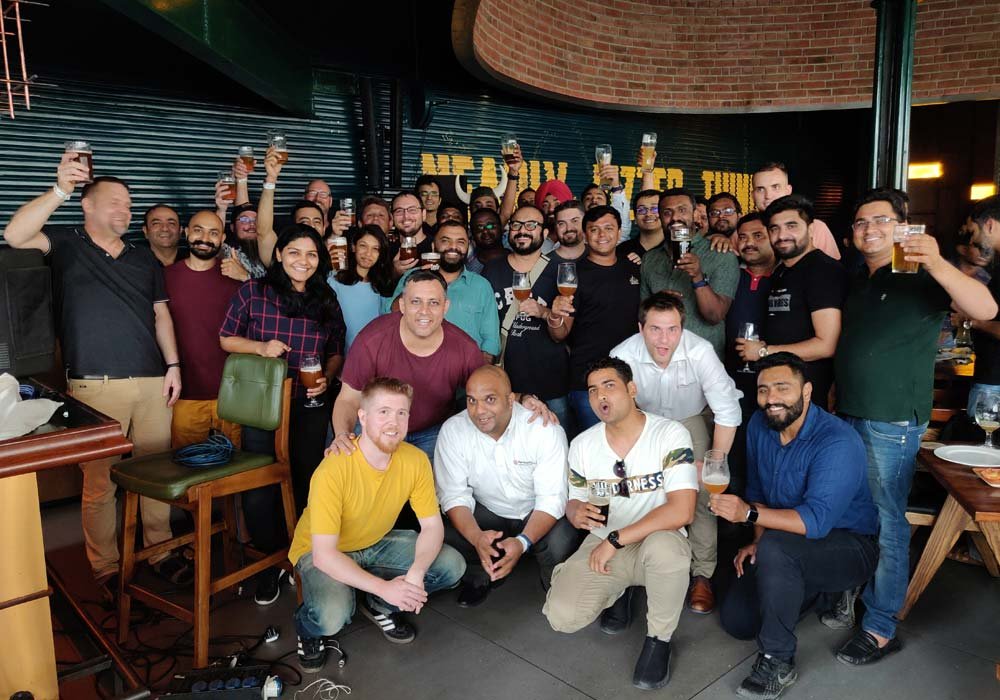 From being a one-time rarity to becoming the popular norm for craft brewers – collaboration brews or "collabs" have come a long way.  They are an ode to the craft beer industry's unique esprit de corps which encourages sharing of knowledge, equipment and raw materials, staff and recipes, as opposed to bickering over market shares. And it is this very shared value for a culture of cooperation that fuels the enormous growth in this sector.
But economics aside, another reason why collabs are so popular is because they help spread awareness about the raw science behind beer brewing and the infinite possibilities of working with so many different styles.
Last month, brewmaster Scott J. Kirk hosted Ankit Sethi – engineer, maltster, distiller, brewer and the founder of BrewNation, one of the industry's best raw material suppliers – at The Pump House, J.P. Nagar, Bangalore, for a special collaboration of a DIPA brew inspired by the Nordic region.
We reached out directly to the two experts to find out how this went down.
On the details of the collab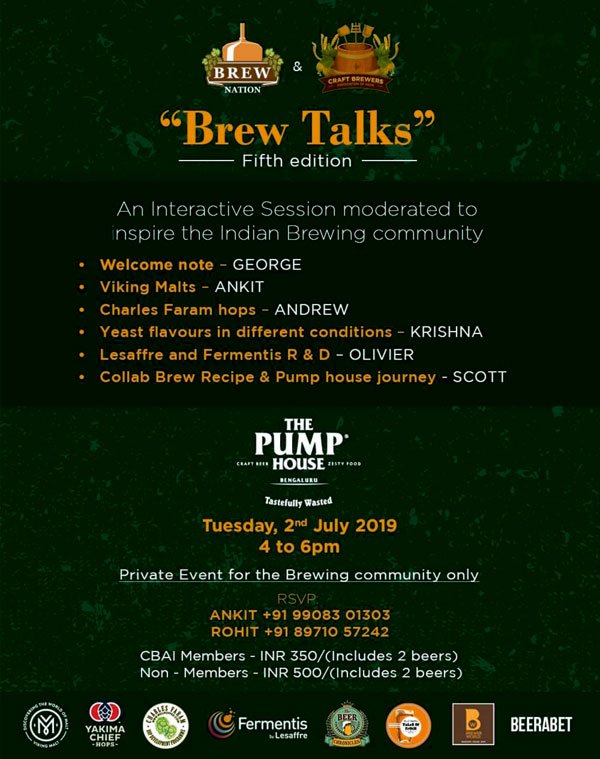 Ankit:
While I wanted to brew a Nordic-inspired beer style, Scott had his heart set on brewing a DIPA.
So we set about combining our ideas and what resulted was a Nordic-inspired DIPA, because why not!
This was held on July 2nd, as a follow-up to the fifth edition of Brew Talks, our interactive brewing seminar that's organized every year before the Craft Drinks event. It was a 2-hour long, highly informative session, designed to inspire the craft brewing community and covered various aspects of the beer brewing process – right from the malt, hops and yeast used to the haze stability and even the recipe for the collaboration.
On the characteristics of the ingredients used and how they helped build the personality of the beer
Scott:
We used a simple enough grain bill that was about 90 percent Viking Pale, Munich and Viking Wheat.
The remaining 10 percent was split into Crystal 100, Viking Cookie and Viking Chocolate dark malts, along with a 10kg local honey addition. This would guarantee that full-bodied sweet aftertaste.
We also used a 6-hop blend, with 4 varieties and 10 additions on the hot side. For the yeast, we used Fermentis S33, which doesn't ferment the maltotriose. This would further ensure that we had a sweet DIPA – so that we had something that would appeal to beer drinkers who wouldn't normally consider bitter beers.
On the brewing process involved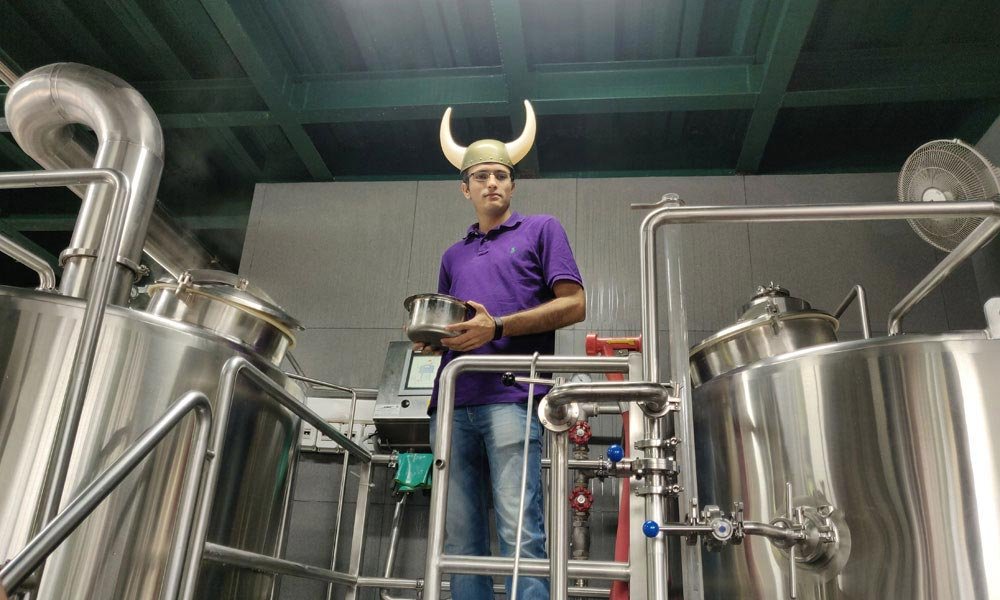 Scott:
The process was a standard single-step infusion method, combined with a manual stir at 66°C.  After an hour-long conversion, a 10-minute Vorlauf and a run-off with a fly sparge, we boiled the wort for 90 minutes, adding the hops in every 5 minutes until the end of boil after the first hour. This was probably the only unusual part of the brew; we did that to ensure it was absolutely loaded with hop flavour.
As for the honey, it was pre-mixed with wort and added towards the end of the boil.
Scott, on how he came on to become a brewmaster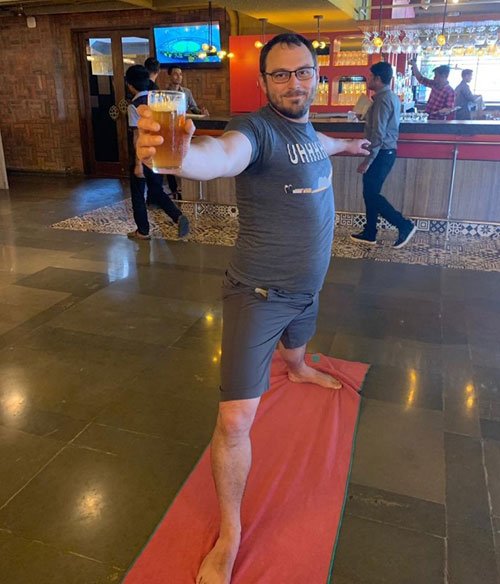 I actually didn't start off with intentions of brewing beer for a profession. In fact, brewing came to me after I left the US military, when I started brewing it at home. I found myself loving it so much, I took up a job at a brewery washing keg. Over the years, I learned more and more about the art of brewing beer. I started my brewing career at Glacier Brewhouse in Anchorage, AK, US, where I worked for 5 years while attending brewing school.
I moved to India to start The Pump House in October 2017 to further my career as a brewer. I love my job because of all the new beer recipes I get to explore and the large variety of local ingredients I can experiment with.  My passion for flavourful beer has led me to believe in the magic of natural ingredients, so while I have no problem with them, I try to stay away from using enzymes, additives or any kind of artificial flavouring
On the final output and the overall flavor / appearance / aroma / mouthfeel of the finished beer
Scott: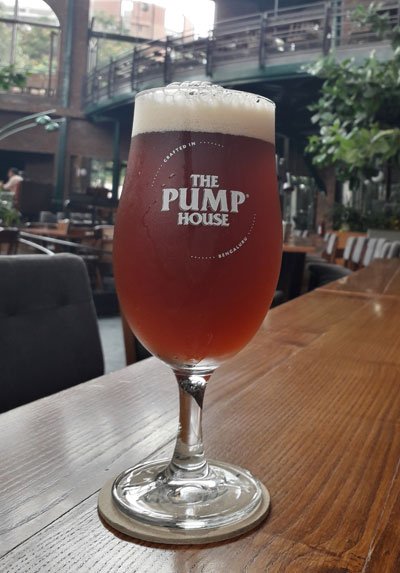 The final beer turned out great. However, while it was surprisingly enjoyed by many non-beer lovers, the final brew confused plenty of them as well. Because we used the S33 strain of yeast that did not ferment the maltotriose, the alpha amylase conversion and the 10 percent crystal, the beer finished at 5.1°P FG, from an OG of 17.05°P.  This led many drinkers to think it wasn't a DIPA, even while it was 62 IBUs with an orange/brown color (around 12°L).  The aroma was a bit lighter than I expected but I certainly wasn't disappointed with it. I think the sweetness blended really well with the medley of hops; the taste was very unique!
On the overall turnout of the event
Ankit:
We had a turnout of over 50 people and both Scott and I were very pleasantly surprised.  We were especially thrilled to have had brewers from nearly every state of India that has brewpubs now – namely Hyderabad, Maharashtra, Goa, Gurgaon, Kolkata and of course, Bangalore – attending our collab.
On recommending any particular food pairings with this brew
Scott:
This is perhaps the only bitter beer style I've created that doesn't pair well with spicy food.The richness and the intensity of the hop flavor and the residual sweetness didn't work too well with the usual dishes. Personally, I really enjoyed pairing it with our Paneer Lababdar (cottage cheese cubes in a rich, creamy, mughlai style gravy) and mutton dishes.
On the possibility of more events by BrewNation, for beer enthusiasts to look forward to
Ankit:
Brew Talks has been receiving a lot of positive feedback. We have always aimed at sharing great brewing practices and knowledge via this forum, and it's fantastic to see this seminar fulfill this purpose. We have plenty more of these seminars planned through the next brewing calendar all over India.
On what the future of the craft beer industry looks like, in India
Ankit:
It's safe to say that Bangalore is the Craft Beer capital of India. Every new brand (bottle/can) is now looking towards Bangalore as the place to launch their beer because the people of this city truly know their beer and always stress on quality over quantity.
I think the brewers and brewery owners have done a wonderful job in educating Bangaloreans by serving up fresh new styles. Our ultimate aim is to bring this community of beer lovers together through our collaborations. Going forward, maintaining quality will be key and shall hopefully, pave the way for further growth for the beer industry in this city.
Scott:
To me, the Indian craft beer industry is becoming a bit like the Denver bubble; something that everyone thinks is about to break but never does. The demand for beer remains high as ever and I love how so many beer drinkers here are always on the hunt for something new and different.
On the downside, I fear that innovative and fun beers currently being made may get watered down by the need to keep the business successful. For instance, I have seen most people still crave a Witbier that would taste like nothing, as long as it is fresh and local.
I hope though, that this bubble continues to grow, so that customers can continue to stay informed about the beer they are drinking, so that the true art of beer brewing never dies.