BW Beerpreneur: Copter7, A Tribute To MS Dhoni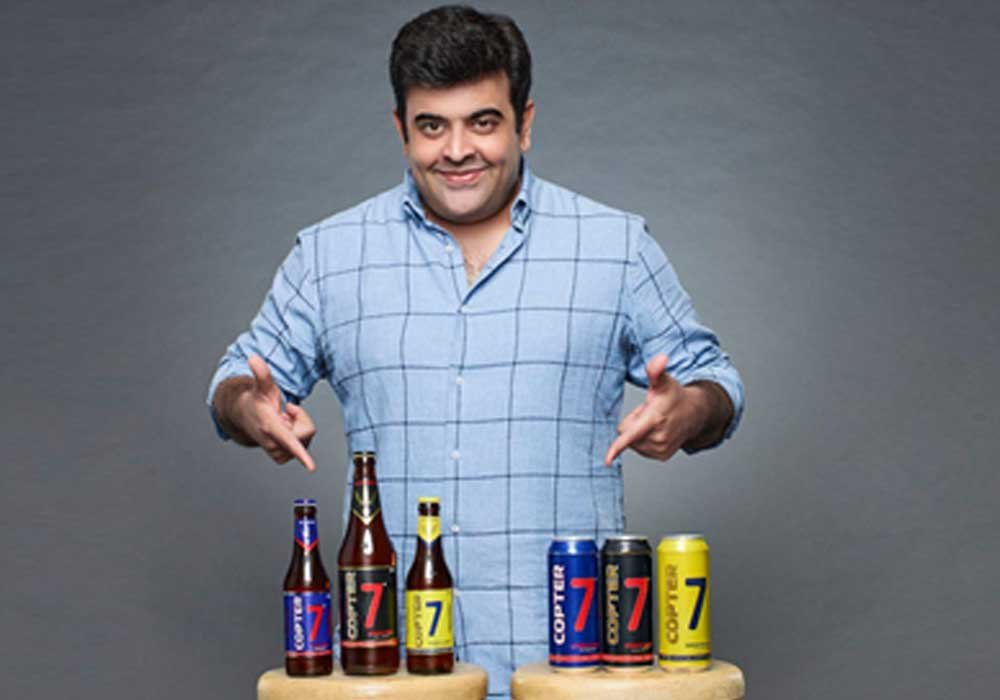 We have seen beer brands that sponsor sports shows and events. In Fact many sports, especially cricket, are associated with beer. For the first time in India a beer brand Copter7 was born inspired by a cricketer, MS Dhoni. It is unlikely that anyone who has even a dim awareness of India's cricket obsession hasn't heard about MS Dhoni's illustrious career. Thousands of people in the stadium and all around the world became ecstatic when he played his signature Helicopter shot.
Mohit Bhagchandani's Copter7 beer celebrates the legacy of MS Dhoni, as well as the passion for cricket. Mohit who was a sports manager, now is the founder of 7InkBrews. The packaging and labelling on the Copter7 beers are designed to mimic MS Dhoni's different jerseys and their colours, another noteworthy feature. The distinctive aspect of the brand is the fact that it is the first brand built around a person's personality and attributes. Brewer World got an opportunity to speak with Mohit Bhagchandani about the brand and its future. Below are the excerpts…

Could you tell us about 7InkBrews and Copter 7?
7Ink Brews was founded by me along with my co-founders Adil Mistry and Kunal Patel. We launched last year amidst the second wave in April 2021.
This brand is for dreamers, for people who have stars in their eyes, grit in their teeth, and determination in their hearts. It's for the ones who push themselves to new heights, redefine their boundaries, and prove the naysayers wrong. All the while, whilst staying true to themselves. They may trip and fall, they do however, get back up and running. This one is for the winners. This one's for you.
7Ink Brews' ethos is to celebrate victory, passion, and innovation. I believe everyone is made for success and nothing less. After launching Copter7's range of commercial beers and artisanal chocolates, we are ready to take our journey a step further. We will soon be launching a range of Copter7 Zero beers, inspired by India's top cricket champion, MS Dhoni, and his winning spirit. The idea is to make Copter 7 everyone's companion along an exhilarating ride.
Didn't you take a risk by launching the brand during COVID?
It certainly was a risk. While the beer industry in India is fast evolving, it is also extremely competitive and has its own set of regulations. The situation turned all the more complex during the pandemic. It led to tremendous delays and operational challenges and created market uncertainty. It impacted our launch plans, our production cycles went for a toss, and we have also been personally affected in some way or the other. Moreover, setting up anything from scratch is always difficult, and a brand of this magnitude also has its own set of challenges. It has taken us many years to put this together and finally get our products on the shelves. Despite the odds, we are focusing on the opportunities. We missed the season in year one but still went ahead with what we had set to achieve and are certain that the effort will eventually bear the desired results.

You started your career as a sports manager, and now you have started your own beer brand, tell us about the journey.
I began my career in sports marketing in the early 2000's. Later, I also worked in key roles and headed the sports marketing divisions at various agencies.
Somewhere along the road, I wanted to find a way to merge my two lines of interest: sport and building brands. For most  of us, watching certain sports and enjoying an adult beverage go hand in hand. Beer tops the list of preferred  drinks. That's essentially how 7InkBrews was born. You'll find this sporting spirit reflected in everything we do, starting with food and beverages. This is what makes our brand unique and exciting.
How do you connect Copter 7 with sports?
For me, it's the love of sport and a passion for high-quality food and beverages that I behold. It has always been my dream to merge sport along with food and beverages into one unified, compelling brand, which led to the launch of the brand Copter7. The brand is inspired by legends and gets its name from MS Dhoni's iconic "Helicopter Shot" and his Jersey number 7. We thus felt it was a beautiful fit and makes our brand story quite unique.
MS Dhoni is the brand ambassador for Copter 7, how did you make that happen?
MSD has been a part of the brand since its inception. It's because he believes in the product and what it stands for. The idea of building a brand from scratch and the vision of creating something inspirational out of India and taking it to the world has always excited him. He believes in our vision, DNA, and brand philosophy.
With a profound passion for sports and interest in the FnB industry – Copter7 is a brand that captures the essence of both. The planning has taken over three years, and MS Dhoni has been part of every step, where the objective was to create something iconic that Indian consumers could connect with. We want to build a brand that is authentic and becomes a go-to choice for consumers. We obviously have plans to expand and go international.

Copter7 embodies the heart and drive of a champion, what sets legends apart from the rest?
Every brand has a story and this is our story. It is the spirit that makes these legends that inspire us – something that is core to our brand DNA. The idea is to celebrate the indomitable spirit and the will to achieve your dreams despite all odds. It's a mantra that resonates with achievers like MS Dhoni.
What styles of beer do you have and plan to launch?
We have on board a good mix of craft and commercial beer experts that have worked out exciting formulations for each of our categories. We have currently launched two variants in our Premium segment and one in our Select range.
We also have exciting plans in the pipeline. The Smooth lager (mild) and Premium Strong (Marzen lager) are under the premium category. Select was just launched in September 2021. The select category will comprise stronger variants that will cater to the palate of the masses in tier 2 and 3 markets. In the premium segment, we will also be venturing into the craft segment starting with a wheat beer. We will also be exploring the non-alcoholic beer segment with two fruit-based flavours.
Will Copter7 be exported to other countries?
In the near future, yes we plan to expand internationally in the US and UAE.
How important is packaging for a new brand?
Very important, I must say. Packaging is a reflection of the brand ethos and how it is perceived in the market.
Where do you see Copter 7 in the next 5 years?
Our focus has been on building trade and ensuring retail visibility. We aim to be unique in our space by creating a good-quality product at an affordable price.
Our vision for the next five years is to build a brand inspired by India and take it global, while having a massive impact on the Indian market.
Founders Adil Mistry, Mohit Bhagchandani, and Kunal Patel.
Tell us about the zero beer?
After launching our commercial beers, we wanted to venture into the non alcoholic segment. Created with fruit pulp, natural fruit extracts, and a burst of flavours, the Zero Beer variants are available on the shelves of select Nature's Basket stores. The beers are classic examples of blending flavours derived from premium quality malts, fruits, and other ingredients which make for a great and refreshing summer drink. Copter7's Zero Beer is a premium non-alcoholic drink imported from the German brewery into India.
Priced at Rs 140 a pint, the premium beer, available in cherry and chokeberry flavours, leaves you refreshed. Chokeberry, also known as Aronia, has a strong earthy flavour. Apple concentrate adds a dash of sweetness to this. Cherry, on the other hand, has an inherently sweetish taste and tinge. These drinks can be paired with a variety of food items.