5 Beer-Food Pairings For Your Next House Party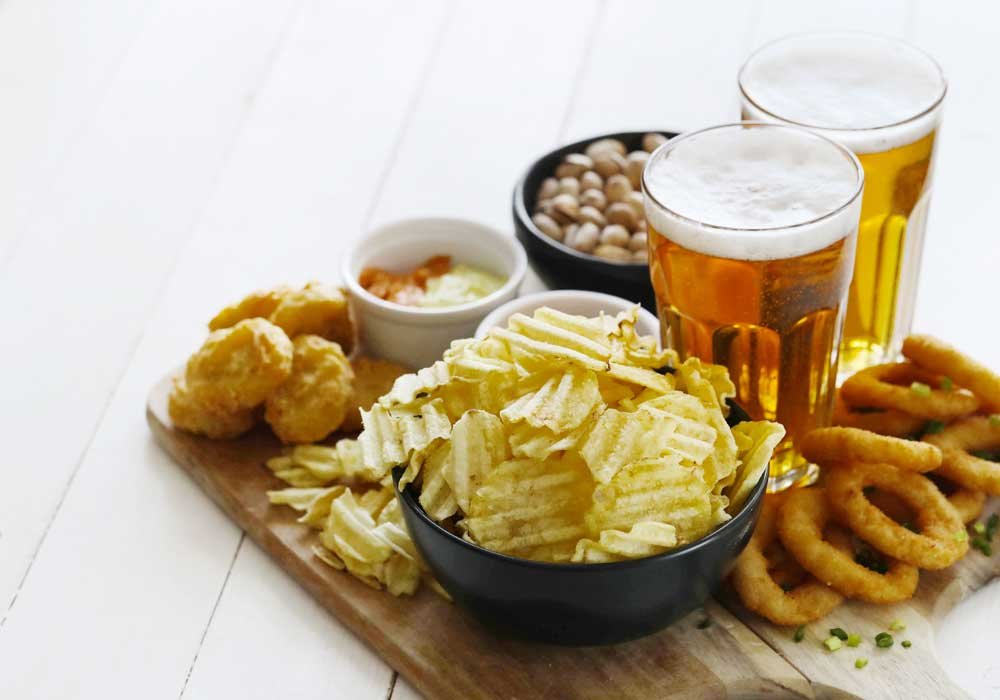 What better way to initiate your non-enthusiast friends into the world of beer than offering them a cold one to wash down the delicious food you prepared for them? Here are some tried and true beer-food pairings that are sure to be a hit with every one of your guests!
Beer al Fresco: Barbecue Pairings
Beers at a barbecue are like ketchup on fries when it comes to beer-food pairings. There exist few experiences as timeless as the combo of enjoying an outdoor gathering with a cold beer in your hand. Social events like barbecues offer a great chance to wow your guests with a range of beers to complement those smokey, deep-grilled flavours. For carnivores: any pork, beef, or chicken that is dry rubbed with rich, salty, spicy sauces before being char grilled to perfection is beautifully complemented by the malty hoppiness of a classic IPA from a local brewery. The sweet lightness of a chilled wheat beer, like an Augustiner Weissbier, can be a great companion to most any food that might be thrown on the grill (and can also make a mean spread!) but is incredibly exquisite when paired with a richly flavoured, sweet BBQ marinated meat. For something a bit fancier, grilled garlic shrimp can be a luxurious treat that most don't get to eat often; now imagine that paired with a Lambic fruit beer to match the delicious sweetness of the shrimp. Another barbecue-day option is to try Cajun chicken skewers accompanied by a classic Mexican lager such as Modelo Especial. Nothing quite hits the spot on a hot day out!
Savoury Cheese Board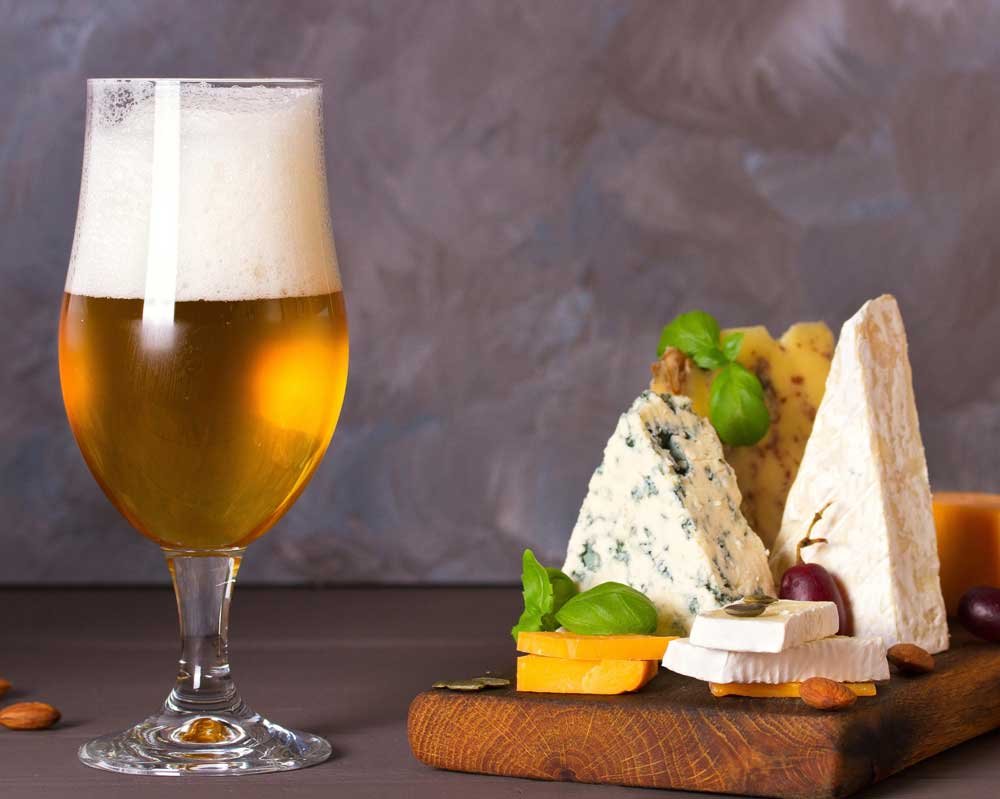 Cheese is no longer just wedded to wine when it comes to party beverage pairings. There is a range of beers that will enhance a great cheese board, with options worldwide. Rich cheeses need robust beers to complement the flavour and depth of the cheese on your palate. Whether it's an English blue Stilton, a French Roquefort, or a smoked Bengali Bandel, a deep porter or rich stout will hold their own against the cheese. Of course, for guests that prefer something lighter, we have other options: salty cheeses such as Haloumi or an artisanal Kalari will make a fantastic couple with a malty IPA. For those house guests who savour a sweeter taste. Milder, crumblier cheeses such as a Wensleydale or a Bengali Chhena will fare well with a range of different fruit beers; try a Kirsch Gose from the US. Finally, decorate the cheese board with fresh figs and grapes for a visually appealing platter that will have your party guests wanting more!
 Momo Beer-Pairing Moments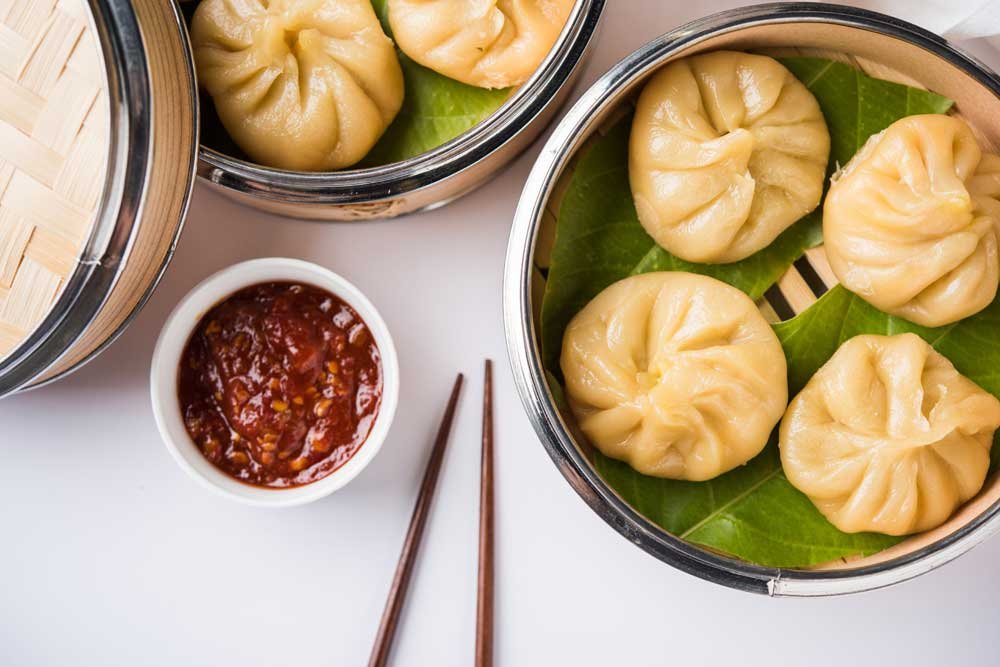 Try canapés or other bite-sized appetizers that will allow guests to stand and mingle, beer in hand while trying the various hors d'oeuvres on offer. Partygoers can sample a host of beers to complement the range of beautiful, handmade parcels of flavoursome delights that are momos, a trendy, dumpling style appetizer offer for your guests. Cater for all by offering chicken, vegetable, cheese, and pork versions. Consider serving a variety of steamed, deep or pan-fried momos to offer your guests further choice and variety. Look for local producers that will make momo in front of you for a learning experience! You can always opt for more traditional, spicy, cumin, turmeric, and chili-filled Nepalese varieties that pair well with Barley Wine Beers or American Pale Ales. Consider a Darjeeling-style Momo with ginger and cilantro as flavourings and offer a ruby Amber Ale, such as Kati Patang Zesty, for a delicious Beer-Food Pairings. Of course, we should not forget a good variety of dips to complement the momos: chili garlic sauce, pickled daikon, tomato-based chutneys, or sesame-based sauces offer never-ending options for curious guests.
Sausages
Anyone who knows anything about German Beer will be familiar with the classic combo of Beer and Bratwurst! Oktoberfests held across the globe are famed for the array of savoury, salty sausages on offer as a compliment to the multitude of beers available. The humble sausage may not initially strike you as House Party Fayre. However, savvy foodies recognize plenty of high-end offerings on offer that takes the traditional pork-based Bratwurst to a new level. Look out for boar, chicken, duck, lamb, and venison sausages and even non-meat pea, soy, nuts, and oat-based options that might just wow your guests. Always aim for high-quality products that feature a high protein content. Sausages can range from the traditional German Bratwurst to Spanish style Chorizo and North African Lamb Merguez sausages and can be host to a great variety of seasonings and fillings such as apple and sage or paprika.
Most beers will pair just fine with many sausages, so try not to get too hung up on the specifics – guests can sample and enjoy the variety on offer. However, as a rule of thumb: veal, chicken, vegetarian, or pork-based sausages offer a lighter flavour complemented by bright beers.
Sausages on the spicier and richer end, such as boar, duck, and lamb, pair much better with a robust beer that complements the intense meaty flavours. Look for hoppy and malty ales.
Desserts
You should indulge your guests and offer sweet treats to end any evening by offering a range of beers that complement sweet desserts. Whether you decide to offer a chocolate-based pudding, a fresh fruit platter, or some manner of tart citrus-flavoured treats, there are multiple beer choices to excite the taste buds. Porters and stouts will be a great option to complement creamy or chocolatey flavours, such as those of decadent Tiramisu and sweet and sticky Gulab Jamun. For anything citrusy or sharp in taste, look to provide guests with a fruit beer with sweet overtones: a Belgian cherry beer is an excellent accompaniment to key lime or other fruit-based pies. A Belgian cherry beer is almost a pudding in itself!
All in all, when it comes to entertaining, be sure to wow you by offering them an array of culinary and gastronomic delights, and try to forget about the post-party clean-up and relax. Instead, choose any one of these Beer-Food Pairings to impress your guests and leave them wanting to come back for a second helping!