What's The Story Behind Your Favourite Briggs Beer Label?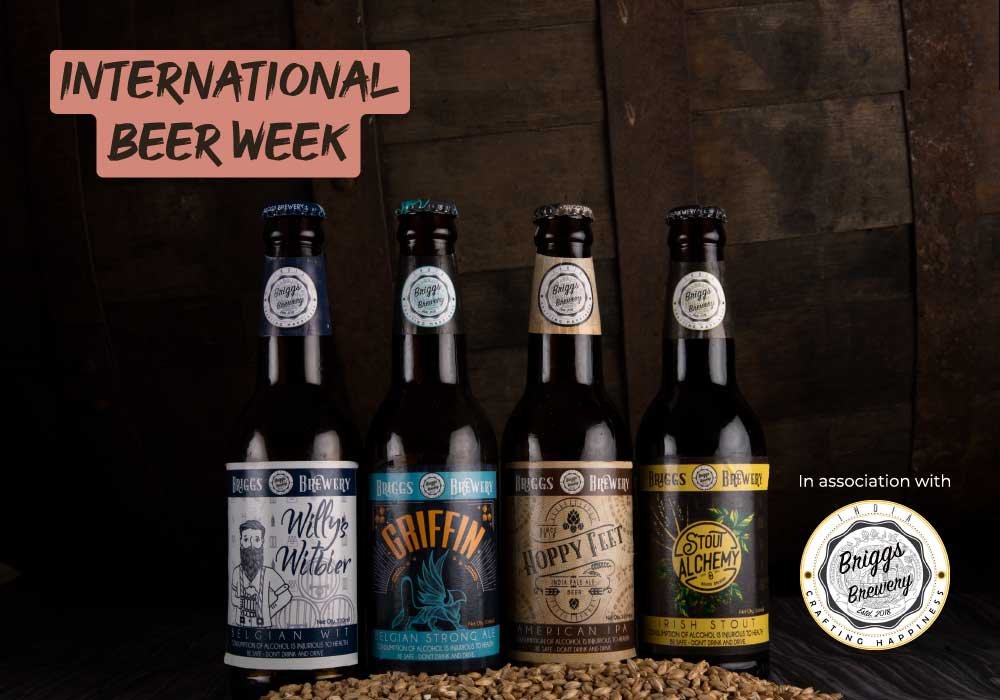 For better or worse, a good label design can speak volumes about a brewery, before one even takes the first sip. To quote popular travel photographer, Igor Ovsyannykov – "Where beer drinkers just proceed in consuming whatever remains in each bottle, beer label enthusiasts don't need to drink its contents to see how much a beer bottle is truly worth."
Sure enough, while we all love kicking back with a tasty pint of beer, we can't help but notice that ever since the craft beer revolution, the digital art space seems to be thirsting for some modern, eye-catching label art too. And of all the newly-launched flavours and brews the Craft Beer Capital of India has witnessed, the one brand that probably draws the most attention for their label design is Briggs Brewery.
Founded by people who bonded over their immense love for beer, Briggs was created from the simple idea that beer has the power to bring people together and that, the best stories unfold over great beer. With a name that's derived from old English (translating roughly to "bridge dweller"), Briggs aims to serve as the bridge between beer lovers' stories, serving the perfect mug of cold beer while they swap conversations and build relationships.  If you've visited one of the city's famous liquor boutiques, there's no chance you'd miss their beers. Not with those bright, stylishly whimsical labels!
If you've ever wondered what that mystical griffin is doing on the bottle of their Belgian Strong Ale or what the story behind ol' bearded Willy is, now's your chance to uncover the facts! Here are some design notes (and history lessons!) from New York-based designer Akash Solaraju, close friend of founder Hari Singh, an architect by profession and a passionate lover of craft beer himself – whose keen sense of aesthetics played a huge role in bringing the brand alive.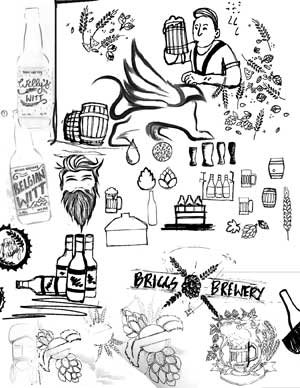 "There is always a story to be told or an experience to be felt and I like to believe in taking the human-centric, problem solving, research-based approach to developing innovative yet pragmatic design solutions," says Akash, who runs a young progressive design and strategic planning consultancy firm called Akasa Atelier (ADA) working at the intersection of design, craft, innovation, peo­ple, purpose and place. "The Briggs beers you see in the market today are the direct results of the collective effort of Hari, myself and our teams. He was clear from the get-go that our branding has to be unique, innovative, different and most importantly, centered around people as Briggs Brewery truly aspires to build a community around crafting happiness. We really wanted the labels to reflect the personality of the beers in the bottles and having lived in two of the greatest craft brewery markets in the world – New York and San Francisco, my love for great-tasting beer and their stories has been a great source of inspiration for this project!"
Willy's Witbier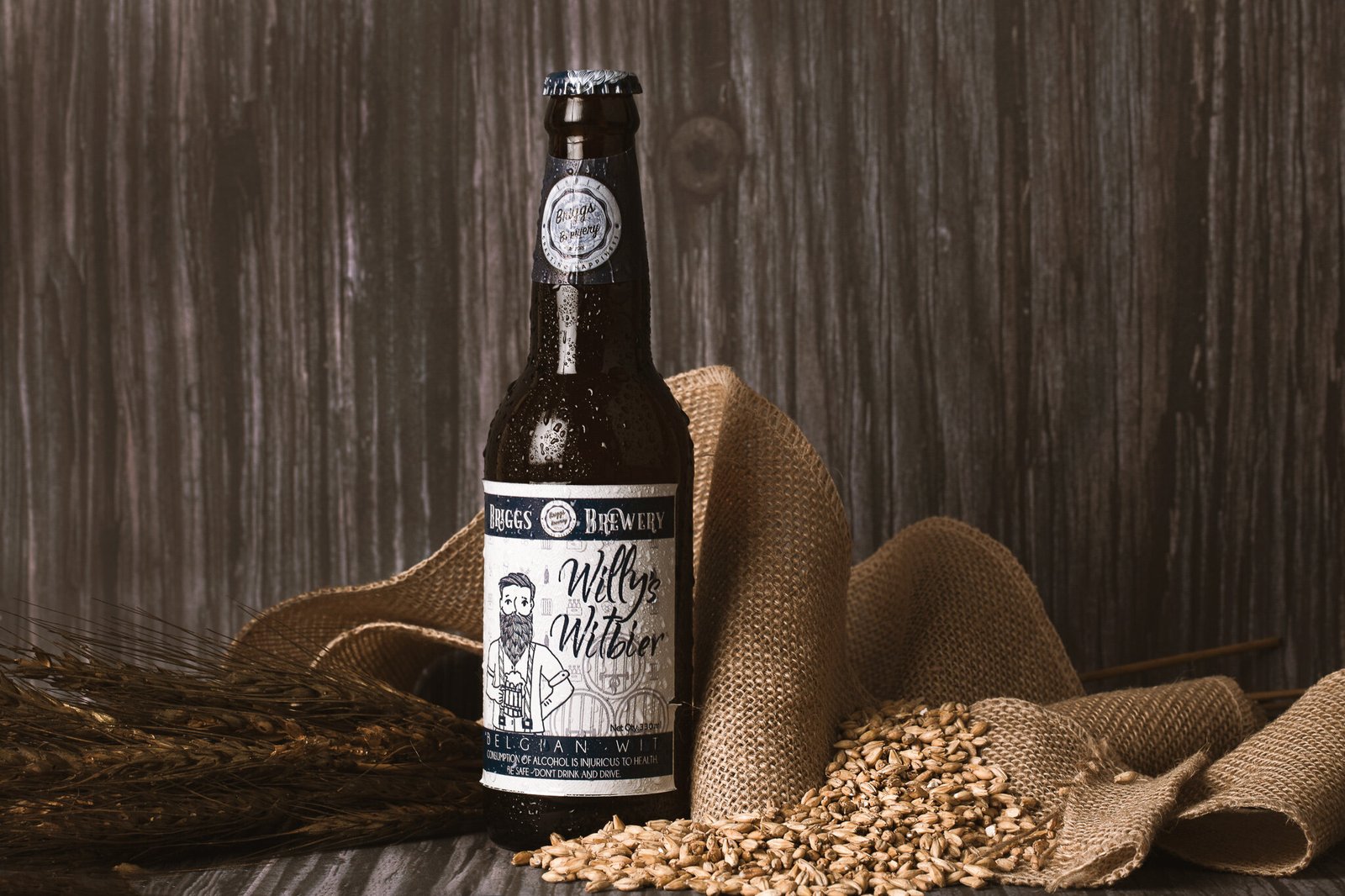 "The origin of the witbier, dates back to 14th-century Belgian monasteries, where monks used locally available fermentable grains and a proprietary blend of herbs and spices to brew beer. Our wit was going to be our first brew so we wanted its identity to capture the essence of the beer and also identify with the place where the Briggs Brewery journey began. The name witbier, white beer, bière blanche, or simply witte is a barley/wheat, top-fermented beer brewed mainly in Belgium. When "white" is used to describe this style, it refers to the unfiltered and cloudy appearance and nature of the beer. That's why we chose to stick to white for this label.
Our brewing plant is one of the very few in the world that still uses old school copper machinery. Coincidently, we learnt that the machines were manufactured by a company called Briggs of Burton. William Paget was instrumental in extending navigation along the River Trent from Nottingham up to Burton, which led to the development of Burton as a major town for brewing & exporting beer. With William also being a popular "white" name – we called our beer ambassador Willy.
The monks used barrels to store and distribute beer which eventually segued into the beginning of draft beer story. Our witbier is smooth and light yet refreshingly complex on the palate. The colour blue represents love, loyalty and trust – which are important qualities of a healthy community. The design of the label draws inspiration & assimilates all these little details into a carefully crafted identity for our Willys' Witbier."
Hoppy Feet IPA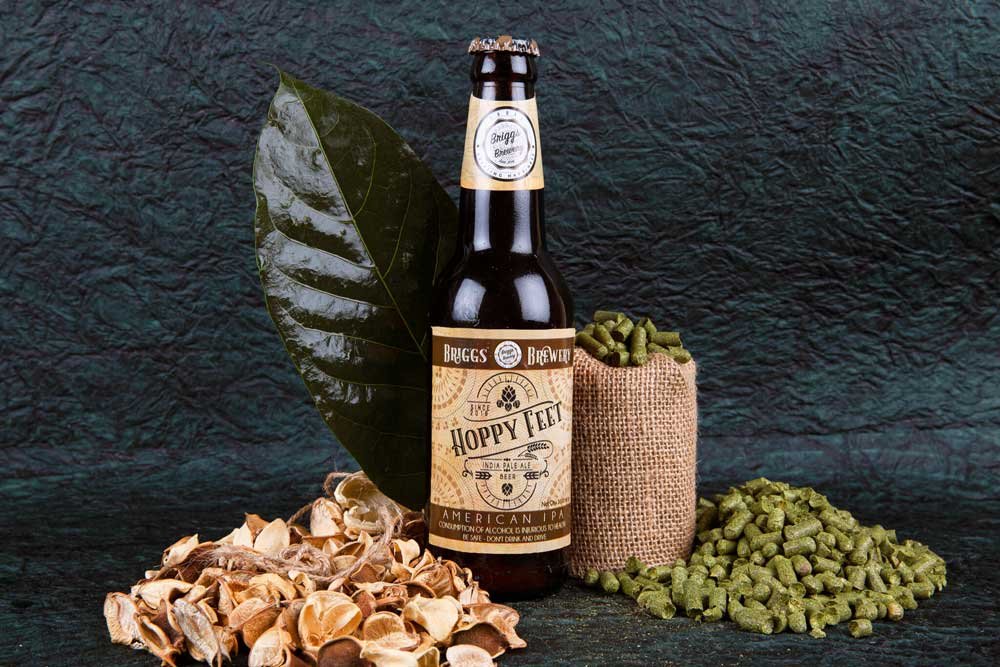 "Beer was originally too hot to brew in India, so the British hauled beer all the way from England. With "2-day shipping" still light years ahead of its time, it took a punishing 6 months out at sea to get the beer to Indian shores. The beer usually arrived too flat and lost its character. George Hodgson, a brewer from London with his connections to the East India Company dominated the export market. He began to export the Strong Pale ale brewed with extra hops at a higher alcohol content which not only acted as a natural preservative – but also became a wonderful variation of beer to have. Thus, the Indian Pale ale (IPA) was born and has since become popular across the world as one of the best-selling styles of craft beer.
Our American IPA is distinctive and the label design draws inspiration from the incredible journey of this style.  The radial patterns of our IPA's identity draw inspiration from a nautical compass and the helm of a ship. The rustic brown & beige colours represent longevity and also reflect the conservative nature of the English."
Stout Alchemy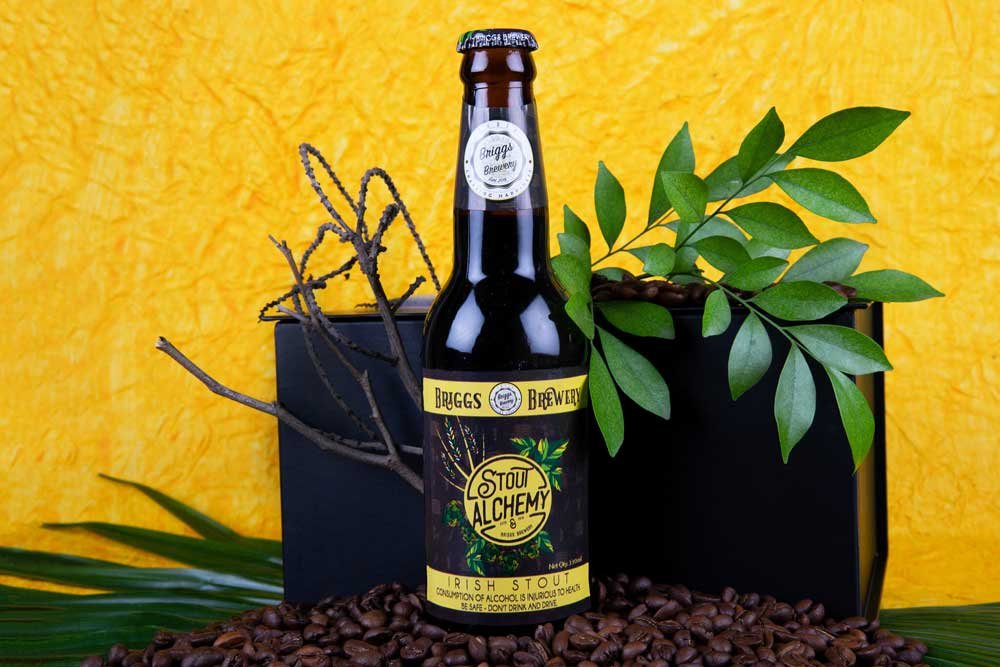 "The word "stout" was first used in the late 16th century according to Egerton manuscripts which references strong beers to be stout beers. Porters were dark brown beers made with roasted malts. Stronger porter variants were also referenced to as stout porters. Stouts are now firmly associated with Dark Beer. Contrary to popular belief, not all stouts are Irish, and not all stouts are dry. The Briggs' stout for instance, is enriched with our imported malt selection to bring out the roasty, toasty, caramel, café, and chocolate notes characteristic of a true Stout. It's a top fermented beer that's refreshingly delightful, with a lingering mild sweetness that comes from the Belgian Malts and pours dark, emanating a range of complex aromas & flavors.
It is this alchemy of rich ingredients used to brew this beer that is reflected in the bold yet simple graphic of the beer's identity. The coffee bean silhouette nestled against the pile of barley and hops against a chocolate brown patterned backdrop best captures the essence of the beer. Yellow is a compelling color that conveys youthful vibes and fresh energy. Yellow also stimulates the left side of the brain, helping with clear thinking and quick decision making, which we are pretty sure our flavourful stout alchemy will deliver on!"
Griffin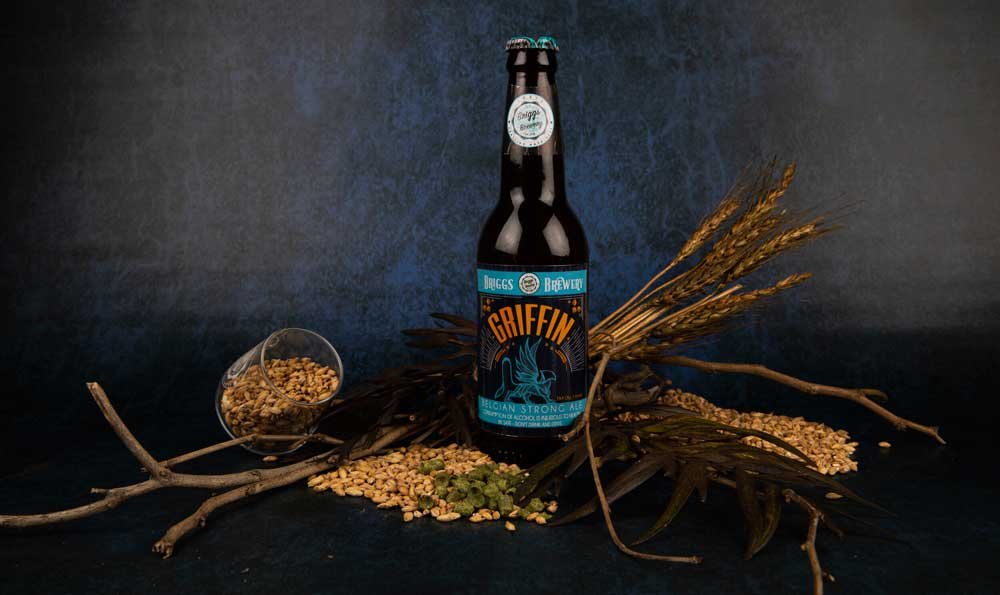 "Our fourth brew is a Belgian-style golden strong ale with an element of citrus and grapefruit. The spiciness of Belgian yeast and bold flavors bring this dry ale to life. At 8 percent ABV, The Griffin is our strongest beer yet.
Modelled after the legendary creature with the head and wings of a majestic eagle and the  body, tail, and hind legs of a ferociously strong lion, we believe the Griffin, dropped in a mystical forest setting paints the ideal picture of what one can expect from the beer in the bottle. The bold orange-coloured font symbolises confidence & courage, while the turquoise blue adds a layer of sophistication to the experience of the beer. The abstract nature of the graphic represents the unique flavour of the strong beer we are bringing to the market."
Regarding his relationship with Briggs Founder, Hari Singh
"Briggs Brewery was conceptualized by a group of awesome and hilarious dudes who imagined a world where their beer could bring people together – this is the story we tell, and it's true!" laughs Akash. "Hari and I were introduced by common friends and bonded over the idea of starting a bar/brewery (because it is every guy's dream!). Our love for beer kept us connected and being an entrepreneur myself – I have to say, Hari's passion, vision, thought process and entrepreneurial drive is so positively infectious, it is just something you want to be surrounded by! On a random day, on a 3 AM (ET) call, we were catching up on a bunch of random things including some projects we were working on. Hari mentioned he was working on the brewery project for a while, I convinced him to give me the opportunity to provide design services for it. He trusted me and took a chance and for better or worse – here we are celebrating International Beer Month with our very own beers in the market! It has been my absolute pleasure bringing Hari's vision to reality and a damn good journey thus far! I think we have accomplished a lot and every time I bring that up, Hari reminds me that we're just getting started. So I'm excited and look forward to what comes next."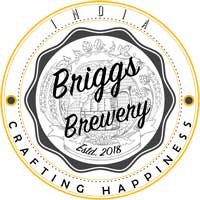 As Bengaluru's first-ever homegrown craft beer label, Briggs Brewery takes pride in the unique, but bold, statement-making design that's as fresh as the wide range of exciting recipes and flavours the brand has to offer. Fresh and frothy with highly Instagram-worthy jackets: these craft concoctions are not to be missed (currently available in Bangalore and rapidly expanding select markets. Follow Briggs Brewery on Instagram @briggs.brewery to stay tuned on new locations and new stories added every day).