The Collaborative Art of Tart by Seven Rivers & Arbor Brewing Co.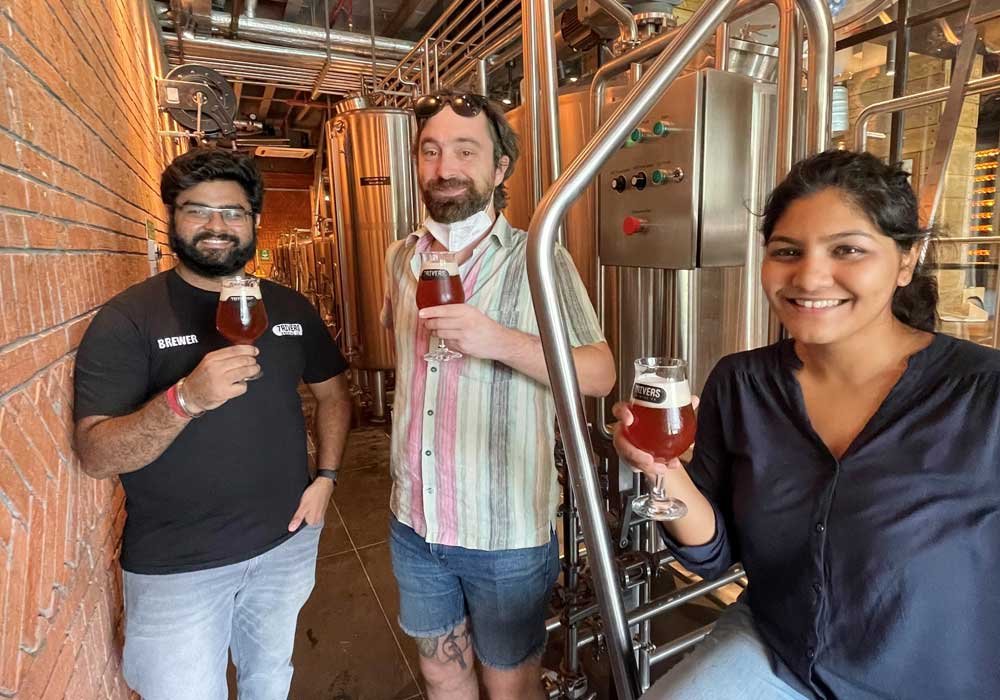 Collaboration brews or "collabs" have come a long way among Indian microbreweries.  They are an ode to the craft beer industry's unique spirit, which encourages sharing knowledge, equipment, raw materials, staff, and recipes. And it is this very shared value for a culture of cooperation that fuels the enormous growth in this sector.
Collaborations have become quite popular as they help spread awareness about the science and cause behind a beer, plus the infinite possibilities of working with many different styles. The Arbor and Seven Rivers' project was a neighbourhood collaboration brew that was all about brewing a fruit infused sour beer together. "Neighbourhood collabs are always fun and an excuse to get together and drink beer ultimately. You also get to go to breweries to see what's good there. Keeps it interesting." says Hollis Coats, head brewer at Arbor Brewing Co.
Infusions
Seven Rivers have played around with the idea of infusing de-seeded jamuns. These were sourced from the land of the green valleys and expansive hills of Krishnagiri, nestled away in the southern Indian state of Tamil Nadu. They exhibit a vibrant burst of bittersweet taste, a flavourful sweetness accompanied with tart notes. These jamuns are a local hit and are found in plenty during this season! "If you're doing fruit infusions, it's always best to use fruits which are available during that season. That's what makes it more fun. Plus, jamuns emit a nice colour" says an excited Lynette Pires, lead brewer at Seven Rivers Brewing Co.
At Arbor, it was all about rind infusions. They have blended 7 different citrus rinds. "When we first came up with the idea of brewing a sour, we had something else in our minds at that time but eventually narrowed it down to seven citrus rinds. It's kind of a play on the name" explains Hollis.
The Sours
The Sours at Seven Rivers and Arbor Brewing Co. are wheat-based ales which are kettle soured with a special strain of lactobacillus before it is boiled and fermented with an ale yeast. A similar base style was brewed and soured at both the outlets, but the fruit infusions were quite different from each other. One sour took shape as a Jamun Sour and the other as 7 Rinds. Both beers' ABV and IBU ranged between 4.5-5% and 5-10 IBU respectively.
Jamun Sour @ Seven Rivers Brewing Co.
Seven Rivers Brewing Co. had decided to use a popular seasonal monsoon fruit, the Jamun. After several hours of de-seeding a generous quantity of fresh jamuns from Krishnagiri, the vibrant purple resulting puree was added to the beer and conditioned to give a vibrant pink hued, light bodied, tart brew with distinct notes of jamun on the nose and palate with a pleasant dry finish.
ABV: 4.5% | IBU: 10
7 Rinds @ Arbor Brewing Co.
At Arbor, they have played around with the number 7 and decided to infuse the beer with the rinds of seven different citrus fruits: Calamansi, ruby-red grapefruit, gondhoraj lime, kagzi nimbu, mosambi, Italian lemon and mandarin orange. Interestingly, the Calamansi was plucked from a small tree in the Seven Rivers' brewpub, making this particular rind all the more special. The final beer is a bright amber hued tart, sour ale that's well-balanced by the understated-yet-complex citrus bouquet with a light bitterness from the rind to balance it out.
ABV: 5% | IBU: 5
When it comes to sour beers, we've all noticed that there's always a fruit infusion that goes along. So, what's the reason behind it? "Kettle soured beers are very basic, in general. Sour flavours from the lactic fermentation pair well with some of the fruits. Since it's already sour and tart, fruits can add a little bit of sweetness to balance it out." explains Hollis.
When it comes to collaboration brews, Seven Rivers & Arbor Brewing are no strangers. This exclusive collab-brew is already on tap at respective outlets, so be sure to savour this before it runs out!