Specialised, Sustainable & Efficient Brewing Solutions By Praj Industries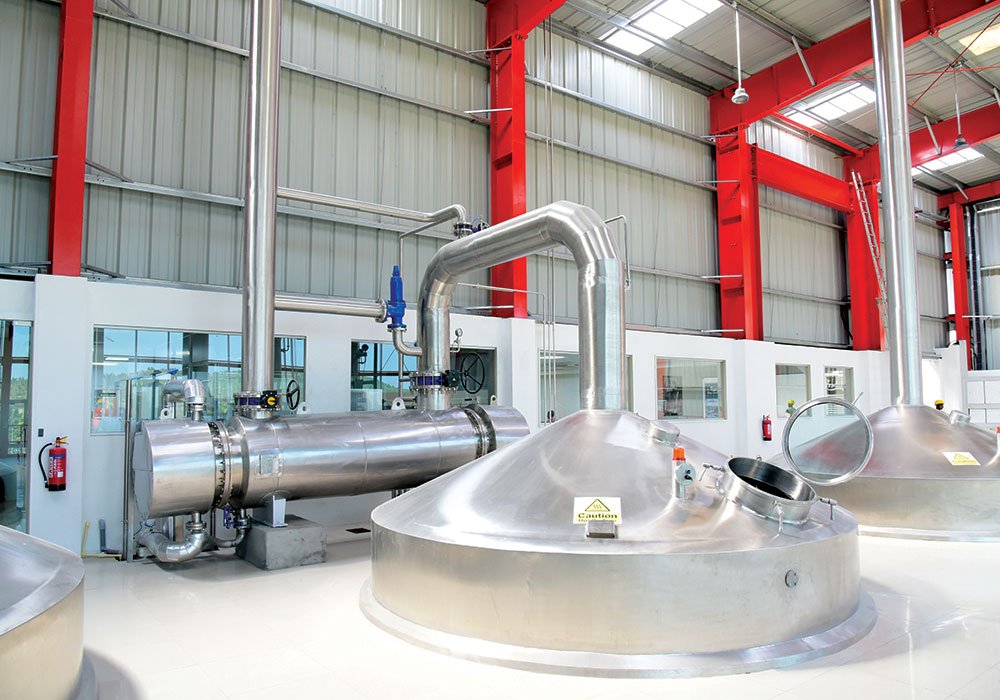 Beer is a beverage that is brewed with malted barley, hops, water and yeast. It is an art integrated with science to deliver varied beer styles and drinking pleasure. The key to producing fine quality beer is production of high quality, clear wort from the most important process section – The Brewhouse! Since its inception in 1994, Praj's brewery division has been offering customized plants, equipment & technology solutions to customers in the brewing industry, Praj supplies world-class brewery plants capable of producing the best quality beers at the most optimum cost. The breweries are environment friendly, utilizing minimum water, energy and generating a low carbon footprint. With over 70% of market share in India and experience of installing projects in Africa and Southeast Asia, Praj offers a complete range of solutions including conceptualization, technology selection, design, engineering, installation, and commissioning.
The key to a flavorful beer lies in the perfect harmony of all the systems in a brewery and Praj offers the latest technologies and solutions in wort production, fermentation, and beer filtration. Whether a greenfield or brownfield project, Praj offers seamless integration of the systems & processes through its strong engineering base, latest technologies and proven project management services. A long-standing association with technology partners Bucher Denwel and Meura further strengthens their credentials.
Industrial Brewery
Praj offers a wide choice of industrial brewery equipment and technology to customers at an optimal cost. Plant and equipment configuration is designed keeping in mind the raw materials, capacity and brewing profile of different brands. The process automation and control philosophy are developed to match volumes, efficiency and consistency of the final product.
Praj has an expertise in designing and delivering state-of-the-art brewhouses, capable of processing a variety of raw materials and batch sizes. Our brewhouse delivers wort quality matching the globally accepted standards of clarity, efficiency, extract yields and productivity with shorter brewing cycles.

Craft Brewery
Unlike other alcoholic beverages, beer is consumed fresh. Brewers are responding to changing tastes and demographics by bringing innovative products with flavors and freshness. Praj offers a range of customized solutions and process equipment for craft breweries, with the flexibility to develop innovative recipes and batch sizes using a variety of raw materials.
From Malt Reception to Bright Beer Cellar, Praj offers end-to-end solutions for craft and industrial breweries which are tailor-made as per the brewers' requirements. Process equipment designs are simple and modular to accommodate for future expansion plans and are designed to meet minimum space and installation requirements.
Praj Engineering
Engineering forms the backbone of Praj's delivery program. They follow stringent international standards like DIN 8777 for brewhouse performance, ASME, AD-Merkblatter for pressure vessels, ISA and CE standards.
The design team works with customers to identify the need for design enhancement in various systems with a view to reduce energy, lower other operating costs & to achieve optimization in overall project costs. This provides a competitive advantage to our customers.
Praj has a team of well qualified and experience engineering teams to undertake the following basic and details engineering activities:
1. Establishing Plant's overall design basis – raw material types, current & future capacity provisions, utility sizing & configuration, filling and packaging line capacity.
2. Total pre- engineering support: Involving, basic engineering, vessel & tanks configuration, plant layout planning etc.
3. Site Selection, Plant Architecture & Construction: Assistance in identifying & selecting suitable site location, developing plant layouts, building elevations, provision of civil load data, checking of civil drawings etc.
4. Detailed Engineering – Mechanical, Process, Piping, Instrumentation & Electrical design based on 1,2 & above.
Commissioning, training & trouble shooting – Imparting on-site training to the technical staff, demonstration of KPI's, troubleshooting, provision of plant operating and maintenance manuals.
Apart from providing above services, Praj engineering and commissioning teams are well versed & trained in providing services to the client for doing technical audits, retrofitting of existing plants & complete revamping of old plants.
Engineering & Design: Key Strengths
Out of total staff strength, 80% are well qualified Engineers and Technologists.
Chemical, Mechanical, Piping Automation, Electrical, Civil & Structural engineering capability built over the last 33 years – All Under One Roof.
Teams well versed with plant performance standards – MEBAK, DIN 8777, EBC.
Engineering and Design software's: PV Elite & Code Cal for Mechanical design; Chem CAD & CC Therm for Process simulations; AutoCAD 2012, Plant 3D and 4D Modeling; customized software for pressure vessels and agitators.
Team ensures well designed and planned detail of the process with regard to the specific customer requirements.

Design
Praj has been following various global design standards for equipment supply such as ASME Sec VIII Div. I, TEMA, B5500, PED, DIN, IS2825, AD Merkblatter.
Software
Praj has developed a wide range of customized software solutions for equipment operation and process simulations. PV-Elite, AutoCAD 2010 and Code CAL for Mechanical Design, Chemical & CC-Therm for Process Simulations, Plant 4D and PDMS for 3D Modeling and customized Software for Pressure Vessels & Agitators.
Technical Experience
An experienced team of engineering professionals from Chemical, Mechanical, Piping, Civil & Structural, Electrical and Instrumentation are well supported by designing and simulation software like Chemical, AutoCAD 2010, CAESAR II, Plant 4D and many other customized software to build quality into every aspect of our service. Praj works with an option of 2D & 3D modeling platforms.
Certifications
Praj has well equipped multi-location manufacturing facilities. The units are accredited with ASME 'U' and 'H' stamps with an ISO 9001-2000 certification. The facilities are equipped to adhere to international standards including TEMA, DIN 8777, AD Merk Blatter, ASNI (SNT-TC-IA),CE, BS 5500 and IS 2825.
Quality Assurance
Enlisted with inspection agencies like UHDE India, SGS and TUV, Praj relies on a robust Quality Assurance Plan, drafted right at the conception of any undertaking and stringently adhered to, right till the end. This monitors and controls all aspects of quality right from audit of engineering drawings, vendors, suppliers, site/shop fabricated items and all agencies involved in the process. Raw materials and equipment undergo stringent chemical and mechanical tests including DP testing and NDT methods such as radiography, ultrasonography, magnetic particle testing, penetration testing and leak testing.
Manufacturing Facilities
Praj has well equipped & most modern manufacturing facilities in India which are suitable for manufacturing processing equipment having highest quality and hygienic standards.
It houses all modern machinery such as dish pressing machine, dish spinning machine, automatic polishing machine, Plasma Arc Welding Machine, shell rolling machine, facility to do glass bead blasting.
Our team of well qualified and experienced engineers are totally committed in achieving world class quality resulting in "Total Customer Satisfaction".

Some Highlights:
Well-equipped manufacturing facilities with automatic welding and polishing machines.
Total covered area of 2, 00,000 sq. ft. and open area of 3,40,000 sq. ft.
Accredited with ASME 'U' & 'H' stamp, ISO 9001- 2000 certification & CE marking.
Codes and standards followed include ASME Section VIII, Div.1, BS 5500, ASNI (SNT-TC-IA 1984 & 1988), TEMA, DIN, IS 2825 and AD Merkblatter.
Working in various grades of Stainless Steel, Copper, Carbon steels, Nickel, Titanium, Hastelloy and other exotic materials.
Large pool of approved vendors.
Stringent raw material testing methods.
Effective supply chain management.
Well laid out quality system.
HSE practices in line with international standards.
Project Management
Total Project Management & timely Execution has always been the key strength of PRAJ. PRAJ has a dedicated and customer-oriented team of project managers for domestic and international projects.
The Project Managers are well trained with many of them certified Project Management Associate (CPMA), who have passed International Project Management Association – Level D Examination, Switzerland.
Key Highlights
Strong project management team with global experience.
Specially focused 'Task Force' for the project wherein Project Manager is given the empowerment to drive the team of Process Engineers, Designers, Instrument and Electrical Engineers, Manufacturing and Site Supervision.
An exclusive team of various experts work with this experienced Project Manager.
Project Managers certified with PMA and IPMA

Onsite Tank Fabrication
When it comes to fabricating tanks having larger diameter and which possess problems in single piece transportation (due to road conditions etc.), Praj chooses the option of fabricating and installing the tanks on site itself.
Praj has its own dedicated teams from the manufacturing unit who along with our team of self-certified contractors undertake the onsite fabrication and installation job. They are duly supported by the quality control team who is deputed at the site for stage wise inspection of the tanks as per the defined quality assurance plan.
The tank components are usually prefabricated at the manufacturing units, checked for quality and finally dispatched to the site location.
Safety
Praj recognizes that safety and environment are important aspects of its offering not only for the customers and employees but also for the long-term survival of the ecosystem. To take care of health, safety and environmental aspects of its business, Praj has a well-established HSE Policy. The company is committed to continually improving its performance in relation to health, safety and the environment.
Systems and procedures have been established for implementation of all stages. Praj HSE Team has a systematic approach in managing HSE at manufacturing units, Research and Development Centre, Engineering Centre and at all project sites and offices. Stringent norms are being followed in accordance with various operations and processes.
Matrix – Innovation Centre
Praj sees great promise in sustainable development – be it in the context of technology, business or society. They are in constant pursuit of solutions which will lead them to a more balanced world, a more sustainable world. Sustainability fosters innovative ideas and products and enables them to add value to their customer's business.
Praj Matrix – The Innovation Centre is designed along the principles of sustainability, providing environmentally friendly solutions for a future-perfect world. Praj Matrix applies multidisciplinary experience and expertise, and utilizes world class laboratory and pilot scale facilities to accelerate the development of bio-based technologies.
In the field of Brewing & Distilling Technology, PRAJ is perhaps the only company in India, having its own dedicated Research & Development Centre "Matrix – The Innovation Centre" wherein extensive work is being done for new process developments, optimization studies, development of crops with improved sugar & starch contents, research on various yeast strains etc. Lab scale and bench scale test facilities in this centre helps not only in fine-tuning and optimizing the process parameters for different types of raw materials but also help in choosing the appropriate effluent treatment schemes.
Today, Praj is the only company in India with a strong, in-house resource base for engineering, manufacturing, project management and quality assurance. As mentioned before, it is also the only company in India with its own R&D centre- MATRIX for analyzing effects of different chemical/biological factors in Wort, Beer and the basic brewing raw materials.
For further information, visit their website. Click here.