Niharika NM AND Srushti Tawade Team Up With Budweiser Beats Energy Drink And Showcase How They Get Their Beats On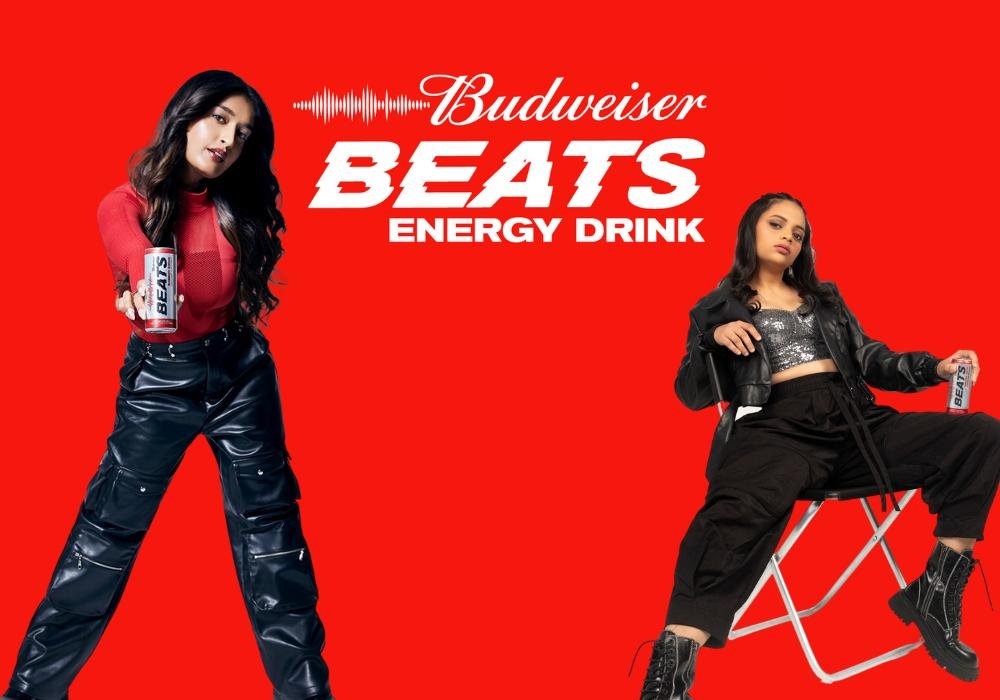 ~ The energy drink brand from the house of Budweiser gives viewers an inside scoop on what goes on behind-the scenes with some of the most loved creators on the gram ~
Budweiser Beats energy drink has announced a new, exhilarating initiative – aimed at  inspiring creators and unveiling the effort involved in content creation. The crusade shines a spotlight on the  creative process and the relentless grind endured by young artists to create a simple 30-second Reel, craft an  engaging teaser, or produce a song that resonates with the audience. To bring this concept to life, the brand has  collaborated with two dynamic Gen Z artists who embody the essence of creativity, passion and vigour.  
Srushti Tawade, a rapper-writer and Niharika NM, a global creator with impeccable comic timing, reveal the daily  challenges and creative blocks they encounter while making their viral videos. In a candid behind-the-scenes  journey, the viewer gets an authentic glimpse of what goes on backstage – unveiling the reality behind, and the  toil of content creation. Throughout this process, Budweiser Beats energy drink remains their trusted partner,  fuelling their creativity and sharpening their focus as they channel their artistic brilliance. 
Sharing more on the campaign, Niharika NM, exclaimed, "When we see a 60-sec Reel, we often forget the 60+  hours of hard work that's put behind it, not just by the creators but their entire crew. To top it, relatability is key  to the humour and constantly reinventing the wheel can be a daunting task. Working with Budweiser Beats energy drink has been interesting, as the collab sheds light on the genuine hard work that goes in to create  content – day in, day out. It's a challenging journey, yet an exhilarating one, and I'm thrilled to offer my  community a glimpse into my creative process." 
Echoing Niharika's sentiments, Srushti Tawade, shared, "Kudos to Budweiser Beats energy drink, for bringing to fore all the madness that goes on behind-the-scenes, which is easy to miss and not captured enough on our  Instagram feeds. The timing of the drop could not have been more perfect, serving as a great foundation for the  release of my new single. The collaboration captures some exciting and enjoyable moments from my creative  process with Budweiser Beats energy drink being my only constant, getting me and my crew through it all." 
Describing the brand world Budweiser Beats energy drink is creating, Vineet Sharma, Vice President – Marketing, AB InBev India added, "Our goal with the campaign is to celebrate and highlight the creative process  of emerging and established creators. This initiative captures the incredible energy, passion, and dedication that  fuels content creation. Unlike adventure-focused narratives adopted by other players in the category, Budweiser  Beats energy drink serves as a go-to source for sharpening creative focus – empowering artists and creators to  overcome challenges, push boundaries, maintain focus, and power through creative blocks." 
Budweiser Beats energy drink is available at leading modern retail outlets, department stores and popular e commerce aggregators across the country at Rs. 110 for a 250 ml can – making it easily accessible for all creative  minds seeking a superior-tasting, high-quality energizing and flavorful beverage to power their pursuits. 
Watch the behind-the-scenes action ft. Niharika NM and Srushti Tawade here: https://www.instagram.com/p/CtvdglHOhAs/ & https://www.instagram.com/p/CttlDGKLIPz/?hl=en
AB InBev India is a leading beer and beverage company with a leadership position in the premium and super  premium beer category. It has a diverse portfolio of global beer brands, including Budweiser®, Budweiser  Magnum®, Corona®, Hoegaarden®, Stella Artois®, Beck's Ice®, Haywards5000® and KnockOut®, amongst  others. Headquartered in Bengaluru, its national presence is supported by multiple manufacturing units spread  across states and a robust distribution network. AB InBev India has a range of no-alcohol beers like Budweiser  0.0®, Hoegaarden 0.0®, and Hoegaarden Rosée® and expanded Beyond Beer into new categories with non alcoholic energy drink Budweiser Beats® and the whiskey category with Magnum Double Barrel®. AB InBev India  is part of Budweiser Brewing Company APAC (Bud APAC), listed on the Hong Kong Stock Exchange under the  stock code "1876". Bud APAC is a subsidiary of AB InBev, with over 600 years of brewing heritage and an extensive global presence spanning continents and generations. Geographically diversified with a balanced exposure to  developed and developing markets, AB InBev leverages the collective strength of approximately 167,000  colleagues based in nearly 50 countries worldwide. We are committed to building high-quality brands that stand  the test of time and brewing the best beers using the finest ingredients.
Explore more on – www.ab-inbev.com