18 Indian Craft Beer Brands To Try In 2021
Here's our annual mega round up of India's popular craft beer brands, so you don't miss out! 
Note: This is a list that compiles Indian brands who either define themselves as 'craft' or have ventured into the craft beer segment with beers that, by their definition, are 'craft'. Whether one brand is more 'craft' than the other is a separate conversation altogether that's best had when you're out drinking with a community of beer lovers and experts.
Edit: Mad King is no longer operational and has stopped supplying stores with their beers. 
1. Maka Di
A Goan-based brewery with craft ideology and innovation at forefront, brews high-quality craft beer that's on par with the fabled European beers of Germany and Belgium with a strong emphasis on research, development and innovation.
Maka di currently has five variants – Belgian Blanche, Honey Ale, Bavarian Keller and a Belgian Tripel.
2. Arbor Brewing Company
Touted as India's first American Craft Brewery, Arbor, is a craft beer pioneer in spreading true beer culture across India one pint at a time. They churn out a unique set of beers packaged only in cans.
 They currently offer three canned variants – Easy Rider, Beach Shack and Bangalore Bliss available across the outlets in Bangalore and Goa.

3. White Rhino Brewing Company
A brand that has established itself well in the Indian, Nepalese and UK markets, White Rhino is a firm believer of the wholesome goodness of local ingredients and uncompromising brew quality. As such, an animal as rare as the "White Rhino" seemed apt for this brand that takes so much pride in what sets them apart.
 White Rhino has three variants to offer for the domestic market – A Wit, Lager, Pale Ale and an IPA.

4. Goa Brewing Co.
As a brand that's steadfastly proud of rich Indian heritage and culture, Goa Brewing Co. is synonymous with words like "non-conformist", "homegrown" and "authentic" – just like their beers. Goa Brewing Co. goes to great lengths to ensure that their beers have flavour profiles that are just as unique as their individual personalities.
Goa Brewing Co. has so far come up with five variants – Eight Finger Eddie, Saint & Sinner, Breakfast Cereal Stout and Wheat.
5. Kati Patang
One of India's most recent craft beer brands to enter the market, Kati Patang is famously known for brewing its beer with sparkling clear, pure Himalayan spring water. The name
speaks to those who are unashamedly free-spirited and refuse to let anything hamper their freedom of expression and was originally brewed in Bhutan's Serbhum brewery. When Kati Patang launched in 2018, Delhi was the only place in India lucky enough to get a taste.  But now this brand can be found in Chandigarh, Bengaluru and Mumbai too!
Kati Patang currently has three variants – Zesty Amber, Snappy Wheat and Saffron Lager 

6. Witlinger
Initially launched in 2014 in draughts (kegs) to test the market, Witlinger identifies with being bold and badass – which explains the brand's decision to adopt the classic British Bulldog as their mascot. Over the last 6 years, Witlinger has succeeded in attracting the attention of today's generation of spunky, fun-loving, "no-BS" millennial go-getters.
Witlinger has two variants – a Wheat Ale and a Premium Lager.

7. Susegado
Susegado, a craft beer label brand which is based out of Goa, stands proudly for the unhurried pursuit of happiness. With five bottled beers under their belt, Susegado is officially the first Indian brewery to bottle condition their beers.
Susegado offers five beer variants – English Ale, Vanilla Porter, American IPA, Dortmund Lager and Kokum Gose.

8. Bira 91
There's always a monkey inside all of us. Bira, a favourite amongst Indian craft beer aficionados. A brand which builds an emotional connect with India's young, irreverent, tech-savvy urban craft beer drinkers.
Bira offers a long and diverse beer line-up suitable for every palate, featuring – Bira Light, Bira Strong, Bira White, Bira Gold, Indian Pale Ale, Blonde, Malabar Stout, Boom Strong and Boom Classic.
9. Briggs
A name derived from old English, Briggs serves as the bridge between beer lovers' stories, serving the perfect mug of cold beer while they swap conversations and build relationships.  If you've visited one of the city's famous liquor boutiques, there's no chance you'd miss their beers. Not with those bright, stylishly whimsical labels!
Briggs currently showcases four signature variants – Willy's Witbier, Hoppy Feet, Stout Alchemy and Griffin.

10. Simba
The bearded lion man sporting a suit, shades and bowtie with plenty of swag is undoubtedly one of the biggest kings in the Indian craft beer segment today. Kicking off in two of India's smallest states – Goa and Assam to conquering the urban jungles of Delhi, Bangalore and Mumbai, Simba has become synonymous with Indian craft beer culture thanks to its impressive portfolio of beers.
The brand has the following variants – Wit, Stout, Light and Strong.

11. White Owl Brewing Company
White Owl is a Mumbai-based microbrewery that has received a standing ovation from craft beer lovers throughout India. For a brand that identifies itself as quirky, what could be better than the owl?
White Owl lines up four fabulous beers – Ace, Diablo, Spark and Spike.

12. Kingfisher Ultra Witbier 
India's biggest brewer, UB rolled out its first craft beer – the Ultra Witbier under its nationally popular brand, Kingfisher. The refreshing, light and sessionable beer was an instant hit with urban beer lovers nationwide. 
The beer is available in 3 SKUs – a 330 ml bottle, a 500 ml can and a 650 ml bottle.

13. 7 Rivers Brewing Co.
7 Rivers Brewing Co., Anheuser Busch InBev's Indian unit surprised craft beer consumers in 2019 with the launch of two local wheat beers. The beers made their debut against the backdrop of a gorgeously whimsical campaign called "The Flavour of Local" that immediately caught the attention of India's beer community while the vibrant beer packaging style has made appearances in many beer lovers' Instagram photos!
7 Rivers has two canned variants – Machaa and Veere.

14. BeeYoung
This vibrant brand from Kimaya Himalayan Beverages is all the buzz amongst craft beer lovers up north. Extremely gentle in profile, with just the right hint of crispness, BeeYoung is a sessionable beer even at 7.2 percent ABV!
BeeYoung is currently available in 500ml cans and bottles. 

15. Yavira
Another beer brewed by Kimaya Himalayan Beverages LLP., Yavira – derived from the Sanskrit word for 'beer', merges the young millennial Indian's desire for the taste of craft with the country's inherent love for strong beer. This 6.2 percent-ABV beer is brewed with Basmati rice, and makes a great pairing with some of India's most well-loved spicy dishes!
Yavira is currently available in 500ml cans and bottles. 

16. Bro Code
Bro Code stands for what their name clearly says: the spirit of brotherhood and its beers come with a significantly higher ABV as compared to most others out there. Although a recent player in India's craft beer market, this brand has quickly garnered a mass following amongst the country's next generation beer lovers for its unique flavour.
Bro Code has three variants – Witty Bro, Crafted Brut 10 and Crafted Brut 15.

17. Mad King
This brand's beers are for the curious and the open minded. Although the brand was born in Delhi, its beers are brewed in Belgium. Today, Mad King is only selling these beers to Delhi-NCR's vibrant beer-drinking crowd in small batches as an independent company.  
Mad King has two variants – Kolga Lager and Dufa Witbier.

18. Beor 360
In 2020, Delhi was introduced to Beor 360, an artisanal craft beer by Brew King Beverages. Brewed with the pristine waters of the Himalayas and natural ingredients such as chamomile, Beor 360 is a classic example of beers that are experimental, yet 'true to craft'.
Beor 360 is available in two variants – Wheat and Lager.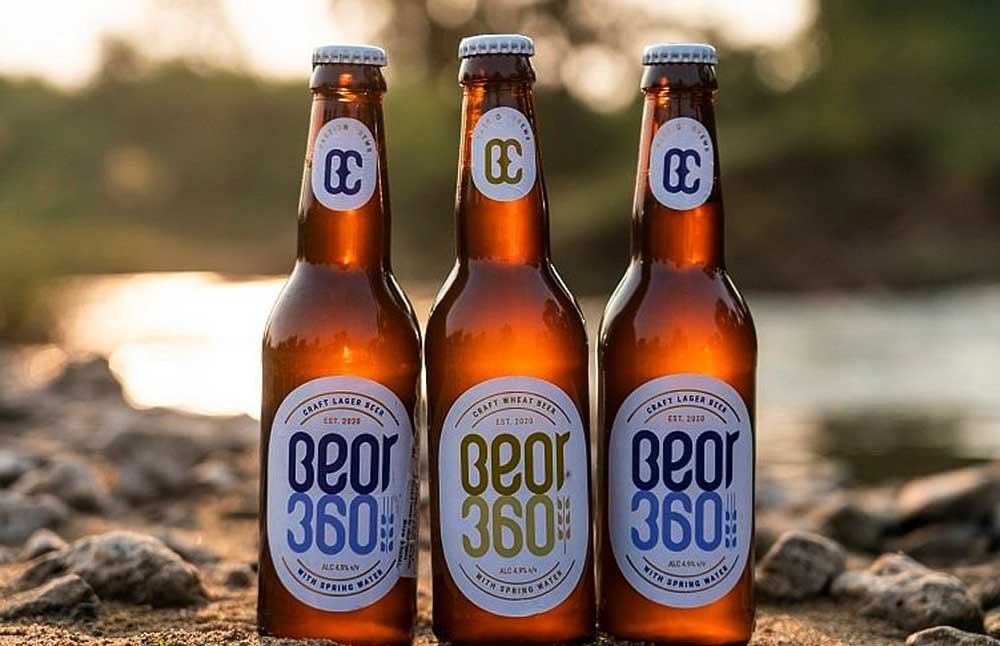 Which one of these is your favourite? Let us know in the comments below and don't forget to tag the brand!
Brewer World Exclusive