7 Homegrown Packaged IPAs To Beat The Heat
Ladies and gentlemen, it is finally summer. To tackle the heat, you're surely going to need a few hoppy IPAs. Lucky for you, we had some time on our hands to round up 7 homegrown packaged IPAs to beat the heat this summer.
Disclaimer: This is a list that compiles Indian brands who either define themselves as 'craft' or have ventured into the craft beer segment with beers that, by their definition, are 'craft'. Whether one brand is more 'craft' than the other is a separate conversation altogether that's best had when you're out drinking with a community of beer lovers and experts.
1. India Pale Ale – White Rhino Brewing Company
A brand that has established itself well in the Indian market, White Rhino is a firm believer of the wholesome goodness of local ingredients and uncompromising brew quality. As such, an animal as rare as the "White Rhino" seemed apt for this brand that takes so much pride in what sets them apart.
White Rhino's IPA is a traditional American IPA brewed with pale malt along with Ahtanum, Cascade, Mosaic and Styrian Golding hops. This beer is the result of brewers' painstaking effort to create a tasteful, balanced and contemporary beer that represents the past and present of brewing.
ABV: 6.3% | IBU: 40
2. Beach Shack – Arbor Brewing Company
Touted as India's first American Craft Brewery, Arbor, is a craft beer pioneer in spreading true beer culture across India one pint at a time. They churn out a unique set of beers packaged only in cans.
Beach Shack IPA is as irresistible as a day by the beach. This session IPA is loaded with citrus and tropical fruit flavours from late addition hops that deliver huge flavour and aroma with just the right balance of refreshing bitterness.
ABV: 6% | IBU: 55
3. Eight Finger Eddie – Goa Brewing Co.
Goa Brewing Co. is a brand that's proud of rich Indian heritage and culture The brand is synonymous with words like "non-conformist", "homegrown" and "authentic" – just like their beers. Goa Brewing Co. goes to great lengths to source local ingredients and ensure that their beers have flavours that are just as unique as their individual personalities.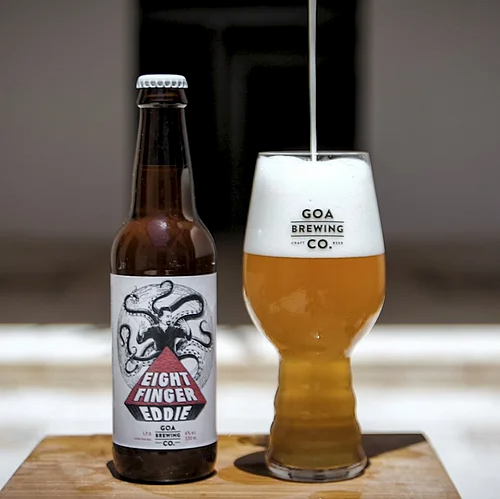 Eight Finger Eddie is a tribute to the one of the first American hippies in India. With an eye-catching label, Eight Finger Eddie is a different take on other variants available in the market. A double dry-hopped oat cream IPA which packs intense aromas of tropical fruit along with a full bodied mouthfeel derived from a chunk of oats.
ABV: 6%
4. American IPA – Susegado
Susegado, a craft beer brand based out of Goa, stands proudly for the unhurried pursuit of happiness. With six bottled beers under their belt, Susegado is officially the first Indian brewery to bottle condition their beers.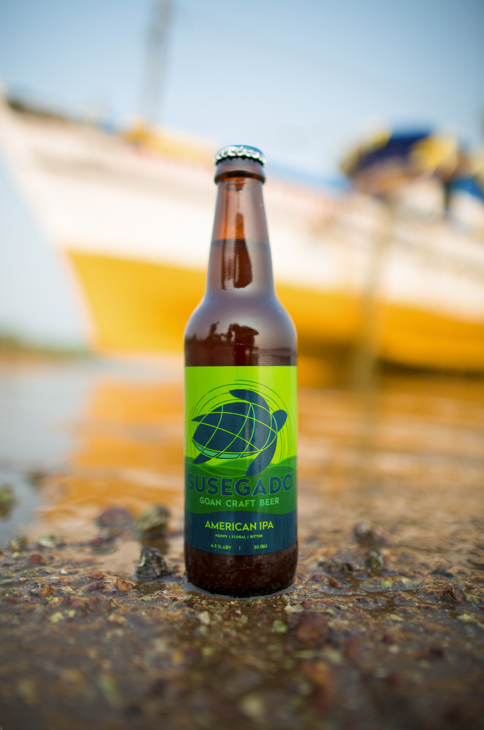 Susegado's American IPA is an easy drinking session ale with notes of citrus and floral backed by malt sweetness. This variant is currently available in Goa.
ABV: 6.5% | IBU: 50
5. Indian Pale Ale – Bira 91
Bira, a favourite amongst Indian craft beer aficionados. A brand which builds an emotional connect with India's young, irreverent, tech-savvy urban craft beer drinkers.
Bira 91 Indian Pale Ale is a fresh, tropical session IPA bursting with citrus fruit aromas. Brewed with locally sourced pomelo, it is medium-bodied, dry and hoppy. Refreshing for bright Indian summers.
ABV: 4.5%
6. Kamacitra – Geist
Geist – one of the Beer Capital's first and most cherished craft beer brands, recently, has come up with all-new, super swanky 500 ml crowlers. Thirsty craft beer lovers can take a piece of Geist to-go. The beer available in Geist's crowlers is exactly the same, fresh and unpasteurised craft beer that is available on tap at the Geist Brewing Factory.
Kamacitra from Geist is one of their flagship and iconic beers, most loved by the people of Beantown. It is an American style IPA which is deep orange in colour featuring citrus and tropical fruit hop characteristics. Driven by hop aroma and flavour, the mild bready-biscuit malt character gives this brew the depth and balance.
ABV: 6% | IBU: 43
7. Hoppy Feet – Briggs Brewery
Briggs serves as the bridge between beer lovers' stories, serving the perfect mug of cold beer while they swap conversations and build relationships.  If you've visited one of the city's famous liquor boutiques, there's no chance you'd miss their beers. Not with those bright, stylishly whimsical labels!
Briggs' Hoppy feet is an American IPA brewed with imported Belgian malts and new world hops. It showcases notes of citrus and zesty fruit with caramel malt backbone.
ABV: 5%
These are 7 homegrown packaged IPAs to beat the heat this summer. Have you tried them all? Tell us which one's your favourite and why!
Checkout our other article which features Indian bottled stouts.