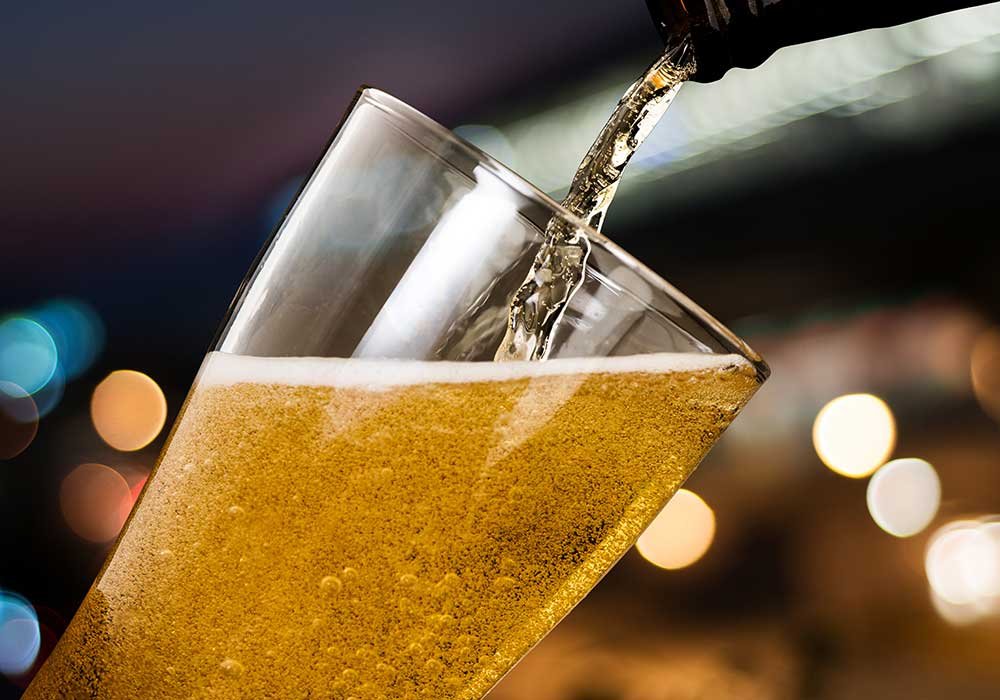 Chatty Girija
Beer Versatilist
In a country that largely sweats it out almost 365 days of the year, especially in beer drinking and permitted to drink states, is strong beer after all a pleasurable choice? The answer is YES.
India is a country of diverse contradictions with choices ranging from basic to luxury, the same holds true for alcohol as well. The 'arrived in life' rich guy who pays almost a fortune for single malt in a 5-star lounge will insist on his birth-right free bowl of muchies in blatant sophistication.
At one end, India's largest drinking consumers need a hard hitting alcohol by volume drink to hit back at the harsh weather, the grinding life and demand value for money for every ml. At the other end of the table, India's growing youth population with a higher disposable income is willing to pay more for an alcohol by value drink, likes to flaunt their mug of new generation freshly brewed beer and pout with international beers. They will go to any extent to gain social status and 'social media' acceptance. No harm in that.
In this entire war of wort between volume and value by alcohol and varied social strata choices, the successful growth of strong beers including Kingfisher Ultra Max, Carlsberg Elephant, Budweiser Magnum, Haywards 5000 and Knockout cannot be denied and diluted. As we speak, the surge is growing stronger.
Speaking of Kingfisher Ultra Max, it has already found its comfortable chilled to perfection space in beer closets. Then why would the King of Good Times launch Amstel in India to kill its own strongly held market share? Is it only because of its International affiliation to Heineken to capitalise on its crate of international portfolio as a planned growth strategy in India? The answer is NO.
There is always place for regular beer, premium beer, premium strong beer and many more styles of beer at various value and price points.
The Consumer
Multiplicity is the foundation of our country, giving ample scope for experimentation and test marketing various product types. This is evident with Indians constantly volunteering to experiment different beer types and styles.
Since ages Indians are predominantly drinking mass-produced commercial bottle beer and enjoying it (Not like they had a choice!!). However, the last 10 years, India is witnessing a constant fresh flow of atleast 100-150 microbreweries across geographies.
Our 30% millennial population with a mindset to try new freshly brewed flavours is making sure that the taps aren't running dry. The flow of sales and market share is no doubt much slower than commercially produced beer, nevertheless flowing. Socially too, freshly brewed beer is now seen as a cool beer to hand around with. High on 'Now Trending', atleast for now.
This certainly doesn't imply that larger than pitcher bottled beer market is losing its fizz or will in the near of far future. It only proves that there is place for more players and different types of players. One may constantly experiment with tap to table flavours once in a while, but will never give up on 'best bottled beer buddy'. No one can beat the price and comfort zone of an everyday, anytime drink.
It's a myth that the youth don't prefer strong beer. Yes, they do have an aversion to beer that makes them feel wasted the next day. As mentioned earlier, Indians love strong beers and if you pour them a premium quality, value for money and an International origin beer; you can't make a stronger move than that and make them move over to your brand.
Now that explains, why Amstel-super premium strong beer makes sense for Indian sensibilities beyond its global affiliation assumptions. With United Breweries legacy, marketing muscle, distribution network diversity, and scalability; Amstel is always within place and price reach.
Amstel is our story to tell
N
amed after the Amstel River in Amsterdam, the water of which was first used by the brewery in the Netherlands, the beer is brewed slowly for extra lager and ease to sip. Unlike Heineken that proudly stands for One Beer, One Taste, Amstel takes pride for its locally brewed taste to suit local taste buds. A similar strategy is followed in India as Amstel is brewed and bottled locally out of a brewery near Mysuru in Karnataka. Amstel is made in India for Indians with international know-how. Care to ask for more!
To answer the question, Amstel is not here to eat into the established Kingfisher strong market share. It is loudly and clearly here to grow the brand by giving beer drinkers one more strong point of choice.
Amstel is strong, International and worth Instagramming.
Conversions
Beer as a product category indulges in harmless flirting and continuously evolves to introduce new types. In fact, beer loves its consumers to flirt with various styles, types, tastes, flavours, aromas and mouth feel, regardless of bottled, craft, freshly brewed, kegged or home brewed. More beer you drink of different types, beer gets loved more and consumed more.
The pessimist will consider this personality trait of beer as disloyalty with an uncertain audience to identity, market and promote beer. The optimist views this as an opportunity to introduce and market locally styled and internationally proven beers for dissimilar consumer tastes. There is one for everyone. Simply put, it makes consumer and commercial sense for United Breweries to launch Amstel despite promoting its home-grown Kingfisher Ultra Max to beer type alternatives and induce competitive conversions.
Unlike the stiff upper lip 'by invitation only' single malts, beer gives you the freedom to move from one table to another. No matter what you drink, you will always come back to beer for that 'one for the road'.
Commercials
Just because India's 18-35 years beer drinking population walks into their favourite watering holes loaded with plastic, cash-back, coupon codes, discounts and virtual wallets, it doesn't mean consumers are not price conscious. We recognise millennial's in urban and becoming urban towns aspire for a higher life and the key is in serving them an International quality beer within a sensitive pint price.
A 650ml bottle of Amstel will cost about Rs.140 in Karnataka, while the 500ml Can will be priced at Rs.105.
Post demonetization, GST, highway ban, state bans and other hiccups; the beer industry is finally beginning to hold his head high from 2018 onwards. There is ample opportunity to rollout many more brands to quench a hard and light drinkers bladder without a hangover.
A brew well known beyond the borders of its native country is now available in your native city.
Stay strong! Go home safe.