Bengaluru's Very Own Geist Opens Doors To Its Brewing Factory: Calls It A Garden Within A Brewery
It's a commonly known fact that the Bavarians were the OGs of building brewery/ beer gardens. Open-air dining originated in Bavaria after brewers found that cooler storage temperatures benefit beer better. So to ensure the temperature stays cool all year-round, breweries began planting gardens above their underground storage cellars to keep their brews cool enough to ferment. Meanwhile, the gardens provided a great ambiance for tired brewery workers, who, after long-hour shifts, liked to take a break amidst the greenery over a quick pint.
As countries all over the world seek to re-create their own versions of Bavaria's most prized biergartens, the basic purpose of these places have not changed. Simply put, they're open-air areas where people of legal drinking age and above can socialise and explore new beers along with a side of authentic, local cuisine. And now, Geist, one of Bengaluru's first and most revered breweries has just thrown open the doors to their brand new Geist Brewing Factory located on Old Madras Road.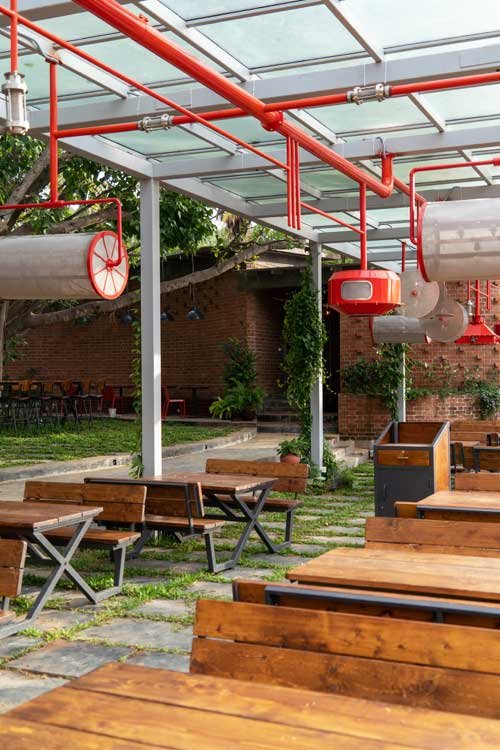 Although the brewing factory has been operational for takeaway and delivery since June, it's only as of yesterday that the place is officially open for dine-in.
Says Geetanjali Chitnis, Head of Brand & Communications at Geist: "We had been planning to build this extension to the Geist factory — that it is the beer garden & restaurant — and things have pretty much been in the making since the last two years. The dream was always to have a Geist experience center of our own. One that people can visit for a meal, enjoy our beers straight from the source and also takeaway our beer to their own homes. We are the first craft brewery in South India to get a factory license which enables takeaway of fresh craft beer in our signature Geist Growlers from the brewery."
Taking us through a virtual tour of the brewery garden, Geetanjali elaborates: "The entire area is open-air and it seats about 220 people. Most people who know Geist are aware that we are an extremely environment-conscious company and always try to minimise our ecological footprint. For instance, we are a zero liquid discharge (ZLD) brewery, meaning we recycle all the water that's used in the brewing process in some way or the other and we are proud of that fact. The beer garden has also been designed keeping this sustainable ethos in mind, so you will see a lot of greenery here."
The seating area sprawls over an area of roughly 7,500 sq.ft and is cleverly designed in such a way so as not to disturb the natural surroundings of the factory. "There were two existing very old trees on the property: one's a Banyan tree and one is a Peepal tree," explains Geetanjali. "The entire extension has been designed around these two trees; so for example, our bar area has been built to curve around the Banyan tree so as not to upset the natural setting and beauty. In fact, we like to call our restaurant  "a garden within a brewery" because essentially that's what it is."
All of Geist's signature beers will be served fresh on tap here, so whether you're an IPA lover looking for some Geist Kamacitra or whether you're simply craving a Geist Weiss Guy to quench your afternoon thirst – make a stopover here to get the true Geist experience. Of course, the menu also includes but is not limited to the Uncle Dunkel, the Witty Wit and a German Lager. "What we do have planned for the future is beer-garden-specific Geist beers that will be exclusively available only here and will not be served anywhere else," confirms Geetanjali.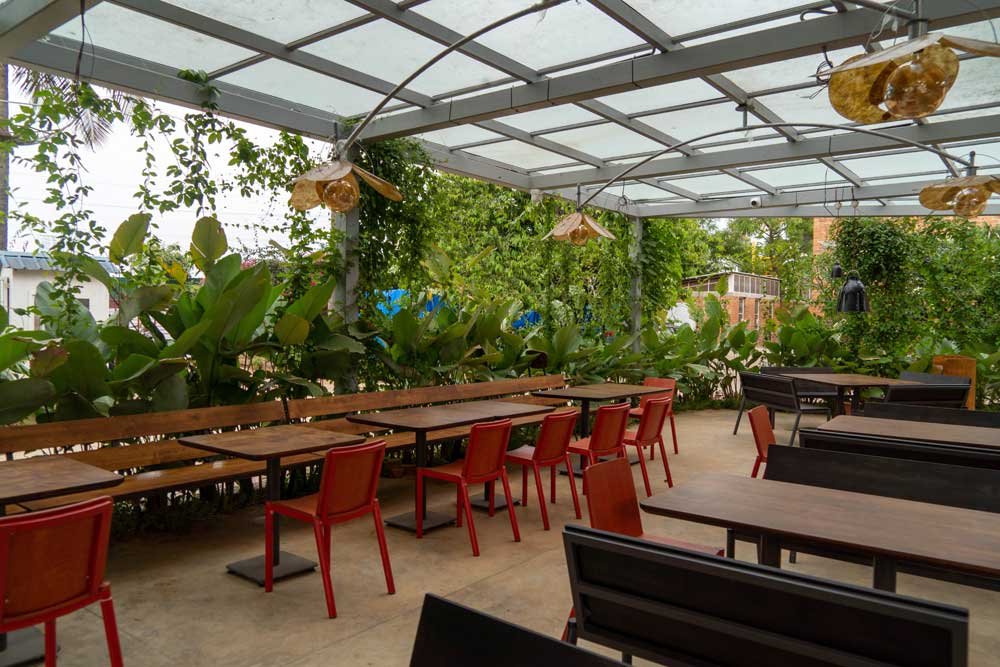 The craft beer industry leans heavily, if not entirely on one main pillar: community and expanding diversity in the beer industry among those who brew it as well as those who enjoy drinking it is not a small matter. But with a uniquely tailored list of culinary offerings that has been personally curated by none other than the staff members at the brewery, Geist proves that it thinks just as much about the demographics of its immediate neighbourhood as it does about the quality of the beers it makes.
"If you think about it, there are so many people who have not necessarily grown up in Bengaluru – who have come in from different states – and enjoy eating food that brings in a sense of nostalgia. Many people within the Geist team too have come from other cities & towns, and have made this beautiful city their home. We basically wanted to make sure that there was something available for everyone here, but more importantly, that the menu reflects who we are as a team and what we consider comfort flavours. So our food menu celebrates India's diverse culture as well as beloved local Karnataka hits."
Are brewery tours on the cards anytime soon?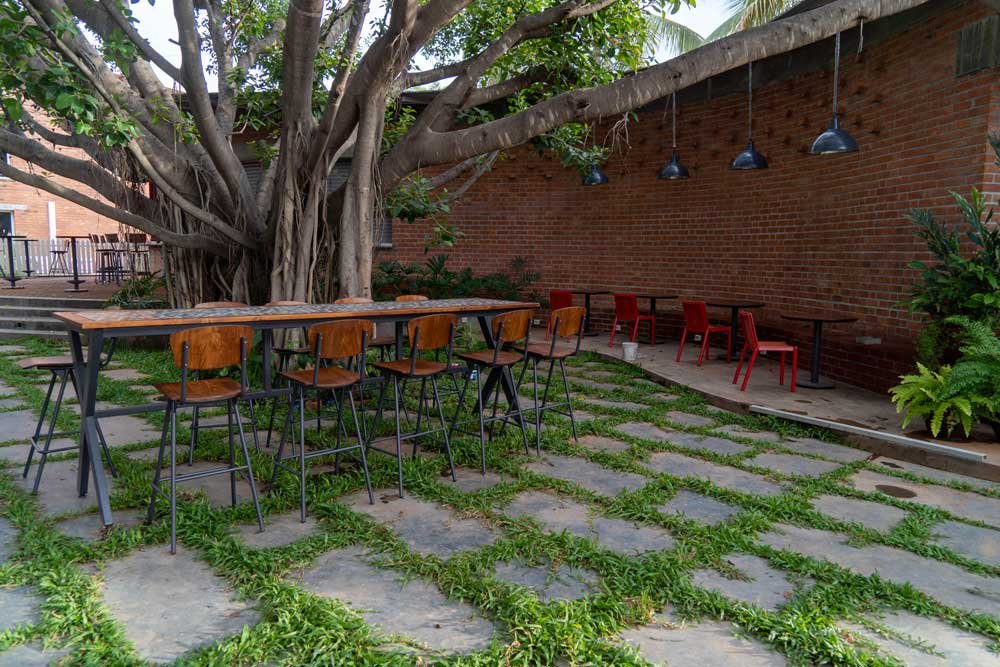 "Absolutely," quips Geetanjali, excitedly. "They should be on in about two or three weeks. So people coming here for a meal will be welcome to take a tour of our factory – depending on whether they have pre-booked their visit and whether there are slots available. And of course, they will be allowed to take away beer from this place as well."
Starting something as big as this bang in the middle of a global pandemic naturally comes with its own set of challenges. The team of seasoned hospitality professionals at Geist, however, saw this as an opportunity to design a series of comprehensive food safety and hygiene measures, implementing them organically and seamlessly into their operations. From strict sanitisation to rigorous grooming inspections, the brewery has taken not one, but several extra steps to ensure the well-being of its customers and colleagues.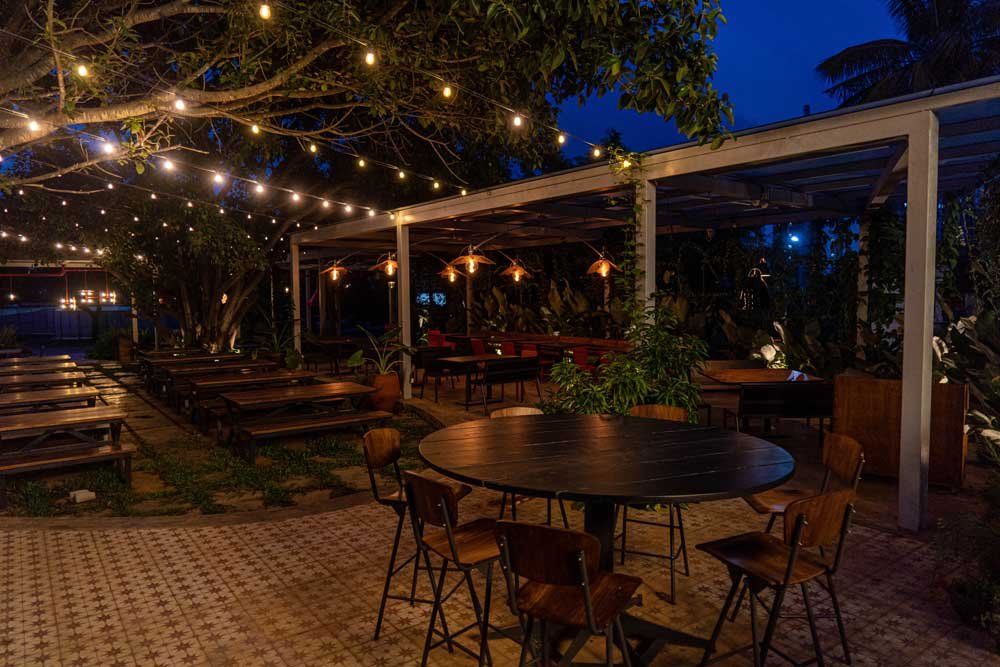 If you've missed the outdoors during the pandemic and are looking for a quiet afternoon for a safe dining & drinking experience away from the city this weekend, head out for a short drive to the Geist Brewing Factory and treat yourself to a cold beer or two and tell us what you loved about the Beer Capital of India's hottest new biergarten!