Crafting a Partnership for Success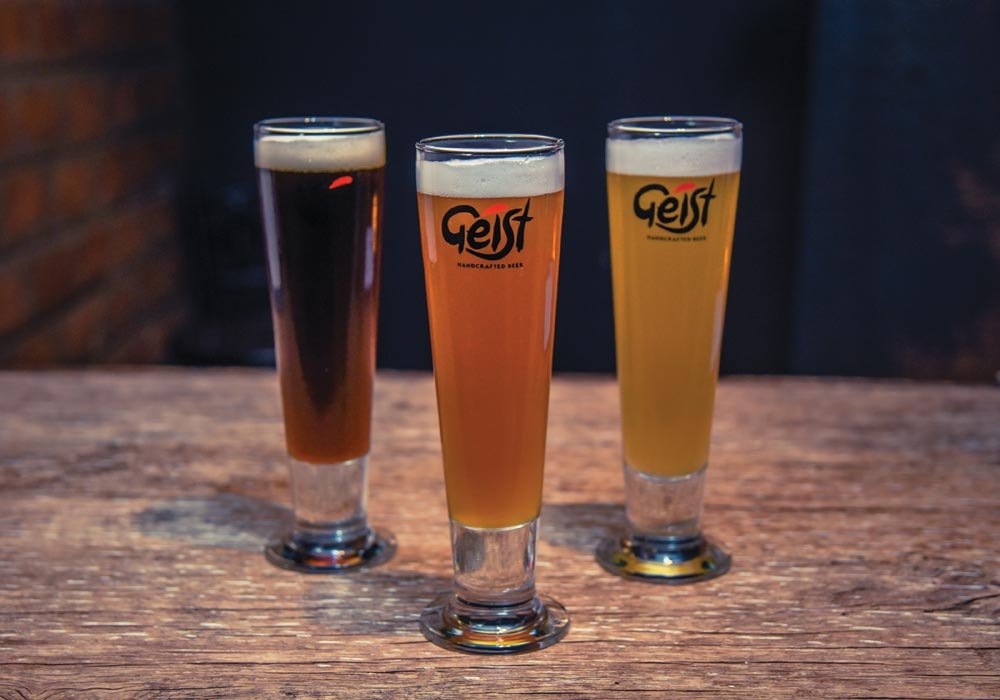 Narayan Manepally
Founder & CEO, Geist
Mohan Alapatt
Director & COO, Geist
Paul Chowdary
Founder, Geist
Geist, which means ghost or spirit (and in a dialect of German also means endurance) is an Indian craft beer brand started by childhood friends Narayan Manepally & Paul Chowdhury – two individuals with a passion to bring great craft beer to India. After experimenting with various recipes, they got their beers made in an small brewery in Belgium and introduced India's first wheat beer ­­– Whistling Wheat –­ along with three other types of beer: Blonde, Strong Blonde and Dark. They also helped start two very successful brewpubs/microbreweries in Bangalore. The successes of their beers prompted the friends to scale the business and start manufacturing in India. They were joined by a third classmate Mohan Alapatt, who quit his corporate job and joined Narayan and Paul to start South India's first Distribution Craft Brewery. Geist is available on tap in multiple outlets across Bangalore as Witty Wit (a Belgian style Witbier), Weiss Guy (a German Weissbier) and Uncle Dunkel (a German dark wheat beer).
Narayan Manepally joined Intel and stumbled upon his love for craft beer in the summer of 1993 while trying to bond with his work friends, all of whom were homebrewers. "It was a gorgeous day in Portland Oregon (the sun seldom shines in the northwest of the US). Work was a tad slow, so my cube-mate Jeff and I decided to go downtown for lunch. When we finished our meal, we saw this sign as we stepped out called Main Street Homebrew. The owner Kevin had a degree in microbiology, and he imparted some interesting information on the chemistry of beer and beer making. $65 later, we were walking out of the store with plastic buckets, tubes, glass carboys etc. Jeff and I looked at each other and we knew that we had to go brew. We brewed our first batch of beer that very same day. I did the usual home-brewing stuff of ensuring it ferments, racking the beer into a Cornelius keg etc. Several weeks later, we poured the first glass of our beer a California Golden Ale, for friends who were visiting. It was fantastic! I was hooked and knew that I had to somehow make craft beer in India," states Narayan.
"Several years later, I met my childhood friend and classmate Paul Chowdhury at a school reunion in Bangalore. He was looking for something 'un-corporate' to do, so we got together and started Geist. Later, we were joined by another classmate Mohan Alapatt, who quit his high flying corporate job and is rapidly becoming "un-corporate" says Narayan.
The distribution craft brewery model is built on winning with restaurant and pub partners. They are not just customers, but partners who are invested in mutual success. The reason they started with craft beer in draught form is because of India's growing interest in craft beer and preference for anything fresh. Geist's restaurant partners can very easily become microbreweries/brewpubs by serving great craft beers without the investment or the headaches of setting up and running a brewpub/microbrewery.
The company conducts free and continuous training for the wait staff at partner restaurants that allows them to understand craft beers better. When wait staff present craft beers with knowledge, there is a good chance that customers will try craft beers and stay with the category. Geist conducts brewery tours for the wait staff, floor managers and general managers at partner outlets, with the firm belief that an educated staff improves the overall experience for their customers. An improved experience means that there is a good chance of repeat business from customers.
"Assume for a moment that we were the only microbrewery/brewpub in Bangalore – imagine the heavy lifting we would need to do to create awareness of craft beer. Multiple microbreweries help increase awareness and get many more customers drinking this category of beer".
As part of the overall quest to do better for the environment, Geist has created a Zero Liquid Discharge (ZLD) brewery. Narayan says, "Our factory is 100% rain water harvesting enabled, and we dug rainwater recharge pits when we were constructing the facility. The recent good rains allowed a significant recharge of our bore-wells." Despite the fact that this was not a requirement from the Karnataka State Pollution Control Board (KSPCB), Geist installed a Upstream Anaerobic Sludge Baffle (UASB) Reactor along with an Aeration tank for the Effluent Treatment Plant (ETP). This ensures that the water leaves. ETP is fully agricultural grade, which is then given to the farmer next door to grow his vegetables. The farmer is today prosperous, his crops are healthy and growing!
Geist gives its spent grains to a livestock farmer and is working with a bunch of poultry farmers to mix the denatured yeast with poultry food. Yeast is rich in selenium, which hardens egg shells and results in fewer breakages during transportation. As part of the company's continued effort at sustainability, they have engaged a woman tailor/entrepreneur named Lakshmi from a low income background to create "keg bands" from used malt bags. Keg bands allow customers to identify from the available three variants, the type of beer in each keg. They also work with Lakshmi to create attractive shopping bags from malt bags, so that nothing goes to waste. Fayaz – a local carpenter – makes craft beer tap handles and sampler trays from recycled wood, which are given to partner restaurants.
Reflecting on an interesting perspective about the numerous microbreweries in the craft beer market, Narayan signs off with, "As far as craft beer is concerned, it's all about creating awareness of a totally new category of beer". He further says that, "Assume for a moment that we were the only microbrewery/brewpub in Bangalore – imagine the heavy lifting we would need to do to create awareness of craft beer. Multiple microbreweries help increase awareness and get many more customers drinking this category of beer".