Brewer World Exclusive: Celebrating 150 Years Of Duvel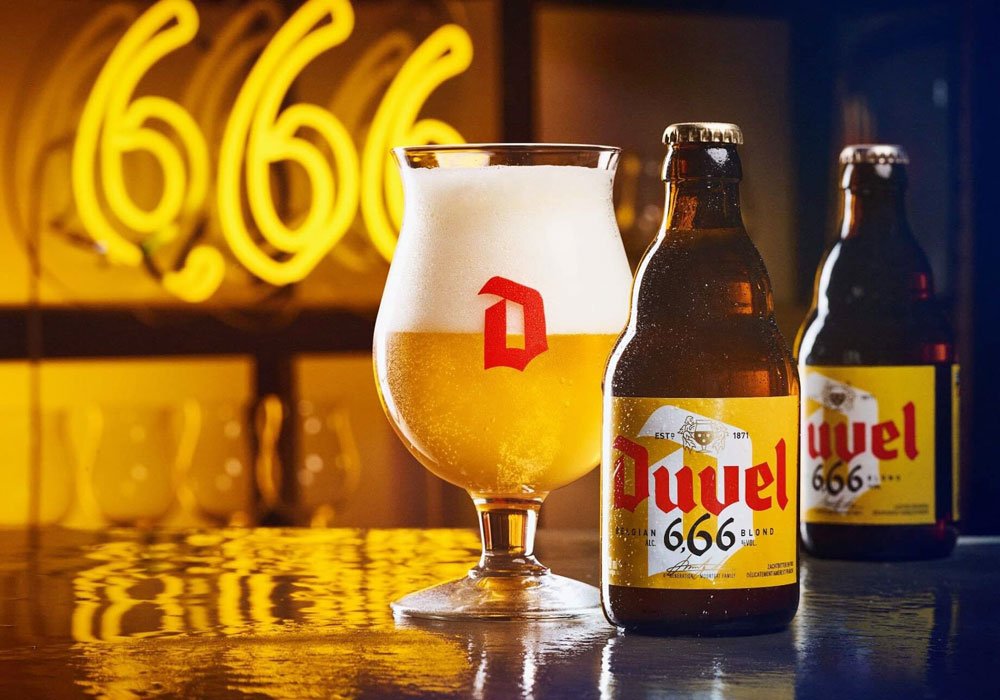 Duvel (pronounced as Doo-vul, not Doo-velle) is Duvel Moortgat Brewery's iconic flagship beer that has transformed the Belgian beer landscape. Based out of Puurs, Belgium, Duvel Moortgat is a fourth-generation family brewery founded in 1871 by Jan-Léonard Moortgat.
Duvel's inception marked the beginning of a quintessential Belgian Golden Strong Ale beer style. It was originally launched by Brouwerij Moortgat in 1931 under a different name called Victory Ale where its name was most likely influenced by the end of the First World War. This year, Duvel Moortgat celebrates its 150th anniversary. The company owes much of its success to its front-runner Belgian Golden Strong Ale, but how exactly has Duvel (which translates to Devil) become one of the most iconic beers in Belgium? Let's find out, shall we?
How Did Duvel Become So Iconic?
The production of Duvel involves a great deal of effort. Every bottle of Duvel undergoes a rigorous maturation process and it takes about 90 days from grain to glass. Duvel is brewed with only single malt – pilsner malt, which provides a malty backbone and pale colour to the beer with prominent notes of biscuit. It is one of the driest beers in Belgium within its alcohol range. Duvel's ABV stands tall at 8.5%.
One of the other iconic elements of this beer is that it is highly carbonated at about 4.3 volumes of CO2, in comparison, that's double the amount than traditional English or American ales. At such a level of carbonation, Duvel delivers a carbonic bite with a huge collar of foam to keep all the flavours locked in. Each of these elements make Duvel extremely unique, creating a market space of its own.
Lastly, Duvel's origin story about their house yeast strain makes up for their iconic status. Legend has it that in the year 1920, Albert Moortgat had travelled to Scotland to source a yeast strain for brewing Victory Ale that he believed to be special. Until today, Duvel claims that they still use the same yeast strain which was sourced about a century ago. This is what makes this beer legendary.
Brewer World X Duvel Exclusive Interview
As Duvel Moortgat celebrates their 150th anniversary, they have honoured it by adding a new product to their line-up called Duvel 6.66%. As you might've guessed, it's ABV is 6.66% and it is brewed with at least 6 different hop varieties. Duvel 6.66% is dry hopped to balance the hop flavours and complement the malt backbone.
To congratulate Duvel Moortgat on their 150th anniversary, we interviewed the brand to share some of their insights as to how the brand operates, the history behind their lip-smacking Golden Strong Ale and the brewing process behind it. Buckle up and read on!
Duvel is known for having one of the most rigorous maturation schedules in the world. As Duvel continues to grow, what challenges do you face maintaining that highest level of quality?
It is true that we have one of the longest maturation times for our Duvel. This is because our beer ages to perfection!
Quality remains our main driving force. The brewing world is constantly changing, and we too must evolve. This results in new brewing techniques and processes. But we do not want to tinker with them too much, so that our process remains as natural as possible. All of this to ensure that our tradition is preserved and that we can always deliver a top-quality beer.
Challenges we face now are mostly concerning the coronavirus. The bars & restaurants have closed for almost a year, and are now starting up again. So we must replace the old beer with new and fresh beer. Which means we have to double down on production. Export was also down, but is slowly picking up again.
Do you still use the same yeast which was originally believed to have sourced from Scotland?
Yeast is the soul of our beer and is always a brewery's best kept secret. This is also the case at Duvel Moortgat. It is true that Albert Moortgat went to the British peninsula around 1920, in search of a suitable yeast to brew a beer according to the model of British ales.
He found it in Scotland, and we still use it today to brew our Duvel.
Does Duvel still taste the same as 30 years ago? What are the biggest challenges with maintaining a consistent taste and quality?
We dare say that our Duvel still tastes about the same as 30 years ago. Approximately, because given the evolution in the brewing world and the renewal of installations and techniques, this will always be accompanied by changes in flavour. Of course, only for the better! But major changes have never happened, so that everyone can still drink their favourite beer as they have always done!
Who came up with the great name Duvel, and in which year was that?
Before Duvel got its name, the beer was called Victory Ale (Or VA beer). Legend has it that at a tasting session at the brewery, a local cobbler, on leaving the tasting session, called the beer "A real Devilish beer". Because he found it so delicious.
This sounded like music to the ears of the Moortgat's, and the rest is history.
People have admired that Duvel tulip glass is one of the best for enjoying not only Duvel but also other beer styles. What is it that makes the iconic tulip glass so special?
The Duvel glass is inspired by the time-honoured Burgundy glass. This is because no other glass could contain our rebellious beer.
In our tulip-shaped glass our aromas come out perfectly. Foam is also important for Duvel, the glass helps to form and maintain the nice and foamy head of our Duvel.
What is the max shelf life, and the ideal time to enjoy a Duvel (fresh as possible, or a few months in the bottle)?
A brewer always wants his beer to be drunk as fresh as possible. That is also the case with Duvel. The customer is king, and tastes differ, but we advise people to drink it as fresh as possible. The max shelf life is around 2 years after bottling.
Can you tell us something about Duvel's newest beer DUVEL 6,66% and how does it honour Duvel's 150th anniversary?
Our Duvel 6.66% is a nod to our time-honoured tradition. Because the basis is still the same as our original Duvel.
But it is also to show that Duvel Moortgat is a modern brewery that experiments with several ingredients to come to a beautiful whole. In 6.66%, wheat is also used and also 6 different types of hops. This makes for a very accessible, soft, hoppy and delicious beer!
What are some of the ideal dishes which pair harmoniously well with a bottle of classic Duvel?
Many sommeliers pair our Duvel with seafood such as mussels. Asparagus are also a perfect combination with our beer. The key is that Duvel has plenty of body and flavour and can happily fill the shoes of a fuller bodied red wine.
Its high alcohol content gives a weight and mild bitterness that forms a perfect match for sweet notes in food. The high CO2 level makes it a great beer to pair with fatty food, because it easily cleanses the palate.
How has Duvel Moortgat been dealing with the global pandemic and what are some of the key business strategies/areas of focus for 2021 and beyond?
Corona has reduced our production by approximately 50%. This is due to the fact that the local bar & restaurant industry was closed and exports virtually stopped. But the local shops did sell 30% more Duvel, so that means that fortunately we have many fans in Belgium! The objective for 2021 is to restart all exports and to continue to build on the reputation of our beer.
What is Duvel's perspective on Indian brewing industry and consumer palate?
India is a country full of outspoken flavours, where people prefer the taste of a strong beer.
In that respect, our Duvel certainly has its place there. We think there is still a lot of room for the brewing industry to grow in India, we hope to be a part of that, one day.
Lastly, is Duvel going to make an entry in India anytime soon?
We have already made an attempt to enter the market in India in the past. Unfortunately, the Indian import laws are quite protective and make it almost impossible for us to import and obtain an affordable consumer price.
We hope to be able to bring Duvel to India in the near future, so you too can enjoy it's wonderful taste!
Duvel's 150th Anniversary – A Brewer World Exclusive!