Bira 91 Partners With Taiwan's Taihu Brewing To Launch "Pineapple Express"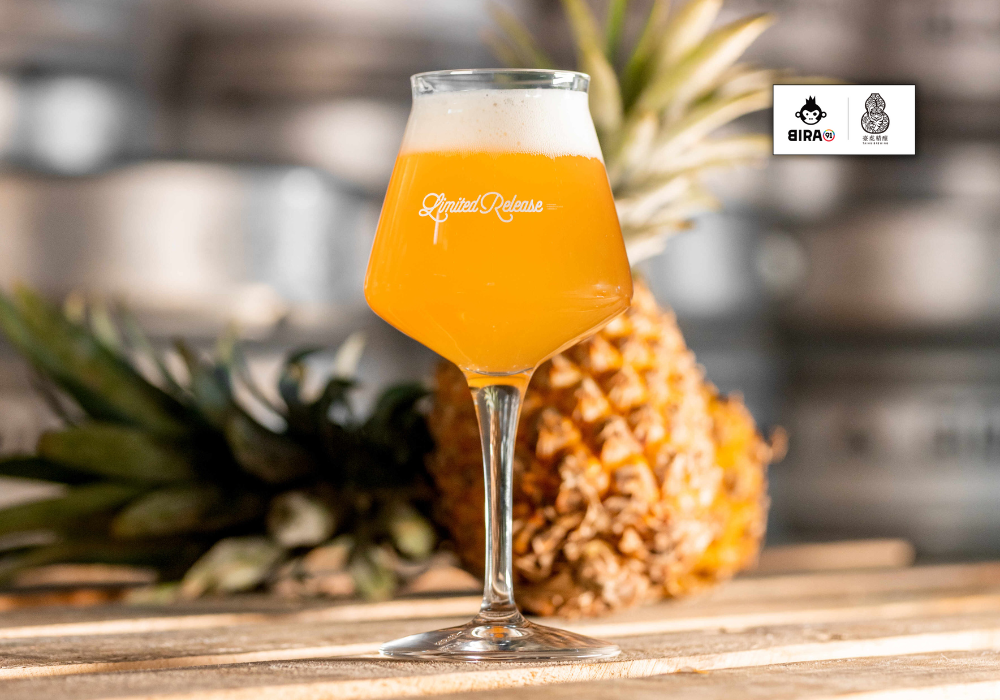 Bira 91 in collaboration with Taiwan's Taihu Brewing has launched "The Pineapple Express" – a fresh, fruity, and tropical-style beer.  Inspired by the famous Taiwanese Pineapple Cake, this refreshing ale has been brewed using locally sourced pineapples from India.
The Pineapple Express has been brewed at Bira 91's brewery in Mysuru and it is exclusively available at Bira 91 Taprooms in Koramangala and Bengaluru International Airport. The Pineapple Express beer finds its roots in the mutual love for desserts across both cultures. Inspired by the famous Taiwanese Pineapple cake, this heavily fruited ale is juicy and refreshing. It's bursting with tropical flavors of fresh pineapples, cake batter, vanilla and cinnamon – just like your favorite cake, as a beer!
Commenting on the collaboration, Ankur Jain, CEO, Bira 91, said, "We are excited to celebrate the arrival of 'The Pineapple Express' in collaboration with Taihu Brewing. This beer is a taste of joy – a refreshing take on the famous Taiwanese Pineapple Cake and a celebration of the shared taste palate of both the countries. At Bira 91, we are always trying to give consumers access to diverse beer styles that they are looking for and I am sure that this limited release beer will be a true party starter at our Taprooms across Bengaluru."
Sharing her thoughts on the association of the two brands, Winnie Hsu, CEO, Taihu Brewing, said, "Pineapple Express is our collectively cheeky take on a classic Taiwanese dessert. We hope that fans of Bira 91 in India will, through each sip of this delicious beverage, be momentarily transported to Taiwan. For Taihu, this collab is more than a delicious beer, it represents how beer – unhindered by boundaries – can forge new friendships. We can't wait to drop this at our taprooms around Taiwan (accompanied by some delightful Indian food). For those of you in India, don't forget to pair it with the delectable Sunny Hills Pineapple Cakes we sent across!"
The beer is already pouring at the Taihu Da'an Taproom.  It is exclusively available in India at Bira 91 Taprooms in Koramangala and Bengaluru International Airport, India.
---
About Taihu
Their motto: "Defy Ordinary" drives everything from how we live our lives, to the beers we brew, to our team culture. Our simple mission is to deliver delicious (occasionally provocative) beverages and delightful experiences to awesome people everywhere. "Good beers, good people, good times."
Founded in 2014, Taihu has rapidly grown (since our production brewery came online in 2018) to become Taiwan's largest privately-owned brewery. We specialize not just in beer, but in all forms of fresh fermentations that blur the boundaries between a variety of products. Come visit our 10 taprooms in Taiwan, Japan, or China, and have a little sip of Taiwanese sunshine with us!
About Bira 91
A refreshingly modern beer brand, imagined in India, Bira 91 aspires to bring flavorful beers to the new world. As one of the fastest growing brands in the world, Bira 91 has built a diverse portfolio of award-winning beers, one for every occasion, and aims to drive the global shift in beer towards more color and flavor. Bira 91 is now enjoyed in over 550 towns and cities spread across 18 countries and brews its beers across four breweries in India. Bira 91 has its flagship taproom in Bengaluru, where it releases one new experimental beer every week, paired with its curry-shop menu. Bira 91 also offers branded merchandise across categories such as glassware, apparel, and gifts, to make every day a lot more playful. Established in 2015, Bira 91 is driven by a dynamic team of over 600 passionate beer lovers and is backed by Sequoia Capital India, Sofina of Belgium, and Kirin Holding of Japan.