Bira 91 Launches Its Second Taproom In Bengaluru At BLR Airport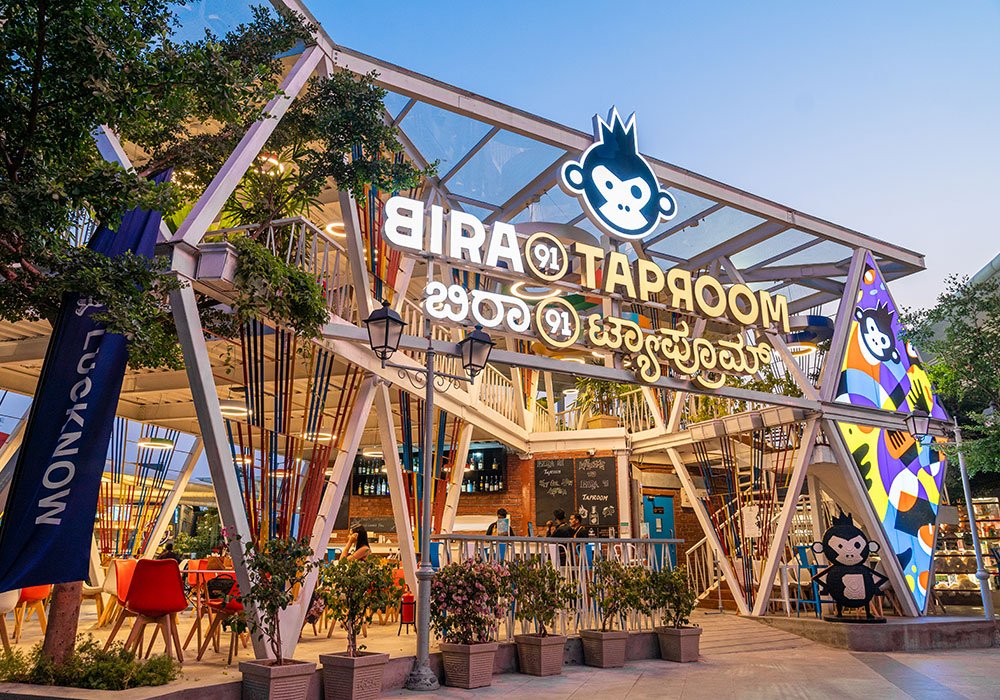 Bira 91, one of the world's fastest-growing beer companies, announced the launch of its second taproom in Bengaluru at the Kempegowda International Airport (BLR Airport). Through this launch, Bira 91 wants to push the envelope on beer and continue to build memorable experiences for consumers. Taking over The Quad at BLR Airport, the Bira 91 Taproom is set to be the go-to venue for jet setters looking to unwind, relax and recharge.
The Taproom has a collection of 14 beers on tap — including signature Bira 91 flavors and limited release beers. The food menu has been curated by celebrity Chef Vicky Ratnani and includes an exquisite portfolio of items that best resonate with the flavors of beer available.
The taproom has been built by repurposing an aerobridge and spreads across an area of 3000 sq. ft with a capacity of over 120 people. The design of the structure has been inspired by Mondrian Art patterns, keeping in mind the creative, playful, and vibrant nature of the brand — by incorporating brand colors and patterns in the décor.
With this new Taproom, Bira 91 aims to bring flavorful experiences to travelers from across the globe making Bengaluru the Beer Capital of the World. The concept of Taproom has helped the brand experiment and innovate with exciting new flavors that are launched weekly and many of these limited releases such as the 'Imagined In India' portfolio have received immense consumer love. With the latest 'Imagined In India' portfolio, the company launched the most loved flavors at their 'Limited Release' Taproom in Koramangala — Mango Lassi, Kokum Sour, Coconut Brown Ale, and Bollywood IPA — to select cities across the country!
Taproom Details:
Location: The Quad, Bengaluru International Airport, KIAL Road, Devanahalli, Bengaluru, Karnataka 560300
Timings: 10AM – 12PM
For updates: www.instagram.com/bira91taproom
About Bira 91:
A refreshingly modern beer brand imagined in India, Bira 91 aspires to bring flavorful beers to the new world. As one of the fastest-growing beers in the world, Bira 91 has built a strong portfolio of essential beers and aims to drive the global shift in beer towards more color and flavor. Bira 91 has quickly become the rage amongst urban millennials owing to its delicious beers, bold identity and a strong draft network.
Driven by a dynamic and energetic team of over 500 passionate beer lovers, the company now operates four breweries in India and has a strong presence in ten countries and over 400 cities. Crafted with the creative urban drinker in mind — someone who likes to have fun and doesn't take life (or beer) too seriously, the brand aims to disrupt the global beer world with 21st-century technology and its playful monkey mascot.