13 Christmas Beers You Should Definitely Try This Holiday Season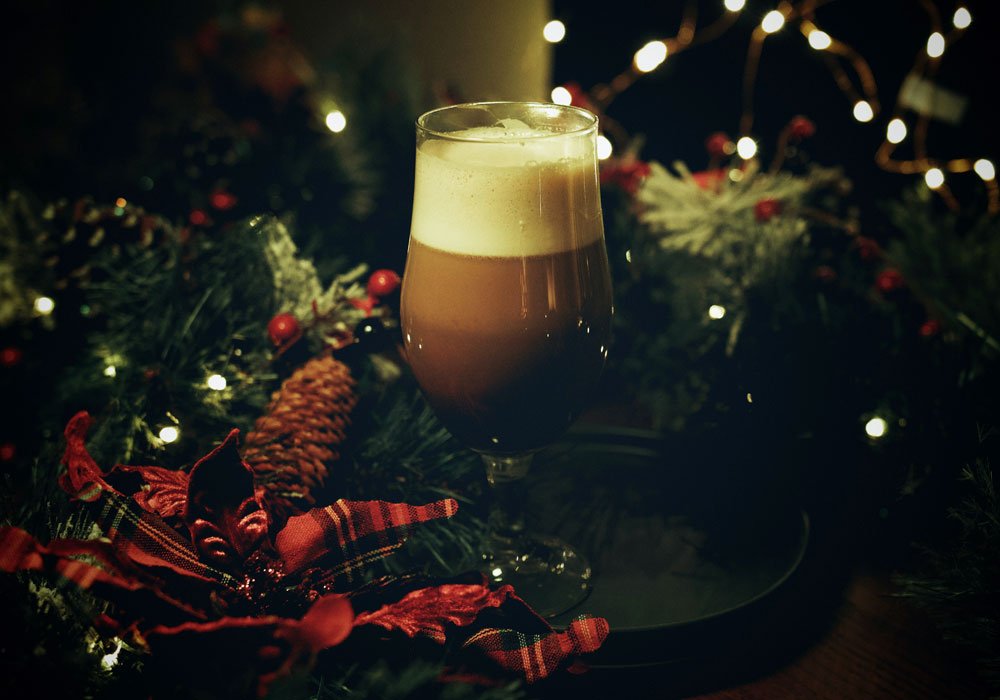 With the Christmas lights set up, Xmas tree decorated and the presents wrapped up & tucked under the tree, you've officially completed your holiday to-do list, and you deserve a beer. Not just an ordinary beer but you need the best pint of seasonal beer just to get through the week. To help you, we've rounded up 13 Christmas beers across Indian microbreweries which were brewed in the spirit of Xmas to get you into the holiday season.
X'mas Barleywine
This Christmas, Seven Rivers Brewing Co. has gone all out on holiday beers. Light up your festive spirit, with their X'Mas Barleywine which is their version of a traditional English style Barleywine. Inspired by Seven Rivers' in-house Christmas Cake, this complex and malty-rich beer boasts enticing aromas of dried fruits such as raisins, prunes and figs backed by a mellow woody and earthy note lingering in the background.
Keep in mind that this is also infused with rum-soaked oak chips along with the addition of fenugreek seeds to lend it a complex maple syrup like character. It is now pouring at Seven Rivers Brewing Co. at Taj, MG Road, Bangalore.
Vital Stats: ABV: 7.9% | IBU: 25
Russian Imperial Stout
The Russian Imperial Stout at Aurum Brew Works is dark, strong, bold and dry with prominent chocolate and roast flavours. A robust ale with a deep brown appearance and a gorgeous tanned head, showcases enticing aromas of chocolate, coffee and slightly burnt character without a sharp bitterness. Pairs well with smoked or barbecued meats or a bold dessert. It is now pouring at Aurum Brew Works, Sarjapur Road, Bangalore.
Vital Stats: ABV: 8% | IBU: 35
Raspberry Pastry Stout
This is Toit's take on a decadent pastry stout. It has the greatness of beer and the goodness of dessert. This sweet stout is brewed with a host of adjuncts such as lactose, raspberry puree, cacao nibs, vanilla, nutmeg and cinnamon. Go ahead and try this one out. When you taste it, you think of Christmas beers and the warmth of the season. The Raspberry Pastry Stout is only pouring in Bangalore.
Vital Stats: ABV: 5.9%
Brew-Berry Christmas Ale
With Christmas right around the corner, the founders at Brew Whale Craft Beer have collaborated with Berrika to celebrate this holiday season with a limited-edition Brew-Berry Christmas Ale.
The Brew-Berry Christmas Ale is a Blueberry Sour Ale that is crisp, filled with fruity goodness along with a touch of sour that is entirely refreshing. With a rosé-like effervescence and a tartness that teases your taste buds, this ale hits you with the right amount of flavour in a perfectly light body. Available in growlers across Mumbai.
Vital Stats: ABV: 5% | IBU: 11
Wheatwine
For the first time ever, Red Rhino's alchemists have launched a rare and the most extreme craft beer style that you may have never heard of – Wheatwine. Wheatwine is a beer style that is somewhere between a barleywine and a well-aged stout. It is old-school and rare. It ideally aligns with Red Rhino's experimental brewing approach and could be their ultimate winter beer for the season.
Aged in virgin oak and infused with bold vanilla, Red Rhino's Wheatwine shines through with complexity and aromas of plums and tropical fruit flavours resulting from the American hops. This is a true amalgam of experimentation and old-school legacy. Be sure to check this one out. It is now serving only at Red Rhino Craft Brewery & Inspired Kitchen, Whitefield, Bangalore.
Vital Stats: ABV: 8% | IBU: 30
Xmas Ale
Ironhill's Xmas ale is a strong, malty and dark spiced ale brewed with ground cinnamon, clove and nutmeg. Brewed in the true spirit of Christmas, this dark ale showcases a malty character balanced by spice flavours and alcoholic warmth. It serves up as an ideal winter warmer. This Xmas Ale is exclusively brewed for their Bengaluru outlet in Marathahalli. Head over to the microbrewery before it's gone!
Vital Stats: ABV: 6% | IBU: 25
Parle-B
A Christmas-special Braggot brewed in collaboration with Cerana Meads.  It was brewed by two alco-bev entrepreneurs from Vile Parle East – Gaurav from 2 Down Beer Co. and Yoginee of Cerana Meads using Maris Otter barley, Jamun honey, EKG hops, star anise and dried orange peels.
Parle-B has a lovely malty, honey, floral, citrusy and slightly spicy notes and enough alcohol to keep one warm on cold winter evenings. It is currently pouring and available in growlers and on tap at Leaping Windows (Versova) and Bonobo (Bandra), Mumbai. You absolutely don't want to miss this one.
Champ'Ale
The Champ'Ale is Toit's seasonal special beer pouring only in Pune and Mumbai outlets. It is light bodied and a highly carbonated beer with fruity,  wine-like characters that are derived from the yeast. It's a strong one too, and with the Champagne flavour profile, it's the perfect celebratory beer for the season. Toit Beer Co. has got a great selection of Christmas beers across all of their outlets, make sure to check them out!
Vital Stats: ABV: 7.2%
Barrel-aged Blueberry Porter
Say hello to the French Limousin at Biergarten, Koramangala, Bangalore! Biergarten's barrel-aged Blueberry Porter is aged in French oak barrels which are made from one of the most popular types of wood used for maturing distilled spirits. The large-grain and tannic wood ensures a clear color and an impressive expression in beers. The barrels are carefully handcrafted by international master coopers.
A complex, barrel-aged porter with intriguing notes of oak and blueberry. Full bodied with a sweet and warm finish. Head over to Biergarten and experience this richer and tastier beer from this barrel of goodness!
Vital Stats: ABV: 7.2% | IBU: 20
Raspmerry Christmas Ale
Drifters Breweries is all set to make our spirits bright with their Christmas special ale. Usher in the Yuletide season and New Years with refreshing Raspmerry Christmas Ale (Raspberry Vanilla Milkshake Sour Ale). Topped up to the brim, Raspberry Kettle Sour is made with the use of Vanilla & Lactose to give full Milkshake treatment, and is sure to captivate all you beer enthusiasts this year.
This is like one of those Christmas beers which has a milky bar like impressions and it is the most delicious treat which you can also enjoy for breakfast! So, treat your palate with this decadent red, fruity, creamy and delicious ale to serve as the perfect accessory to those tables laden with festive food this holiday season. Pouring now at Drifters Tap Station, Mumbai.
Vital Stats: ABV: 4.7% | IBU: 8
Barrel-aged American Stout
Barrel-aged beers are ideal for the festive season. They have a depth of flavour which goes inline quite nicely with the winters. Shakesbierre's Stout is matured and conditioned for 2 months in oak barrels which were sourced from a Bangalore based Distillery, where it was used to mature whisky. Barrel-aging, in general, takes a beer to a different dimension and adds complexity and flavour depth.
The possibilities are practically endless when it comes to barrel-aging given that there are a wide range of casks available in the market. Keep in mind, this decadent Stout is only available in limited quantities. Head over to the brewpub in EVA mall, Brigade Road, Bangalore before the barrel soaks it up!
Vital Stats: ABV: 7.2%
Extra Special Bitter
ESB, also known as Extra Special Bitter, is a classic English style bitter which showcases the harmony and balance between the malt and hops. With its biscuity and malty flavours followed by earthy and spicy notes from the hops, the ESB finishes with a pleasant bitterness. The folks at The Bier Library in Koramangala, Bangalore have just tapped this beer. Make sure to drop in and savour this one!
Vital Stats: ABV: 6.2% | IBU: 35
Hazy IPA
Last but not the least, Windmills' Hazy IPA is a great brew to celebrate the holiday season. Hazy IPAs are very vibrant and celebratory. Brewed with Centennial, Citra, Amarillo and Mosaic hops, Windmills' Hazy IPA explodes with juicy tropical sweetness backed by well-rounded bitterness. Upon swirling, the nose reveals aromas of mango, pineapple and citrus thanks to the generous dry-hopping. The addition of wheat gives it a nice, creamy mouthfeel and a persistent white head. This beer is very easy to drink and leaves long, lingering flavours. Now pouring at Whitefield, Bangalore.
Vital Stats: ABV: 7.25% | IBU: 40
As a reminder, all of the above beers are subjected to availability and this listicle was not sorted in any order. Enough said. So, what beers are you drinking this Christmas? Head over to one of these outlets and let us know about your seasonal beer experience in the comments section down below. Cheers & Merry Christmas!