Think Global, Drink Local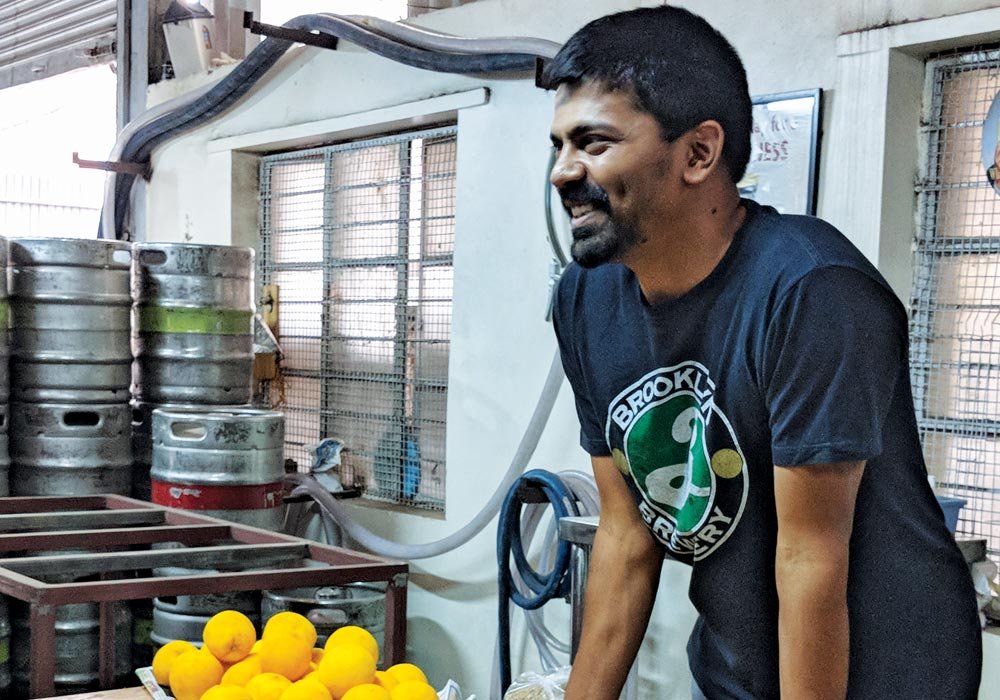 Nakul Bhonsle
Founder, Great State Aleworks
Rohan Hastak
Head Business Development & Partner
Great State Aleworks is a production only craft brewery based out of Pune. Their priority is to brew the finest craft-beer they can, to constantly experiment and test the boundaries with recipes and ingredients. Recently expanding India's palates to mind-blowing food parings of beer and meat. Nakul Bhonsle & Rohan Hastak, in conversation with Divyesh Patil and Sonika Choudhury, PKSBE (The Prahlad Kakar School of Branding & Entrepreneurship).
Why did you plan on starting a production brewery?
There are multiple reasons. Firstly, I started out as a homebrewer. By making small batches, formulating recipes and experimenting with ingredients. Slowly, I developed an expertise in recipe creation at a homebrewing level. Even opening a production brewery was challenge without any formal training or background in the field (I was a finance guy). Add to that opening a pub along with it, no chance. That's like two big projects simultaneously.Secondly, Great State is a bootstrapped venture, funded by self, friends and family. A brewpub is a massive expense, not something I was able to undertake (apart from not wanting to).
So, when the Maharashtra Govt allowed kegging under the microbrewery license, that's when I decided to dive in.
Can you share your experience as a home brewer?
I started home brewing in 2012 while I was working in the US. I was working in New York City and staying in Brooklyn. On my way home from the metro station, I used to walk past a home brew store every day. On the tenth day, I decided to walk in and see whats up. That's the day I started homebrewing. The store showed me a 'recipe album' of 200+ recipes. I just had to pick one (I choose to brew a Belgian Pale Ale) and they did the rest– an ingredients kit with instructions on 'How to Brew', along with the brewing kit which had everything I needed to start. For the first 10-15 batches, I stuck to recipes that the store gave me. Eventually, I started making my own recipes, which was the best part. I experimented with various styles and unique ingredients. That attitude of experimentation is still prominent in Great State's brewing philosophy, and we love a challenge when a client asks us to try something new!
Who's your head brewer?
Suraj is our senior brewer. Though he has had only 3-4 years of experience, he is technically very strong. He has been with us from the beginning. Suraj and I designed the entire equipment ourselves, with the help of some experienced brewers in the city. All of it was fabricated locally in Nasik. So unlike others, we didn't go to a consultant or a turn-key equipment provider. Some of the other new breweries in Maharashtra also have this in common with us. Kimaya Brewing Company, Moonshine Meadery, Yavasura and Bombay Duck Brewing Company all did the same, infact we all shared our notes with one another. Apart from Suraj, we have Kajal on our brewing team. Kajal is fresh out of college but very smart! She's also a microbiologist, who is helping us maintain our yeast lab.
Who designs the recipe?
As a home brewer, I am heavily involved with recipe creation, along with Kajal and Suraj. While Suraj handles our large batches, Kajal ends up taking the lead on our small experimental batches. She goes to Shivaji Market (fruits and vegetables) often to look for what's in season. Last week, she found some gooseberries in the market. As a homebrewer, I had once made a Gooseberry Saison, so now we are re-brewing that recipe! First we try a small infusion, then Suraj & Kajal help to scale it up.
How did you settle on this name?
We were struggling with a name for a long time. I wanted something which was a little more grand, something which feels like more than a brewery. We are super interested in beer, music and food. We have our own offset smoker as well, on which we've been smoking meats and even malts! Rohan who is also a partner at Great State, and Vandana, who heads Outreach & PR, both are musicians. They often play music at our events, or invite their friends from the music community for our gigs. We want to curate these experiences, and we've been doing that a lot through TapTakeovers, Tasting Sessions, Science on Tap (a property we are developing with Anoop Mahajan, a climate scientist) and gigs. So the whole idea behind the name is a greater state of mind, a reference to a greater state of doing things.
There's another big reason for the name. Craft beer, as we've been exposed to is very local and regional. In the US, breweries are proud of representing their city and state, and beer drinkers are proud to #drinklocal. Brooklyn Brewery, for example, brews a delicious Brooklyn Lager. If you go to California, you have Sierra Nevada brewing company, one of the largest craft brewery in the US now. Great State's literal translation is Maha-Rashtra! We want to be the state's truly locally brewery. We are not restricting ourselves to big cities either. We are already pouring in Nasik and Aurangabad, and plan to expand in these markets. We also use local ingredients to brew interesting beers such as a Coconut Cream Ale for O Pedro in Mumbai, a Tamarind Saiso, a gooseberry saison etc. We are also working on our big Millet Project, where we are in touch with local farmers to purchase malted millets such as Bajra and Nachni from them to brew beers with that. That's going to be a first for any Indian brewery – a beer brewed with 100% Indian millets.
Can you tell me more about your collaboration with O Pedro as you are doing specialty brews for them? How did that idea come?
We've built a special pilot system, to brew 200 litre batches. The idea for this came from a certain fear I had. I noticed that homebrewers who turned pro almost always stop any homebrewing after they set up breweries. Can't blame them! I see now, having started Great State, that there's so much work to deal with. The same would've happened to me if not for the good decision of building this pilot system. Now, experimentation is our art. Not just me, our brewers also experiment and come up with recipe ideas. We encourage to try new things, and even potentially lose money on these, in case it doesn't turn out well. When we met Chef Thomas at The Bombay Canteen and told him and the team of our pilot system, they were very keen on us trying something unique for their new Goan restaurant, O Pedro. They asked us to try beers with pineapple, tamarind and coconut, especially designed to pair with their Goan food. That's how this came about to weeks later, we went back with samples, and the Coconut Cream Ale was chosen, and named Pedro's Nariyaal Paani (full credit to them for the name!). It is a beautifull light beer, which has the tender coconut sweetness, and pairs very well with some of the dishes at O Pedro! After that, we've also brewed a beer called Pineapple Parade for their February carnival, which is a saison with toasted tirphal (goan peppercorn) and pineapple.
Do you plan on opening a taproom soon?
No plans yet. Focus is for now is on getting production brewing right, and not piling on too many things on our plate. But we love our food. We love cooking. Rohan, though an amateur chef, is very good in the kitchen and particularly good at smoking meats in the offset smoker that he has himself designed and built. We make sure we do at least on grillworks (as we call it) pop-up a month, so we keep adding to our 'dream menu', for that eventual taproom! If and when it happens organically, we'll be ready.
So right now is it completely a bootstrap venture? Or you have funding?
No. Its only bootstrapped, Friends and family.
What is the concept of your brewery and how do you differentiate yourself from other breweries?
A few things differentiate us from others. Firstly, we've designed our entire brewery ourselves and gotten it fabricated by a local fabricator in Nasik. This fabricator, Alfatech, has executed some very impressive winery projects around India, and they've done a fabulous job of execution with our system as well. This approach saved us a lot of that precious commodity called money! We took full advantage of the friendly community we are a part of, and took design suggestions from brewers at Irish Village, Independence Brewing Company and of course, Doolally. But I must say, we are not the only ones following this approach. A lot of homebrewers who have turned pro in the recent year or two, have done the same in Maharashtra. In fact, we helped each other out through the process.
The second differentiator is our 200 litre pilot system. We want to be the brewery that has brewed 15 beers in our first year. 3-4 flagships like our Brightside Witbier and Off Duty Pale Ale, and 11-12 experimental beers like Pedro's Nariyaal Paani.
Another differentiating factor is that are serving across 4 cities in Maharashtra right now: Pune, Mumbai, Nasik and Aurangabad.
What are your thoughts on this industry?
My brother who lives in the US finds it unbelievable that in this industry we share recipes, designs and just about everything. No other industry is like this. Even chefs are very competitive, they never share recipes, they never share where they are buying ingredients from. But in this industry, it is extremely open. I read a book by a craft brewer in the US called Sam Calagione of Dogfish Head. He says something very interesting in that book. He says that as brewers we are in the business of enlightening the customer about what beer is, that there's more to beer than the commercial highly carbonated lagers we've been drinking all our lives. And that the consumer is more likely to get enlightened, if theres more than one source of enlightenment! What a line! I think that sums us all up. We are all tiny drops in the ocean, individual we can't make a difference. But together, if we all do our bit to spread the sub culture of craft beer, then we will all benefit.
Lot of imported beers are coming to India. Do you think that the market is opening up?
Some of these beers are ridiculously expensive, especially in Maharashtra where liquor taxes on imports are very high. MRP 500, restaurant will sell for 1500. Who's going to buy them? Usually these bottles are not stored well, or they are past their expiry. They are often oxidized and taste off. I don't know how much these imports do to open up the market.
BIRA is a different case though. They came in as imported beer, but the price was right. They've definitely opened the market. We need more such brands to enter the market.
You think hard liquor will come under craft alcohol? There's a craft gin in Goa.
I have seen that trend in the US during my stay there. Small gin and whiskey distilleries that had started popping up here and there along with craft breweries in big cities. It's a very new concept, but yes it could happen.
Do you also plan on serving your beer in Tier 2 and tier 3 cities?
Yes, we are already serving in Nashik and Aurangabad. I do not want to be a big city brewery. We are getting calls from Kolhapur; tier II cities have a very big market. People there are well travelled, have tasted Bira and other imports. They know about beer and have deep pockets, sometimes more than the big cities.
Do you plan on going North or Bangalore?
No plans. We have a big market here to deal with for the foreseeable future.
Any advise for future entrepreneurs who are looking to get into this business?
Yes, DIY. I mean the only way to do this especially if you're bootstrapping and if you don't have those kinds of funds. Even if you have been funded, do it yourself, start home brewing, understand the basics. You don't have to home brew for 5 years. Do it simultaneously as you set up. Point is, learn about the product yourself instead of outsourcing the set up to consultants. Not only will you have a great time doing it, you'll also know how to manage your beer portfolio yourself.