Drifters Brewing Company: The Story Of A Beer-Loving Duo Who Travelled The World In Search Of The Meaning Of 'Craft'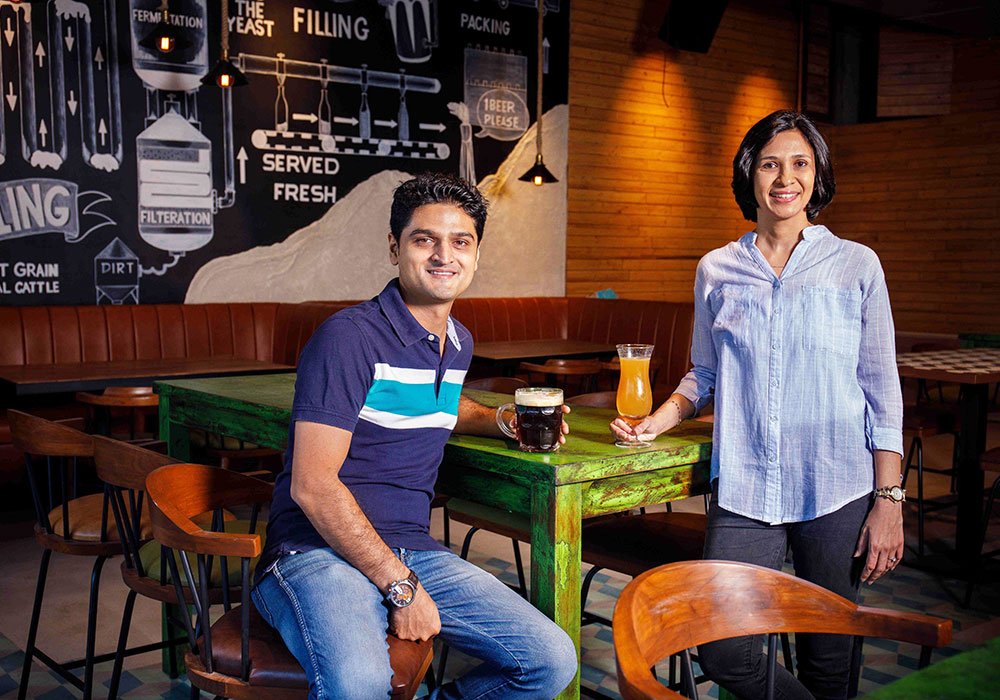 Years ago, choosing a beer off the bar menu was easy. It was all a matter of taking your pick from a handful of well-known, commercial brands mass-producing the standard lager.
That is until the craft beer revolution took over the world: teaching beer drinkers everywhere that real beer is as much about individuality and exploration as it is about brewing traditions and the overall flavour experience.
With so much heritage and so many beer cultures to explore, discovering great beer is a never-ending journey. And somewhere, in the heart of the bustling metropolis of Mumbai, is one microbrewery that serves as a constant reminder of this fact.
With three growler stations and two sprawling tap stations in some of the city's poshest neighbourhoods, Drifters Brewing Company is busy making dreams come true for craft beer lovers in the city that never sleeps. The microbrewery stands out the most for its impressive range of Eastern European-inspired handcrafted beers.

The 'Drifters' story
Interestingly, the name 'Drifters' came about on founder Nayan Shah and his wife and business partner, Sheetal's quest to understanding what makes a good craft beer and to finding a proper brewmaster for their new microbrewery.
"We can't remember our first experience drinking beer, but we can definitely tell you about our first experience trying a craft beer," says Nayan. "We were on a trip to Europe in 2009 and had our first craft beer there. It was the first time we had a beer that was so amazing and refreshing. It was while having that beer we realised that we can introduce something like this in India, but with our own spin."
"The need was so urgent, we wandered across the world from Europe to USA, Canada to Australia continuously for six months without resting at home. That's why we thought the name 'Drifters' was perfect for a brand like ours that's born out of a vision for spreading the love for crafted beer with others who appreciate nothing but the finest." he further elaborates.
Nayan and Sheetal's efforts weren't in vain. Very soon, the duo connected with Mr. Honza Locka, a brewmaster based in the Czech Republic, who thoroughly studied the Indian market and designed six basic recipes for them to start with initially. "Honza also helped me learn more about craft beers, so I could eventually go on to becoming a brewmaster myself and be part of the process of creating interesting beers for our brand," says Nayan.
Today, the microbrewery uses beer crafting processes and techniques that simulate the centuries-old brewing techniques of the Czechs that have been passed down for generations. As such, they involve minimal machine work and more manual labour.
Challenges encountered and overcome
Needless to say, setting up a brewery in India is no walk in the park, especially in a state like Maharashtra. But for Nayan and Sheetal, the biggest challenge was getting the approval for a brewery license in the first place. "It took us two and a half years to get a license. It's very slow in Maharashtra; during that process we invested a lot in property and equipment while there was no revenue for two and a half years. It was a very challenging time for us, but our patience and passion for beer sailed us through," explains Nayan.
Once the license was acquired, the next big challenge was to get a regular supply of their quality ingredients without any disturbance. "This is when we decided to source our own malts from a maltster based in the Czech Republic while our hops would come in from across the world.
Thanks to their own independent storage facility at the brewery, the quality of these raw materials remains intact, ensuring the final beer output is consistent in terms of appearance, aroma, flavour and mouthfeel.
On the growl for quality and consistency
Shortly after tasting success after the launch of their first-ever growler station in Pune, Drifters made big news by launching two additional growler stations in Powai and Thane in Mumbai this January.
"People love to drink craft beers in the comfort of their home, which is why we decided to expand via the Growler Station model," says Nayan. The new stations offer both pickup and delivery services for beer enthusiasts to quench their thirst and fill up their growlers routinely.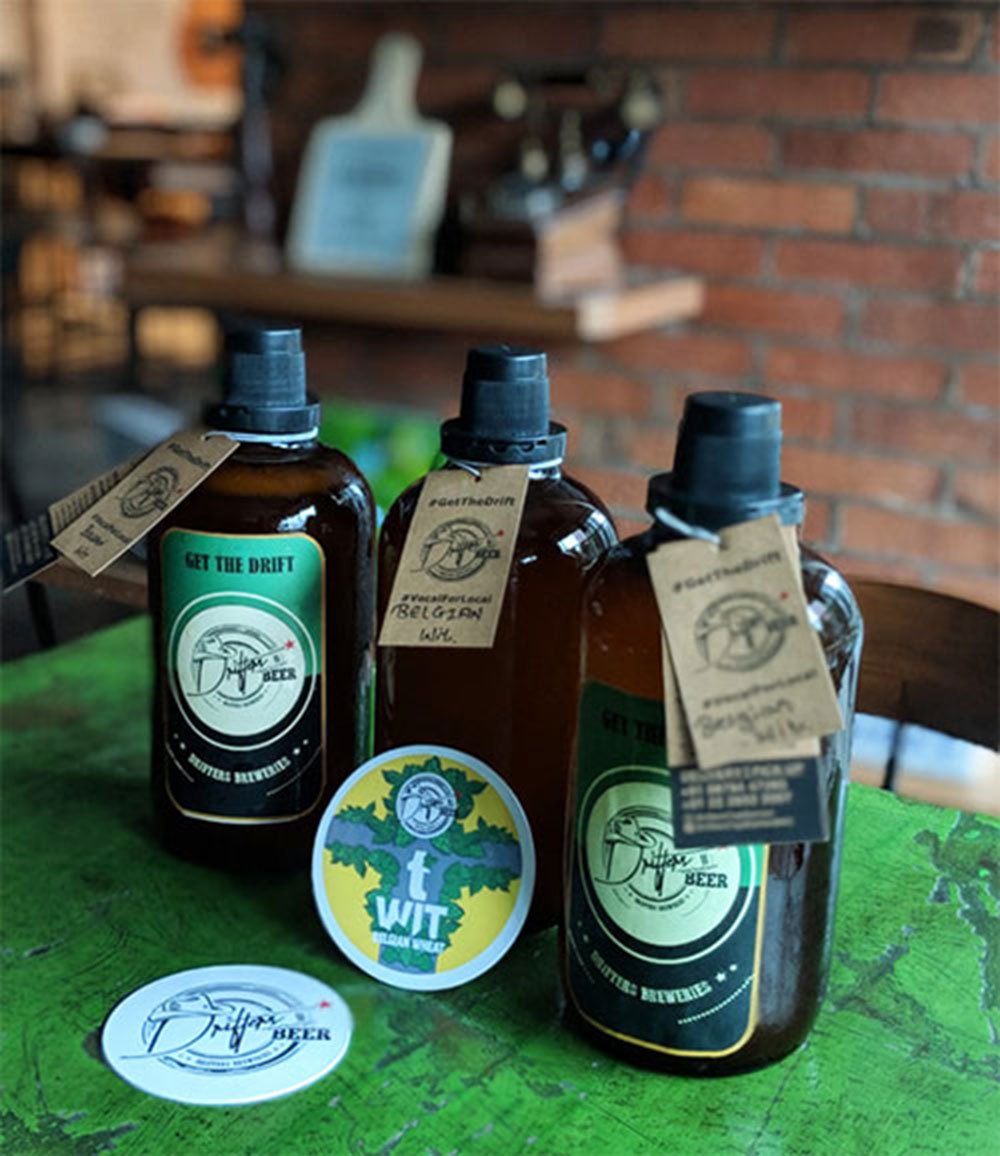 When asked about his thoughts on the Growler Policy being made permanent, Nayan immediately takes the opportunity to acknowledge how it was a life-saving decision for the craft brewery industry in this state. "Due to the pandemic, many breweries have had to shut shop permanently. We have all borne very heavy losses during the lockdown and when the growler policy was introduced, many of us were able to start operations again. But making it permanent really gives us an opportunity to grow, for we are now able to directly reach our consumers as opposed to waiting for them to come to us.", elaborates Nayan.
Furthermore, Nayan believes this decision has brought in a lot of new customers to the craft beer scene. "Craft beer in India started back in around 2008-2009, but if we talk about revolution, I feel it's just started for some parts now. If we talk about Bangalore specifically, it is a very mature market for craft beer, but still if we compare ourselves to the other parts of the world like the USA, Canada, Australia we are just starting off. With the introduction of growlers, I feel people have definitely started to understand craft beer better than before," he says.
As far as the relevance of e-commerce is concerned, Nayan states while declaring the fact that 50 percent of Drifters' Growler business depends on E-commerce and home delivery: "We strongly believe e-commerce needs to be in place for us to grow faster. The consumer is happy to place orders online and get the beers delivered at their doorstep without any hassle. Government should look into it to make it permanent especially after the pandemic."
Notes on India's customer palate
Behind all the mouthwatering menu items that pair seamlessly with the beers at Drifters is Sheetal – who is a pro at analysing consumer palates. "Studying the consumer palate while brainstorming for food pairing ideas made me realise that unlike the USA or Australia, Indian consumers do not have a palate that is friendly for bitter beers like IPA or Pale ales," explains Sheetal. "Indian consumers like their beer to be a little bit on a sweeter side due to which the bestsellers at any brewery would be Wheat Beers and Ciders. Flavours like these are instilled in our palate from childhood; we have all had wheat in our regular diet so our palate is very friendly with its taste.
Having said that, we have started noticing a difference in the market now after our experiments with Lager. I can now say that the consumers like easy drinking and refreshing lagers as well, which are not sweet at all." she adds.
Key learnings from 2020 and the road ahead
It goes without saying that the year 2020 was great learning for everyone in their own way but for Drifters specifically, it was a year of unlearning and adapting. "We learned a lot about how to run operations with low staff and how to manage our business with small funds while still keeping it running smoothly. The difficult scenarios we face make us learn new ways to make our business profitable with limited resources," says Nayan.
In 2021, Drifters will be focusing on creating a new trend of innovative beers that was introduced at the end of 2020, kicking off the Raspberry Vanilla Milkshake Sour Ale and the Imperial Ice Cream Stout that was launched exclusively on Valentine's Day. The brand is also geared up to lay more emphasis on improving their customer service in all their operating areas while aiming for more expansion via both tap and growler stations.
Beers to try at Drifters Brewing Company
If you're a craft beer lover and haven't visited Drifters yet, you're surely missing out.
In addition to the Belgian Wit and the Hefeweizen which are absolute bestsellers, there's also super crisp Czech Pilsner that's a must-try. Those who love living the 'lager' life, are sure to find themselves spoiled for choice as this microbrewery has plenty to offer such as the Czech Amber Lager, India Pale Lager, the Vienna lager and the Helles. Additionally, on tap, visitors will also find the Kokum Cider which is sure to hit the spot for those who like their ciders sweet. If you're big on malt, the Irish Red Ale is probably going to be your favourite.
Visit Drifters Brewing Company now or take home a growler of some freshly crafted beer to enjoy – and thank us later!