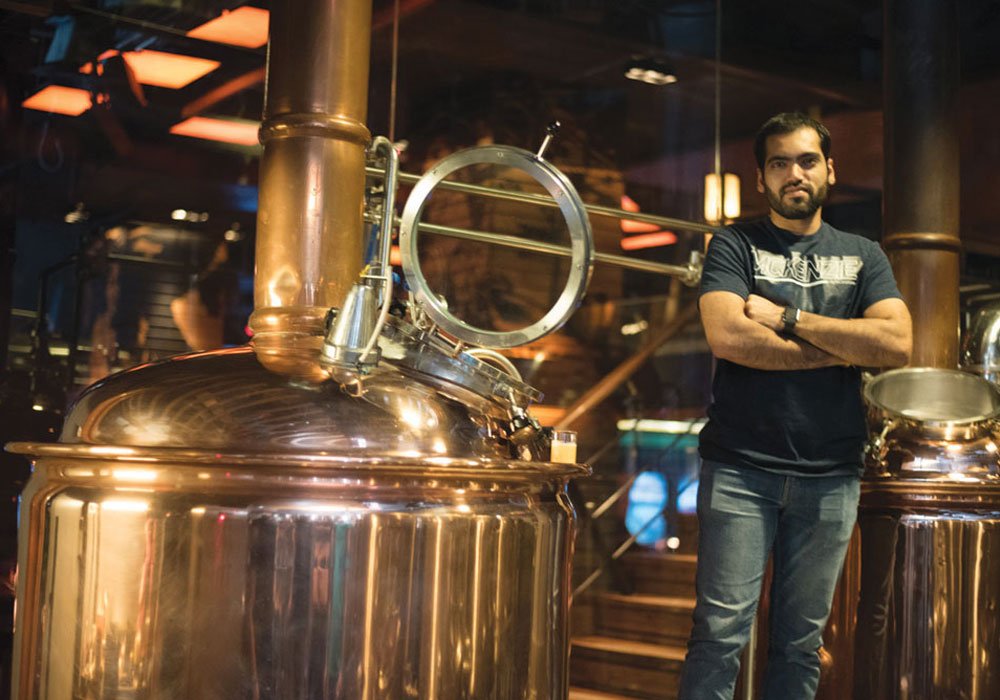 Amit Mishra
Master Brewer, RJ Brewing Solutions
Born in Mumbai, and raised in Bahrain, Master Brewer Amit Mishra certainly adds his own unique flair to brewing style. He completed B.E Biotechnology from MS Ramaiah Institute of Technology, Bangalore and went on to further specialize with M.Sc. in Brewing and Distilling from Heriot Watt University. He is an avid fan of cricket and enjoys long distance running, hiking and martial arts to stay fit. Amit shares his perspectives and love for brewing with BW.
"Early on in life my grandfather instilled a sense of Art. He taught me to write and draw, that helped me win a lot of school competitions and also develop my creativity. As a brewer, it is also important to have a sound physical body else you won't be able to lift all those sacks of malt, it's a back breaking job" states Amit. When we asked him about where his love for beer began, he adds, "Back in 2010 in Scotland, its where my love for beer began while still studying. I would usually pick a new craft beer from the shelf to try while shopping for groceries. I was surprised that beer could be so complex and varied in terms of flavour and colours; it was unlike the ones I was used to drinking in India (LAGERS!). Back then there weren't any real beers in the country. The pilot system at ICBD in the University was our training ground where we first learned to handle malt bags, hoses and jet washing guns. Most Monday mornings at 9 AM we started the day with triangle taste tests for the beer that was brewed on the pilot system. The toughest thing about the master's program was the dissertation for me"
Speaking to Amit, about what he adds to the brewing table, his answer is quirky yet absolute. "Like Bruce lee says, 'Absorb what is useful, discard what is useless and add what is uniquely your own' so the unique factor is just you and your imagination'. You learn something new each brew day if you observe every step of the beer very keenly and then try to implement it next time. Improvise. The question is how well can you bring the beer that you first designed in your mind into the glass? Like a chef you must have an idea of what combinations will work; this is where your creative and artistic sides are explored. Randomness is not always kind when it comes to brewing. The colour, aroma, flavors and when you get everything spot on just like you imagined it's a great feeling – That's the real joy of brewing".
"In this country, the numerous palates one must cater for, is incredible. I observed newbies initially tend to pick light and fruity flavours and those that are close to our commercial lagers (ultimately colour is what most people relate to first!). Beers such as Hefeweizen, Lagers and Blonde serve as a doorway into the craft beer world. People will also rely on recommendations of a friend or colleague who accompany them as they are initially confused. Once the taste buds mature they move on to other styles IPA's and Stouts. A few love to try the seasonal beers new style every month at most pubs; it's where brewers get to be most creative. If you see them ask for the same beer it means they love it", states Amit, when he was asked about his thoughts on customers taste preference. "It is challenging to cater to the strategy of brewing reasonably good beers given the swamped Bangalore markets. But you must keep evolving your product. Good recipes are not built in a day (maybe some!) but most require time and dedication to perfect them to make it as true to style as possible. Also, you should keep an open mind; a lot of culinary ingredients are nowadays used in brewing experimental styles. You think about it and it's been brewed with".
"The current scenario of the craft beer industry in India is a little dicey; it sounds like an outstanding business plan, but it is more painful right now. It needs a lot of persistence and investment.
We should thank all entrepreneurs in India, who have persevered against such odds to bring craft beer back to this country. We are growing at great pace but only in the Brewpub sector.Production microbreweries are only a handful. We have the volumes but the government has to start accepting craft breweries as a new separate sector in alcohol beverage industry and make rules and norms specifically for it, this will help channelize the industry. We don't fall in the macro brewing community. Our alcohol strength varies as per style and excise has limited us to 8% which prevents many styles to be brewed. As for the general public; they need to understand what they drink. Drink more local, not cheap, but local with awareness", states Amit.
Like Bruce lee says, 'Absorb what is useful, discard what is useless and add what is uniquely your own' so the unique factor is just you and your imagination'. You learn something new each brew day if you observe every step of the beer very keenly and then try to implement it next time.
On questioning Amit about some of the challenges that affect the production of good beers in India, he states three main points. "The government of course, is the biggest hurdle. Licensing and laws are such that only people with deep pockets can hope to open a brewery. We are also highly dependent on imports for quality raw material. Although there are a few people researching into growing quality hops and malts but it's happening at very slow pace. And lastly, home brewing is still illegal in the country".
Ending our session on a lighter note, we asked this dynamic master brewer to spill the beans on what is currently brewing. "I can definitely tell you what I'm working on, but It be best if you were able to try them", adds Amit. "Currently, we brewed a Traditional Bock which was on tap last month for Octoberfest – A classic malty German style strong lager. It's a style that's disappearing as only handful of breweries makes those now. Alongside this, we brewed a NEIPA – New England style IPA brewed in collaboration with a Belgian Brew master. It's a popular new age IPA style which focuses on Hop character without being overwhelmingly bitter. And as 'tis the season for all things merry' a Christmas special – Dark, high ABV and malt forward ale infused with vanilla, cacao nibs and cinnamon; festive yet warming".
Rapid Fire Round:
1) Favourite beer?
Hard to choose so I picked some classics!
US – Sierra Nevada Pale Ale
UK – Brewdog Punk IPA
Germany – Weihenstephaner Hefeweiss Bier
Belgium – Cantillon Gueuze Lambic
2) Favourite beer bar in India and Abroad?
Windmills Craftworks (Unbiased) and Tap House Munich.
3) One of the places you've been yearning to visit to try the brews of?
JAPAN – It is on my next 'to visit' list.
4) Any advice/pointers for the younger and upcoming brewers?
Don't buy every positive feedback you get. You should be happy with what you brew but don't be satisfied. There is always room to improve.
5) Your all-time favourite ingredient to brew with?
Special B and Maris Otter pale ale in malts. Styrian Golding, EKG and Centennial in Hops.
6) What is your brew motto?
Stick to basics, master brewing classic styles first on any system before going experimental. And most importantly be inventive and take risks, you don't have to keep brewing in the same way.