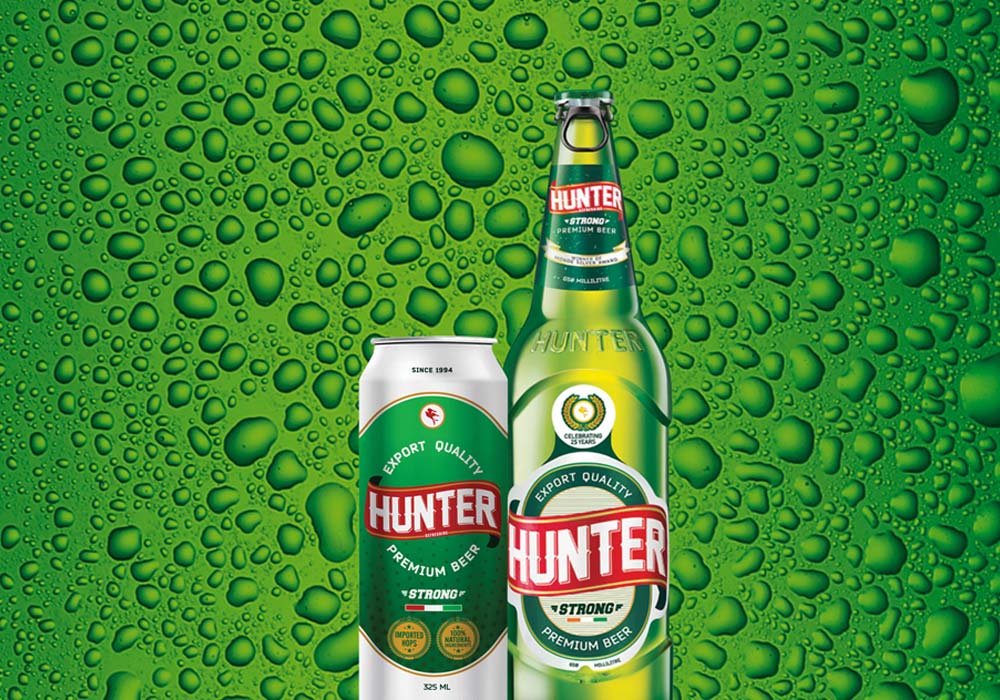 One of the older and well established brands in central India, Som Breweries and Distilleries has it all charted out clearly the roadmap to innovation in beer, premium product and packaging and then, joining the flavors and craft bandwagon.
The nineteen nineties saw a huge transformation in India and Indians. The rapid opening up of the economy, accompanied by sudden changes in consumerist behavior, and the explosion of global media in Indian homes-brought about unprecedented changes in the Indian market for almost everything.
Beverages also saw this social change and as the concept of pubs grew in the southern states, the production and sale of light drinks like beer held ground in the North. Som Distilleries & Breweries Limited, set up plant for brewing, fermentation, bottling, canning and blending of beer and Indian Made Foreign Liquor near Bhopal, Madhya Pradesh in 1994. The brands being manufactured were Hunter Beer, Black Fort Rum, Whitefox vodka and Whitefox refresh RTD, and Legend Whisky-the leading products of the group. Today, the group boasts of the largest single location brewery in India and a distillery which is the largest in Central India.
In Hindu mythology "Som Ras" is an intoxicant of the Gods. Says Deepak Arora, CEO, "in the time frame spanning more than a quarter century of corporate journey, growth and innovation have always remained the two constants. On this strong foundation, the SOM group has created a base that is growing stronger every year."
Som Group's liquor and beer manufacturing is set up in MP with state of the art fermentation, storage and maturation facilities. It is one of the first breweries in Central India to be fully automated. It has installed MIMIC panel and SKADA Central Control Panel Facility to monitor and control the operating temperature of fermenters, maturation, bright beer tank and yeast vessels using Programme Logic Control (PLC) system.
The company was set up by JK Arora, who is now CMD, Som Group of Companies with Mr. Deepak Arora as CEO.
"Som boasts of significant and innovative brands in its Beer & IMFL portfolio. White Fox Refresh, a flavored Vodka-based RTD–lime and orange flavors are is already a hit with Gen-Next. A new variant, White Fox Refresh Cranberry, has launched recently, and is meant especially for the party season," Deepak Arora says.
SDBL was also one of the first units in India to introduce the concept of Unitank Technology. Here, both the fermentation and maturation of the brew is carried out in the same process tank. The concept is imported from Germany, and ensures minimum or no oxygen pick up while bottling, canning or kegging of beer. SDBL is also the first brewery in central India to setup "Canning Operations" in 2000.
Today the company caters to all types of consumer through the Hunter Refreshing Premium Beer, Black Fort Premium Beer, Power 1000–Strong, Woodpecker Lager and Power Cool. These brands are synonymous with quality & have been awarded the 'Fastest Growing Company Award' by INDSPIRIT–Jan 2014. For its CSR efforts and green focus, the company has received the 'CSR award' and Best Debut Award for Milestone 100 Whiskey-SPIRITZ Awards for May 2014.
Som brands also sell in CSD (army canteen outlets), and find great traction across the country. On the domestic front, the company has an extensive marketing and distribution network covering the states of Madhya Pradesh, Chhattisgarh, Delhi, Haryana, Himachal Pradesh, Chandigarh, Uttrakhand, Tamil Nadu, Andhra Pradesh, Puduchery, Jharkhand, Orissa, West Bengal, Daman and Diu among others.
Som also has a well established network in more than 22 countries. Among them are Nigeria, Mozambique, Republic of Dominica, Dubai, Oman, Japan, South Korea, Singapore, Malaysia, Vietnam, Australia, New Zealand, Nigeria, Angola, Congo, Sudan, Tanzania, Uganda, Norway, Sweden, UK, Haiti, Panama, Zambia, Cambodia, UAE, Kenya and US.
Among the recognitions SDBL has received are the Best Ranking by 'Forbes' in 'Top 200 companies' in Asia Pacific under a billion' (small & medium) – Aug 2013, the 'Monde selection quality awards' (France) for 'Milestone 100' premium whiskey (Gold), White Fox Vodka (Silver) and Hunter Beer (Silver)-June 2014. SDBL has also been ranked 86th in the country by Inc. India 500 as fastest growing companies-2013.
Says Raju Vaziraney, President-Sales & Marketing, Som Distilleries and Breweries Limited, "In India, 85% beer consumption is strong, so our brand Hunter is quite accepted for a number of years now.
Over the last 18 months, we have launched Hunter Strong in the premium category. It has hit the market with great packing and ring pull cap with a new bottle. It is 20% premium on Hunter, and is doing very well in the market."
While there are certain plans on for development, Vaziraney is candid about the challenges commercial brewers face in India. "Liquor is a state subject, and we have 30 excise authorities in the country. Every state has its own policy. Globally, FSSAI standards are prevalent, but our regulations enforce both central as well as state regulations."
The costs of raw materials is from a sellers' market as far as India is concerned, and all the commercial brewers can do is value engineering, to ensure the costs justify the prices of the beer. As Vaziraney puts it, SBDL uses largely Indian raw materials, like malt and hops but the equipment is fully German. He points out, "all input costs are not under control, and selling price too is controlled by excise department. So we have a very difficult situation where prices keep on growing higher, and bottomlines are under great pressure."
He adds, "once GST is introduced, matters may turn out more complicated than now since liquor is not covered under GST. However, the Indian beer customer is, today, very aspirational so premium is also accepted very well in the market, which could help absorb some of the cost."
But, there are discussions and strategies in place to ensure protection of revenues while never compromising on quality of beer. Perhaps that is why even the influx of so many new brands has not really spelt doom for SBDL's brands.
With the market so expansive, does Vaziraney think the advent of craft breweries will make any dent in the commercial brewers market or their brand products? He has a completely different idea on this line. "As in the West, craft beer is in vogue in India as well now. I do not think there is any threat to branded bottles, or any established brands. In fact, we are also working in same lines; you will see our wheat beer very soon in the market. We will address the consumer aspirations in a proper manner, so no one gets to lose any part of the market.
We will also venture into draft and beer on tap". So the strategy is, instead of creating more competition, bigger brewers could join the bandwagon of changing tastes in increasing customer base in the country and leverage their established technology and production bases to meet market demands. No one gets to lose market share…everyone gets to gain on great taste!
Som Group also has a well-established CSR program with initiatives in healthcare, clean drinking water, education and rural employment sectors. With the philosophy of 'Giving back to society', it has a CSR that runs the 'Asha Mohan Foundation Society' that undertakes various welfare programs.
Today SOM group has come a long way, and is being acknowledged as one of leading liquor brand in many parts of the country. The company owes this achievement to all its associates, partners and members of SOM family. "Som is inclined on the premiumisation drive and its recent revamp of its portfolio is testament to this endeavor. The launch of new products meeting great success on the upper side of the value chain is driving SOM's energy to create the world class products at attractive prices," Deepak Arora signs off.