This Craft Beer from Goa Brewing Co. is an Ode to the Saint & Sinner in All of Us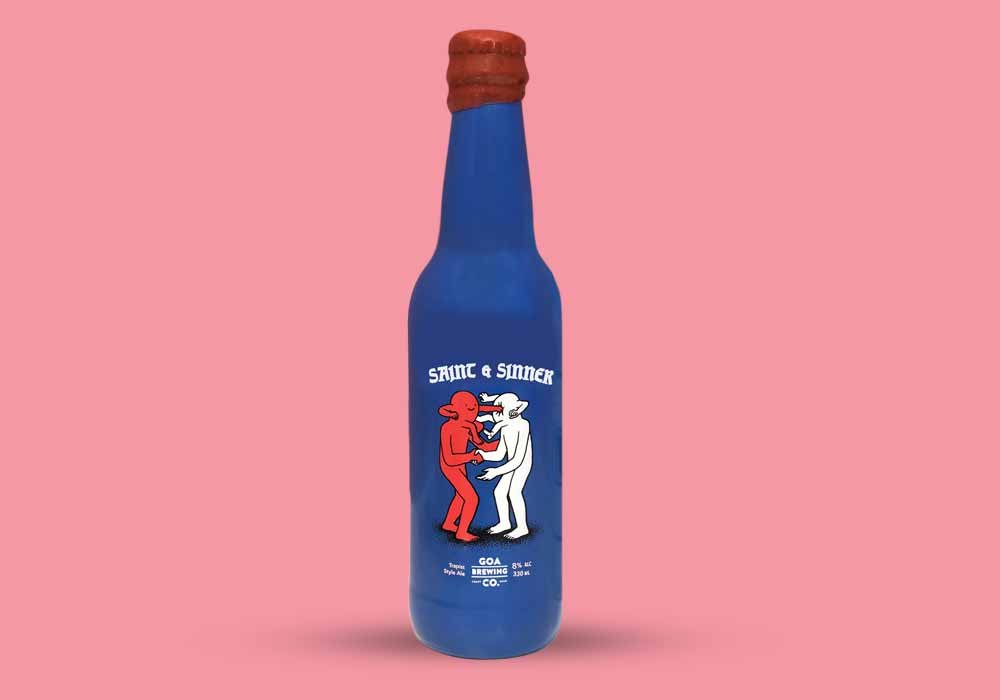 As a brand that's steadfastly proud of our rich Indian heritage and culture, craft beer company Goa Brewing Co. is synonymous with words like "non-conformist", "homegrown" and "authentic" – just like their beers. Whether it's the Eight Finger Eddie or the Pineapple Saison, Goa Brewing Co. goes to great lengths to ensure that their beers have flavour profiles that are just as unique as their individual personalities.
Speaking of personalities, the brewery dropped a new craft beer early October, last year – one that instantly caught the attention of craft beer fanatics thanks to its bright "forget-me-not" blue, ceramic paint-coated bottle, sporting a pair of humanoid figures. Named Saint & Sinner, this craft brew is an ode to the wonderfully complex attributes of human nature and is almost an encouragement to its drinkers to proudly embrace the two sides of their personality.
"There's a saint side as well a sinner side to all of us," explains Suraj Shenai, owner at Goa Brewing Co. "Every day is a tussle between these two sides and we think both deserve to be equally embraced as that's what makes each one of us so unique. Hence, the name – Saint & Sinner."
When asked about the unique artwork on the bottle, Suraj proceeded to tell us about the importance of expression. "Expression in any form is important to us, whether it is in the form of beer styles or art used to promote that beer. We believe strongly in using art and design as a medium to convey messages to our consumers for what we do at Goa Brewing Co. Every beer is distinctive and seeks a character of its own, hence the need for design and artwork that's exclusive to that beer personality so that our audience identifies with them better."
Illustrated by Daan Botlek, a street artist and illustrator based in Rotterdam, Netherlands, the artwork on the Saint & Sinner bottle stands out from anything else we've seen before.
"Daan Botlek is easily recognised by his art, which often makes use of character-driven humanoids and simplistic illustrations that interact with the space around them. Through his art, he draws bridges between universal paradoxes: the finite and infinite, figurative and abstract that tugs at the heartstrings of people from all over the world, " Suraj tells us.
"For Saint & Sinner, he has used those same humanoids to express everything we wanted the beer to communicate to its drinkers, even before they had taken a sip."
The craft beer itself is Goa Brewing Co.'s take on the traditional Belgian beers brewed by the Trappist monks in winter around Christmas.
"Among all the other Trappist Beers, the Christmas ales are actually the boldest expression," brewmaster Dr. Asthavinayak Paradh (fondly known as Dr. Ash) tells us. "These ales are brewed in limited batches and are meant to be consumed during the cold months of the festive season. This is what we visualised for Saint & Sinner as well. Historically, Christmas ales derived a lot of their flavours from authentic, local Christmas desserts. Following that tradition, we used locally sourced coconut jaggery, a flavour that often finds its way into many of our beloved Goan desserts."
According to Dr. Ash, a good high alcohol beer shouldn't taste solventy, but instead, should be complemented with the right balance of high flavours and aromas.
Saint & Sinner is brewed using specialty malts: a combination of caramel and crystal malts that lends the beer a solid backbone. The recipe also involves Abbaye yeast, a Belgian style yeast that has high attenuation or the ability to eat sugars and sustain high alcohols. "We also use Columbus hops, a variety that has a well-rounded bitterness that's perfect for this particular beer," explains Dr. Ash.
The beer boasts of prominent characteristics of plums, bananas, and cloves, cinnamon and dry fruits, perfectly complemented by the citrusy notes of Curacao orange peels and balanced by the rich caramel aroma and toasty notes of English treacle and Demerara sugar. The recipe finally finishes off with a helping of locally sourced coconut jaggery and molasses that further intensifies the caramelly flavour and aroma of the beer.
"Our brewers use a technique called "step mashing" for making this beer. All our specialty ingredients like the English treacle, orange peel, jaggery go in at the end of the boil. The initial gravity is very high so the beer is left to ferment for 10 – 15 days at 18 degrees. This gives a well-balanced fruity, estery aroma to the brew. Our maturation process is also fairly lengthy and takes place for a month and a half." says Dr. Ash, when asked about the brewing process of Saint & Sinner.
The result? A heavy-bodied ale that has a smooth and soft mouthfeel with delightfully strong caramel and toffee tones. When poured, it finishes off with a rich, cinnamon-coloured head with a lasting foam that further lends a smooth drinking experience to this beer.
While Saint & Sinner tastes the best when served at 4 degrees, it's not just the temperature that enhances the flavour of this beer. The magical duality of this particular beer shines through with time and temperature, wherein the taste and the aroma change once it's left to sit for a while. So while one may notice flavours of banana and dry fruits during your first few sips, he may just as well come across more prominent notes of caramel and plums a while later. If you're looking to pair this beer with food, Suraj and Dr. Ash strongly recommend marrying it with yummy dessert items like plum cake.
"The design of our bottle is not just artistic, but also serves the purpose of preserving the authenticity of this beer," Suraj explains. "If you've seen the Saint & Sinner bottle, it has a wax seal on the cap. It has been put there for a reason because we don't want people to drink this beer straight from the bottle. Rather, we encourage this beer to be poured out – and enjoyed slowly, one sip at a time.
Furthermore, the main purpose of painting the bottle was to bottle condition it, so as to eliminate any undesirable changes in flavours that could be triggered due to external environmental factors like light exposure.  This is a beer that is meant to age gracefully, and we needed our bottle design to aid that process, not hinder it."
In a hardcore, whiskey-drinking country, it appears that beer may have finally made an impression on Indians, and we have Indian craft brewers to thank for that. From introducing popular international beer styles from all around the world to giving the alcobev a fun desi twist that connects instantly with the local palate, beer is no longer one of your regular mainstream alcohol choices. Rather, it is an art that brings to your table a fusion of international culture and unconventional homegrown flavours that entice your taste buds like never before.
But as with every work of art, there is always the danger of counterfeit products flooding the market and marring the genuineness and the originality it is meant to exude. And that's exactly what Goa Brewing Co. is out to address with Saint & Sinner – to teach beer lovers how to distinguish between the authentic and imitation craft beers in the market by introducing craft brews that are painstakingly crafted with plenty of care, attention and reverence for beer and the art of brewing it.