Anecdotes On Life As A Brewmaster By Red Rhino's Pilsner-Loving Dan Satterthwaite!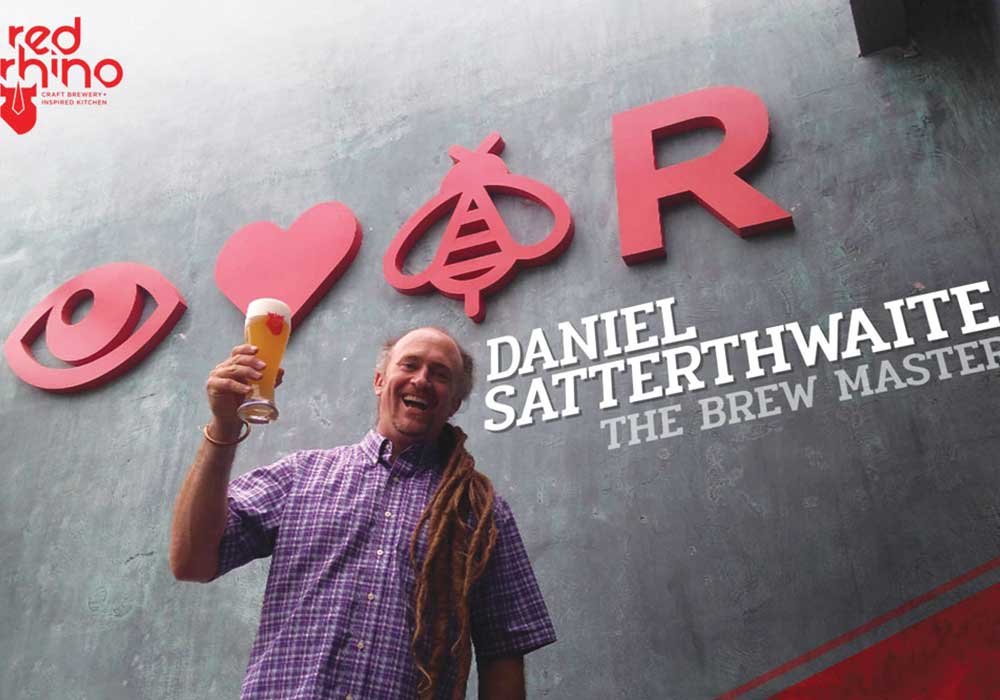 When Kishore Pallamreddy founded one of Bengaluru's hippest microbreweries, he was very determined he wanted someone from the American craft brewing industry to join his team.
Kishore eventually bumped into Dan Satterthwaite online. This was followed by the duo meeting each other at Las Vegas where they found themselves shaking hands over their mutual appreciation for finely crafted beer and agreeing that their similarity in approach towards achieving this would benefit both of them.
Thus, Red Rhino Craft Brewery & Inspired Kitchen got its brewmaster in the summer of 2018. Dan has spent 2 and a half years working at Red Rhino already.
But many people in the Beer Capital's beer-thirsty community, especially those who are regular Red Rhino patrons, already know this story. What many of them don't know is that Dan actually had his first sip of beer in India at the age of thirteen.
"I was living in New Delhi near Lodhi Gardens.  Claridges Hotel was down the street from my house and they had this interesting outdoor bar and restaurant called Corbett's," recollects Dan. "I went there with a few friends and bought a beer at the bar.  This was in 1989 and I think the beer was Golden Eagle from Mohan Meakin Brewery in Himachal Pradesh!  It was a decidedly light lager, but, as a kid, I felt like an adult ready to conquer the world!"
Dan's love for beer seems to have taken him full circle, bringing him to becoming a brewmaster at Red Rhino. But as a kid, Dan wanted to be a journalist. "I wanted to travel the world looking for points where cultures intersect and mingle," he tells us.
"Traveling is one of my favourite things to do and when I am not traveling, I love to read and write about traveling.  Now, I am sharing my love of roaming this planet with my children. But that's the other great thing about being a brewer: it gives you the flexibility to travel. You can be anywhere and brew great beer. I admit when I started a career in craft brewing, I never thought it would allow me to travel the world.  But now, I have been to Germany, Japan, India, New Zealand for work at small and independent breweries. It's been fun!" – Dan Satterthwaite, Brewmaster, Red Rhino Craft Brewery & Inspired Kitchen
Dan's father was in the US Navy and while his family moved a lot when he was a child, he considers his hometown to be Washington D.C. where he lived on and off for 9 years. What's the Washington beer culture like?
"Today, their beer culture is much like the rest of the USA, full of independent craft brewers and craft beer bars; it has everything!" gushes Dan. "The Brickskeller was one of the best craft beer bars in the US at that time. It was an underground bar that had more than 2000 craft beers in the bottle from all over the world.  Their menu was like a book.  It was printed on basic white paper because everyone stole it as a reference to so many great beers!  Today, the NRG (neighbourhood restaurant group), owns the best craft beer bars as well as their flagship craft brewery, Bluejacket."
Dan began homebrewing for about three years before he moved to Arcata, California.  There were only four local craft breweries in the area at that time and Dan kept relentlessly applying to all of them every month until one decided to put him on their packaging line. "I used to fill case boxes and clean the floors," he says excitedly.  "It was a rag-tag bunch of weirdoes who loved their beer and made their craft their mission in life.  I learned so much that first year!"
It was in 1999 that Dan was finally offered a job as a brewer by Mad River Brewing Company – constructed out of the original Sierra Nevada 18 Barrel brewhouse that Ken Grossman built himself.
Today, Dan lends his skill and expertise to Red Rhino – filling one tap after another with delicious styles of beer that have many Bangalorean beer lovers making some great weekend memories at Red Rhino! Being exceptionally picky about his ingredients and where they are sourced from, Dan can pretty much picture the final beer output in his head just by looking at what's going into his beer. "Not all malt is the same quality.  Hops are delicate and need to be stored cold and fresh.  Yeast is probably the most underappreciated ingredient and have the largest effect on the finished beer.  Even the best-tasting water to start is extremely important," he explains.
That doesn't go to say that Dan hasn't brewed his fair share of not-so-great beers too. With more than 100 different beer recipes in his portfolio, not all of them, by his own admittance, have been fabulous.
"Every brewer has created beer that didn't taste great.  If someone says they have never made a bad beer, they are either a fake brewer or have yet to accept humility into their lives. A good brewer will have to dump beer down the drain from time to time in order to maintain quality and protect their success from being hurt by bad beer. Quality control is key to success and success also comes from never giving up. Real learning comes from trying something new and failing.  There is no other way to know the boundaries without failure." – Dan Satterthwaite, Brewmaster, Red Rhino Craft Brewery & Inspired Kitchen
From every trial-and-error round, Dan learned something more about raw materials, technique, patience, and surprising combinations. While he holds an international diploma in brewing technology from the World Brewing Academy/Siebel Institute, Dan believes it could only see him that much through in his journey to becoming a brewmaster. Experience and experimentation are key to being a unique craft brewer.
"Most of what I know has come from experience.  Go, Brew, Review, and Repeat.  It is a life challenge to make the finest pint of beer," he elaborates. "As a brewmaster, it is not all about what I know about beer. The real skill is to know what to do when things don't work out as planned.  Anyone can brew beer, but only a few will learn how to guide beer into something really amazing."
For Dan, beer brewing is more than a passion; it's a commitment you make and stick to. With beer brewing being a complex mix of art, science, effort and ingenuity, it's not enough to just love beer.
"The dedication to creating a consistent product that grabs the drinker's attention each time and transports them to an ethereal place is a life-long pursuit.  To love is to commit.  The first signs of love is only the beginning," he says, emphatically. "That's why I insist that new brewers need to be prepared to focus on the science of beer.  There will be a long time of hard work before brewing becomes second nature.  It is dangerous but fulfilling at the same time.  Listen to their seniors, focus on the basics, and learn from mistakes.  It is a long road, but it is also a path that can be interesting for a lifetime."
"But on the bright side," Dan adds, laughing, "When a great tasting beer comes through, the satisfaction of creating a beverage that will make so many people happy is where the fun comes in!  Not many jobs have, as a daily experience, a product that enhances the quality of life of the person consuming it."
Steadfast in his love for a good Pilsner, Dan appreciates a delicately-balanced malt-to-hop ratio, paired with a simple yeast profile and natural carbonation.  "The Pilsner is really the most challenging beer to make as a brewer and it can be appreciated at any time with any food from any culture.  If I were in Bangalore right now, I would rush out in the early morning on a Sunday to Hoskote and get freshly prepared Mutton Biryani and wash it down with a Red Rhino GPB. Enough to leave me floating on cloud 9 all day!" says Dan as he signs off this interview.
The Red Rhino Craft Brewery & Inspired Kitchen is an expansive microbrewery, situated in the heart of one of Bengaluru's prime IT spots is the place of choice for many craft beer lovers whether they're looking to wind down after a long week or simply looking to have a fun evening catching up with friends. With an impressive line-up of 9 craft beers on tap coupled with a fine selection of lip-smacking dishes for every style – Kishore, Dan, Executive Chef Kshama Prabhu and every other staff member at Red Rhino guarantees you a personalised craft beer experience that will keep you coming back for more!
Brewer World Exclusive