Meet Pubinno's Game-Changing AI Powered Smart Clean System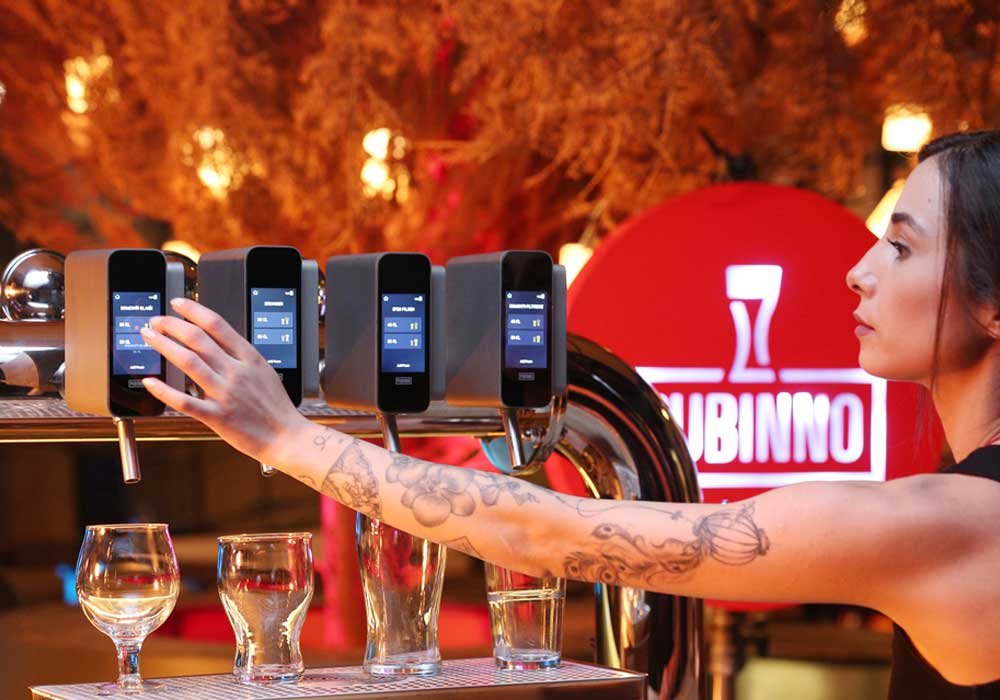 Pubinno, a San Francisco based startup, has recently launched a Smart Clean system that self-cleans the draft beer lines. Powered by artificial intelligence, 'Smart Clean' is developed to fully automate and digitalise the periodical cleaning of draft beer lines. Pubinno's Smart Clean system flushes draft lines with regards to their usage metrics, beer type, cooling system and length.
The Smart Clean system has the highest hygienic standards. It helps eliminate 85% of physical human touch from the entire draft beer line cleaning process. In a single go, up to four draft beer lines can be cleaned simultaneously without any external dependencies. Smart Clean also gives bar/brewery/pub owners the ability to schedule their own draft beer line cleanings. This enables a business to set up cleaning as soon as the keg runs out of beer.
Award Winning Design
Smart Clean's patented AquaVibra™ technology improves effectiveness and efficiency of the regular line cleaning process. The process ensures to shake the cleaning solution and water inside the draft beer lines towards different directions. This is done to exert additional friction on the inner walls of the lines. AquaVibra™ technology has 400% more pressure on the inner walls of beer lines to ensure the highest possible standards of hygiene.
Their system has been tested by the German Beer Institute of Munich Technical University. Pubinno's cutting edge design has also bagged an award from Milano.
The Internet Of Beer
Pubinno 'Smart Clean' system is part of their "Internet of Beer" scheme which also includes other products such as Smart Tap & Smart Hub.
The "Internet of Beer" consists of three fully integrated components. It connects five stakeholders of the draft beer ecosystem who are brewers, bartenders, bar owners, maintenance, support teams and beer lovers. Smart Tap, Smart Hub, and Smart Clean are three interconnected technologies of the "Internet of Beer".
"We present all the data collected through Smart Hub to brewers and bar owners with insights that will help them optimize all their marketing and sales operations, adhering to the principle of confidentiality. This data is usable with an easy-to-follow and accessible application and dashboard." responds a spokesperson from Pubinno.
Such detailed monitoring of consumption offers game-changing insights for microbreweries and pub operations. All of this data is secured and can be tracked at all times. It's effective for observing many indicators such as company growth and changing customer behaviour over time.
Current Market & Future Expansion
Pubinno is currently incorporated in 6 countries – Turkey, Israel, Cyprus, Spain, Mexico & Canada. Since they are familiar with the UK and North American markets, expect to see Pubinno operational soon.
"Our long-term and lofty goal is of course to contribute as much as possible to the protection of the world's resources and to help every beer lover in the world reach the perfect beer. We also have various cooperation and expansion plans for India, and we look forward to implementing these plans quickly as we begin to recover from the effects of the pandemic." a spokesperson from Pubinno signs off.
Pubinno's aim is to pour a perfect pint in a most effective way for all stakeholders in the ecosystem. Here's a message from Pubinno to the Indian beer and brewing industry, "We look forward to working with Indian beer lovers towards the same goal as we do all over the world. Regardless of which chain of the draft beer system you are in, we're sure that you will be satisfied with Pubinno solutions. Experience something new with the 'Internet of Beer' in the digital world. We look forward to meeting you."