NOVEMBERFEST EXCLUSIVE: The Byg Dubbel K, Created By Karthik Singh and Martin Bernard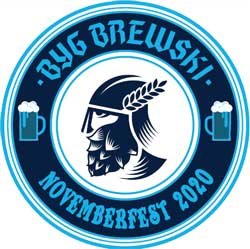 Asia's largest microbrewery – Byg Brewski has officially announced the start of Novemberfest, a month-long event where four of Bengaluru's top brewers are coming together to release exciting collab brews!
Amongst the participating brewers is Karthik Singh – a beer enthusiast and self-taught brewer who dropped his white-collar software job to take up beer-brewing as a full-time career. Now, instead of writing codes, Karthik spends his time designing craft beer recipes for microbreweries. Arbor Brewing Co. (ABC)'s paan-flavoured Beteljuice Pale Ale that swept Bengaluru's beer lovers off their feet is just one of Karthik's innovative creations and was the result of a collab between him and ABC's master brewer Hollis Coats. Today, Karthik is the head brewer at Wallstreet Sky Lounge, JP Nagar but his expertise in brewing beer transcends Bengaluru's borders and earns him a prominent position in India's craft beer space.
They say that the best things come when geniuses put their wits together. Well, it must be true, because, for this Novemberfest, Karthik has collaborated with Martin Bernard, the master brewer of Byg Brewski for the very first time to create an ambrosial Belgian Dubbel – the Byg Dubbel K. The jammy sweet character of plums and raisins is perfectly highlighted in this beautiful beer and is reminiscent of everything Christmas.
"Martin and I have been friends for a very, very long time since my early brewing days and since the time he came to Bangalore," laughs Karthik. "So while we have known each other for a long time, this is the first collab brew that we've done together. And Martin is a very crazy guy so it's always fun hanging out with him. The brewing experience for us, ideating on the recipe and then working on that together was just a lot of fun!"
Elaborating on the beer, Karthik says, "Martin and I are doing a fairly traditional style but we have dug deep into every aspect of this beer. The rich, amber colour and most of the flavour of this beer comes from the addition of Belgian candi – which is basically a type of inverted sugar. We made our own Belgian candi using the help of the Byg Brewski kitchen and put in close to 30 kilos of that into our beer.  It's got a sweet taste to it but it's also quite boozy and has the funky Belgian flavour coming through."
The year has indeed, been hard on many brewers like Karthik, with all the microbreweries being forced to halt operations overnight. Social distancing also demands cancellation of on-ground events – a very important stage for craft brewers to display their talent and their beers.
"It's always a good thing for us brewers to get together and do as many collabs as possible. 2020 hasn't allowed us to do as much as we would've liked to do, so we are really looking forward to this," concludes Karthik.
The Novemberfest is being held at Byg Brewski, Hennur and will continue until December 13th, 2020 (or until stocks last). Be sure to not miss the largest collab of the year! 
Brewer World Exclusive Interview