CHATTY GIRIJA
The Beer Versatilist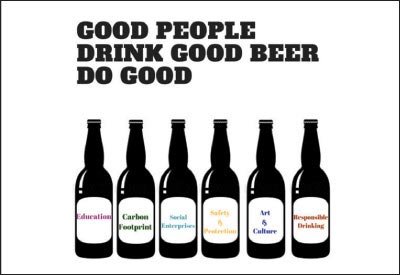 There was a time in life when I quit advertising to pursue my higher interest in beer, beyond indulging in the holy hops. What struck me the most was the emphasis and seriousness of alcohol companies towards propagating responsible drinking, betterment of society and greater good to all.
Drink Responsibly is not a sign-off, instead a strategic value proposition to make a difference and differentiate itself.
In fact, the CSR stories brew better-fermented stories with wider range of causes, leaving behind a fine after taste than the pure fun time stories.
Let's take a look at few crates of CSR cases where brands are doing a larger good for underage drinkers, consumers, and employees and for world communities.
Guinness Beer: Pioneers of change
The CSR positioning as Pioneers of Change truly resonates with the brand offering in spirit, style and taste for larger than life issues. Arthur Guinness was a philanthropist in soul and he built his brand to enhance the lives of people through healthcare, schooling, and work to improve the lives of his workforce and the better good of citizens.
Arthur Guinness Fund has previously awarded €1.65m to 20 projects across Ireland. Nearly 40,000 people positively impacted by the Arthur Guinness Fund since 2010.
Over a two year programme, the awardees receive between €50,000 and €100,000 each depending on if they are 'start-up projects' which have been established in the past two years or 'take-off' projects which are at a more advanced stage in their development.
Budweiser Beer: Taste Savoured Responsibly
The fun doesn't stop when the drinking stops.
The Company has teamed up with wholesalers, retailers, educators, parents, law enforcers, elected officials, professional sports teams and consumers to promote responsible drinking initiatives.
Most recently, the organisation has announced a pilot programme in Columbus, Ohio, to reduce the harmful use of alcohol by 10% before year-end 2020. This approach reflects their belief in developing a proactive mindset to help reduce harmful alcohol use and empowering consumers to make smart choices.
Party Codes
Bud Light Party Code are given to consumers to help party hosts assure their guests consume alcohol beverages responsibly and make it home safely. Anheuser-Busch provides Training for Intervention Procedures (TIPS), which educates bartenders, wait staff and store clerks about how to properly check IDs and identify and prevent potential alcohol abuse situations. The programme also discusses techniques through which servers can help prevent drunk driving, such as calling a cab for patrons who may have had too much to drink, or encouraging friends to provide a safe-ride home.
Carlsberg: Zero accidents culture
All employees at Carlsberg live by safety rules, eliminating risks and preventing accidents. They do the simple things like holding the handrails on stairs and wearing personal protective equipment in the breweries and labs. They respect the separation of pedestrian and forklift pathways and apply life-savings rules like lock/out/ tag/out during machine maintenance.
They also look out for each other. If someone notices a colleague is at risk, he or she does not hesitate to intervene and highlight the potential danger. The team members complement each other on positive behaviour.
On the Indian brew front, India is equally shouldering its share of responsibility.
Pernod Ricard India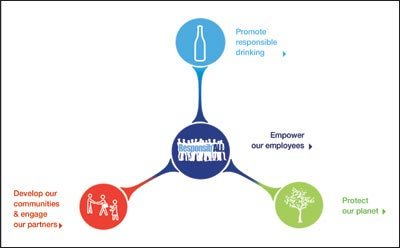 Pernod Ricard India's (PRI) aims to raise awareness and give back to society and address social, economic and environment sustainability by delivering on corporate social commitments while partnering in India's development initiatives.
The CSR model of PRI is as vast as its alcohol brand portfolio, touching almost every facet of life. Some of their key initiatives include:
Promote Responsible Drinking
PRIPL is the first and the only alcohol beverage company to sustain 'Responsible Drinking' campaigns on TV and print for more than 14 years in India with extensive support at points of consumption.
Develop our Communities and engage our Partners
PRIPL believes in creating a long-term sustainable structure to provide healthcare facilities. PRIPL provides healthcare facilities through 4 fully equipped Primary Health Centres at Gurgaon (Haryana), Nasik (Maharashtra) and Behror (Rajasthan) along with 6 mobile ambulances. Till now, more than 7,00,000 patients have been benefitted from these aforesaid facilities.
Developing the Partners

The Company uses more than 400 trucks per day and the Truck Drivers keep on driving the Trucks without getting their eye checked regularly. India ranks highest among the countries in death due to road accident with an alarming number of over 1,00,000 deaths per year. The Company took this as a serious concern with an aim to support the cause of Road Safety. The Company conducts Truckers Eye and Health Check Up Camps and also using this platform to spread the message of 'Don't Drink and Drive'. Till date, over 11000 Truckers are covered and over 5000 free glasses have been distributed.
Supporting Education

The Company in its endeavour to support child education is taking small steps like donating portable structure of Porta Cabins to the children of migrant workers, donating benches in schools in rural areas and building boundary walls for schools.
On the occasion of Global Be(er) Responsible Day (GBRD) observed on September 15 every year, leading global brewer AB InBev reiterates its 'Global Smart Drinking Goals' of reducing harmful use of alcohol by end of 2025 by:
Introducing multi-year city pilots to reduce the harmful use of alcohol by 10%
Investing 1 billion USD in social marketing campaigns & related programs
Ensuring at least 20% of our global volume is No-or Lower-Alcohol 1
Placing a guidance label on all products to increase alcohol health literacy
This year AB InBev raised the pitch by a few decibels through educational on-ground initiatives and extensive use of social media. To begin with the company created a short video to engage the Indian consumers on responsible alcohol consumption and allocating a designated driver within the group called Bob on any night of revelry. "Who is your Bob" is a campaign that urges consumers to always identify that one person in the group who will be the 'Bob' he will not be drinking, and hence also driving everyone in the group home. The company further spread the message by engaging with more than 1000 consumers at over 80 outlets across India. AB InBev has partnered with the National Restaurant Association of India (NRAI) to work together to expand the message of Smart & Responsible Drinking.
Beer is not just about beer. It is meant for the greater good of society. The rich aromas of beer are not just felt on the taste buds. They give a new high to individuals and society when served for a higher cause.
With growing number of microbreweries and many more brands imagined in India, there in lays an infinite opportunity for them to associate with local charitable causes and customise their identity matching their brand values.
For a change look beyond brand look and feel and focus on the good feeling left behind.